The Tradition of Pasalubong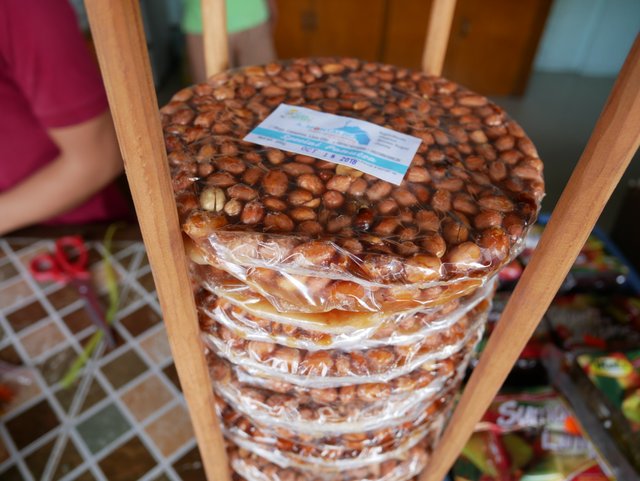 Every time we travel to different places we often want to bring something home. The souvenirs that we take home varies from food, mementos, shirts from tourist spots and sometimes we even want to take home just too much. Here in our country we have that habit of wanting to always bring home something for our friends and loved ones. We call it pasalubong and the most popular to take home is food. Join me today as I take you to popular spot in Laguna, Philippines where you could buy a lot of local delicacies.
The Tradition of Pasalubong

Our travel has been very enjoyable for us and seeing different places locally is a great experience. As we know coconut is very plentiful in our country. One of the most popular delicacy in Laguna is the buko pie which is a pie made from coconut.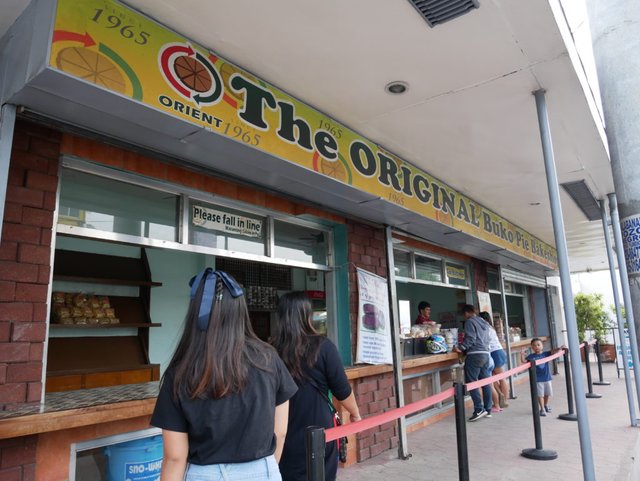 A lot claims the title of the original recipe for the pie. Different establishments compete for the title of the original. The name of the place that we visited speaks for itself "The Original Buko Pie". They have been around for a very long time now and I recall going here when I was very young. I remember my grandma keeps saying every time we go to Laguna, "the original only, buy pie from the original." At a very young age didn't care about the place all I wanted was to just get a piece of that pie.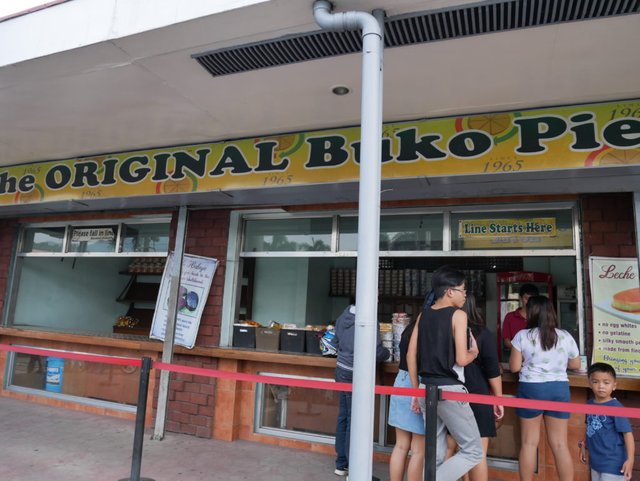 At this time, there was no long lines yet and lucky for us they just opened. It is known that this establishment causes traffic in the area due to the long line of customers.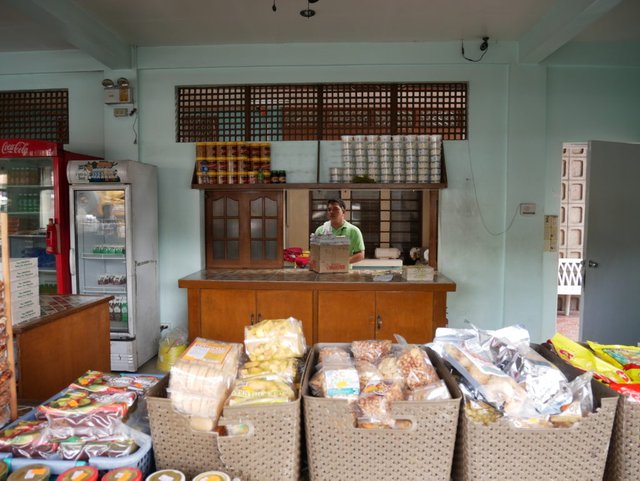 The pie is not the only reason that people comes here for. There are a lot of goodies to choose from. If you have a sweet tooth you would definitely love to get in line.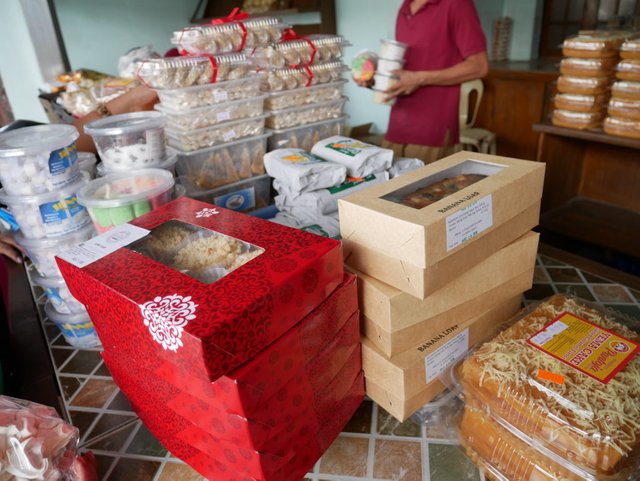 One of the other popular delicacies is the buko tart. Packed in a nice red box it is perfect pasalubong for your loved ones.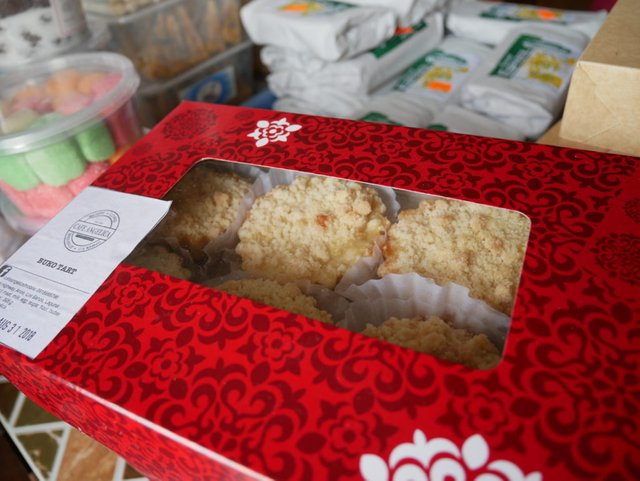 Just minutes while we were buying, the customers were starting to come in.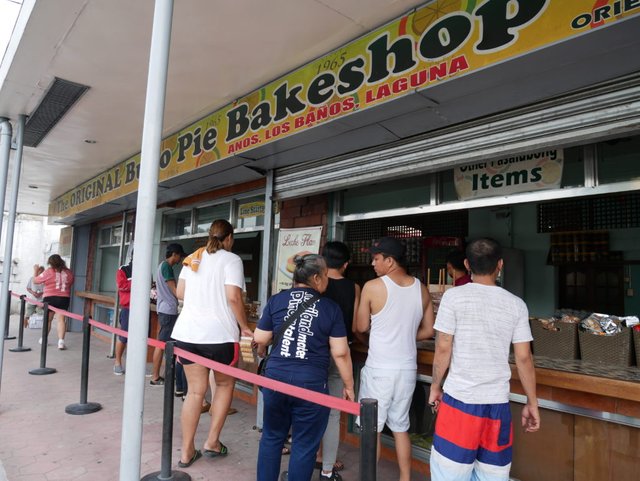 The line was getting longer and vehicles were pulling over and starting to build traffic along the main road.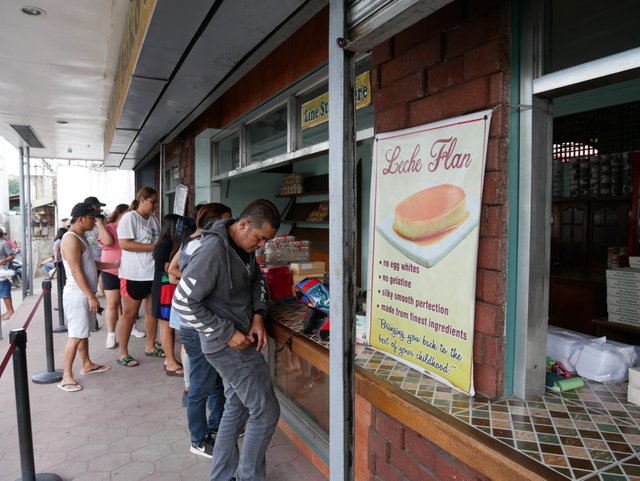 This is the garlic buttered sticks. Crunchy delicious and a good snack with coffee or hot coco. You could easily make by just using old bread. Smear it with butter, sprinkle some sugar and add crushed garlic. After that just stick it in the oven until crunchy, but keep an eye on to it as it might get burnt.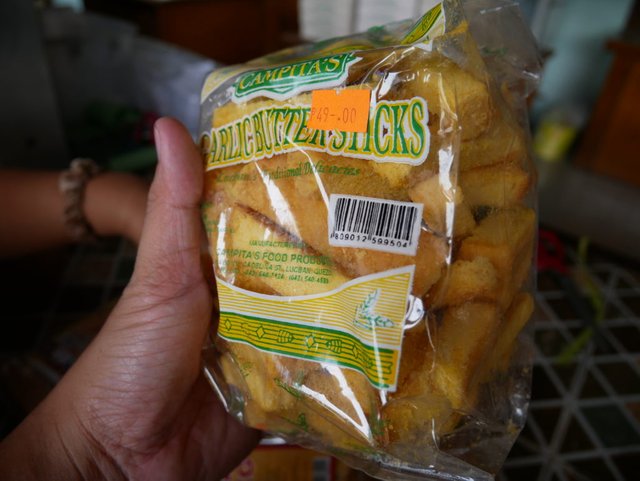 The Broas biscuit which is also known as ladyfingers in other countries. Once you put it in your mouth it easily falls apart.
Next is the Philippine peanut brittle which is made from caramelized sugar mixed with tons of peanuts. A local favorite and there is also a variant with cashew nuts. Satisfy your sweet tooth and have a taste of this amazing treat.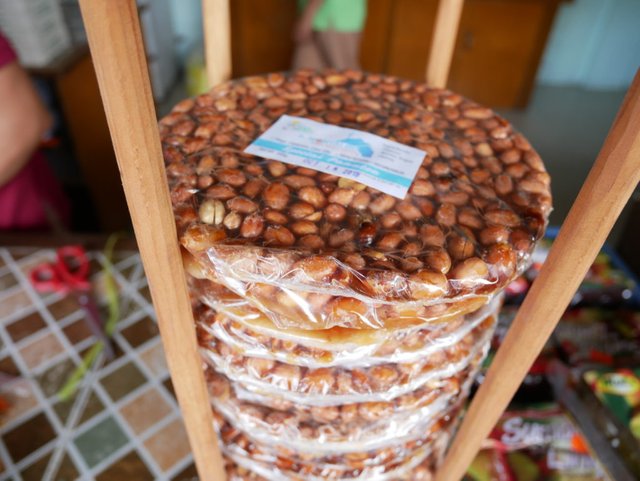 There are so many products here and I could not present them all to you. Each has it's own history and most of them I have not even tasted yet.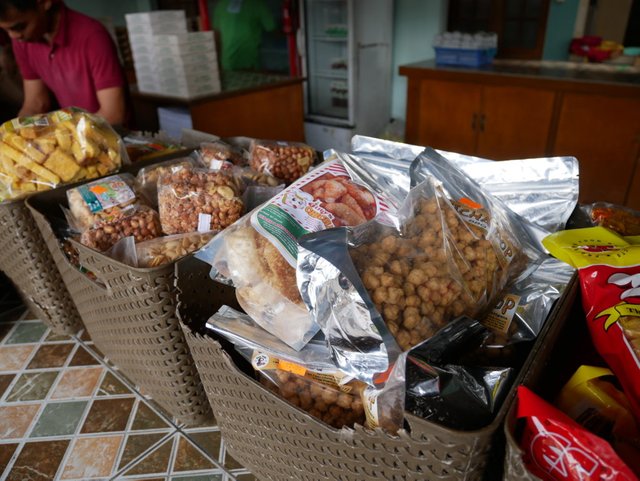 I noticed the bottled food that was on sale. I figured it was sardines or shrimp paste, but as I looked closer it was something else.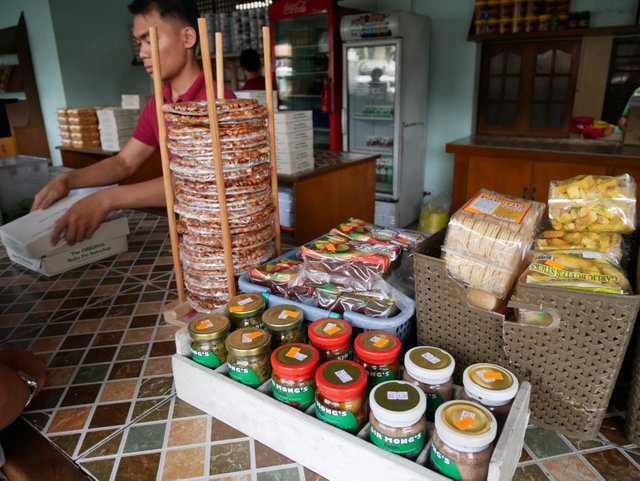 It was surprising that it was actually our local spicy vegetable dishes. Bottled and ready to eat, I had to check the varieties.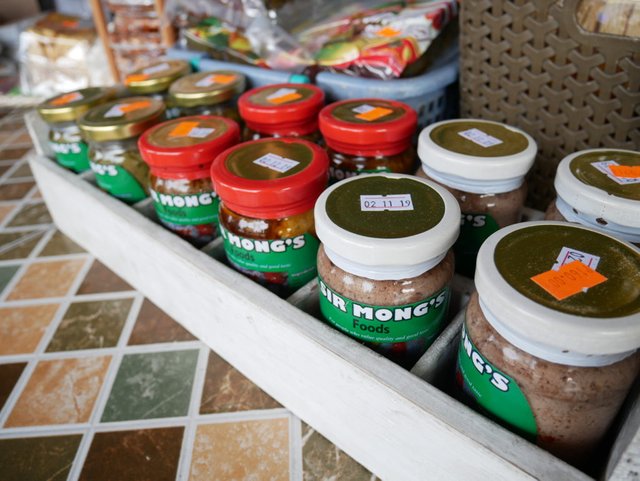 A dish called Sinantol which is made from a local fruit called Santol or cotton fruit. I normally just eat the seeds from this fruit as the seed is covered with a sweet juicy tissue. Once the sweetness is gone just spit out the seeds. The flesh of the fruit is very sour and you would need to pair it with a little bit of salt or shrimp paste. The dish is made from the minced flesh of the fruit, mixed with coconut milk and can be mixed with pork or seafood. Of course it is not complete without the local bird's eye chili.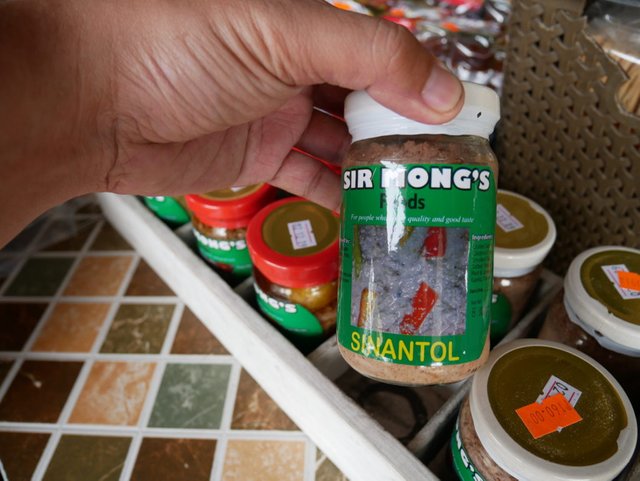 Another one is the Bicol Express which is made from pork, coconut milk, chili and sometimes mixed with vegetables like string beans.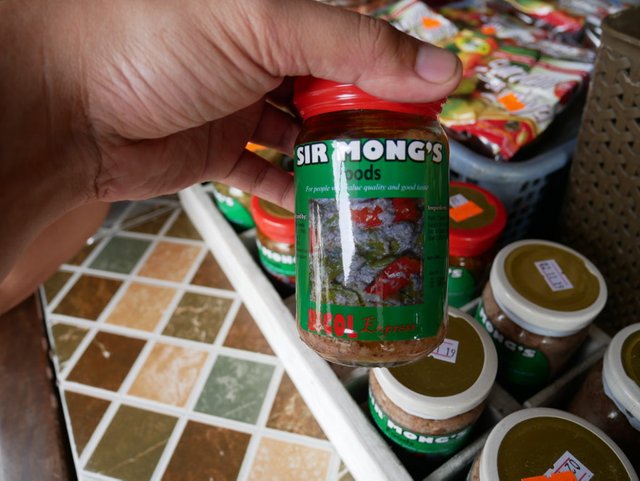 Now my favorite local vegetable dish called Laing. My wife prepares the best Laing ever that she learned from her mom. Dried taro leaves are used, cooked in coconut milk and mixed with pork or small fishes called dilis.
Well what can I say we love chili and coconut milk on our vegetable dishes. Coconut milk simply turns dishes into something very tasty and healthy.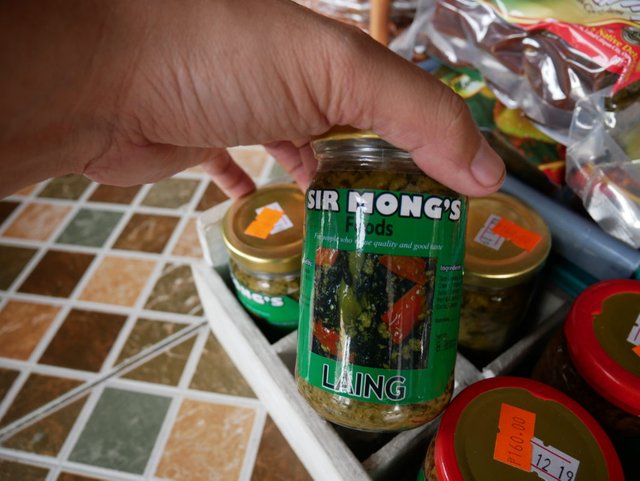 The pie that you are all been waiting for, "The Buko Pie". Fresh hot from the oven, made from young coconut it is a heavenly treat. We got two boxes one for us and one to take home to my aunt. I'm sure it will bring back memories from the good old days when my grandma was still with us. I can say that this is our version of the popular apple pie. Something that we are proud of and if ever you visit our country don't forget to take a bite of this delectable treat. Just watch out though as it is extremely hot, as they always serve it straight from the oven.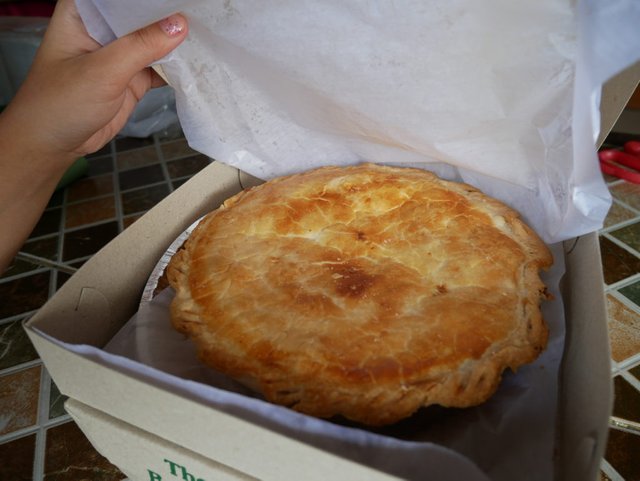 Time to pay the bill and and enjoy all the food that we bought here.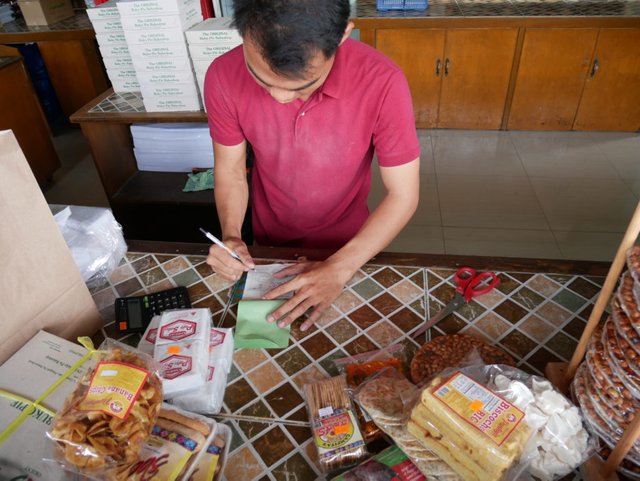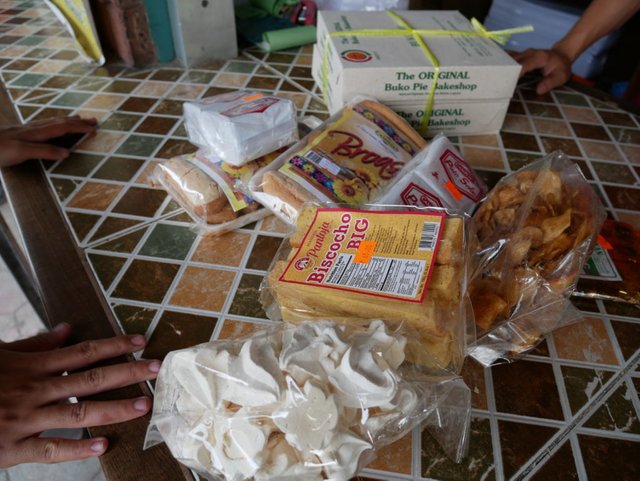 Just look at the line that keeps longer and longer every minute.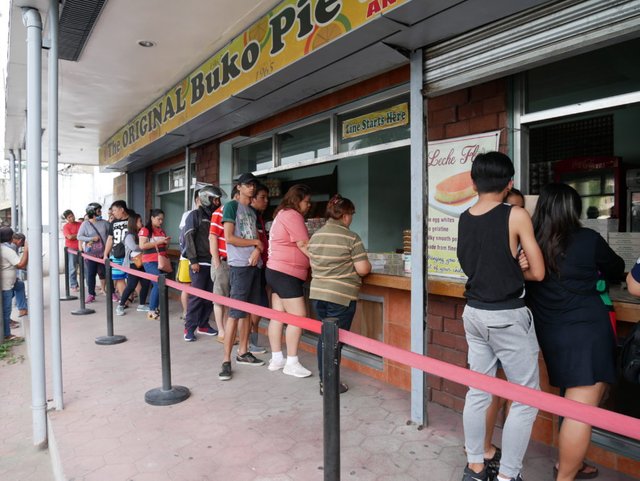 Time to go, but before that just on the next stall. They sold fresh milk and a perfect way to wash down the pie.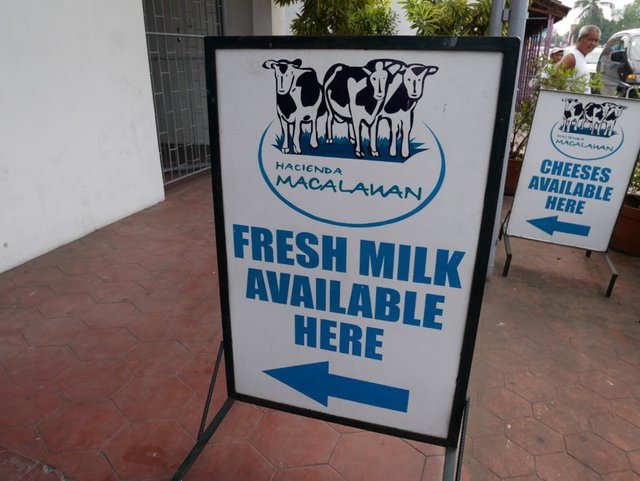 They also had chocolate flavor and my son loves chocolate drinks. I on the other hand prefer just the regular fresh milk.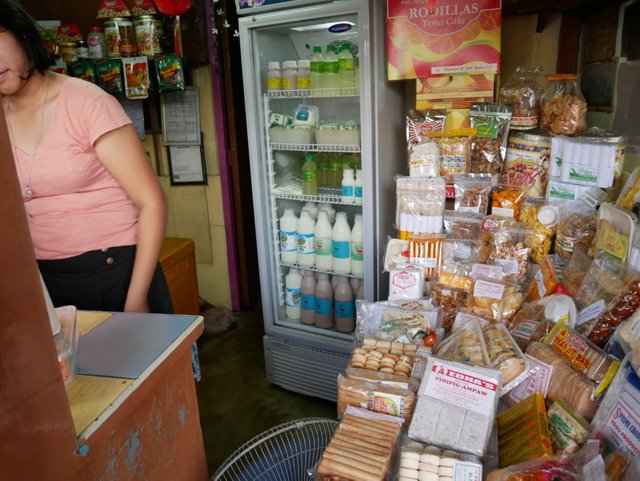 Here we are with my bottle of milk. Maybe I should have bought a bigger bottle.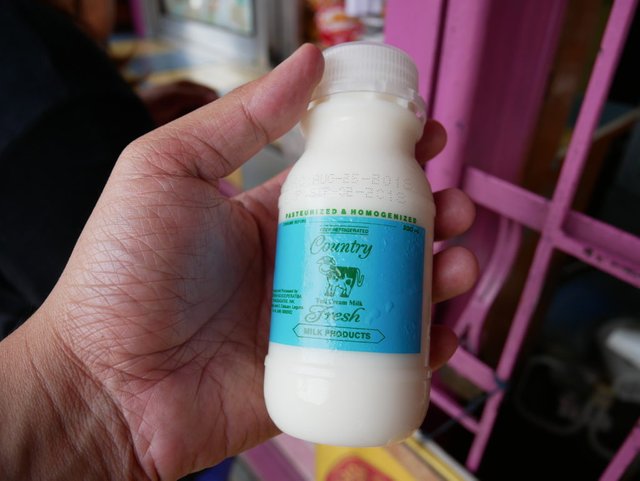 I guess that wraps it up as we got everything that we needed to take back home to our loved ones. A part of our beautiful tradition we always remember those who are unable to join our travel. Even in our own small little way we always want them to experience a part of our journey.
I hope you enjoyed this little tour and I encourage you to have a taste of our delicacies if given the chance. Until then feel free to visit my old post from this amazing province.
A Thousand Steps to "Tatlong Krus"
"Tatlong Krus" at the Summit of Mt. Humarap
A Resting Place at the Foot of a Mountain
Chisels from the Town Near the Bay
A Quiet Place at the Side of a Mountain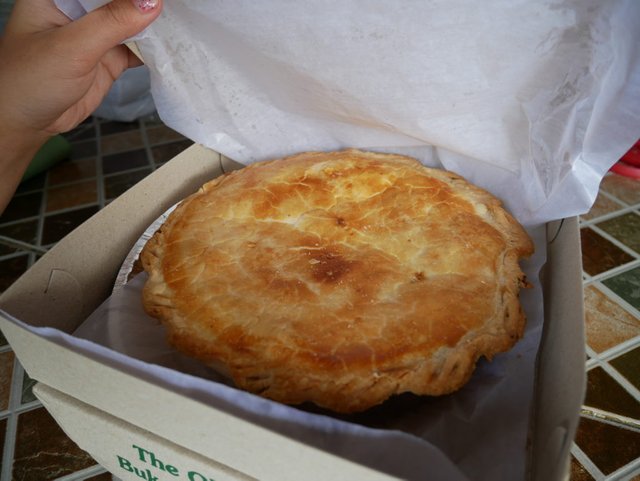 Unofficial Page

Follow @surpassinggoogle to witness an extraordinary person in this platform and vote for @steemgigs as witness
Discovering exceptional content in the community follow @curie and vote as witness
To have a glimpse of awesome content from the Philippines check out @bayanihan
All photos are original and taken with
Lumix GX85 and 12-32 mm kit lens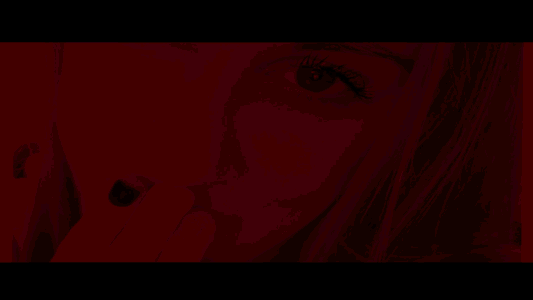 ---
Posted from my blog with SteemPress : http://watersnake101.vornix.blog/2018/10/25/the-tradition-of-pasalubong/
---