The Descent from Mt. Humarap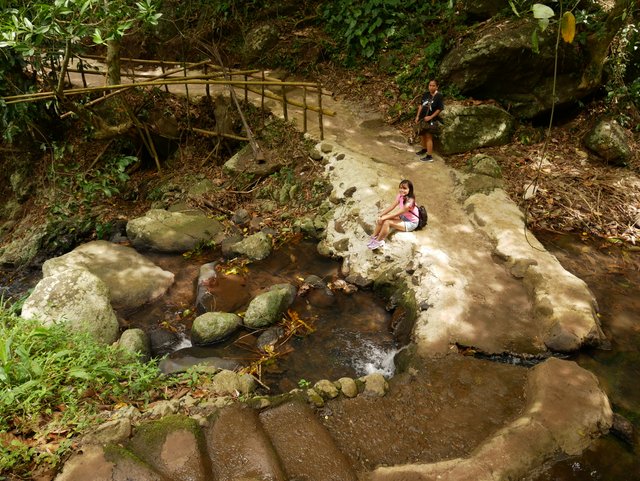 This is the third part of our adventure on our trek on a mountain called Mt Humarap. We ascended the mountain to see the iconic Tatlong Krus near the town of Paete in Laguna, Philippines. It was a long and hard climb but we successfully conquered the mountain. Along with the family we were rewarded with a magnificent view of Laguna Lake and the town below. Now come with me again as we descend the mountain and enjoy the beauty of nature and see some of the locals in the area.
If you missed the first two parts. Feel free to check the links below.
The Descent from Mt. Humarap

After enjoying the magnificent view and seeing the three gigantic crosses. All things comes to an end and it was time for us to head back down. We got ourselves ready, fully hydrated with the fresh coconut water and got enough rest. We were all set for our trek down the mountain. Going down wouldn't be that hard as going up so I figured that it would be easier.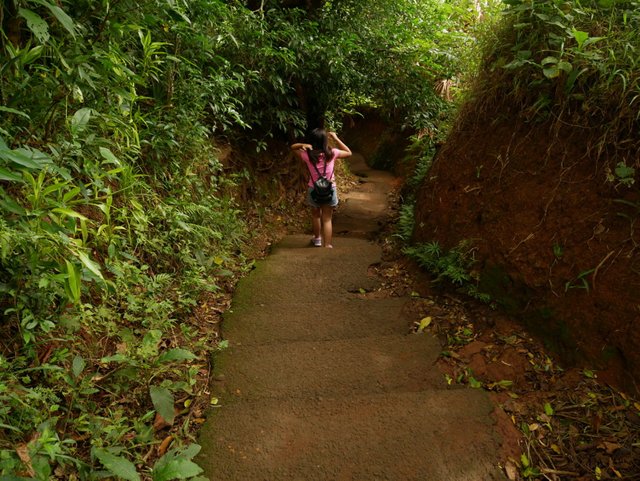 My daughter looks like she still has so much energy left. Just look at the smiling face.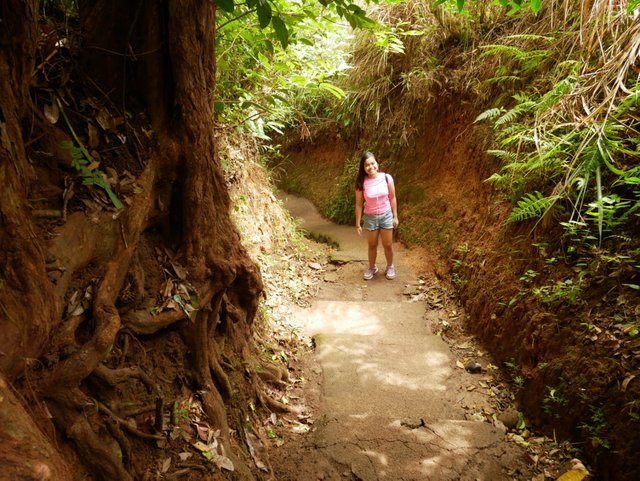 Everyone went ahead of me as I was held back as I wanted to take more photos. I looked back and could not imagine taking that 1000 steps up the mountain. Going down would be another 100o steps and might as well enjoy the nature around me.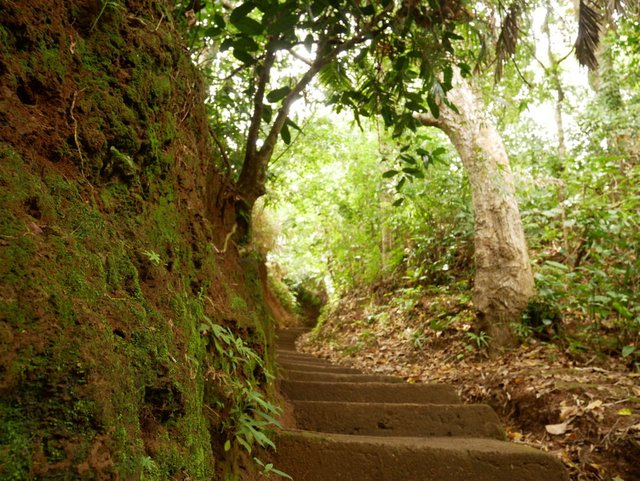 Bamboo trees are abundant on this mountain and you could see piles of dried leaves from the bamboo trees.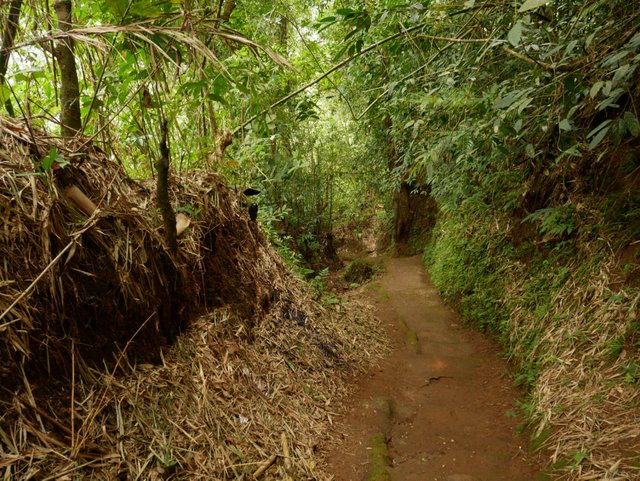 With all the leaves that have fallen, it seems that someone is clearing the way as the leaves are all piles on the sides of the trail. That would be a lot of work clearing it up everyday and who does that is a mystery for us.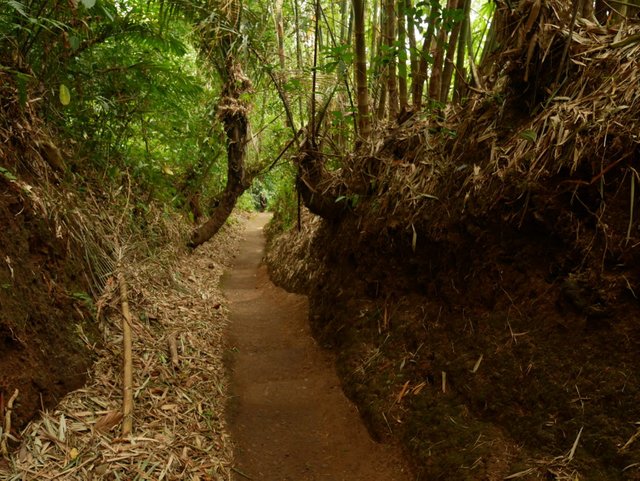 All sorts of plants and ferns surrounds the walls of the trail. Like a lovely wall of greenery which is so alive.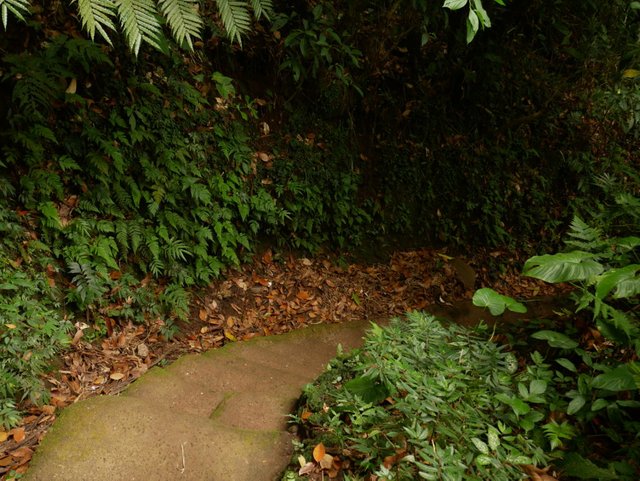 Everyone has gone ahead of me and I do not know how far ahead they are from me right now. No matter, as I am enjoying the sounds of nature. The sound of the wind, songs of the birds and insects intensifies my time alone with nature.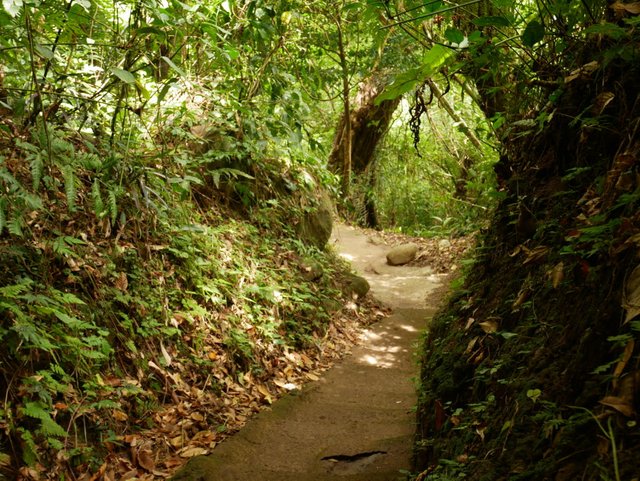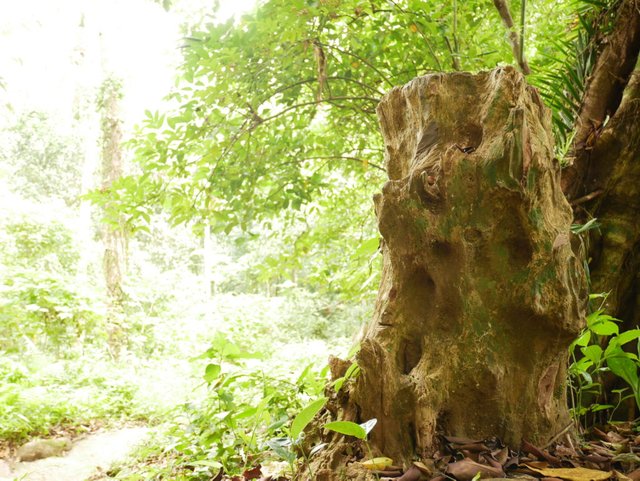 Finally, I caught up with them and here is a short video of the rest stop. With the sounds of birds and the gentle rush of water. Makes you want to fall asleep.
We are halfway down the mountain and I could say this is our favorite rest stop in this trek.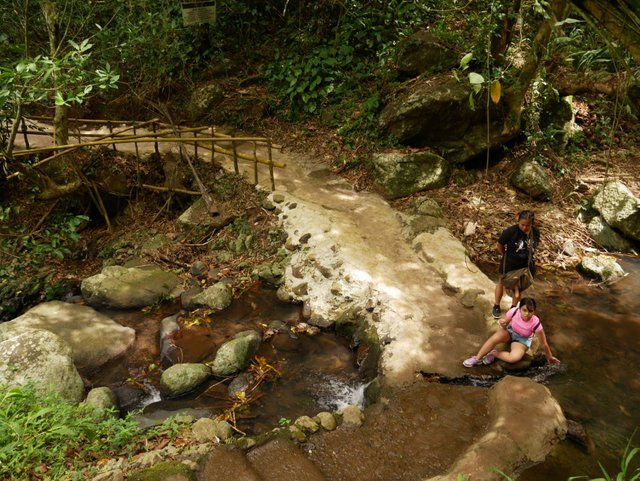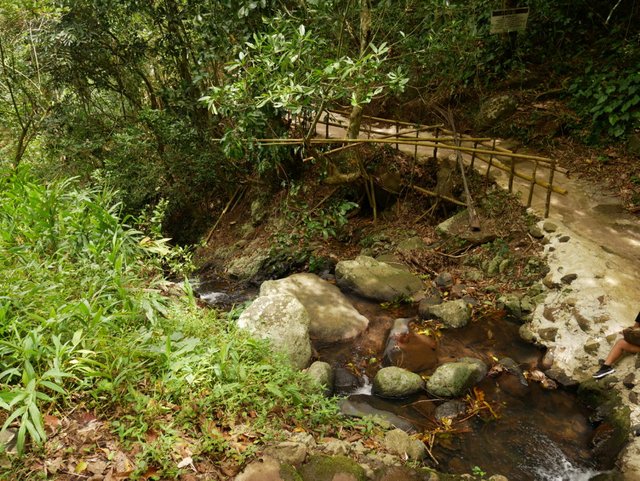 We got enough rest and we still have a long way to go. My wife was already asking my daughter to move along but still she would not budge. She wanted more time enjoying the peaceful sound of the stream of water from the mountain.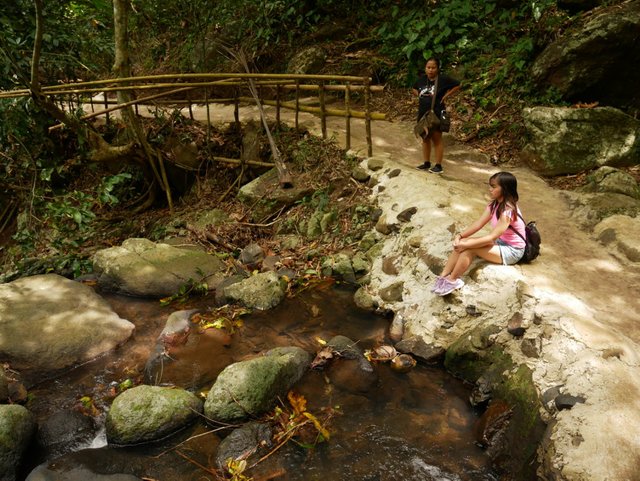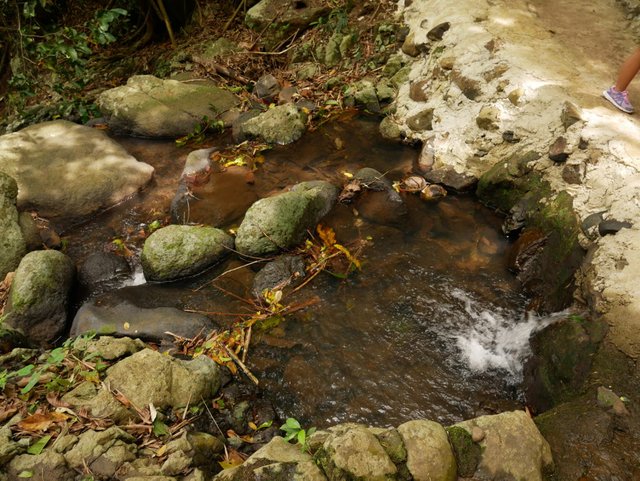 We had to continue on our descent, but I gave her a little more time. I myself wanted to stay a little bit longer.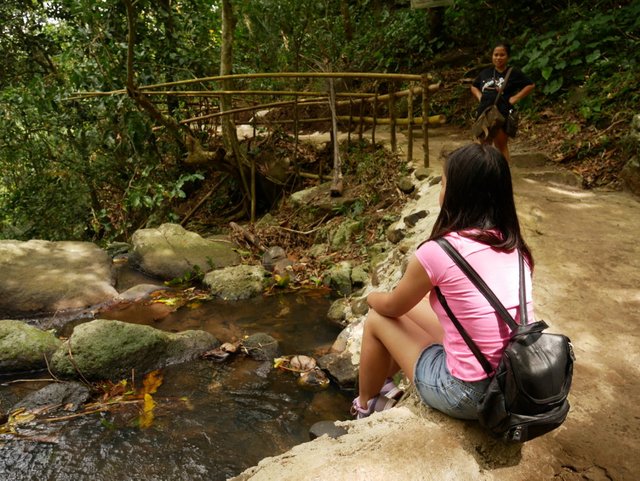 I took more photos around the area and it would be great to go deeper to explore. Those rocks are slippery and some are unstable. It would not be a good idea to explore this area without a guide or proper shoes. I was just wearing my chucks throughout this journey.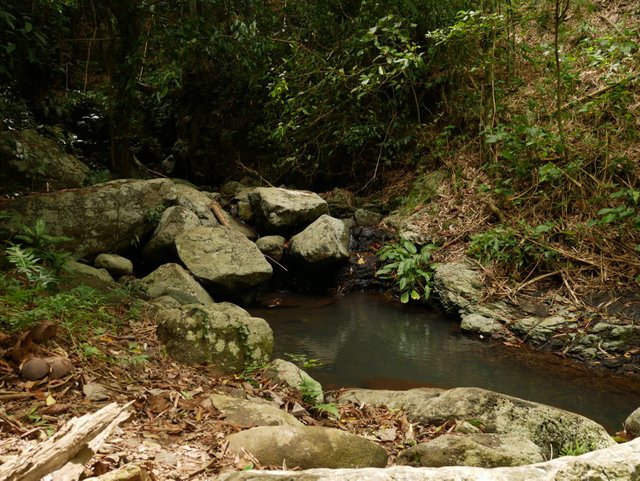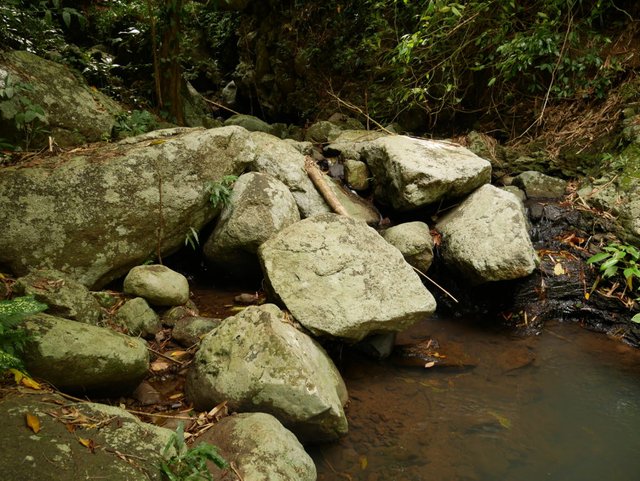 Some plants are quite familiar and I recall my aunt used to have this plant in her small garden. But I have read somewhere that this plant is poisonous. I do not know why my aunt used to have this plant.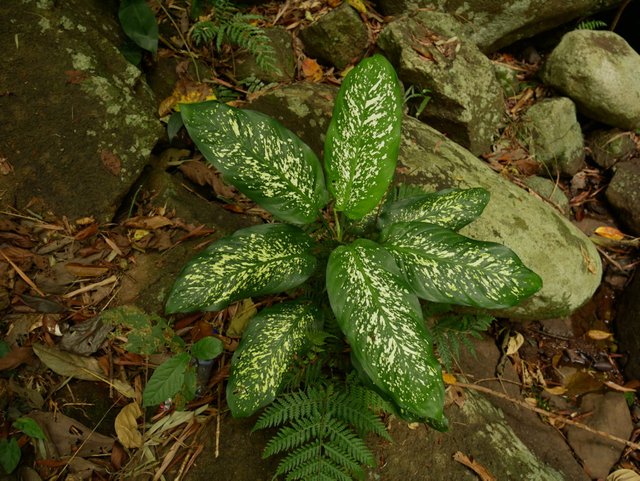 This big boulders may have rolled down the mountain during flash floods. Must be frightening if ever you are caught up here during a storm.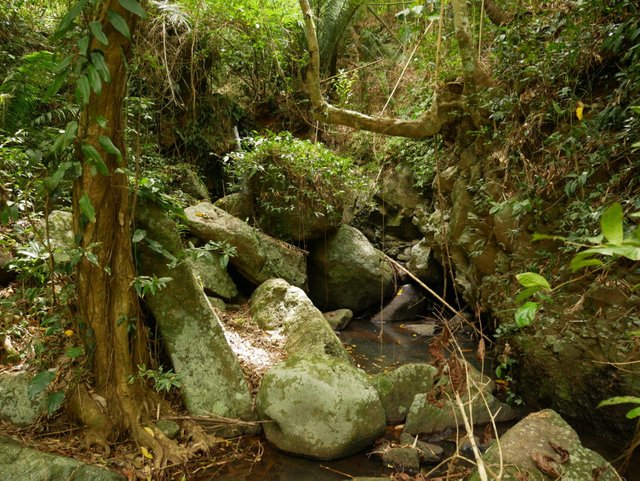 They have been here for a long time now as plants have grown on this boulder. Like a head that has grown green hair, maybe I'm just seeing things.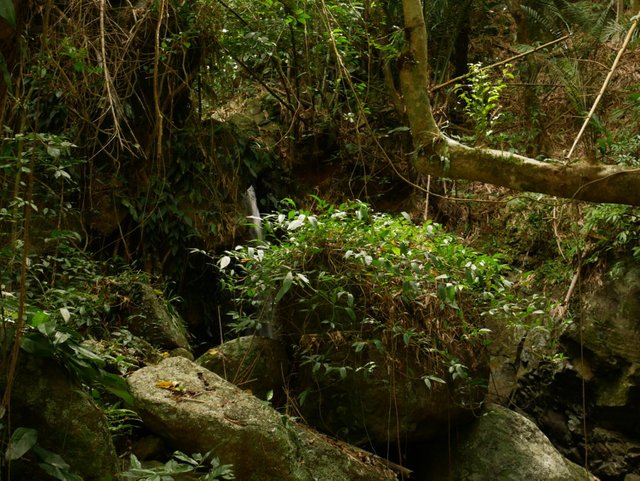 Some areas has stagnant water it could be a breeding ground for mosquitoes. But as I recall I didn't seem to notice any mosquitoes around the area.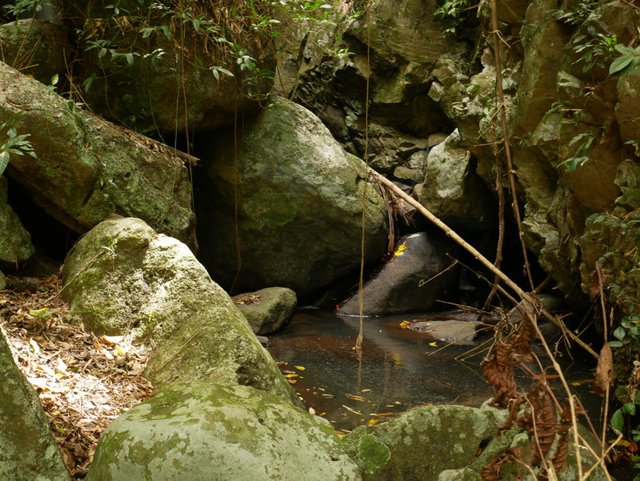 The water looks clear and the locals actually drink straight from the rushing water. We preferred to drink at the rest stop that had a long tube that continuously flows. You could see me cool down from that stop on the first part of this adventure if you are curious how it looks.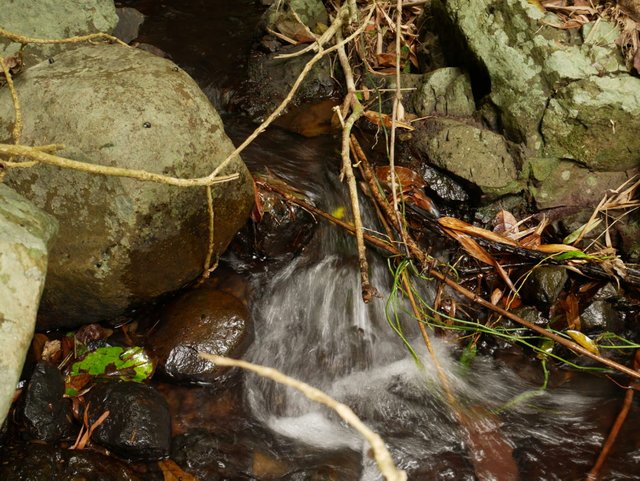 Could there be small fishes in this pool? I checked, but I did not see any unfortunately. Maybe if some threw in some fishes here could they thrive? Could be a bad idea as it might disrupt the balance of the ecosystem.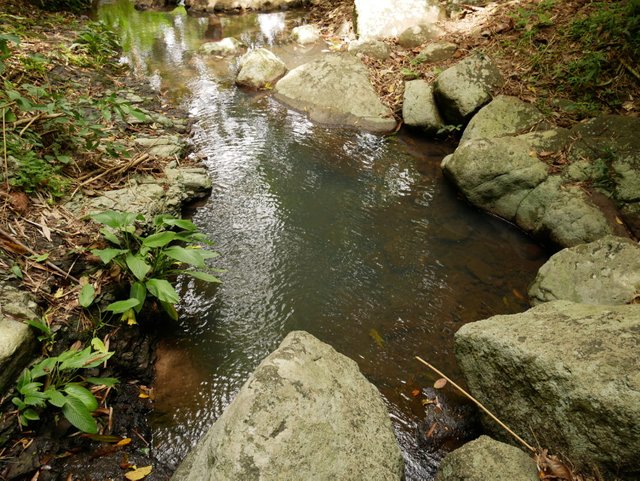 We reached the steep stairs down this trail and the bamboo railing really helped while going down.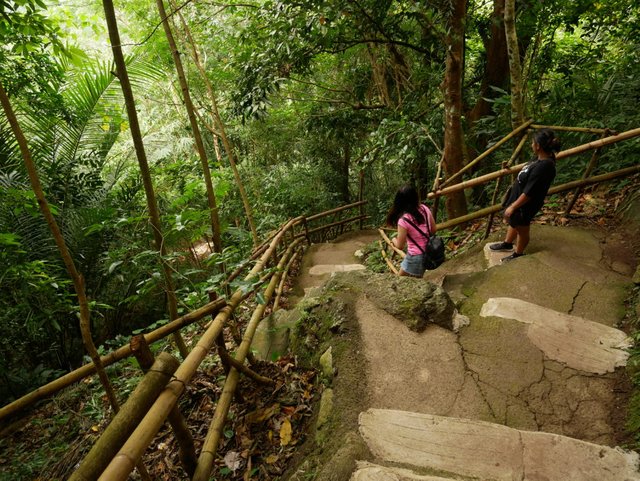 If you would look down the trail it looks endless. Good thing we had enough water with us and I told my kids not to force themselves too much. Rest when needed, but it seems they do not run out of energy like the energizer bunny. They just keep on going and going.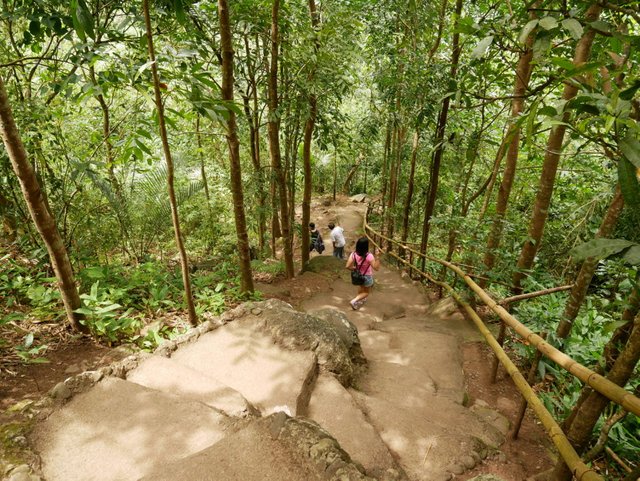 The next rest stop with the small bamboo bridge. My father and father in law was taking a rest already on the bamboo benches when I saw them.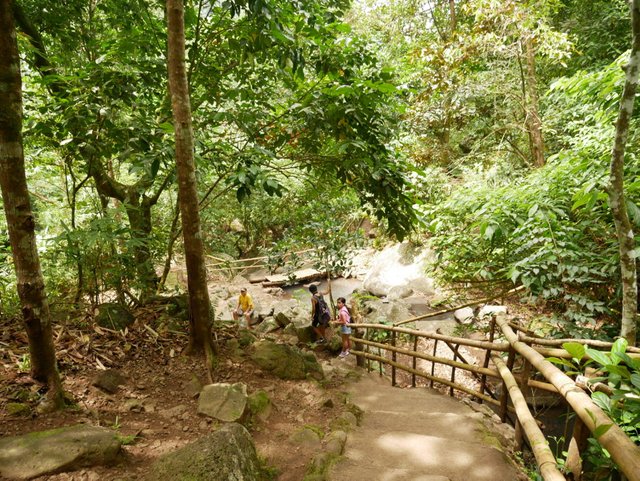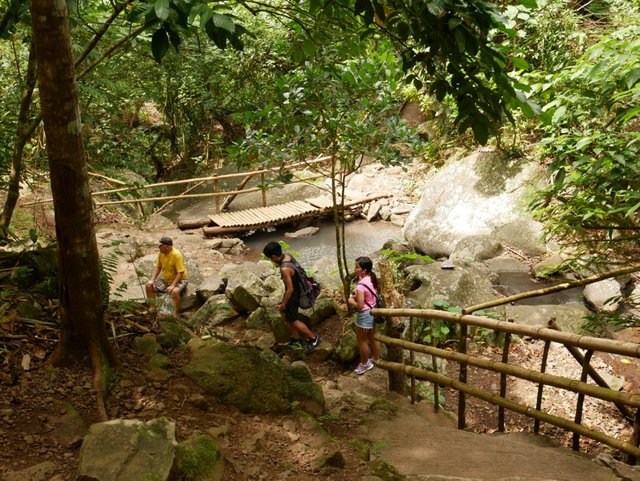 This greenery around us is very rejuvenating a fresh take from the usual noisy city. I'm sure the people who lives near this mountain are much healthier as the air is cleaner.
This trek has made new bonds between these two men. Hoping I could see myself climbing up a mountain with my grand kids when I grow old.
The bridge over a gentle stream of water.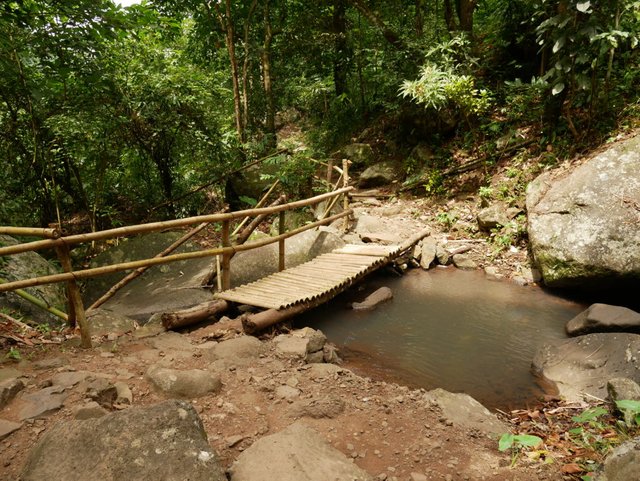 Made from bamboo some old wood from trees. They used some nails and thin rope to bind this all together.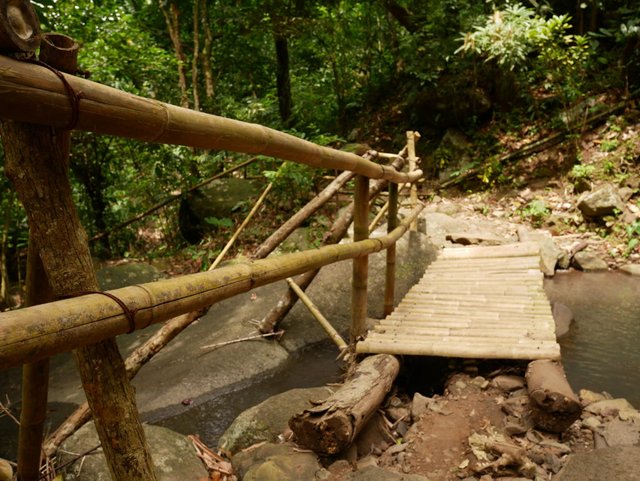 Like I told you earlier, "Me and my Chucks", my feet are killing me and I should get better shoes when climbing up a mountain.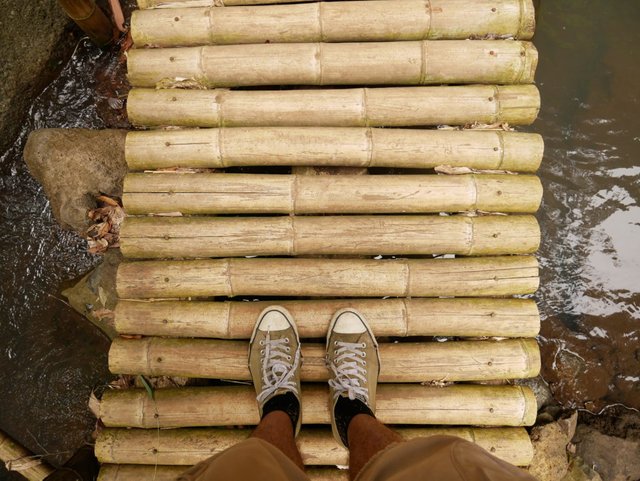 Again, I was left behind and it was time to take more photos. There are so many subjects and if you are caught in one spot you would end up spending too much time. It is best to take a few shots and move along.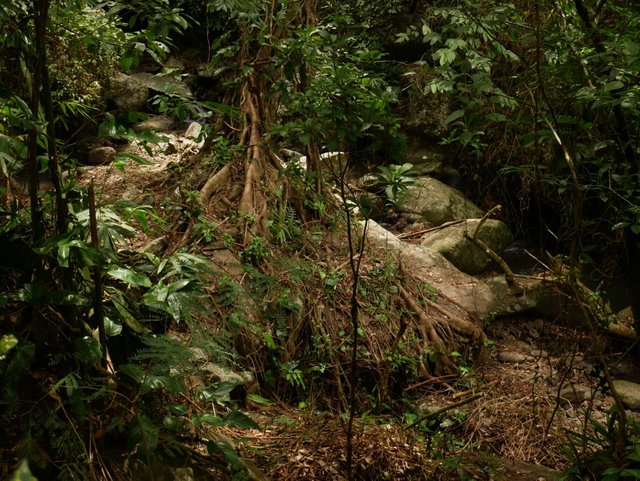 It was around 10:30 in the morning and the air here is still very cool and relaxing.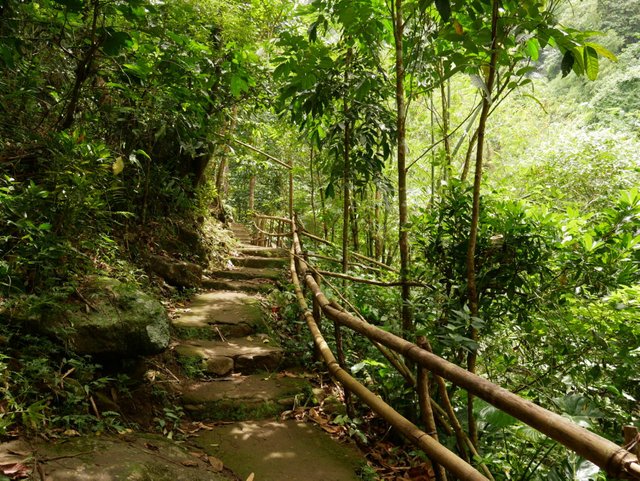 I'm not sure what is wrong in this photo. Maybe I'm just seeing things.......maybe not! The lens sometimes captures things accidentally. Better to move along and just leave as fast as we can. Our country has a lot of supernatural tales and I wouldn't want to think about it right now.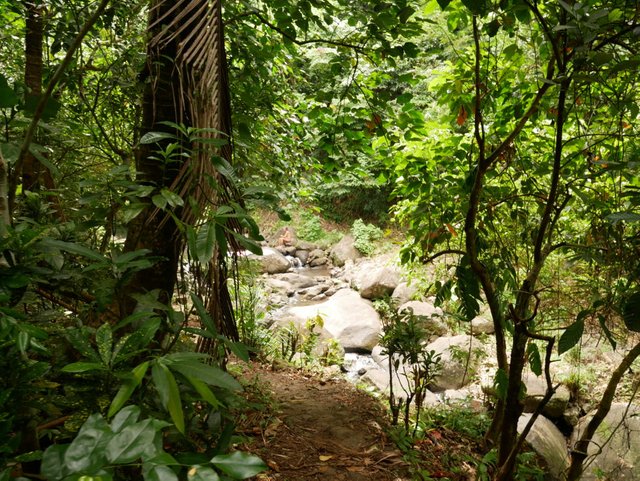 After that encounter I felt I was near the community area and felt relieved. Still there was no sight of my companions.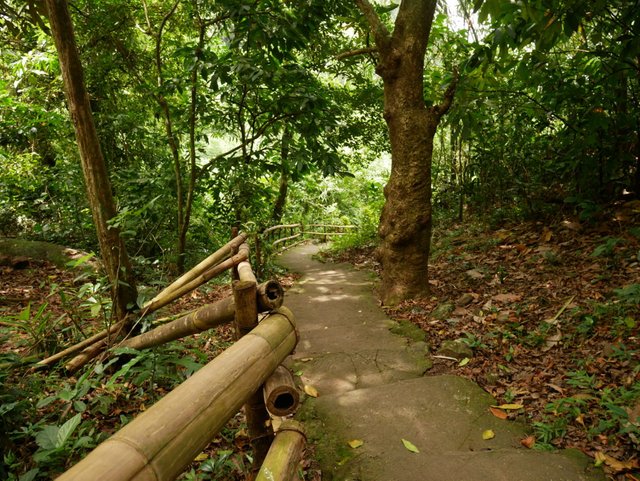 Finally, I saw my father in law and we were out of the mountains.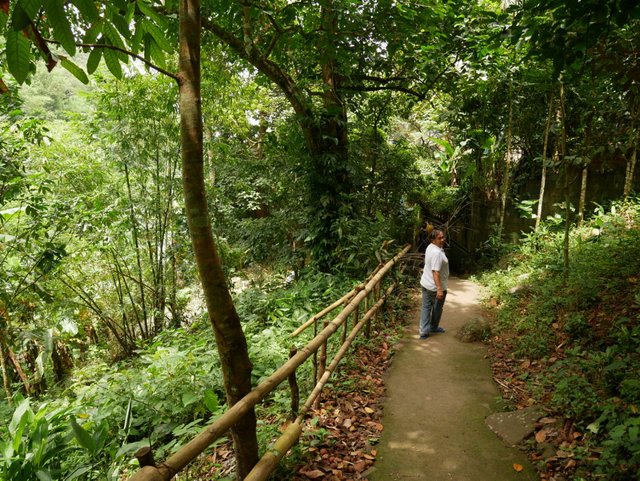 As we left the area we passed by some new trekkers and it felt good that we are on our way back. They still have a very long way to go and I bid them good luck as I passed them by.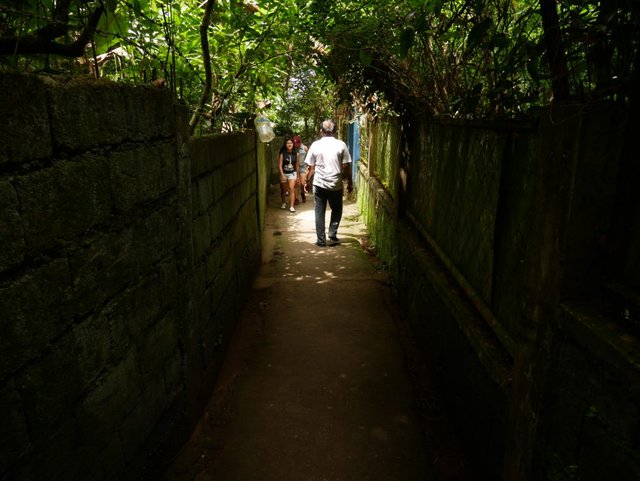 This is still part of the mountain, but inhabited by a community. Most of the building materials has been taken from the mountains. Another thing that worried me a bit is the dogs. There are a lot of pet dogs here and would start barking at you as you passed by their territory.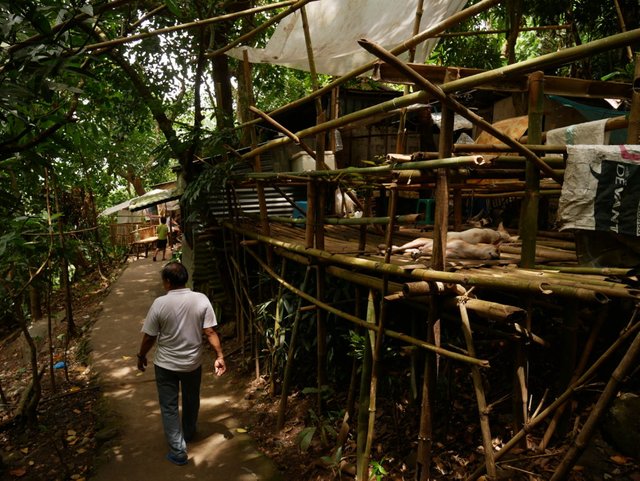 Good thing these dogs are having a peaceful nap in this sunny morning.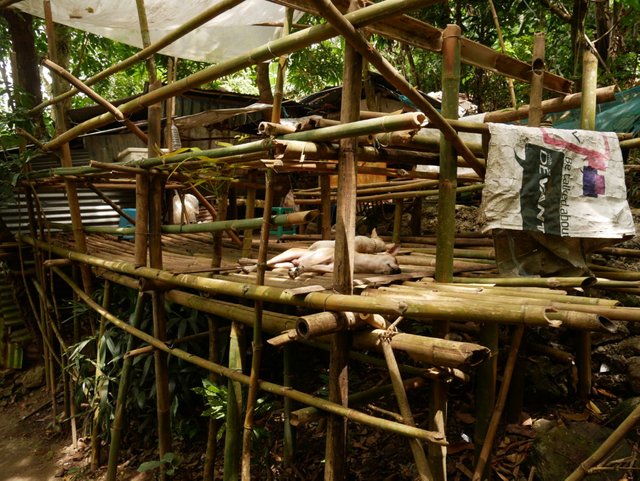 Make shift livestock pens are made from branches and bamboo. They love raising pigs and chickens here and I'm pretty sure their livestock are all organic.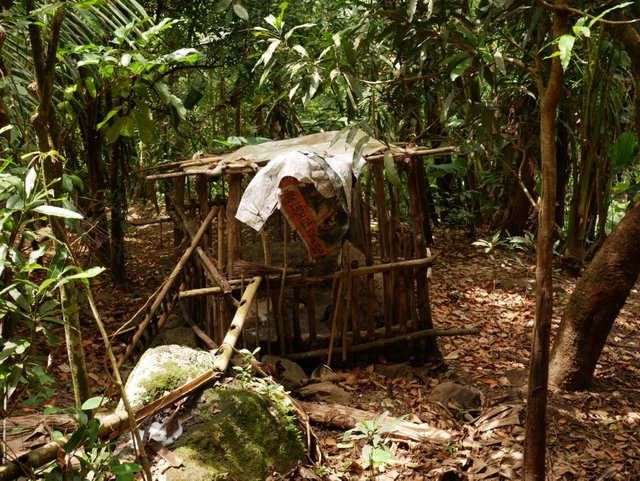 Some local residents just enjoying this beautiful morning. We are already tired, but seem they just woke up.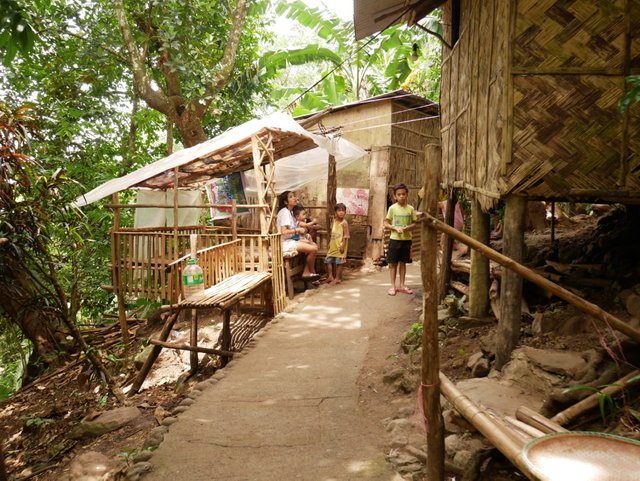 Life here is simple and the hands of time oddly seem to move slower. Away from the bustle and rustle of the city life, I think people here have less stress.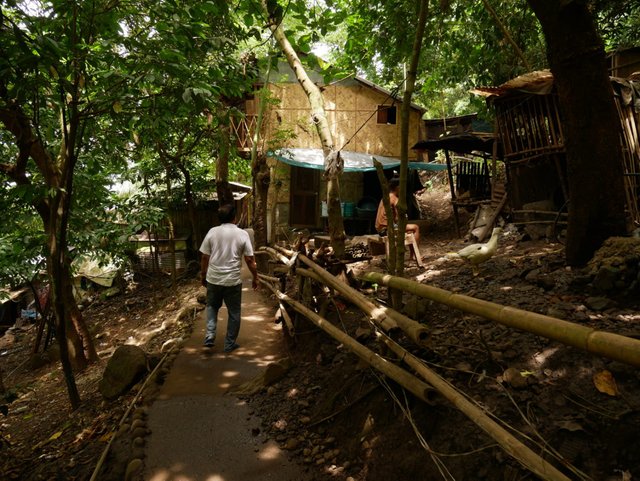 This hut has a very nice door with engravings would be interested to see what it looks like inside. But it would sound weird if I asked, "Hey can I take photos of the inside of your house?"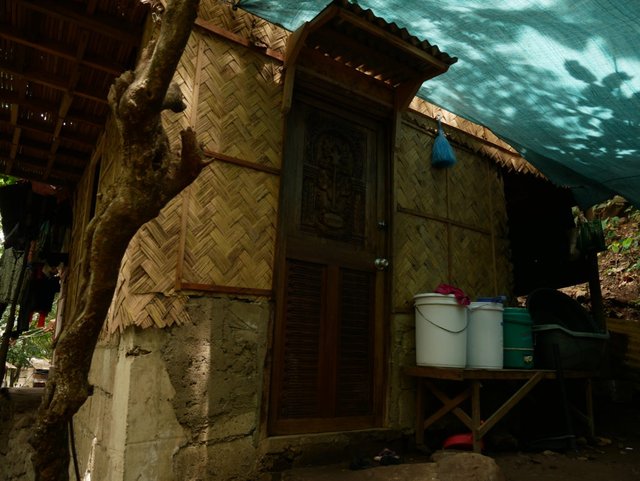 This town is also popular in making horses made from paper. I was lucky to get a glimpse of these drying under the warm sun. Once dried they are usually painted red and decorated.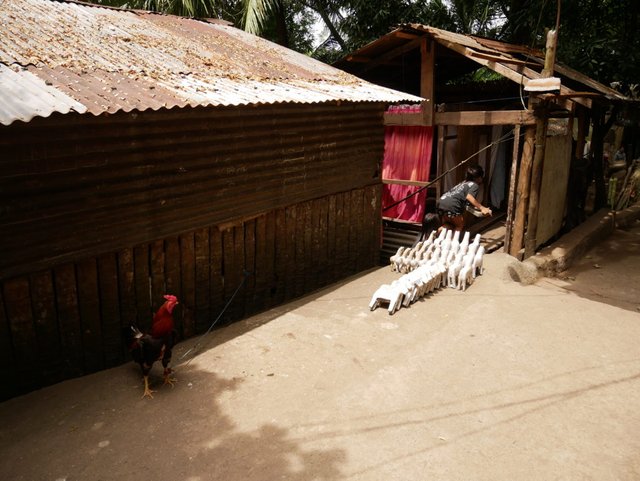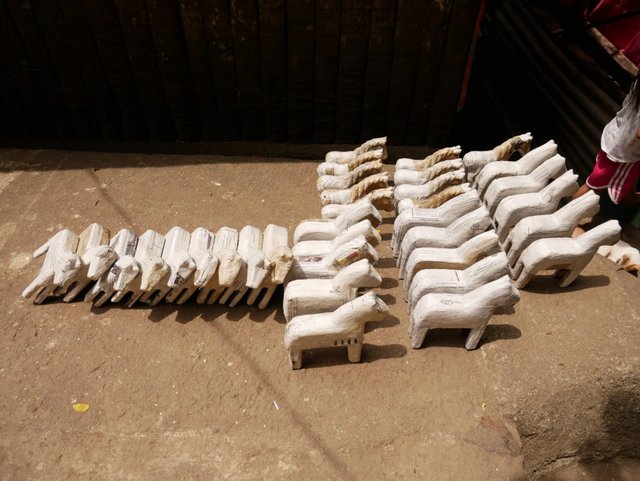 The tubes that you see hanging are water tubes that provides mountain water to the residents. Free clean water is what I am talking about.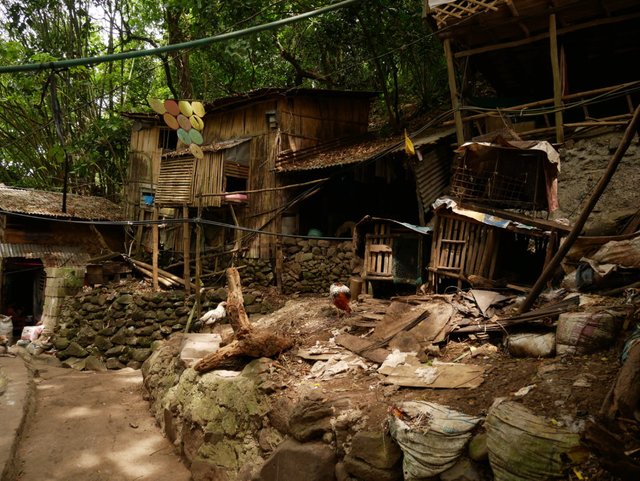 The stairs are steep and are a bit slippery. I actually slipped and fell on my bum which was embarrassing. I'm glad no one noticed.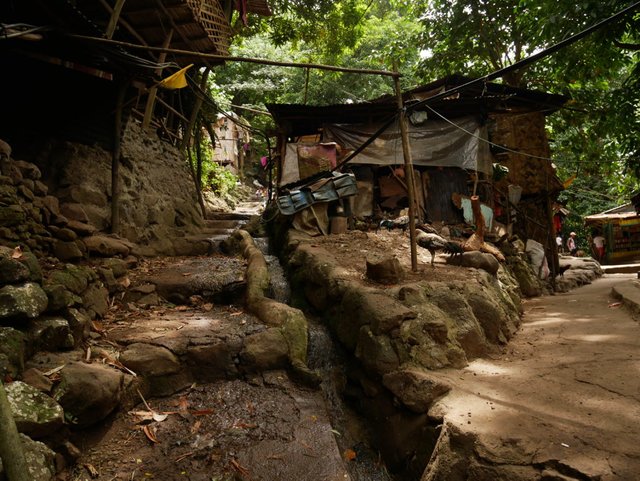 The people here are very friendly and they all have those smiles which are genuine. I couldn't help to ask to take a quick photo of these two ladies.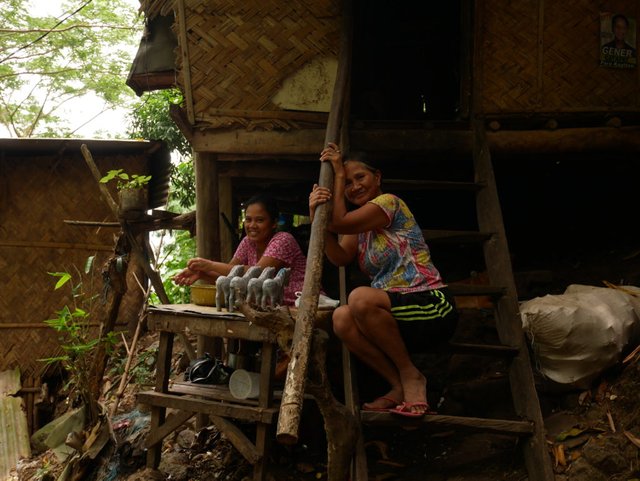 Talent is everywhere in this town and I got to see some of them in action. Looks like they are already starting the wood carvings for Christmas. All hand crafted and once exported I bet it would be expensive, but sad to say that some of the true artists won't see that bulk of the earnings.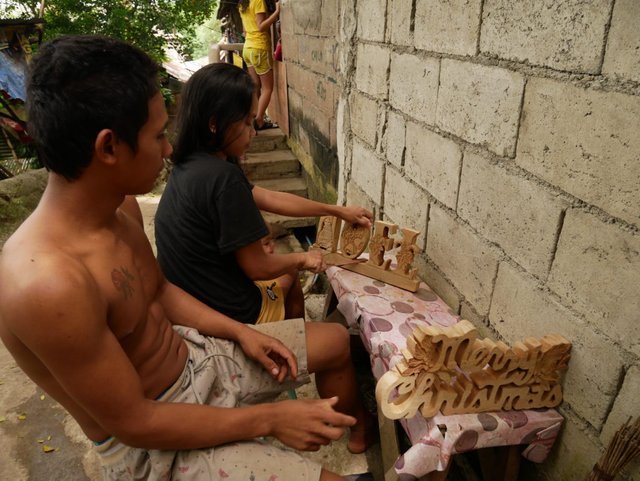 As we neared the streets, the houses are all made from concrete with electricity and phone lines. Down here it feels a bit crowded, I like it better up there.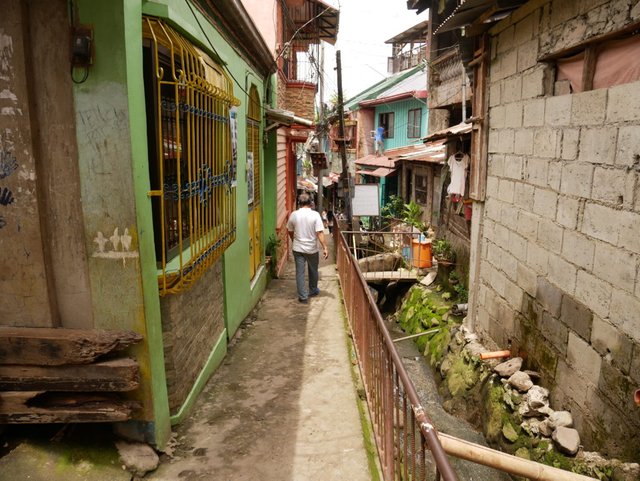 Here we are back on the streets of this town and from here you could see the Three Crosses that we worked so hard to reach.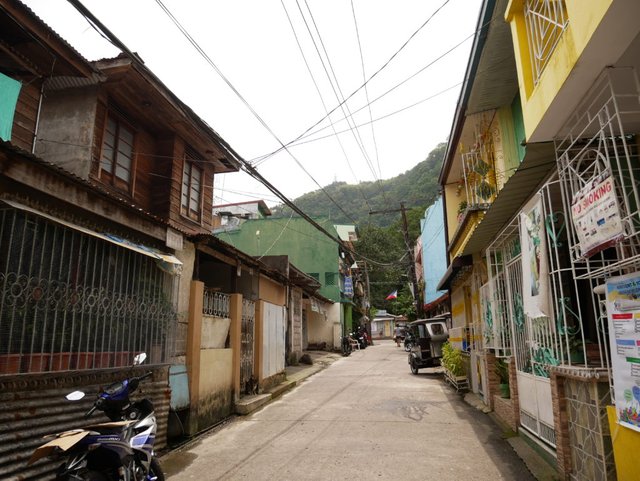 That feeling of fulfillment in overcoming this climb is something we are all proud of. I am specially proud of my family that made the climb with me. Being together gives everyone strength to overcome any obstacle. Not only here, but also in life. It is easier as long as the family sticks closer together.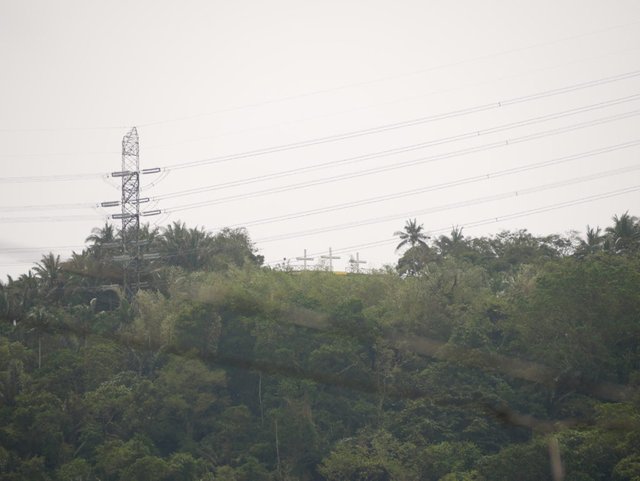 Thank you for joining me in this final part of our trek and I hope you enjoyed this trip thru nature. From our exhausting climb, reaching the summit and back to reality. If you would like to see more of this beautiful province just visit my old posts below. Until then I hope to see you again to see more of our adventures about life, culture, food and whatever we stumble upon.
Thanks everyone and have a beautiful evening or morning.
A Thousand Steps to "Tatlong Krus"
"Tatlong Krus" at the Summit of Mt. Humarap
A Resting Place at the Foot of a Mountain
Chisels from the Town Near the Bay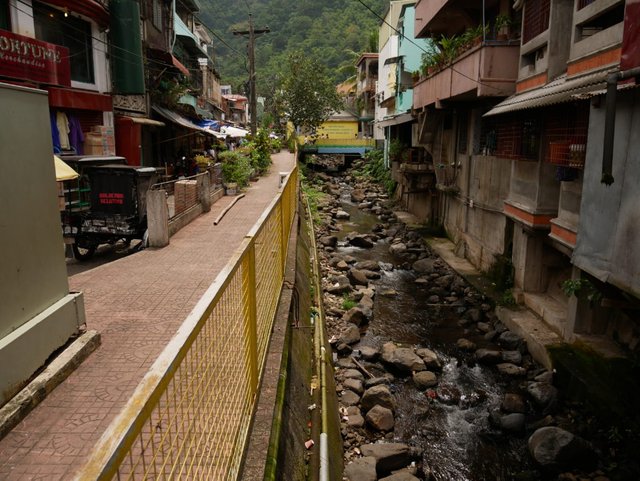 Follow @surpassinggoogle to witness an extraordinary person in this platform and vote for @steemgigs as witness
Discovering exceptional content in the community follow @curie and vote as witness
To have a glimpse of awesome content from the Philippines check out @bayanihan
All photos are original and taken with
Lumix GX85
12-32 mm kit lens
Olympus 40-150 mm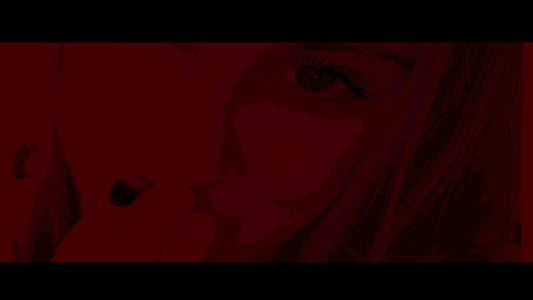 ---
Posted from my blog with SteemPress : http://watersnake101.vornix.blog/2018/10/18/the-descent-from-mt-humarap/
---