Mucho's Hauz - Beautiful Sunday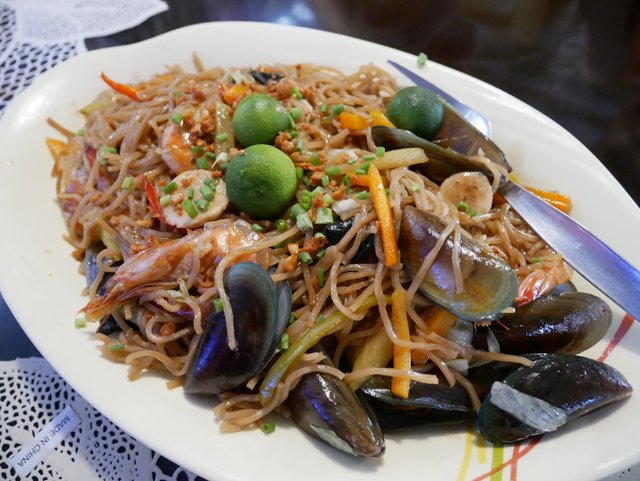 After our tour from the beautiful church called St. Peter of Alcantara Parish, we were ready for lunch. All that walking and taking photos got me really hungry. Since we are just visitors in this town we had no idea where to eat. Since my father lived near this town he knew where the best restaurants are. I was told that it is nothing fancy, really cheap, but the food is superb. Come with me today as we have lunch in a small restaurant near this church in Pakil Laguna.
Mucho's Hauz

From this church the restaurant is located just a few steps away. It is located on a small street on the right just in front of the church. No big signage can be found and it would be hard to discover it accidentally. Well, this restaurant was actually suggested by my step brother to my dad. Which he discovered thru his friends.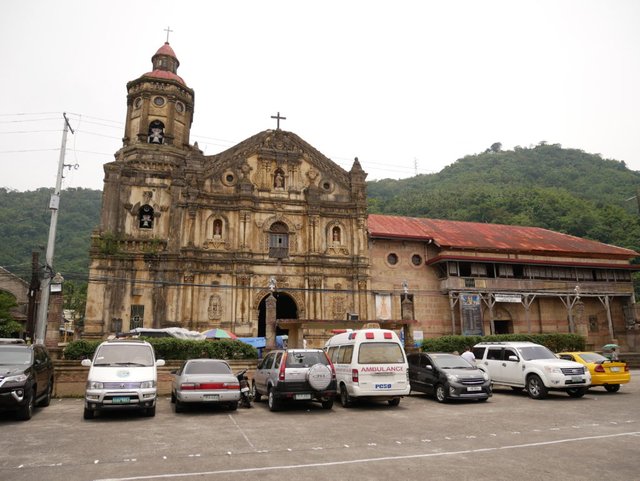 After a little walk, we reached the restaurant and from the outside it does not look much. But as the saying goes "Don't judge a book by it's cover". Appearance are often misleading and we have eaten in a lot of restaurants that doesn't have a fancy appearance, but the food exceeds some restaurants that has an elaborate appearance.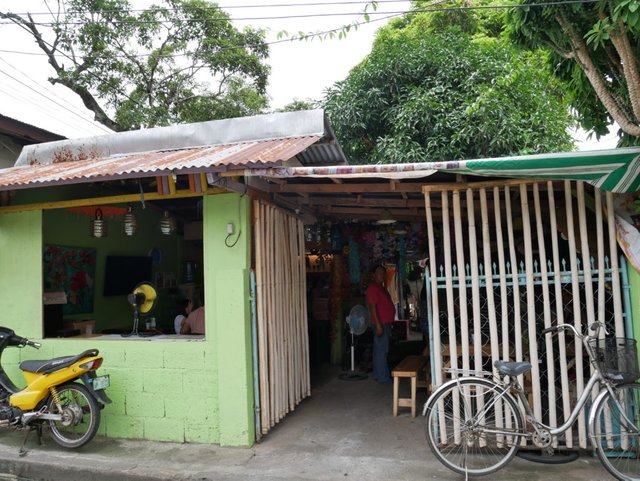 When I peeked inside, the place was very simple yet clean. Concrete floor and exposed roofing, some might think that the structure is still unfinished. As far as I know, the restaurant has been operating for more than three years now.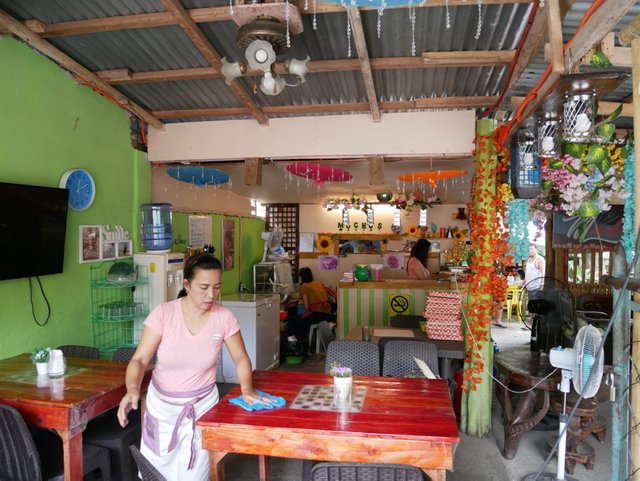 With that exposed ceiling they compensated it with hanging flowery decorations, bamboo poles and lights. There were a few customers at this time, but I was told it is often crowded. There are times that you had to wait in line to get a seat. Good thing there was not much people and we easily found a spot at the far end corner.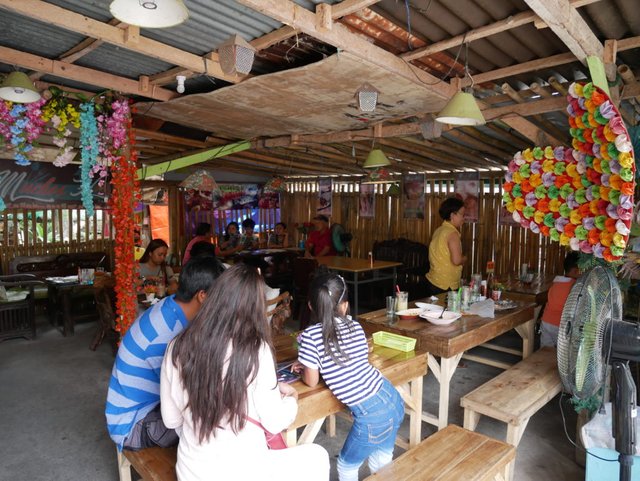 At the back, they had more seating in small bamboo huts under a big mango tree.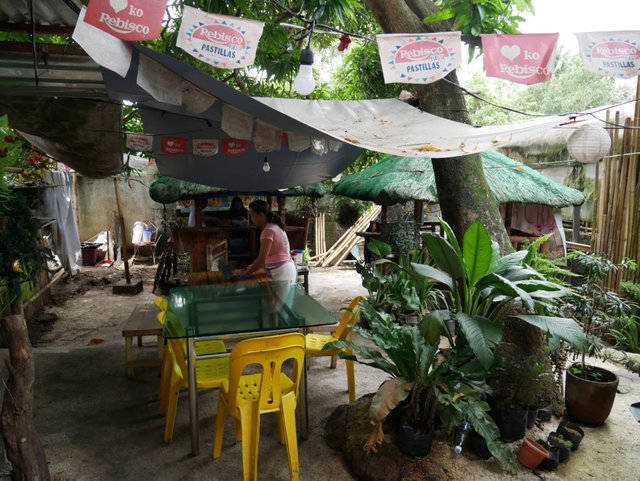 The take out counter just in case you wanted to just take your food on the go. There are tiny bits of country accents here in there. Just like those sun flowers on the wall mounted on wooden boards.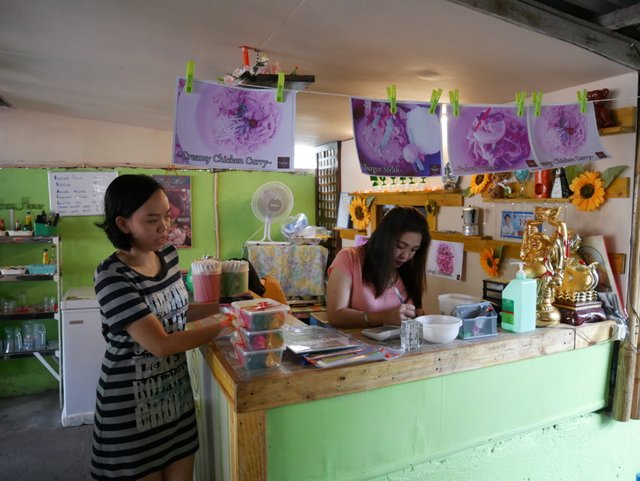 No air conditioning, but there are adequate electric fans to keep the customers cool.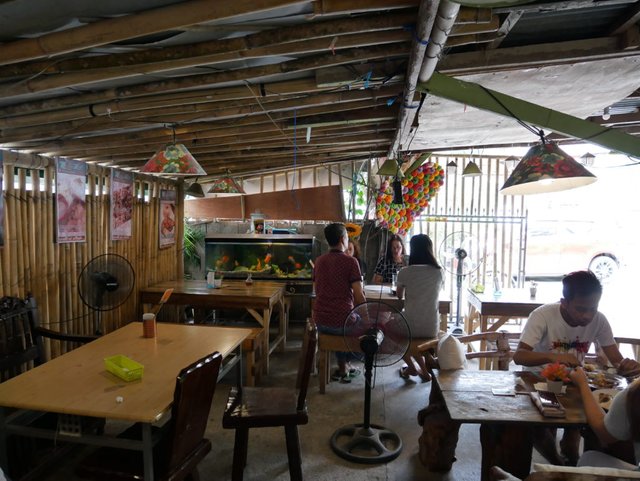 It is fascinating that there are variations in tables and chairs. This one in particular made from wood scraps is very unique. I didn't get a chance to examine it closer as it would be weird taking photos of the chair while it is occupied.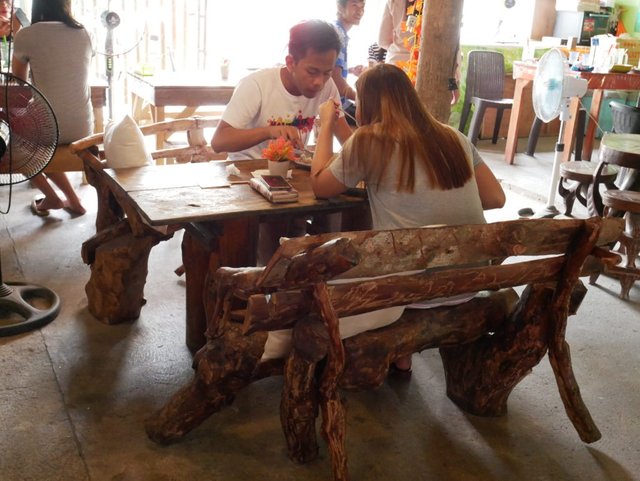 Now it's time to order our food and I had no idea what to eat.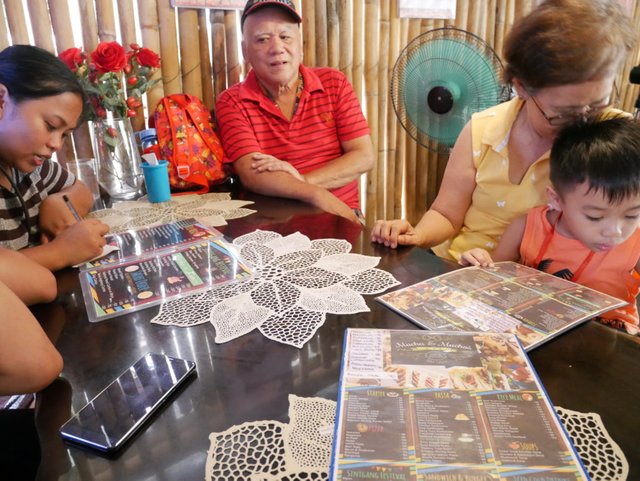 On the menu, it says Mucha and Mucho Food House. This got me a little confused as the name was Mucho's Hauz, but says differently on the menu. Mucha in Spanish means a lot and Mucho means much, which is kinda redundant. But probably it is a pet name of the kids or owners of this place.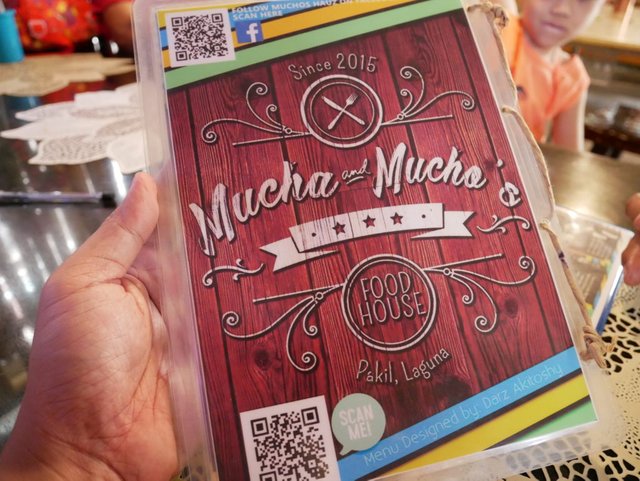 When dining in it is common here in our country to order noodles along with rice and meat dishes. So we were looking to order a couple of main dishes to be sufficient for all of us. The prices here ranges from around $1.00 to $4.00.
They had already so much on the menu, which made it harder to choose what to eat. But I thought to stick to food for lunch to make it easier to choose.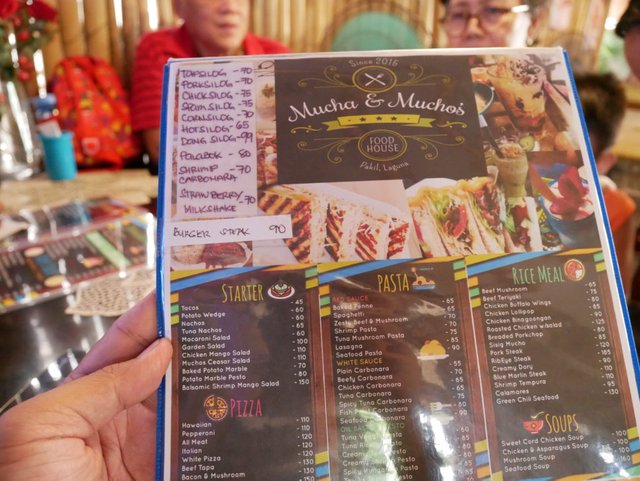 Side dishes, pizza and pasta so much to choose from. How I wanted to try their pizza and pasta, but we will skip that for now.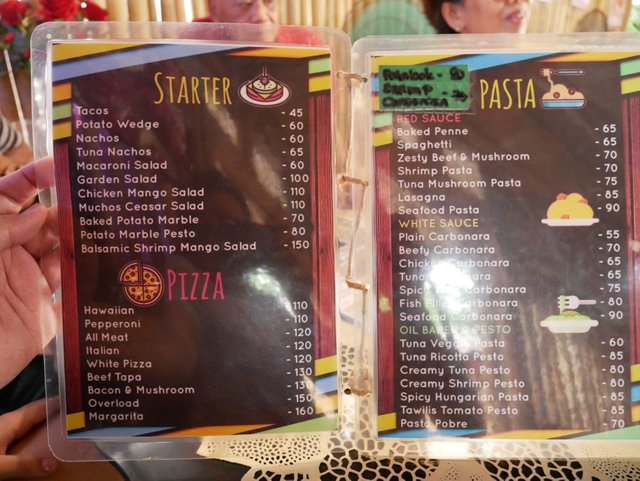 Here are the rice meals which is good for one person served with a cup of rice and a meat dish. We needed to order something that could be shared among us. So we ordered one whole fried chicken, sizzling sisig, pancit canton regular and seafood variant. My daughter wanted shrimp tempura so we also ordered that as extra.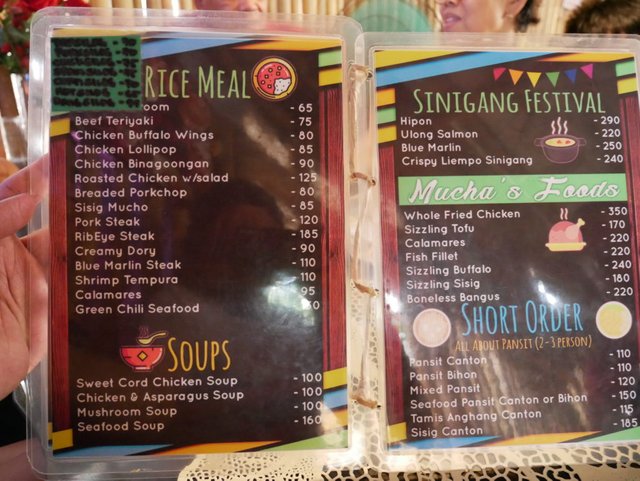 As for our drinks, I didn't know what they ordered we just have to wait and see.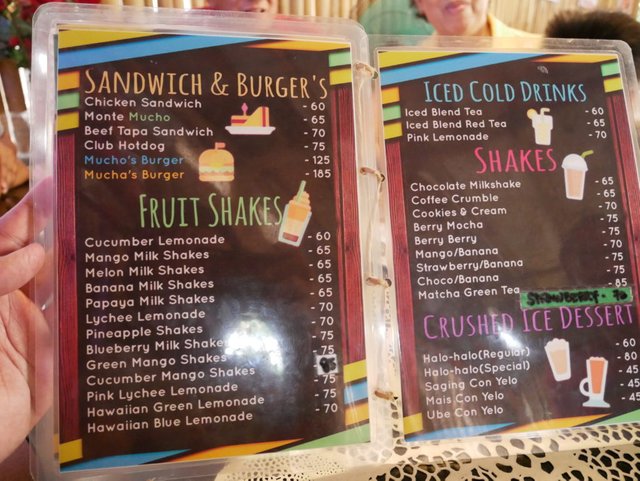 Now the hard part, which is waiting for your order. We were starving and I hope it would not take too long. The kids kept themselves busy on their phones as what kids normally do these days. I on the other hand just went outside a bit to check what else I could find. Unfortunately, it was a bit hot at this time and I was forced to come back inside.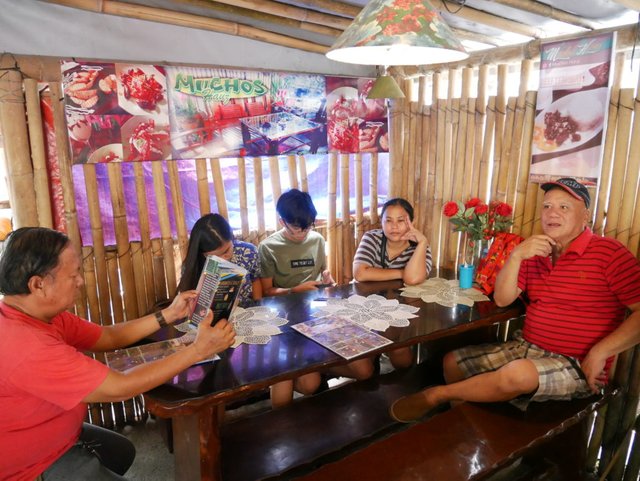 The food didn't take too long and started to arrive. First up was the regular pancit canton which is a very popular noodle dish in our country. Chinese influenced it is a mix of meat and vegetables and often I prefer the one that has a lot of sauce. The variant they had didn't have much sauce, but the firm texture of the noodles was very good. I've had better and I guess my rating for this dish is just a little above average for a pancit canton.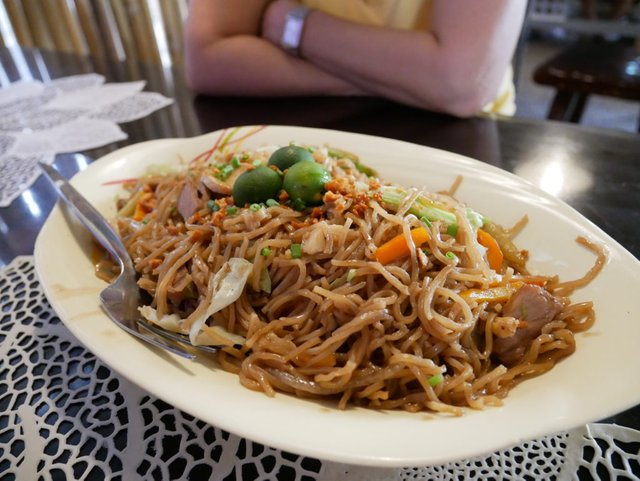 The next one that came was the sea food pancit canton. It is the first time I have heard of a seafood version and I was very eager to try it out. Don't forget to squeeze in that calamansi which is our local lime on the noodles. It adds a little sour taste that enhances the flavor of the noodles. The aroma of this dish was very delicious and would definitely stir up that appetite. As for the taste, it was quite unique and the seafood fusion was very satisfying.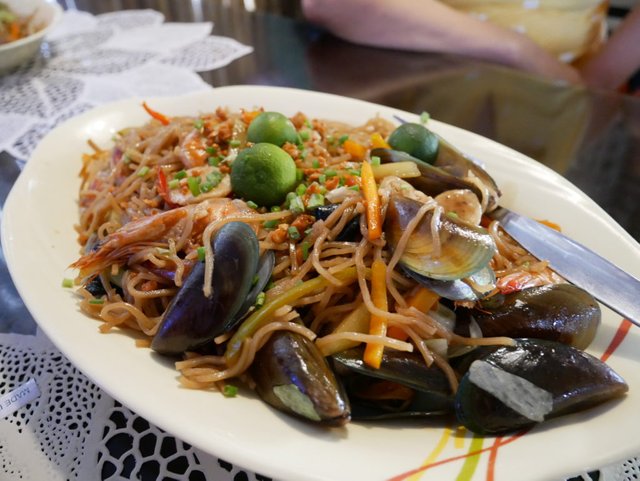 In our meals, rice is always present and can always be found at a table here in the Philippines.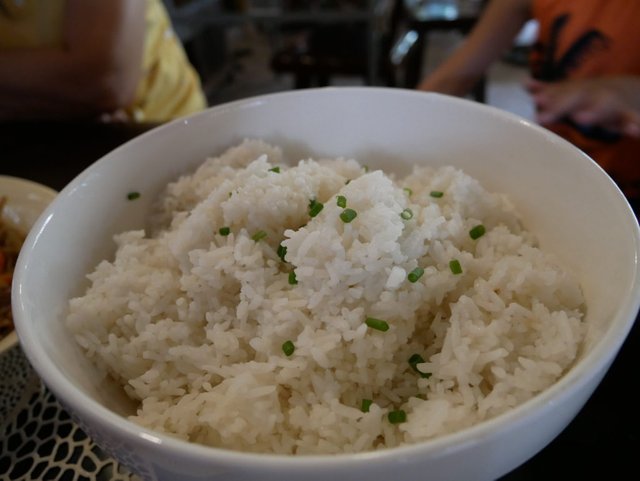 Next was the pork sisig served on a sizzling plate. I could say this dish is the most popular partner during drinking sessions. Now it is also ordered even where there are no alcohol around as it it perfect with rice. The original sisig is made from roasted chopped pork face topped with a fresh egg and mayonnaise. That I prefer has a good balance of crunchy parts and tender meat. Again don't forget to squeeze in that calamansi to add that extra flavor and crush that chili when you mix it.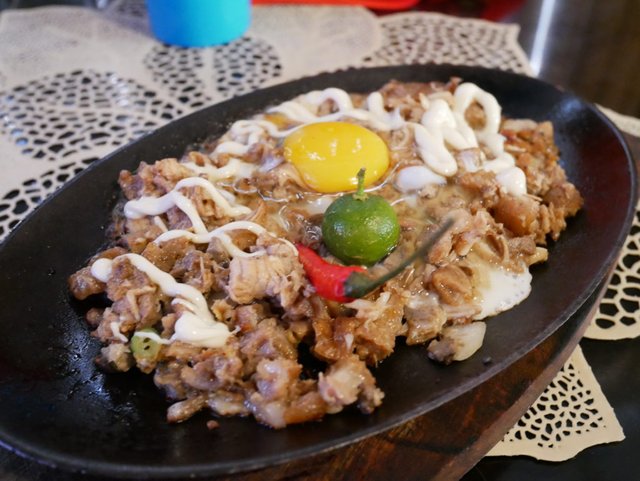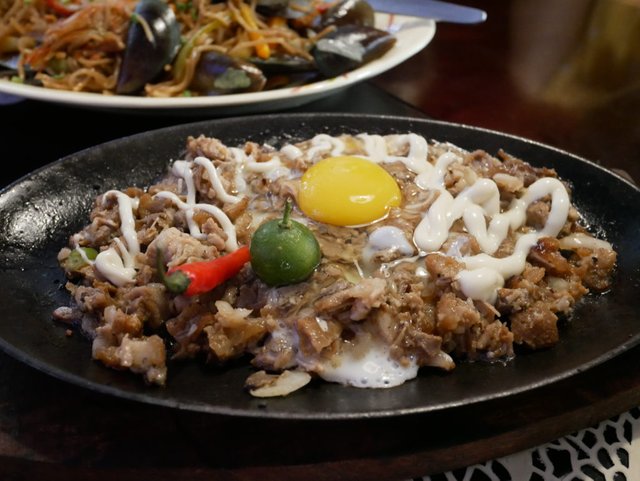 My daughter's shrimp tempura was also served the same time with the sisig. It had three pieces and the shrimp size was acceptable. My daughter loved it and also loved the dip that came along with it. For the price of around $2.00 it is worth it. The serving is good for one person, but if you have a large appetite ordering two of these would be sufficient.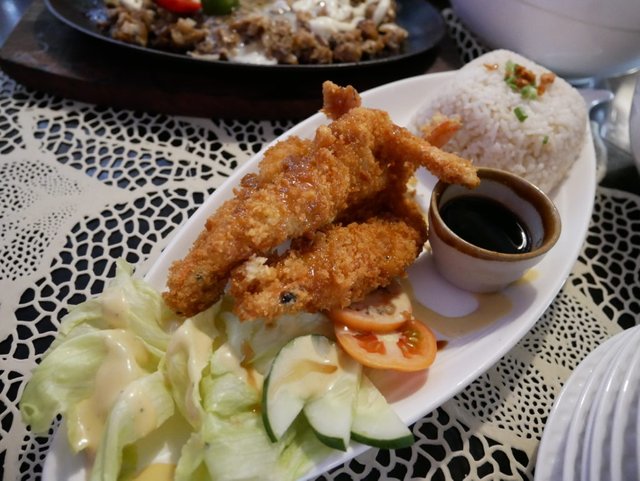 The last main dish to arrive was the fried chicken. My son loves fried chicken and often this is what he always orders everytime we go out. I always convince him to try other food, but still he always orders chicken. The chicken looks like it has been over chopped, but no matter it's the taste what is important. The way they cooked it is without breadings. There is way of cooking fried chicken here where it boiled and seasoned with salt and pepper. It was very well seasoned and I loved the tiny bits of crunchy parts. My son enjoyed the fried chicken as he ate a lot of it.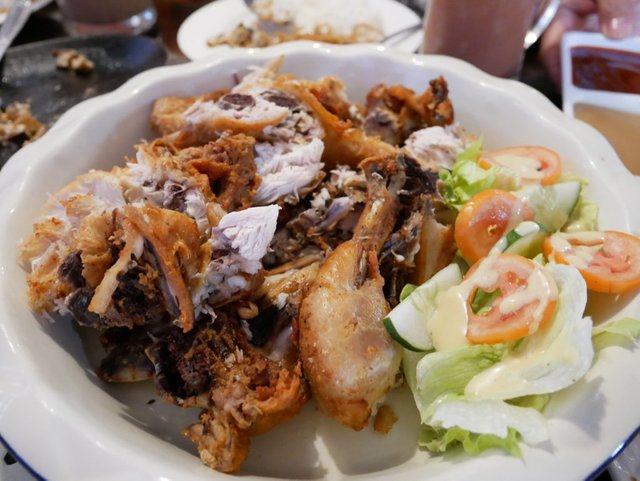 The drinks and shakes that they ordered looks very good. On the left side is the chocolate milk shake and on the right is the ever popular Philippine halo halo.
If you would like to read more about halo halo do visit my old post below.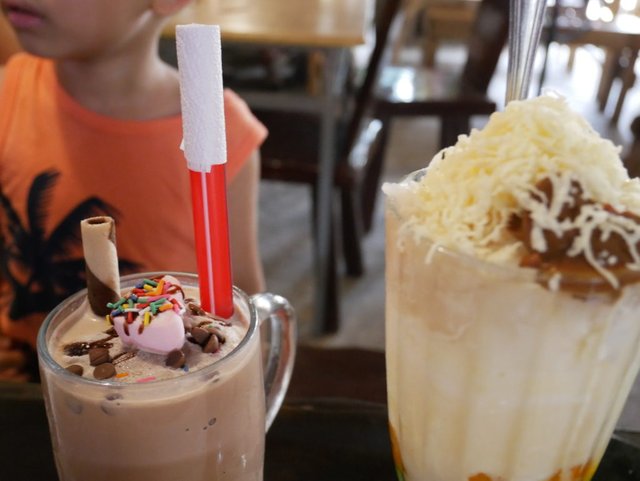 If you have that sweet tooth you would love the Choco Banana shake. Fortunately, the kids allowed me to have a little taste of their drink.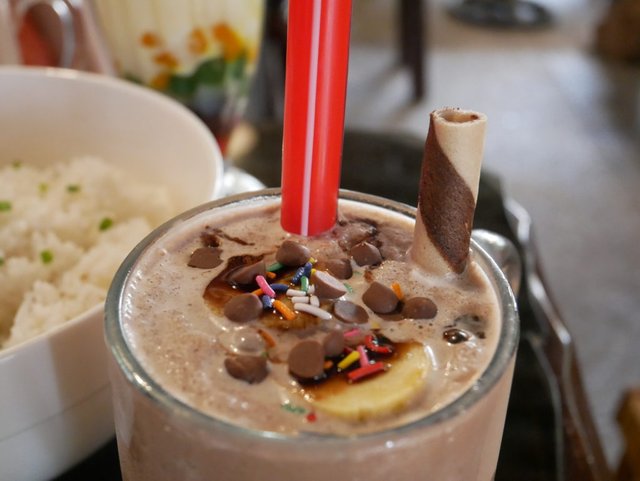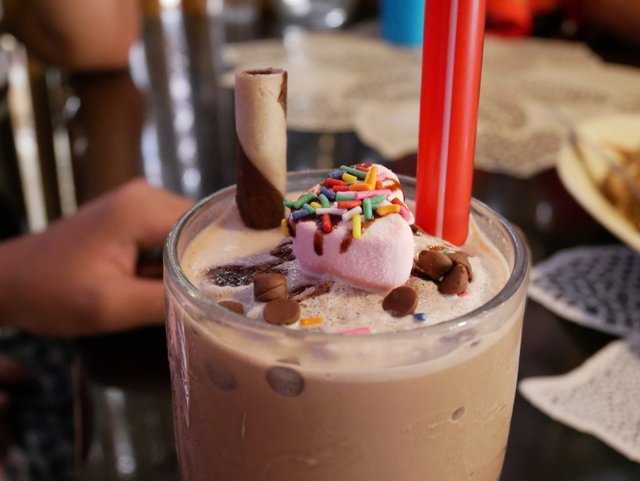 After taking photos it was time to eat and the best part of this lunch is spending it with the family. As I said earlier, the place does not look much, but the food here was absolutely very satisfying. There is a feeling that I always look for everytime we finish a meal at a restaurant. That feeling of satisfaction with a hearty meal which would make you want to come back again soon. The feeling of happiness beneath your belly is enough to say that the food here is really good. We are really looking forward to come back here and try their pizza and pasta. I hope we come back real soon.
Thanks for joining me again in this #beautifulsunday and I hope to see you again soon. Until then happy eating as food is life.
Visit our previous adventures in this amazing province called Laguna
A Thousand Steps to "Tatlong Krus"
"Tatlong Krus" at the Summit of Mt. Humarap
A Resting Place at the Foot of a Mountain
Chisels from the Town Near the Bay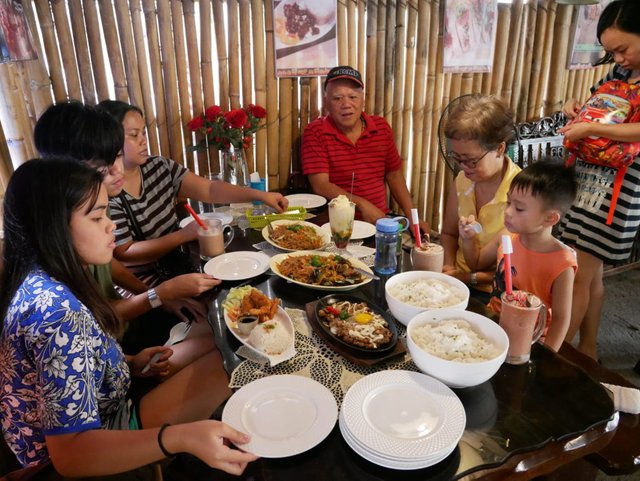 Official Page

Follow @surpassinggoogle to witness an extraordinary person in this platform and vote for @steemgigs as witness
Discovering exceptional content in the community follow @curie and vote as witness
To have a glimpse of awesome content from the Philippines check out @bayanihan
All photos are original and taken with
Lumix GX85 and 12-32 mm kit lens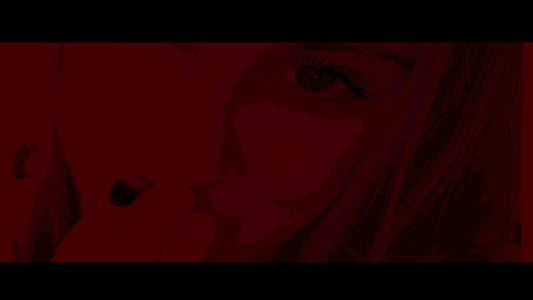 ---
Posted from my blog with SteemPress : http://watersnake101.vornix.blog/2018/10/14/muchos-hauz-beautiful-sunday/
---