How I discovered my neighbour was an alien from outer-space
This true story contains my personal experience about meeting two aliens with my son, nearly 10 years ago.
Here is the start:
We lived in a small sleepy village in a little cul de sac with fairly large individual houses. People keep themselves to themselves. You don't know your neighbours. You almost never even see them..........
Before I continue, let me explain why I am only writing this story now, nearly 10 years later?
@mctiller is running a writing competion called " A man suspects his neighbor is an alien, from outer space."(https://steemit.com/twentyfourhourshortstory/@mctiller/writers-win-5-steem-24-hour-short-story-contest-for-may-29-a-man-suspects-his-neighbor-is-an-alien-from-outer-space).
I have my story which is TRUE.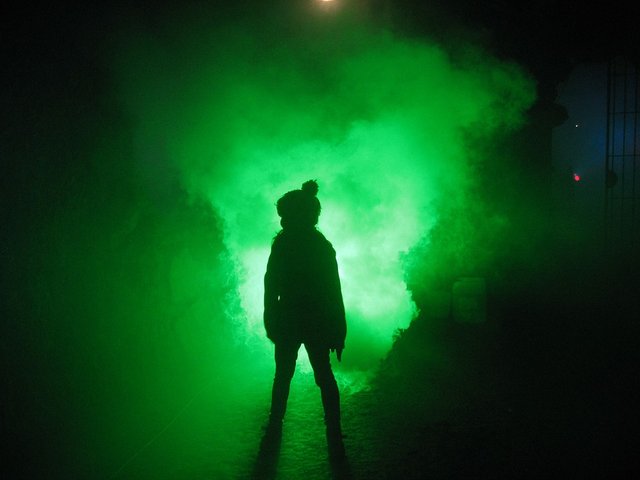 Image source: https://pixabay.com/en/winter-light-palm-garden-green-girl-177958/
This competition title caught my eye because it REALLY happened to me about 10 years ago.
So here is my TRUE story.
How I discovered my neighbors were harboring aliens in the basement
We lived in a small sleepy village in a little cul de sac with fairly large individual houses. People keep themselves to themselves. You don't know your neighbours. You almost never even see them.
One of our neighbours had sold his house. We came to learn that the buyer was a foreign ambassador, or maybe the embassy itself. There was nothing particularly surprising in that. In fact several people in our village were diplomats or ambassadors.
We came to learn that the buyer would be carrying out some renovations before moving in. We weren't surprised to see all kinds of digging machines, lorries and skips move in. The workers seemed to be foreign. Again nothing surprising about that. Many building jobs are carried out by cheaper foreign workers. Most people here are highly educated and tend to get jobs behind desks, rather than become manual labourers.
Every day several skip loads of rubble were filled and removed. I guessed that they were digging downwards to make a second basement, or maybe a swimming pool under the house. It was impossible to say. You couldn't see from the street, and it was well protected by fences.
What started to become surprising was that the digging went on for months, and every day the rubble was still being removed in skips. I joked with my wife "They must be 5 basements deep by now". Still it didn't stop. Every day the same workers (maybe 5 to 8 of them), would come in and the skips full or bubble kept being removed. It was impossible to believe that so much could come out of a new basement.
Finally after about a year-and-a half to two years the digging stopped. It was replaced by a strange noise, day and night. It didn't disturb us. It wasn't loud, but you could hear it if you stood near the chained up fence. The best way to describe the noise, is a bit like Dr Who's Tardis when it takes off. I joked with my wife that it must be aliens. She laughed, and said that I was imagining things. She said that the noise is maybe from a water-pump, as the hole under the house must be a mile deep by now, and it was bound to be filling with water.
The ambassador hadn't moved in yet. The workers continued to enter the house daily, chaining up the fence from the inside.
One evening, I noticed that the workers had forgotten to chain up the fence. I and my 17 year old son decided to investigate. We just had to know what was making that "Tardis-like" noise.
Trespassing is a serious crime round here. You just don't enter someone else's property un-invited. But we did it anyway.
We entered the house at the back. The door was not locked. Everything inside the ground floor of the house was like normal and finished and furnished- just like any house, except there were no personal items like books, paintings, or ornaments. It was very clinical, just tables, chairs, In the lounge, no TV. We wanted to visit the rest of the empty house, but all the doors were locked, and there were no keys. We couldn't move around.
There was a lift. An elevator. My son pressed the button. After a nearly a minute the elevator door opened, and we entered, pressing the lowest button - there were many buttons all with weird characters in them. I thought it was probably asian script, I but teased my 17 year-old son, saying it must be written by Aliens. How little did I know what was about to happen next.....
After nearly a minute in the lift the doors opened. What we saw terrified the life out of us. The giant underground room looked like the inside of a space-ship. It was right out of a science fiction movie. There were lights, levers, buttons, large devices, control panels, displays everywhere. I would swear that we were inside some kind of deep-underground flying saucer. This was nearly 10 years ago, even before the iPhone had been invented. Even by today's standards, the amount of technology in that room would blow your mind. The noise that you could only just hear in the street was loud. It was like being in the machine room of a giant boat. Very noisy.
That wasn't the scary bit. Not the noise. Not the technology and flashing lights. What terrified the life out of us both were two aliens. I can't describe them. They were almost humanoid, probably with two arms and two legs. It was hard to say. A bit like the space suits of the men walking on the moon. These aliens had giant heads encased in some kind of glass. I can't describe it exactly. It was brief. It was terriying. We don't know what these creatures are but for sure not humans.
We didn't wait to find out more. I pressed the top button, the lift doors closed and after nearly a minute, we were back where we started. I don't know if these aliens saw us. There was too much noise to hear the arrival of the lift. I don't think they noticed us arrive and then leave very quickly, but we can't be sure.
We fled the house, terrified. We couldn't speak to anyone. We feared for our lives. You would too if you saw these frightening creatures. Only now do I dare to tell what happened on that day. To help you understand the fear, we sold our house that year and moved to another village. We did not want to live near aliens.
Looking back nearly 10 years later, I think the conclusion is that the foreign government have made contact with aliens from outer-space and given them sanctuary in our old village while they secretly plot to conquer mankind.