AID VENEZUELA | Donate Medicines from USA now!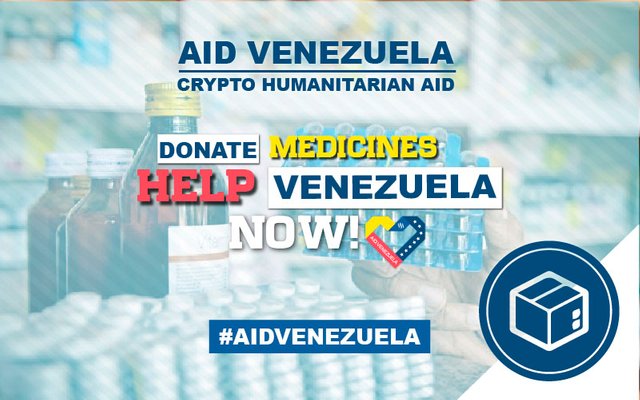 Dear Community of Steem. By means of this letter we ask all those who might be interested, for their support to initiate what would be one of the stages of this project which seeks to provide with medicines to institutions and people who require them in the various regions of Venezuela that can be reached.
Under this argument we look for the power to support those institutions that motivated to the humanitarian crisis that lives the country have a shortage of supplies to attend the most serious cases of hospital emergency that affects our nation, which have not been attended due to the prohibition of the national government to allow the entrance of the humanitarian aid sent by diverse nations, who in their attempt to continue forward use alternative means to obtain supplies by means of foundations and external projects that obtain the same ones from other countries.
Steps to fundraising:
Talk to neighbors or friends about the situation in Venezuela using different sources, including this project, and organized an input collection.
Locate a pharmacy or drugstore together with friends and neighbors.
Make the selection of medicines and medical supplies that according to your economic capacity can be acquired and according to the list established later in this post.
Introduce the content in a box so that it can occupy the full dimensions of it.
Identify the box correctly including, if possible, the list of inputs it contains.
Go to a courier (specified below).
Inform about the shipping data to Venezuela including the box in which the donation will be received.
Inform us by this means or by means of our email [email protected] of the sent supplies, date of shipment and person that sends (if you wish it).
Necessary products:
Medicines:
Over-the-counter (OTC) medications: anti-inflammatory, antipyretic, anti-allergic, anti-flu, anti-diarrheal, or any over-the-counter medication.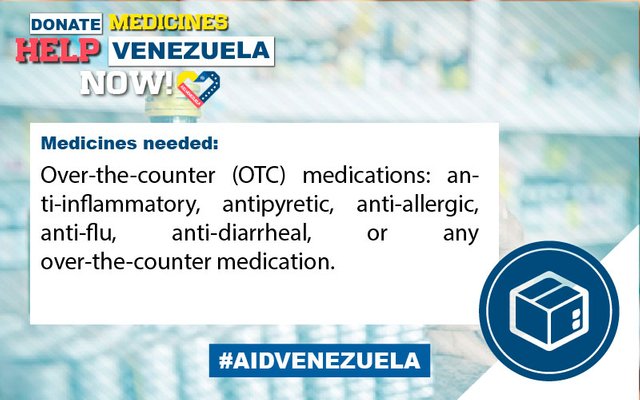 Medical Supplies:
Liquid Bandage, Band Aid liquid
10% sulfur soap
Tylenol (suppository, tablets, syrup)
Folic acid
Adhesive tape
Topical analgesic with lidocaine (Solarcaine Spray, Dermoplast Spray)
Arnicare - Gel Aloe Vera
Árnica en gel Bengay Stop Pain Perform Ice Hot Max-Freeze
Bactine (spray) Neosporin
Silvadene
Lip balm lipstick-style tube (Chapsticks)
Sodium bicarbonate
Arm Slings
Caladry
Throat Drops Lozenges
Disposable bed pads
Steri Strip Skin Closure
Cervical Support Collar size S,M,L
Instant cold packs
Culturelle (Enterogermine)
Orthopedic equipments ( Elbow pads, Wrist Guards, Knee Pads, Shinguards)
Burn gauze pads
Individually-wrapped gauze pads 4x4
Eye drops (Visine ,Clear Eye )
Sterile nitrile unpowdered and Non sterile nitrile/latex gloves sizes M and L
Imodium (in tablets)
Syringes (5, 12, 20 ml)
Iodine
Antiseptic Wash (Band-Aid Hurt-Free Antiseptic Wash)
Cough syrup (Robitussin)
Ketasol Injections 250 mg, Lidocaine HCl injections
First aid Kit
Bedpans and Urinals
Disposable nebulizer kit
Madecasol (Asiaticoside) Protosulfil 1%
Silver Sulfadiazine Cream 1%
Nebulizers
Omeprazole Lanzoprasol / Lansoprazole
Pedialyte powder
Permethrin 5% or 10% (scabies)
QuikClot (stops hemorrhage)
Betadine Solution
Ophthalmic saline solution (Boston eye wash, Unisol 4)
Sulfur butter
Face masks
Thermometers
Hydrogen peroxide wipes)
Combat
Elastic bandages 4"- 6" y 8"
Vit C 1,000MG (chewable) or Emergenc
Vitamin D
Vitamins B1 B6 B12 injections (B Complex)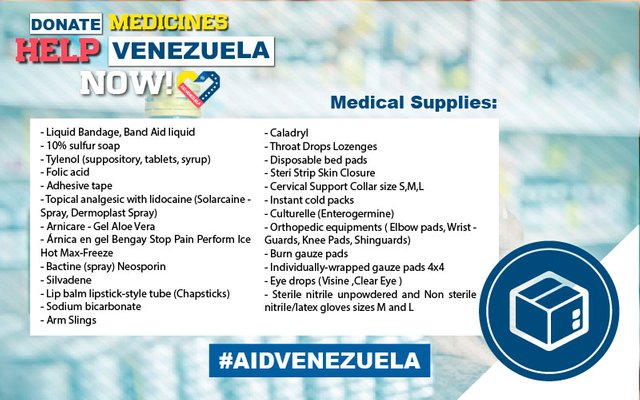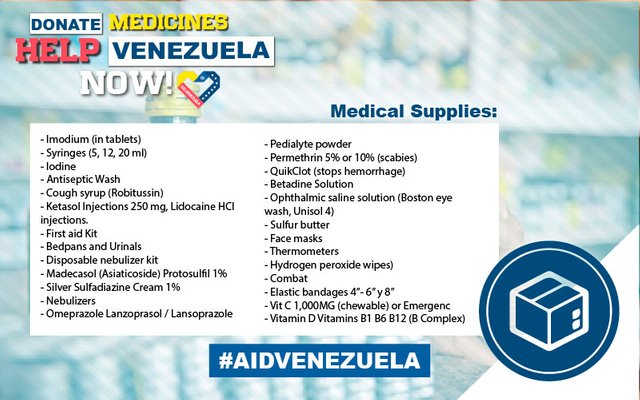 Couriers
1. CARGO HL (Free Shipping for medicines): It is a company located in Miami, FL with 16 years of experience, in charge of shipping to and from Venezuela anywhere in the United States and Panama. URL: http://cargohl.com/
Shipping address (how it appears here):
CARGO HL (2447) 5303 SW 153RD AVE MIRAMAR FL
POSTAL CODE 33027
Phone number: (754) 2071733

2. Liberty Express (charge costs): Liberty Express is the leading company in the market for the transfer of Internet Purchases and International Shipments, from Europe, Latin America, USA, Canada and the rest of the world. We have a great experience of more than 14 years for the handling of your packages and parcels that gives us the basis to offer a quality service, providing excellent advice and continuously exceeding all your expectations of home delivery at no additional cost. URL: http://libertyexpress.com/
Shipping addres (how it appears here):
LIB-VE0535433 8952 NW 24TH TER DORAL
MIAMI, FL 33172-2422 United States
Phone number: (305) 5009199

Disclaimer: We invite you to contact the shipping houses before making any donation. This to avoid sending products that may be prohibited before them. We also recommend using Cargo HL as they offer a free shipping service to Venezuela.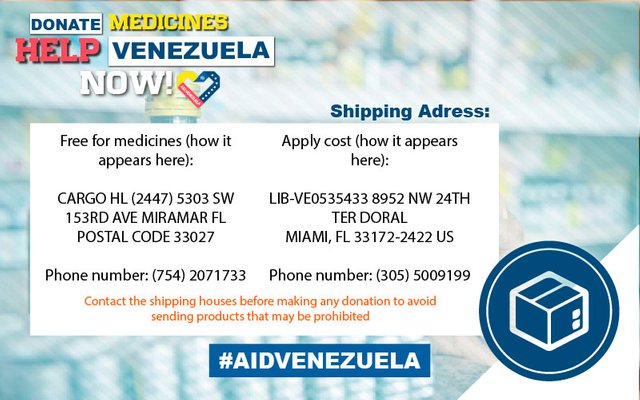 ---
Our project seeks through the blockchain provide the greatest amount of aid possible to the most vulnerable communities in the country, who are not only suffering food problems by the high cost of products, but that coupled with this the pharmaceutical companies do not have the majority of products necessary to meet the need of the user, or in such a case they are at a very high cost because they are imported products.
This campaign seeks to attack that aspect and allow at least one medical aid that serves to assist them and prevent more deaths that are occurring in hospitals for lack of supplies.
---
Archive: Images takes from severals sources from the years 2018-2019.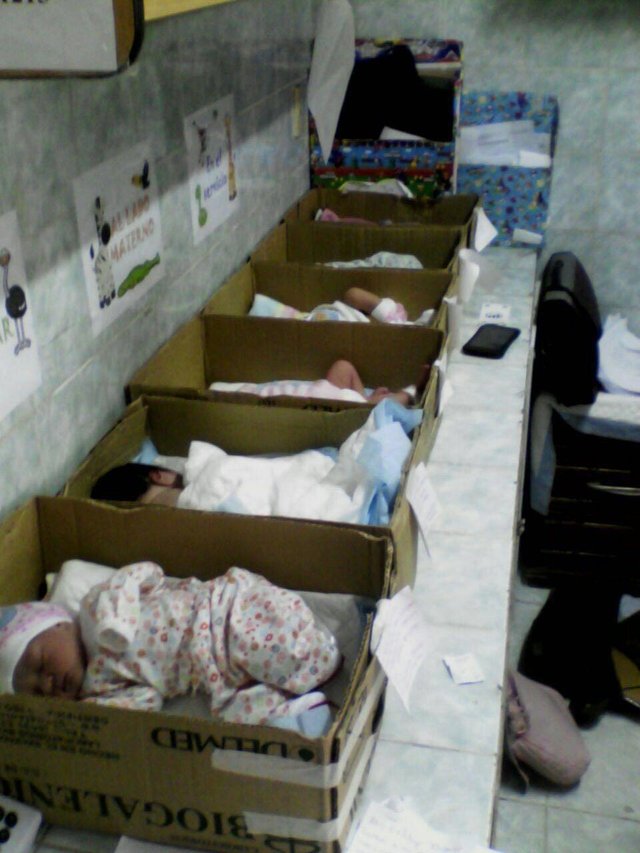 Source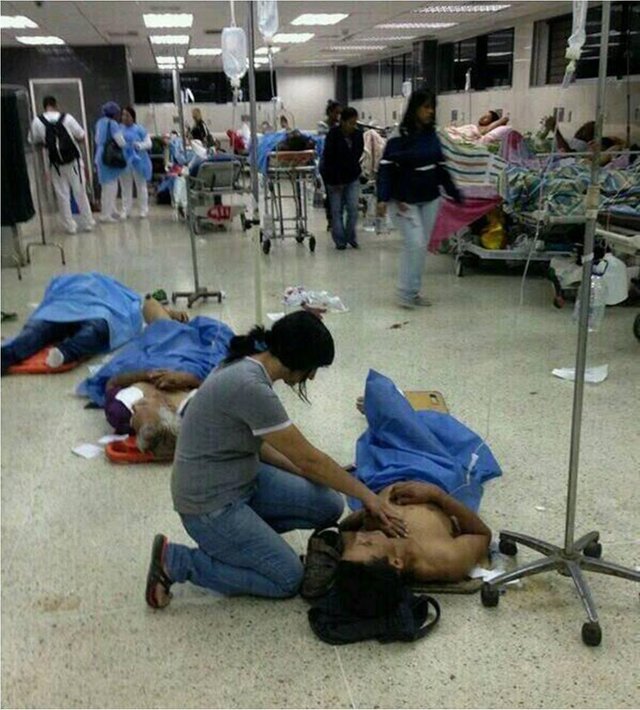 Source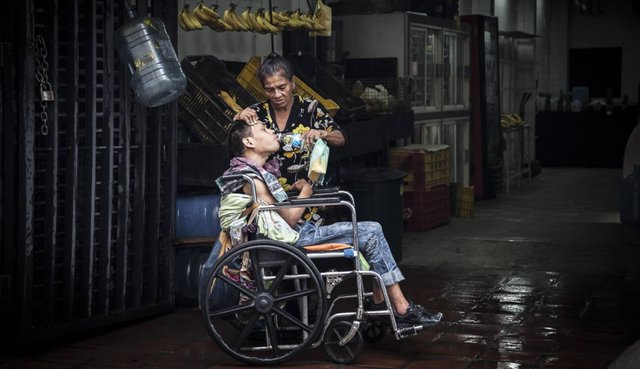 Source
---
From @aid.venezuela the commitment is with the Venezuelan people and we will look for all the forms that are in our hands to take care of them.
Thanks for your support!
If you are interested in supporting us we invite you to read our introductory post where you can learn more about us and some frequently asked questions:
INTRODUCING AID VENEZUELA | CRYPTOCURRENCY HUMANITARIAN AID

Join our discord channel: https://discord.gg/RQ27fRe
Follow on Instagram: https://www.instagram.com/aid.venezuela/
Related post:
Venezuela in the dark | The crisis is becoming more and more acute
Venezuela | About the last days and a new project for Humanitarian Aid
Help is coming to the project!
¡La ayuda esta llegando al proyecto!
A photographic summary "Giving food to people" 16 March | Caracas - Venezuela
"Food for life" A short documentary | Crowdfunding campaign in Fundition | Support now!
Fundition proudly presents: @aid.venezuela's project: "Crowdfunding Campaign for Our Weekly Food Program Food for Life"
AIDVENEZUELA | Making donations a reality with @orinoco
AID VENEZUELA | A call for sup: looking for SBI Shares!

Delegate some SP to our project:
Delegate 25 SP | Delegate 50 SP | Delegate 100 SP | Delegate 250SP | Delegate 500SP | Delegate 1000SP
Send some SBD/STEEM to @aid.venezuela
Make @steembasicincome shares.