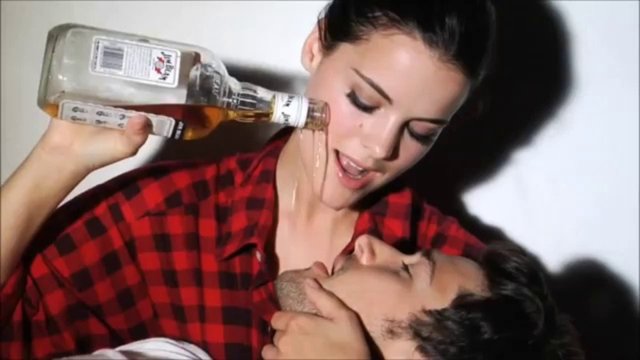 Source
It was one of those regular bus trips u have, surrounded by people you've never met, staring at the
trails of random grasses and trees with the breeze in your face as you zoom past people you would
never meet and faces you'd never see again, i got on the bus half way through its journey at a
popular stop the travellers usually make. Turns out these time I was in great luck, the regular old
women and crying babies had been replaced by a charming young lady and a cock blocking dude
over time the long silence had turned to HI's and HELLO'S, and a promising conversation tickled my
ears like a traveller in the dessert finding an oasis, apparently they were students, visiting the other
campus in the next town for a festival, as time went on she became thirsty and I gave her my lips to
ease her thirst "and boy was it good", I don't know if it was the sugar from the Pepsi or her
strawberry lips but something about it just felt so sweet. Then from nowhere mr.cock blocker sprung
up a theory about how the saliva or her lip print on the Pepsi bottle could be used to track her down,
you would think he would show a little respect for cans.
As always a bus trip is never complete without a little engine failure or a flat tire to teach us the
morale lesson of patience. I don't know if it was the flash from the selfies or the driver hurrying up
people to get on the bus when repairs were done but I seemed to have been forgotten and left to
perish in the middle of nowhere. I tried unsuccessfully to hail other vehicles to stop, and as night fell
I used the wind to carry my tired self all the way to town, I don't know how long it took but the walk
felt extremely long and lonely felt like even my shadow had deserted me, I'm not sure if I cried or
not but there was water on my cheeks I think it was the morning DEW or I convinced myself it was.
It was a big place to cover, but turns out mr.cock blocker was right, it seems her strawberry lips were
calling out to me, they gave me reason to continue on these lonely search. Nights came were I was
cold and needed shelter, everyone else just kicked me around. I followed the voice of her lips calling
out to me to where she once was but my lover had left, but I felt a little warmth knowing I was close
to finding her but there was no means of me getting back to her now, and then I had a glimpse of
hope that my lover would return and these hope was all I needed to hold on some more.
Over the course of my search I had lost my identification, and now I was picked up by a woman
selling ZOBO and I decided to camp with her until the day I would be re-united with my girl, few days
maybe weeks had gone by but love knows no time and surely her thirst led her back to me for
quenching. She stopped by the zobo stand and right there was mr.cock blocker still, all my hopes,
love and dreams like a snow ball in hell everything vanished, I felt used and abandoned why choose
another over me and in my spite mr.cock blocker picked me up out of the heartbreak and anger i felt
I flew off his hand and knocked him unconscious. I turned to see my lover frightened at the sight of
me. I didn't want to reveal myself to her this way, I thought I was her special man I thought these lip
print meant something to her but apparently it didn't, I cried out saying "I thought what we shared
was special, I thought we meant something" but she kept saying "that can't be possible, you can't be
real" if love can raise the dead why can't I be alive for you, how is HE please don't hurt him these
was all she could say. I hated him but now I was starting to hate her more if these was the end of the
road for us, I will have you, I don't care if I have to pin you down and have my way, I would give you
my love even if you don't want it. In rage I knocked her unconscious and on my way down I undid
her buttons, and had my way with her.
I watched from afar as mr.cock blocker woke her up, I felt bad about leaving her sore and naked
along the side of the road. It wasn't my fault all I wanted was for her to be mine, what's done is done
I just laid on my side and rolled into the bush. THE END


Comment and tell me from who/what perspective the story was written from
Written by:
@sir.tenane
@ihamquentin
Muna-banana