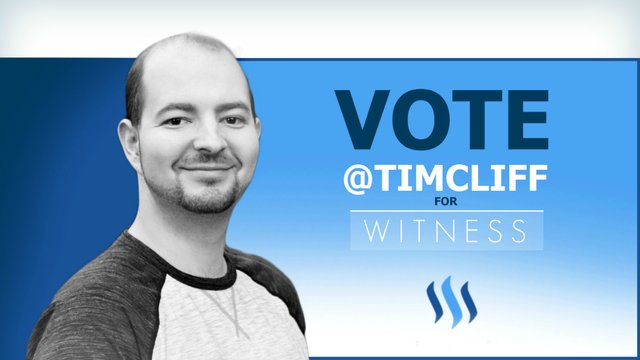 Hello Everyone!
Here is what I've been up to since my last witness post:
I have updated my primary witness server with the recent security patch released by the Steemit dev team. I am in the process of updating my backup and seed nodes.
I have been spending a lot of time reaching out to various exchanges to try and get STEEM (and SBD) listed. So far I don't have any news, but I continue to work hard on this effort! (As do several others.)
I am in the process of setting up a new seed node to replace my current one. It will have a lot more memory and processing power for better scaling into the future.
I have been spending a lot of time helping out users with support issues (many related to account creation and bandwidth limits) in the steemit.chat "help" channel.
I have worked on several pull requests to the condenser (steemit.com) GitHub repository.
I continue to post the weekly Reports from the Witnesses series each week, which provides the community with an aggregated report of all the witness reports from the past week.
I have been discussing with the community and other witnesses potential changes to downvoting to try and address the voting abuse issues that have been happening in the community.
I tried to organize a Steem community roadmap with ideas on what we as community members can do to grow the platform. Unfortunately the participation wasn't as much as I had hoped for, but I still got a few good ideas of things to work on.
I did a video interview with @davidpakman where we discussed SBD and other things about the Steem platform.
I created a post explaining the current situation with bandwidth and explained the errors people have been getting + discussed potential ways to address them. There is also a post from @jamzed, explaining more of the technical details behind bandwidth.
Some Information / Suggestions:
Forward Looking Plans:
I plan to start looking into the Steem Dev Portal to try and see what updates I can make to better improve the documentation for third-party developers.
Continue reaching out to various exchanges and trying to get STEEM/SBD listed. I know several others are working on this too. The more people that we can get reaching out to exchanges and asking for STEEM/SBD to be listed, the better. This means you too! :)
Continue to provide support in the help channel of steemit.chat.
Continue with the weekly "Reports of the Witnesses" series.
Summary of Current Witness Parameters:
SBD Interest Rate: SBD is currently trading way above $1.00. Based on this, my interest rate is currently set to 0.
Price Feed Bias: My price feed bias is also set to 0. I am not currently planning to use the bias to increase SBD production, because I feel the potential negative consequences outweigh the potential gains.
Registration Fee: My registration fee is currently set to 0.1 STEEM. This makes it so that a new account costs 3 STEEM (non-delegated), which is about $18.00 USD at current market prices. Users who have accounts created with the minimum fee (3 STEEM) and are not delegated extra SP are likely to run into bandwidth limitations.
Maximum Block Size: I currently have my block size set to 65,536. There has been some discussion to raise this due to users occasionally running into bandwidth limitations. Currently my position is to not raise the block size. I am hopign that the Steemit dev team will update the bandwidth rules (GitHub issue 1800). If it starts becoming a major issue for more users, I may reconsider. By post above on bandwidth has more information about my views on the subject.
I welcome feedback if you think there are things that I can be doing better as a witness. If you think I am doing a great job, I would really appreciate your witness vote!
https://steemit.com/~witnesses
Thanks everyone for reading my witness report!