Attention Steem Community - Get out the vote campaign - Help us get listed on the CEX.IO Exchange!
CEX.IO is currently listed as the 29th exchange on the CoinMarketCap exchange list based on volume. They list a lot of coins, but STEEM is not one of them. STEEM is listed as one of the top 50 currencies on CoinMarketCap (currently #34) and does several hundred BTC of daily volume. It is one of the fastest blockchains in existence - with 3 second confirmation times, and zero fees for transactions. STEEM should be listed on their exchange!
I contacted CEX.IO and asked what the process to be listed was. They let me know that they base their decisions to list new coins on the number of votes that they have in their form. I know there is one thing us Steemians are very good at: voting :)
Let's send them a message they cannot ignore.
STEEM is an amazing currency and it should be listed on their exchange! Our blockchain confirms transactions in three seconds and doesn't charge any fees! We have one of the most active and involved communities across all the crypto projects. We already have hundreds of working apps fully functional and running on the Steem blockchain today, doing amazing things. There are tons more reasons why the Steem blockchain is awesome!
Everyone - Go Vote for STEEM:
(1) Go to: https://support.cex.io/hc/en-us/community/posts/115000692074-NEW-Steem-STEEM-Please-Vote
(2) Login. (You will need to signup for a CEX.IO account if you do not already have one.)
(3) Vote: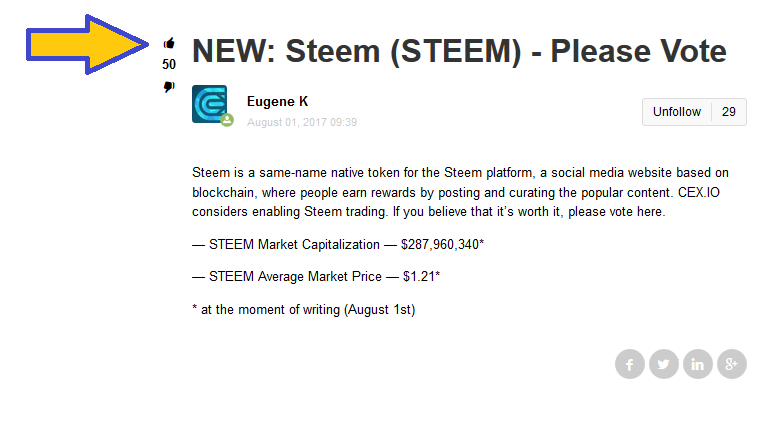 (4) Add a comment explaining why STEEM is great! (Be original, don't just copy mine.)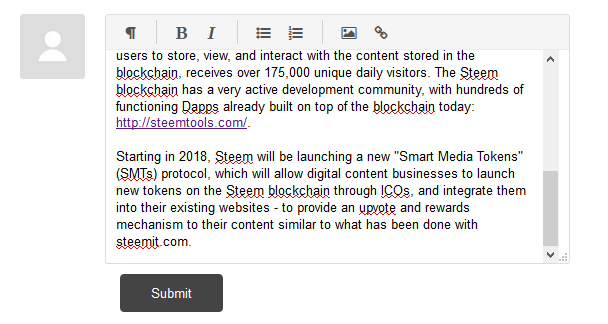 (5) Share the link, and ask your friends to vote.
If we can get STEEM listed on CEX.IO, it will be a big win for the Steem community and for CEX.IO.
It will put STEEM in front of more potential investors, which means more demand.
Having STEEM listed on more exchanges means existing token holders will have more options to use if existing exchanges are having maintenance issues.
I'm sure CEX.IO will be happy to have the hundreds of thousand of active Steemains exposed to their exchange =)
Let's make it happen!