Introducing STEEM Gift Cards – A fun way to give someone STEEM for the holidays!
It's been just over a week since I made my post of why I gave my brother STEEM for Christmas and also explained why I think it could be very positive for STEEM to have a significant number of people introduce family and friends to the blockchain that way.
I was very happy with the results of the post. I did not expect to reach 3000 views in just one week, nor to see such a large amount of comments from people saying they were inspired by the idea to do the same for their family or friends. While the recent surge in the price of STEEM may not have been entirely due to people rushing to buy their friends and family STEEM for Christmas, I really hope this means that many new people are getting introduced to STEEM not just during the holiday, as well as going into 2018 when those who have received this as a gift talks about it in their social circles.
So over the course of the week since my post, I've spent some time looking at how to expand on the idea and build a platform where it is both convenient and fun for people to give someone STEEM. The idea of a gift card seemed obvious as a natural supplement, as it looks a lot more tangible than just getting a note saying "I'm going to give you virtual money!" I've also been very lucky to have come to know fellow steemian and Parisian @howo since joining steemit. We've had plenty of ideas for applications we would like to build on the STEEM Blockchain and so it was really cool to finally get to hack something together. As the developer, Martin has done all of the hard and time-consuming work to get the web applications up and running.
So, we are both very happy to present you our 2017 edition STEEM gift card!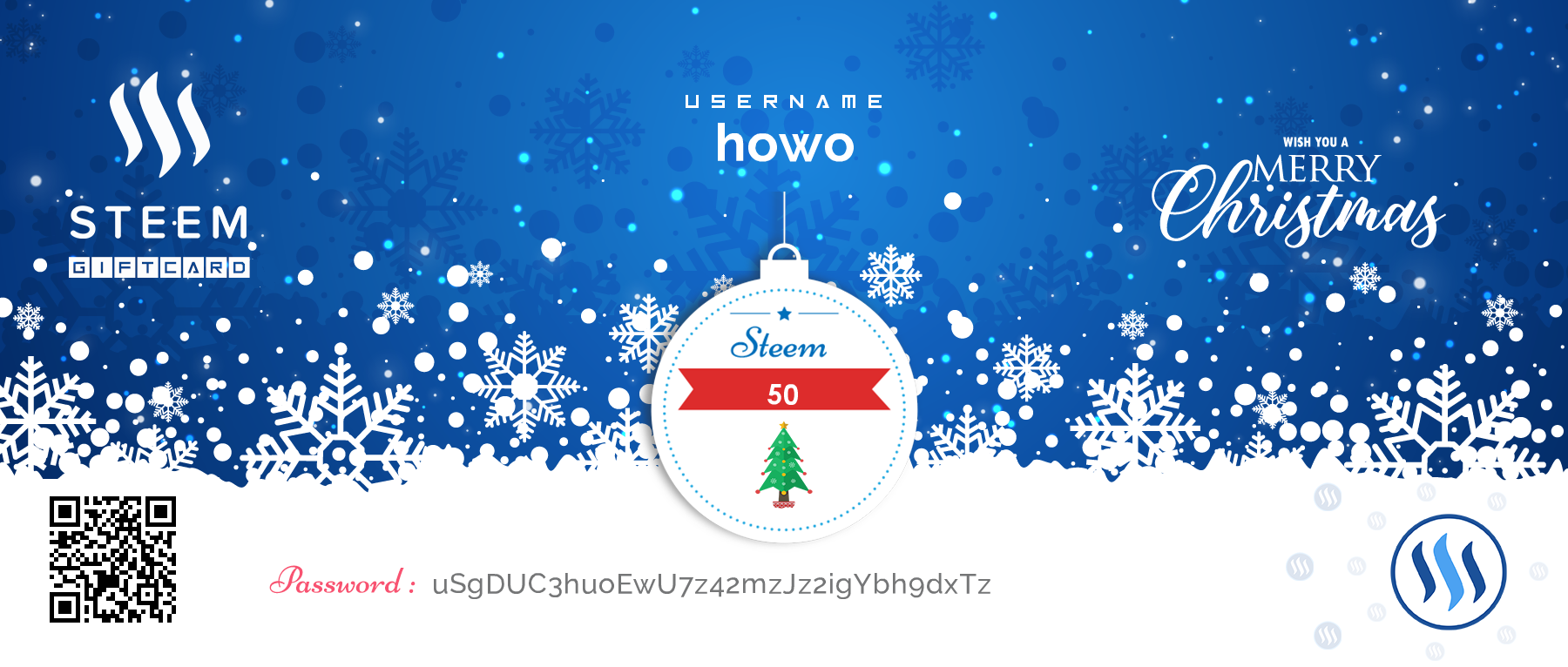 The 2017 Christmas Steem Gift card design!
The card displays the steem account name that you have created using the account creation service that we made to allow for the creation of gift cards. It also displays the amount of STEEM given with the card, which comes as STEEM Power on the newly created account. Finally, the generated password to the account is displayed at the bottom.
An online gift card application
So in the course of a week, we've hacked together a web application and got a working product up and running on steemgifts.com. Please consider the website and the current service as our "minimum viable product". We wanted to launch it in its current state to receive the feedback from you the community on what you like about it and what you think is terrible.
Here is how it looks: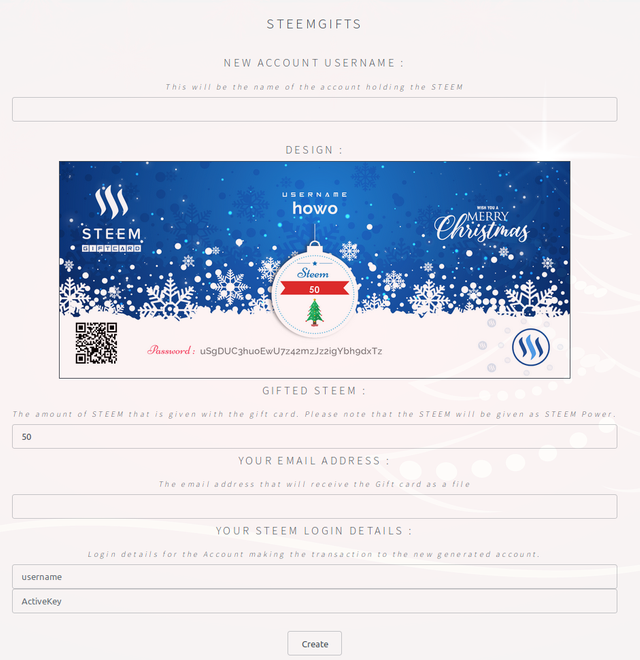 The web interface of steemgifts.com where you can make a Steem gift card for Christmas!
How it works
Enter the name of the account you would like to create
To give the gift card a unique identity, we will create a new STEEM account to hold the amount of STEEM that you will give. This also offers you the ability to find them a good name now while the blockchain is still young! I recommend that you don't spend too long over thinking what name the person would like to have once on STEEM. If they would like to be active on steemit and have another account name, they can always sign up themselves and then delegate the STEEM Power from the account that you have made for them and later transfer it over if they decide to do so.
Enter the amount of STEEM you would like to give
To make a gift card, you will need to hold the amount of STEEM that you would want to give liquid in your wallet (not Powered up or in Savings). Upon creating the Account, this amount will be given as STEEM Power to the account. Be aware that this will lock the STEEM to that account! The minimum amount of STEEM that can be given is 6, as this is required for the account to have the necessary bandwidth to do anything on the blockchain. We made the decision to make the gift be 100% STEEM Power for the added simplicity of not needing to delegate any STEEM to the created account.
Enter your account details to authorize the transaction
In order to transfer STEEM from your account, an Active key is required. I am hesitant to ask anyone for their Active key while it is still an early version of the service. I would therefore like to offer you the option of contacting me either in the comments or on steemit.chat if you would like to have the card with the design for the account you want to create, and the amount of steem you would like to give, and for you to then complete the remaining steps yourself.
Create your Gift Card!
Once these steps are done, the account will be created, the STEEM transferred from your account and you will receive an email with the password for the new account displayed together with the amount of STEEM that you are giving. Make sure that the gift card is saved securely and kept with the same level of security as you would apply to your own master key. I would recommend the person receiving the gift to change their password later to replace any versions that have been sent online.
Inviting artists and designers to submit their designs for holiday cards, an idea going forward
One of my ideas for the website is to allow all the great artists and designers that we have on STEEM to make their own designs. We will make the code for the current gift card open source and would invite others to make their own versions. My hope is that we can build a library with cards relevant for birthdays, different holidays, or other occasions where giving someone STEEM might be relevant or fun. We will be happy to give votes to submitted designs and hope that it can allow the artists and designers to profit off creating something that in turn can benefit the value of STEEM.
If this sounds interesting for any of you, do feel free to contact me directly.
Feel free to ask for a free gift card!
As we are just a few days off Christmas, I would be happy to let anyone who would like a card to supplement your gifts. So if you go to the website and complete the form without entering any information in the fields asking for you account name and active key, we'll make sure to send you a card. You can then set up an account on your own, or transfer the desired amount of STEEM to the account of the person you will give the gift to, on your own.
Credits to the people making this possible
The awesome design was made by @nitesh9. I think he did an amazing job in the very short time-span that he had and would like to give some attention to his skills. As STEEM witness @timcliff has been saying recently: We need to make use of all the unique skill-sets that exist on the platform to collectively grow the value of STEEM, and having skilled designers like him who are quick to respond to quests is really valuable to the platform.
But if there's one who spent an awful lot of time getting this up and running, then it's @howo ! Sorry for keeping you up late getting this done mate, I hope you had as much fun as you claim ;)
Anyways, I hope that anyone who has already purchased someone STEEM for the holidays and would like to print a gift card to give on Christmas eve or day will get in touch with me either in the comments or message me on steemit.chat. As I've stated over and over, I really think it takes all of us to do all the small things that we can to promote STEEM to get the organic growth and network effect going that a social platform so desperately needs.
I look forward to hearing any questions some of you might have about the gift card service, any suggestions for how it could work better, more securely or add more value, are of course also welcome.
Again Meery Christmas to you all!