WITNESS WEEKLY @ 4 June 2021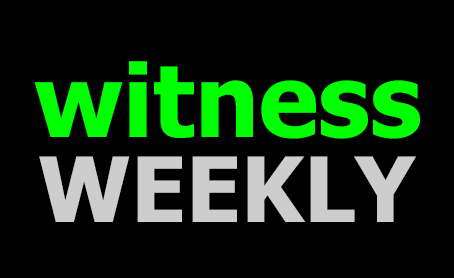 It has been an eventful week in Witness World.
There has been one new witness arrive.
And there has been one old witness leave - under unfortunate circumstances.
Aside from these arrivals and departures there have been no major movements in the witness rankings.
If any witnesses have any information they would like to share feel free to contact me on Discord (Pennsif#9921) or leave a comment below.
---
---
The Current Top 20 Witnesses
The make up of the Top 20 Witnesses have remained the same this week with only a few minor movements up and down.
In the top 10 @dlike and @future.witness have traded places again.
In the #11 to #20 spots a few witnesses edged up one or two ranks, while a few have similarly moved down.
---
The current top 20 witnesses for the Steem Blockchain on 4 June 2021 are :
---
---
There are a further 30 or so active backup witnesses mainly in the #20 - #45 slots.
All top 42 witnesses are running the current 0.23.1 version.
Most of the witnesses from #43 and below are 'former' witnesses that are running old witness versions (0.23.0 or 0.22.1) and have now moved to another blockchain.
---
Details of all the witnesses can be found in @steemchiller's Steemworld.org or on @symbionts's list at...
@steem.history also publishes a regular listing...
---
---
Several of the top 20 witnesses including @symbionts, @future.witness and @jayplayco stepped in this week to deal with a serious issue that had arisen around the use of the SteemAuto app run by witness @steem-supporter.
The top 20 witnesses warned users to revoke their Posting Authorities and to stop using SteemAuto / Steemdb.online...
For more background to this issue check out the recent posts from @famigliacurione.
---
@steem-supporter has subsequently disabled his Steem witness.
---
---
New Witnesses
Steemit Crypto Academy Professor @abcallen added 'Steem Witness' to his job titles this week...
@abcallen is in China, and as well as producing his posts for the Academy, he regularly posts technically informative posts to help people on Steem.
For example...
@abcallen is currently at #86 in the witness rankings.
---
The other recent new witnesses @successgr.with, @xpilar.witness and @unbiasedwriter are currently at #32, #34 and #76 respectively.
---
---
Witnesses News & Updates
@steemchiller (#1) has produced another set of data for the numbers of Minnows, Dolphins, Whales etc.
All categories are increasing which shows the power of powering up...
Thank you @steemchiller for these stats !
---
@justyy (#2) has been busy learning GoLang and Solidity this week...
He also gave some details on the costs for some of his Steem servers...
---
@steem-agora (#3) makes daily posts for their 500 SP power-up voting service, and also regularly supports @etainclub in his development of PLAY STEEM.
---
@symbionts (#7) has been involved this week with sorting the SteemAuto issue.
They are also still running the @ecosynthesizer curation project, the ecosynthesizer.com multi-chain block explorer and the Steemsentinels cybercrime awareness and prevention tool.
---
@steem.history (#9) puts out a number of very useful daily posts covering witness listings, Steem Power rankings and the STEEM system config...
@steem.history also sponsors the monthly SPUD4STEEM Power Up contest run by @kiwiscanfly...
@steemchiller, @xpilar and @steem-supporter also sponsor this contest.
---
@ayogom (#42), who also runs the @rnt1 witness (#8) and @zzan.witnesses (#89), puts out daily posts on a variety of Steem related topics including this week...
---
@wherein, who runs the @smt-wherein witness (#14) and the @nutbox witness (#39), is mainly working on the PNUT project.
---
@maiyude (#18) has recently started putting out a series of posts on learning bot development on Steem, including...
---
With the departure of the SteemAuto auto-voting service @italygame (#33) has doubled its efforts on developing and promoting its recently launched @steem-fanbase auto-voting app...
---
@roadofrich (#35) is continuing to develop the new @SteemField alternative Steem frontend and mobile app (based initially on the former SteemPeak). They put out regular updates in English and Korean including...
---
@unbiasedwriter (#76) has posted a reminder to check that you are not voting for an inactive witness.
Currently 54 out of the top 100 witnesses are no longer running the latest witness version...
---
---
I hope people find this new Witness Weekly digest useful to learn what the Steem witnesses are doing.
It will take a while to track down all the witness information. My apologies to any witnesses who I have missed. Please comment below on anything I have missed or contact me on Discord (Pennsif#9921).
In the meantime do remember to vote for witnesses...
Thank you
Pennsif
---
---
[ graphic by @pennsif ]