How to use STEEM FANBASE by Italygame Witness - Tutorial Part 1
Hello everyone
After the first months of work and testing, we are ready to go to make the STEEM FANBASE service available to the whole Steemit Community.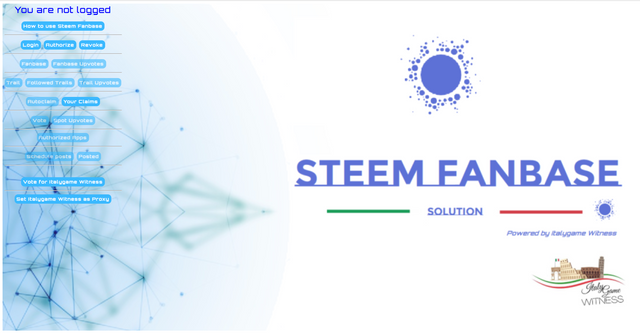 The events of the last two weeks have first slowed down our work and then suddenly made the presence of a tool like ours urgent.
For this reason, in these hours we are trying to make all the necessary information available, as well as having intensified the work on optimizing the features and correcting any errors.
As you can see, our service is totally different from steemauto, and was created and developed entirely by the @Italygame Witness Team.
It has therefore required a lot of coding and development work and will still require a lot of it.
In this post, we want to provide you all with some simple instructions and useful information to get to know and use the site.

Steem Fanbase is the service that allows you to automate the assignment of votes on the Steem blockchain.


You can choose your favorite authors for upvoting their posts or join a curation trail and make your account available to replicate the votes of the user you have chosen to follow.
It is therefore necessary to provide your Posting Authority to the app.
This does not in any way authorize us to use the authorization to change your preferences.
Instead, you will allow Steem Fanbase to vote for you, following the settings you have set.

Login and Authorization
Let's go immediately to see how to do it.
Connect to the site https://steem-fanbase.com

Accept cookies

You will find yourself in front of a list of functions. Click on LOGIN and do it via Steemlogin.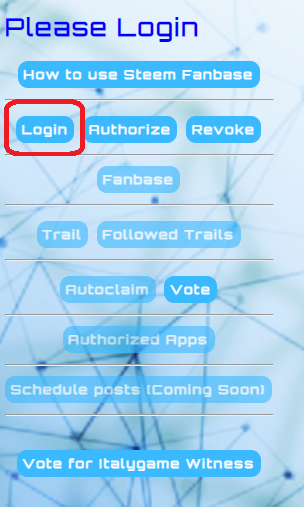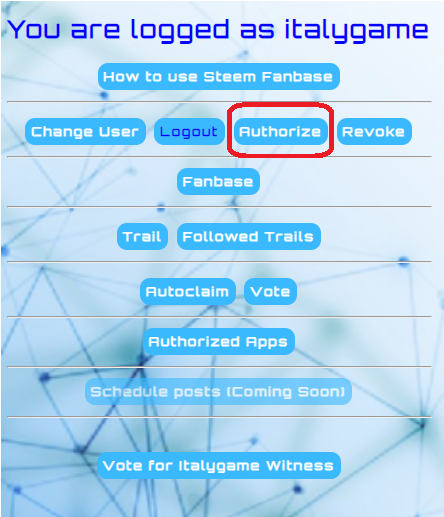 You can now access the Dashboard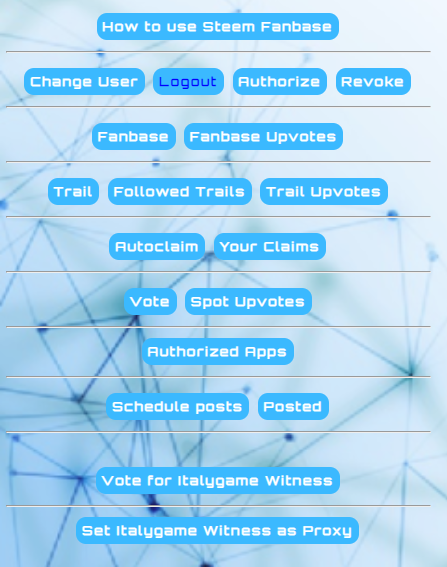 In this first tutorial we will see how to:
- Create a Fanbase
- Create a Trail
- Follow a Trail

Notice:
In the first version, both to use the Fanbase and Trail function, it was necessary to send to @steem-fanbase via SteemitWallet 0.001 Steem which would be returned immediately. This step is no longer required in this new version.
---
- Create a Fanbase
After clicking on Fanbase from the dashboard, you will access this panel.

In the Fanbase Configuration section, the only parameters you will need to change are those marked in red and numbered.
Json On / Off: if set to ON, Steem-Fanbase will generate (by default every 60 minutes) a Custom Json in which you can check, for example on SteemWorld, that your fanbase is active and that everything is functioning properly. If you do not want this function, select OFF.

Min Mana Percentage: This is certainly more familiar to you. It is the Voting Power limit beyond which your votes will not start. Steem-Fanbase will automatically start working again after the set threshold is reached again. By default it is set to 80%.

Create: once you have set the two previous parameters, click on Create.
You will be notified of the successful completion of the operation with this pop-up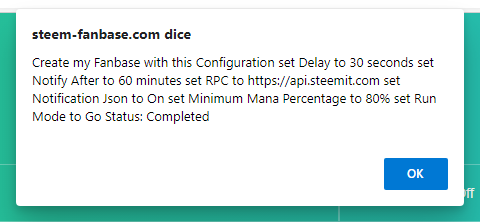 This is the notice that will confirm the successful completion of your request for all types of changes you will make.
---
At this point we move down to the FAN LIST section, where we can add the users we want to follow.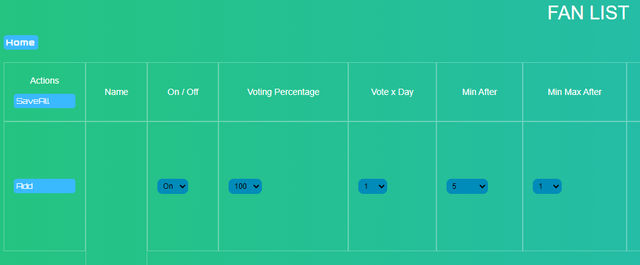 In the Name column, you must write the name of the user you want to follow without @. If you copy and paste, remember that the column only ever reads text (not a link for example)
The ON / OFF column allows you to temporarily deactivate a user without losing all the settings.
In Voting Percentage, you can decide the percentage with which to vote and in Vote x Day what is the maximum number of posts per day that you intend to vote for that particular user.
In the Min after column it is necessary to establish how long after the publication of the post you want your vote to start.
And finally MinMax after, which is set by default to 1, indicates the time interval in which the bot will vote for the post (if you have set to vote after 5 minutes with MinMax after 1 minute, it will vote between 5 and 6 minutes).
After setting your preferences, click on Add and the user will be added to your Fanbase.
At the end of the adding operations in the Fanbase, select Save All and all your changes will be saved. Always wait for the confirmation message that arrives via pop-up.
Once the service is active and Steem Fanbase will start voting, you will be able to find for each user a series of information on the actions done.


- Create a Trail
On the Home Page, select Trail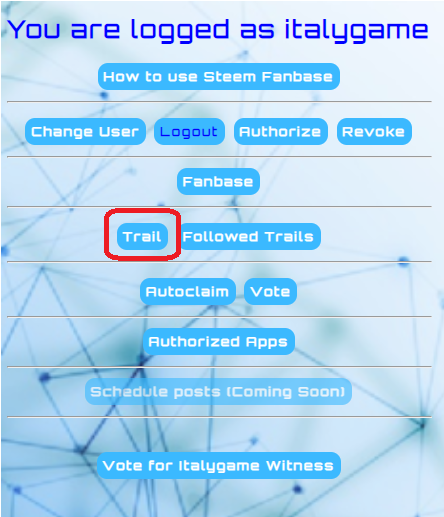 In the Trail Configuration panel, select Create.
Then wait for confirmation that the request has been saved.
Below you will see the list of followers of your trail, once they have been added.
After returning to the Home Page, select Followed Trails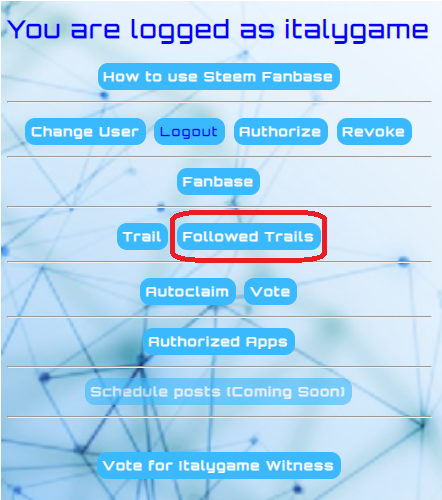 Here you will find the list of active trails on our platform and you can also check that yours appears in the list.

- Follow a Trail
Also on the Followed Trails page you can choose to follow a trail.
Just select Follow at the chosen trail.

If you want to stop following a trail, choose Unfollow.
Always remember to wait for confirmation of the change.
If you want to support Steem-Fanbase and the Community Italy, in addition to obtaining excellent results in terms of Curation Rewards, you can follow one of our trails:
top.rewards.club
girolamomarotta
italygame
At this moment there is not yet a direct link to follow a trail, but it is one of the things we are working on.

The first part of the tutorial ends here. But the features are certainly not finished. Others will be presented and explained in the next guide.
We hope that everything is clear, that you like our service and that it is useful to you.
We invite you to try it out and let us know your opinion
Also we just launched Steem Fanbase DISCORD Server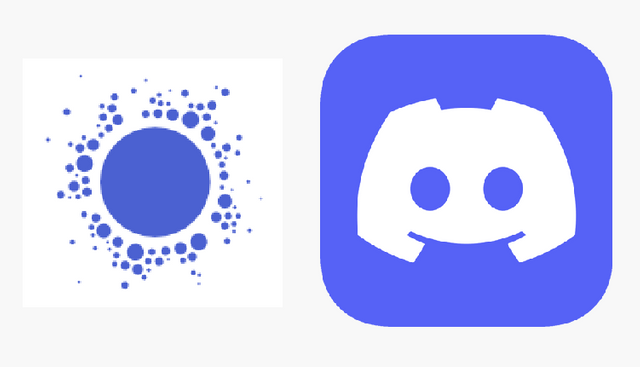 We hope you will join us
You can do it HERE



Click here to vote on the witnesses list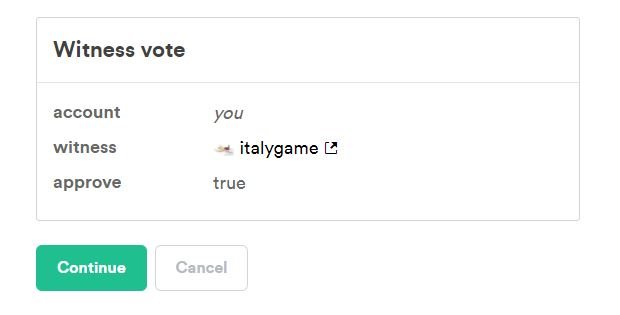 Click here to vote directly by SteemLogin

Greetings to everyone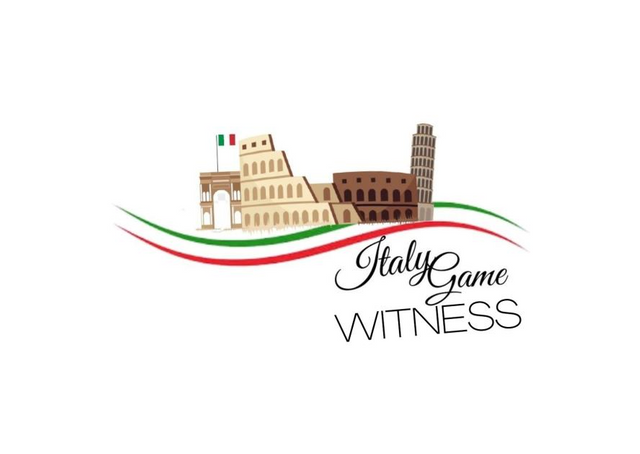 ---
Cc:-
@steemitblog
@steemcurator01
@steemcurator02
@stephenkendal
@cryptokannon
@steemchiller
@jphamer1
@trafalgar
@xpilar
@stef1
@upvu
@jsquare
@steem-agora
@reflektor
@hingsten
@bippe
@twinner
@upmewhale
@gotogether
@justyy
@successgr
@dorian-lee
@jaydih
Cc to all the CR's:-
Cameroon (@njiatanga, @saxopedia), Ghana (@njaywan, @oppongk), Nigeria (@beautychicks, @focusnow, @bright-obias, @whitestallion), Uganda (@yohan2on), Mexico (@leveuf), Argentina (@belenguerra, @fendit), Venezuela (@adeljose, @anasuleidy, @edlili24, @mariita52, @tocho2, @albenis, @inspiracion, @wilmer1988), Bangladesh (@rex-sumon, @tarpan, @toufiq777), India (@neerajkr03, @rishabh99946, @sapwood), Indonesia (@anroja, @ernaerningsih, @nazarul, @radjasalman), Japan (@cryptokannon), Pakistan (@rashid001), Sri Lanka (@randulakoralage), Italy (@girolamomarotta), Russia (@filinpaul, @knopka145), Turkey (@alikoc07), Ukraine (@antorv, @olesia) and New Zealand (@kiwiscanfly)