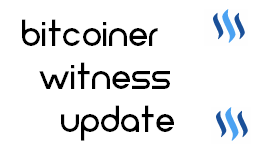 ---
My fellow Steemians,
Welcome to my nineth witness update. I do these weekly on Fridays as some other witnesses do, so I may keep my followers and the community up-to-date. Hopefully, this will show that I strive to be an active and reliable witness and that I may hopefully gain your witness approval vote.
I will use @jesta's template for these witness updates as he is awesome. And as always for witness update posts, I will use the Power Up 100% option.
1. Accomplished the week of 2016-11-18
Worked on the Steemit feature to have the blog tab split out into a blog tab and a resteemed tab in a user's blog. See the post Resteemed Tab has been Developed!.

This was submitted to GitHub as Split Blog tab into Blog and Resteemed tabs #626. @jamesc did some refactoring and it's now continued at Thebitcoiner 616 resteemed tab #634. However, @roadscape had noticed an issue with pagination that will effectively need to be solved on the backend, needing changes to steemd API, via a hardfork. I have suggested a proposal for this change in the issue get_discussions_by_blog to filter resteems #581. Hopefully someone with more experience with that codebase can help out. Otherwise, I plan to get myself up to speed with it so I can develop the necessary changes. Meanwhile, @val has suggested to instead have a checkbox at the top of the blog tab to show or hide the resteemed posts. This will definitely be easier to implement and I may go with this solution for the time being.

Submitted other fixes and changes and got most of them merged! See this list on GitHub for these:
Posted about my free giveaway at Steem Power Giveaway #3 - Completely Free!. I've done two of them in the past, but it's been a while.
2. Upcoming projects/goals
Continue to spend time on the Steemit.com codebase.
Follow up on separating the resteemed posts from author posts.
Get ready for the next hardfork.
Continue with @timcliff's wish list and trying to implement some of the items there.
Continue being active on Steemit, Steemit Chat, and GitHub.
3. Thoughts from this week
This has been a very wild week!
We've started the week back from SteemFest. I've read many posts about it and I can tell it was a very special, very magical experience for all. I was watching the live feed on the first day and even noticed a cameo of one of my apps during @ned's presentation! See the post SteemDown Cameo at SteemFest!.
As everyone was busy coming back from SteemFest, the hardfork wasn't released on the 16th as @dantheman has said was the tentative date. There was no communication about it which led to concerns about the lack of communication. This was addressed later as we've had updates from @steemitblog today. This hardfork brings economic changes that will hopefully help the price of STEEM in the long run.
In addition, there were many great ideas and announcements, such as @busy.org and BlockPay updates.
Finally, thanks to everyone who have voted for me as witness. I am currently at 43! Thanks to all who support me and like what I do. It is all very much appreciated!
4. Previous week's update, other links
bitcoiner.me - Full Node Details, Live Node Test, Witness Posts, Worldwide Connections Map, Witness Schedule Live Visualization
---
Like my work?