Whale Power Promotion Page
What is New? You about to see.
#whalepower have a New Program for #steemit / #whalepower community.
If you are a Registered #whalepower Member, I will pick a couple per day in addition to my curation.
You will see a message - My Pick of the Day Post. ( Applied When #whalepower is use.)
Unfortunately, The Register Membership have close.
You have to keep reading the update for coming events.
This is only A Update Page, so Stay Tune and Get Ready.
---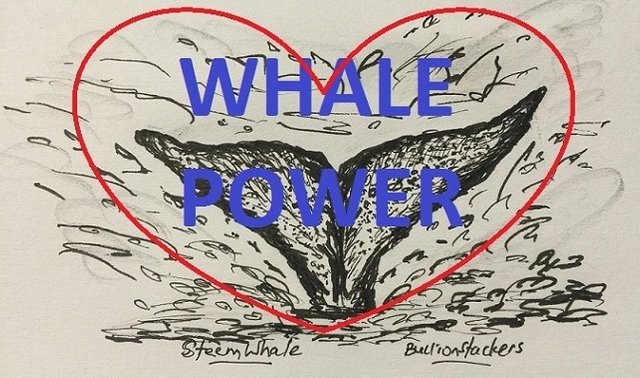 Hello Steemian
Welcome to #whalepower Page.
Hi, I am @bullionstackers ,
The Founder / Owner for #whalepower # whale-power Tag
Curator / Moderator / Commentator
For #whalepower ( preferred ) Tag.
#whalepower is a Community Project
---

@paul-gillbanks - Curator / Moderator / Commentator for #whalepower Tag
Recently Appointed Joint Ventures - Click to Link
---
Our Mission
Our commitment to you.
We give you, Free Curation Service.
Project Focal Point For Newbies Author / Senior Welcome too.
You can helps us by Support / Upvoting / Reblogged ( Resteem) Our's Posts. @bullionstackers & @paul-gillbanks
Alternative is by Contribution / Donations
Forward to @bullionstackers
Helps Us to Grow , so we can give you MORE!!!.
---
You can send - Gifts / Donation / Sponsor with Steem or SBD to @bullionstackers to help me Power Up this Project.
---
We Recommend that you help other #whalepower Members / Authors
We are #whalepower community . We stand in Unity.
Ours Motto ONE For ALL - All For ONE
---
If you missed Our Posts ( Please click to read )

---
#whalepower Free Registration Membership
Are now closed due to influx demands.
Now, By Invitation only.
Any Author / User can use #whalepower Tag.
With Registration, it will High-Speed ours curation process.
( Manual Curation )
We found a lot of User / Authors did not meet the Requirement by using the #whalepower Tag.
By using #whalepower # whale-power Tags.
We Reserve the Right's to leave comments on your posts.
(If you do not want to see this message, please do not use the #whalepower Tag)
We Reserve the Right to Terminate yours Registration Membership at anytime.
#whalepower Registered Members - Click to see
---
All Contents are Copy-Rights* , We Reserve Ours-Rights*
*If you want to use any part of this, please ask for permission first.
---
If you Like it, Love It
Follow Resteem and Visit my Page at @bullionstackers