This is in response to a Challenge by @tattoodjay to take photographs of things on a walk. Things you don't normally see. I really like the challenge and the challenger so here I am again.
Do you remember the Carrin I found a couple weeks ago? The obvious memorial site that moved me so? Here's a picture from that previous post to jog our memories.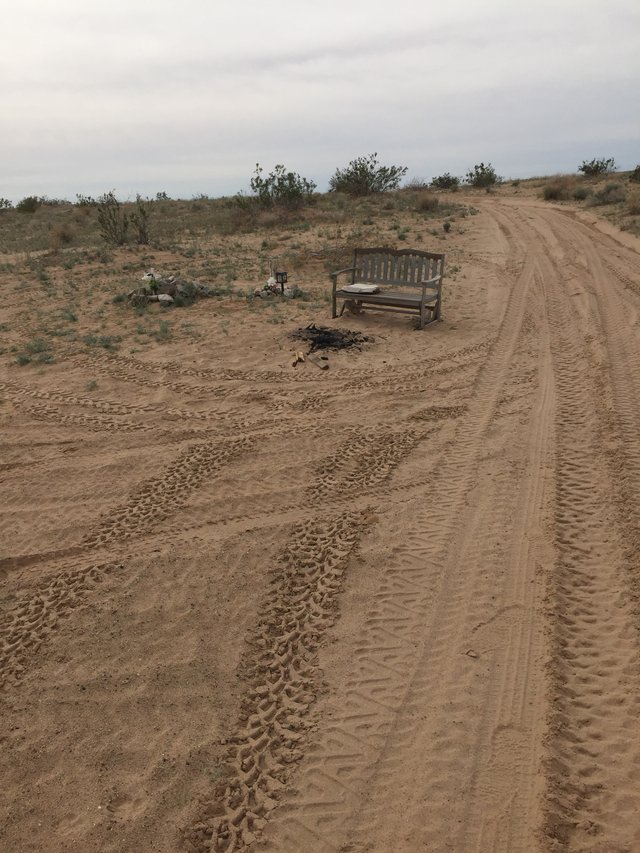 There was the bench and a fire site and two carrins and an obviously fresh memorial to some one or some thing. It was a very moving place for me.
Yesterday, Sam and I were out in the neighborhood (it's a big neighborhood) checking on the dimensions of a solar project in the desert. I try to walk a minimum number of steps every day and was going to come up short so we walked east a ways.
I got to the point where I knew I'd get my steps in and turned north toward the car. I was going to take a little used trail when I realized the next one north would be the one with the Carrin on it so I decided to place a couple of rocks and see how it looked.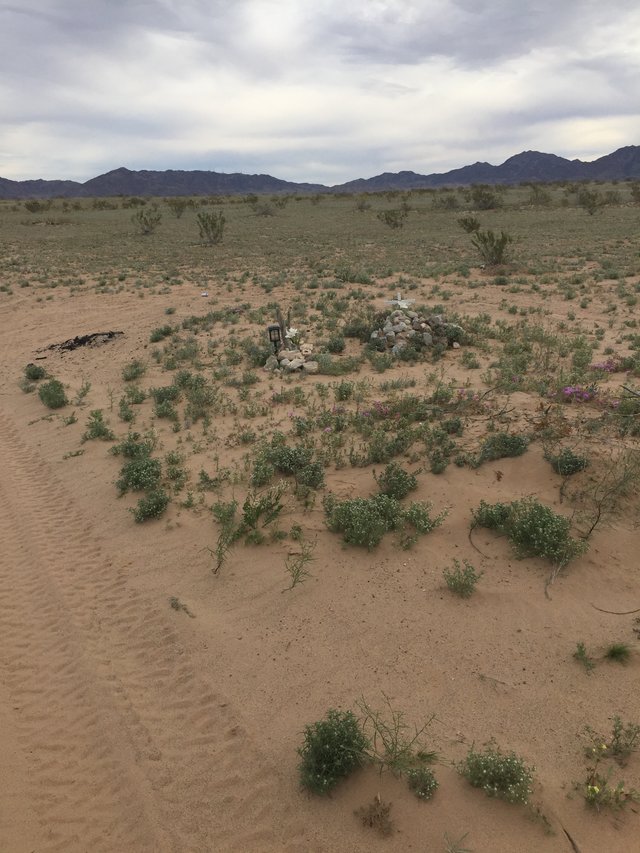 This is what I found. Completely changed. The bench was missing, as was the half drunk bottle of wine. There were a couple of beer bottles and cans in the area. My first thought was desecration. That somebody had come and disturbed the site.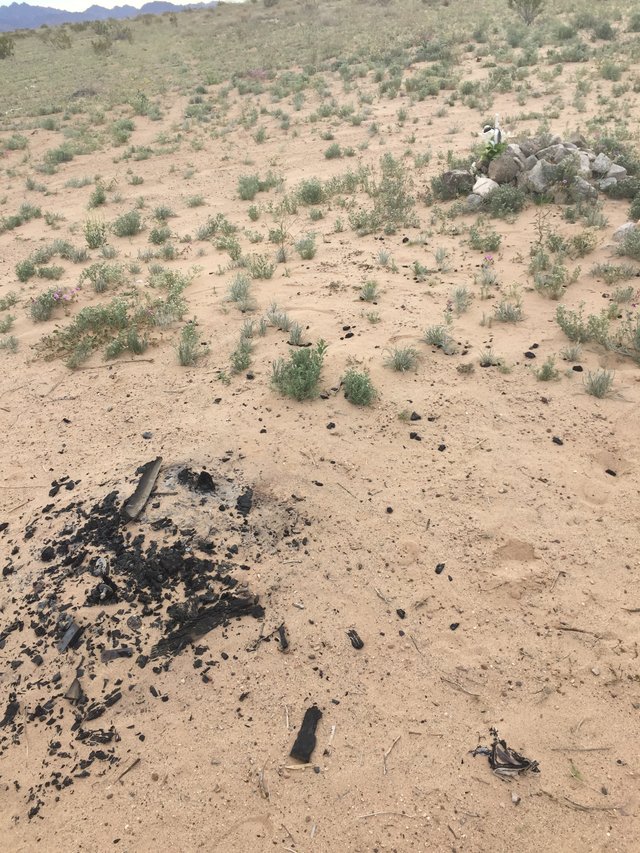 But wait! The fire had been scattered like someone had put it out with no thought to ever rebuilding it, and the small amount of fuel was completely gone.
I placed my stones that I had brought, one on each of the two Carrins and spent some time trying to figure out what had happened. There were clues, but no answers in the tracks.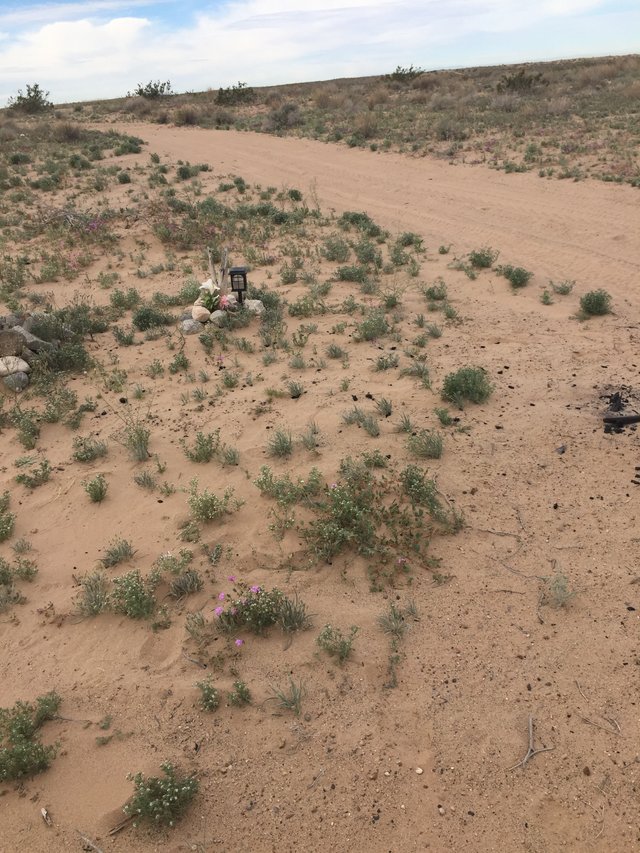 Whatever, whoever, it was relatively recent. We had a track levelling wind less than a week ago, and a rain less than a week before that. I couldn't really wrap my mind around what had happened here.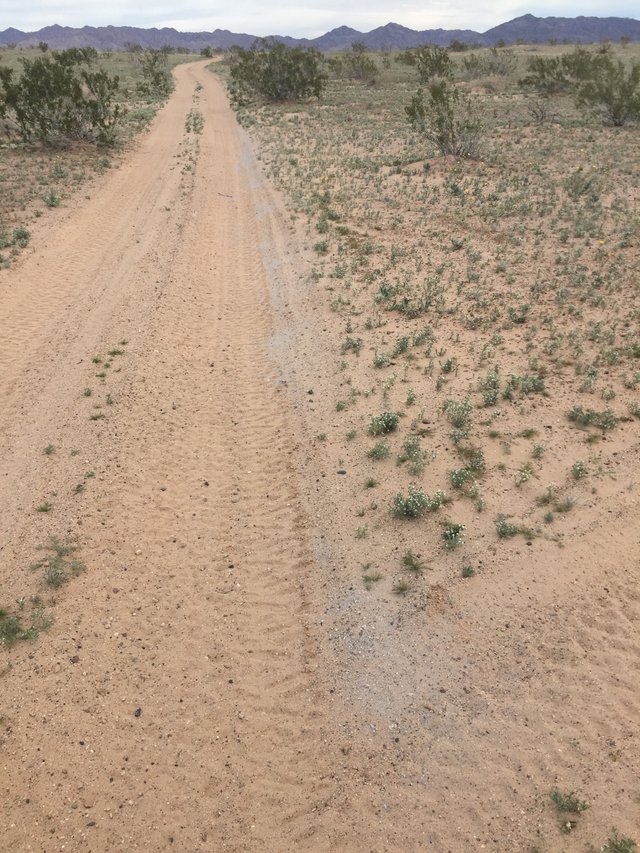 That is until I started to walk on to the east towards the car. There is a light grey stripe right along the main trail. It was obviously put down from a moving ORV out of the passengers side.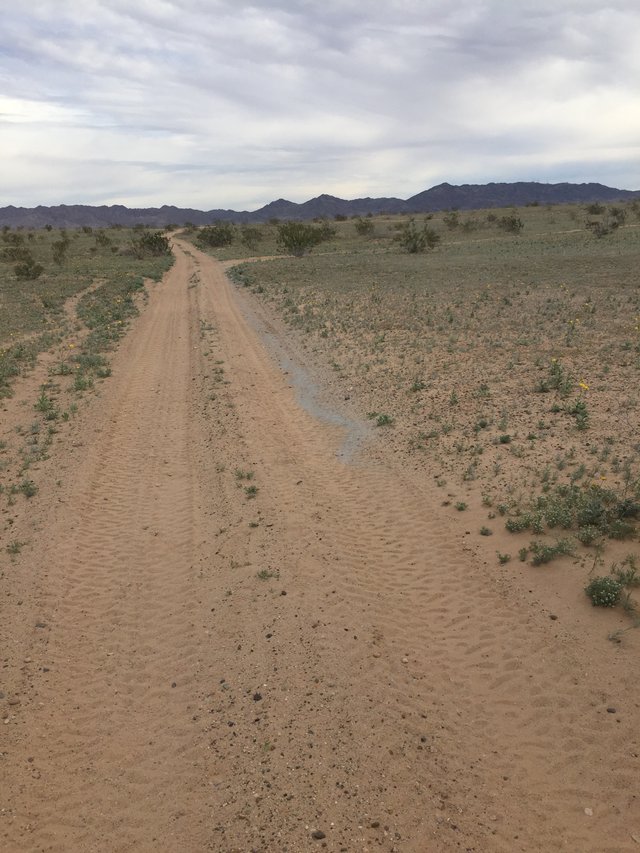 I actually touched the stripe to confirm, but I knew before I bent over. Cremated ashes. In this particular case, I have no doubt they are human based on the quantity.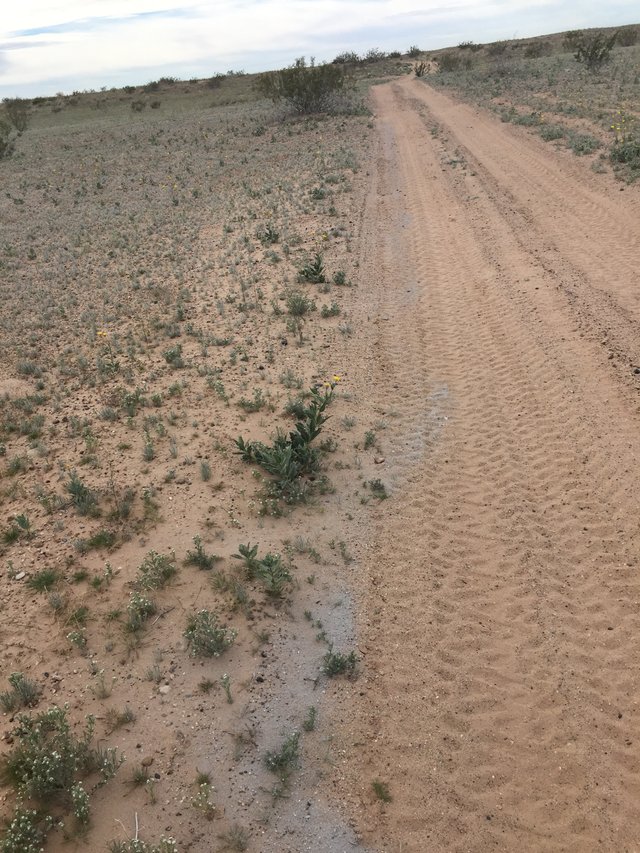 Whoever built the memorial obviously had a plan. Made me think of my preferences. If you have nothing better to do, I'd like my ashes spread along Prospector Creek right where it runs into the St. Joe river. Far as I'm concerned it's the best fishing hole I've ever found. Otherwise, right out here along a nameless desert trail would be just fine with me.
In a way, I'm glad the story has an end. Not that we come here all that often, but when we do I'll add a stone to each Carrin in respect to an unknown person. There is a rightness to that.
So that's it. My #Wednesdaywalk. I hope you enjoyed seeing a little different corner of the desert as much as I enjoyed bringing it to you.
All Words and Photographs in this post are mine, for better or worse.
You want some really cool stuff? Check these authors, they will not disappoint.
@broncofan99 Sports Teaching Fishing BBQ. Not necessarily in that order.
@morkrock Music Games Stinging Politics. Don't go here with thin skin.
@princessmewmew Food Antiques Food Life Food Cats. Anything of beauty could show up here.
@soyrosa Great Photographs and Insights for us All
@sultnpapper All the truth you can take and then some. The monthly BBQ is worth the price...

Adsactly is a society for freethinking people. Interested? Click Here to join our Discord channel.
---
Vote @adsactly-witness for Steem witness!
In the bottom of the page type in: adsactly-witness and select vote.

All small letters and without the @ sign
Or give us a direct vote here
Thank you!
---