Hello everyone!
I hope you are all doing great!
It is a long time I have not posted a report. Most of you already know that January has been a rather tough month for me.
We are now right in the middle of the month, so there are still a few more weeks till I will be able to be fully on track!
3rd Social Media Report [1st for 2019]
In this post, I will be presenting some statistics for the social media channels of @actifit. Since December 1st, we are posting daily updates at the social media channels.
---
We have been posting in order to:
inform the actifit users for app updates
entertain users
post useful information about fitness and activity
post about interesting statistics
onboard new users
increase active community members
increase engagement between members
---
For those scopes, we have implemented social media calendars with pre-defined captions, information and images. Whenever necessary, there are additions in the calendar (for instance updates about contests etc)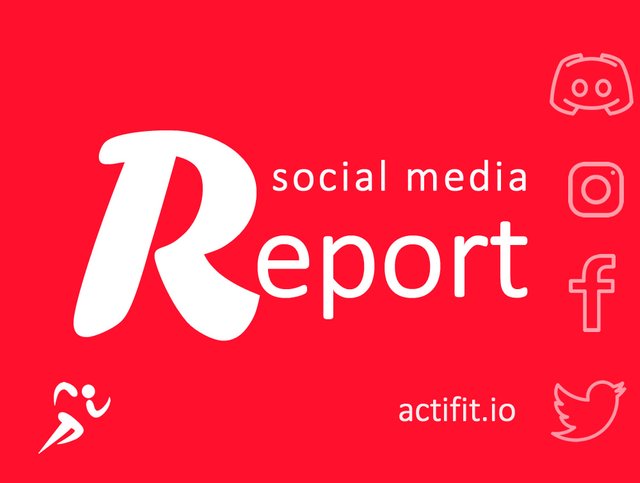 Let's see some numbers now, shall we?
👑 The social media champion was Instagram with a 28% increase in followers!
🐦 The second platform with a 22% growth was twitter!
♨ Steem had the smallest increase, but remains the KING with most of the followers (2106). The steem account @actifit has been daily updating the users since day 1, in June 2018!
-------------------------------🏃-------------------------------
---
---
Comparison of Followers' Numbers
---
| Platform | 30 Nov | 10 Dec | Change | 22 Dec | Change | 15 Jan | Change | New Followers Per Day |
| --- | --- | --- | --- | --- | --- | --- | --- | --- |
| Steem | 1918 | 1966 | 3% | 1998 | 2% | 2106 | 1% | 2.18 |
| Facebook | 127 | 137 | 8% | 144 | 5% | 151 | 5% | 0.5 |
| Twitter | 115 | 127 | 10% | 154 | 18% | 198 | 22% | 1.84 |
| Instagram | 138 | 191 | 38% | 226 | 15% | 314 | 28% | 3.91 |
| Discord | n/a | 746 | n/a | 757 | 1% | 793 | 5% | 1.34 |
------------------------------------------🤸‍♂️------------------------------------------
Remarks
---
The increase in followers was greater in instagram and twitter, because we use specific, popular hashtags when posting in these 2 platforms. We always respond to the queries, to the comments and to the messages we receive. We also follow back new followers and in the near future we will implement additional tools in order to unfollow inactive accounts.
Let's move on and check out more details per channel!
---
Instagram
---
We experienced a 28% increase in followers and there seem to be 3.91 new followers per day
---
The Actifit is a Business Account, so special insights are available.
We see that the top image in terms of engagement is the below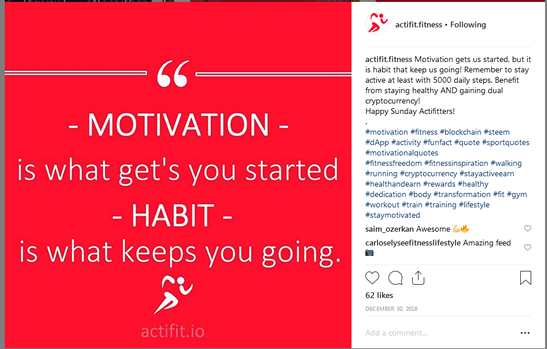 We understand that quotes and pretty girls always steal the show :) Along with popular hashtags of course!
---
Please read here some useful guidelines for promoting open source projects via Instagram.
---
---
Twitter
---
22% increase and per day approximately 1.84 new followers!
---
If you are using Twitter, make sure you turn on the Twitter Analytics.
---
It was a nice 2 weeks time frame for Twitter, lots of engagement and mentions!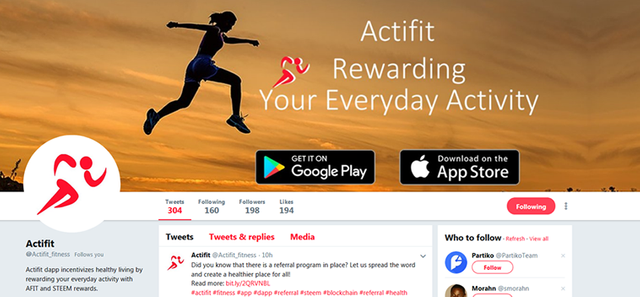 We are very close to reaching 200 followers! Maybe it does not seem much, but it is an important milestone.
As an account grows, so does the engagement, the brand awareness and the social media management becomes even more of a necessity.
Let's find out your favorite tweets!
The top tweet for January was about a health tip and earned an impressive 1748 impressions. while the top mention regarded the recent campaign where every steemian can participate and reply to Bittrex on Twitter so that they can list STEEM/USD and/or SBD/USD pairing!
Read more here by @ruth-girl and feel free to give a hand :)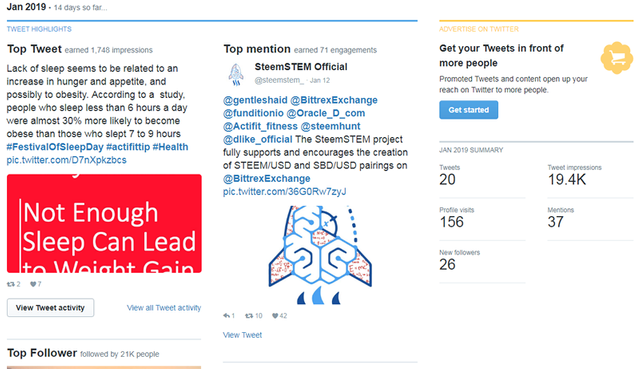 In these 14 days in January, the Actifit account earned 19.400 Impressions and 156 profile visits (this is why the profile of an account is soooo important). In this month alone, 26 new followers were acquired.
---
Facebook
---
Monitoring a steady 5% increase in followers
A Facebook page needs a lots of extra attention and ideally also paid promotion, ambassadors etc., so that it can grow.
In the next weeks more strategies will be implemented so that we can see the outcome
The most popular post in terms of reach and engagement was the post where we mentioned @thetroublenotes (Who in fact are using the app!)
<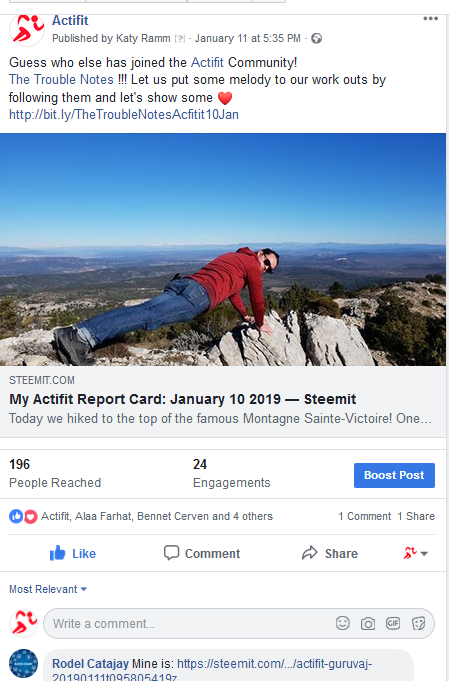 Something that is worth to mention is that we answered to support messages in Facebook and in Twitter. This is good, it means that our users use more means for contacting us and that was one of the goals! To make it easier for users to ask a question or to contact us for any issue they would face!
---
Goals
---
It will take a few more weeks until we can have specific goals for the social media growth. We are actually happy seeing the community members to get to know each other and communicating with each other!
In the meantime, feel free to follow us, stay healthy and most of all, active!
-Join Us!- Steem - Facebook - Twitter - Instagram - Discord
Some previous reports & social media calendars
---
This is it for now!
Thank you very much for taking the time to read my post, stay tuned for more and please do feel free to share your thoughts, observations, questions on the above!