Hello everyone!
after the implementation of the Content Calendar, and the fist Actifit Social Media Report where the social media growth was reported, I decided to measure and compare the results for the next 10-days.
I will then post another report at the first or second of January. I think that after that, it is best if these reports are shared on a biweekly or monthly basis.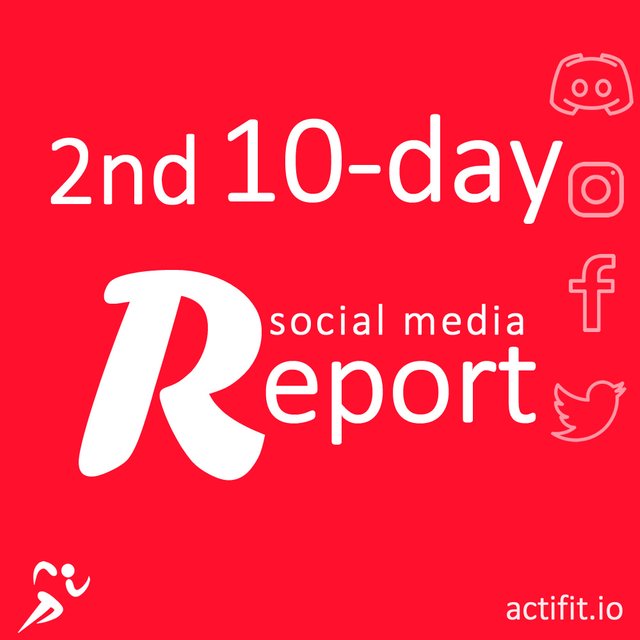 These last few days were full of events! These events helped a lot in adding more content about the news (that really can't and shouldn't wait)!
Let's see what happened!
Actifit was listed (with other steemapps) at the StateOfTheDapps!
After the initiative by @soyrosa and the creation of SteemApps by @therealwolf, there was a great buzz about steem and of course about @actifit. Both of them were mentioned massively both in steemit but also on twitter and other social media channels.

What you/we/everyone can do about it?
Visit the above site and vote for your favorite apps!
This is the link for Actifit https://www.stateofthedapps.com/dapps/actifit-fitness-tracker and the Team will be grateful for your support!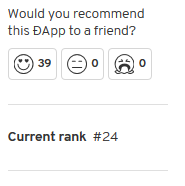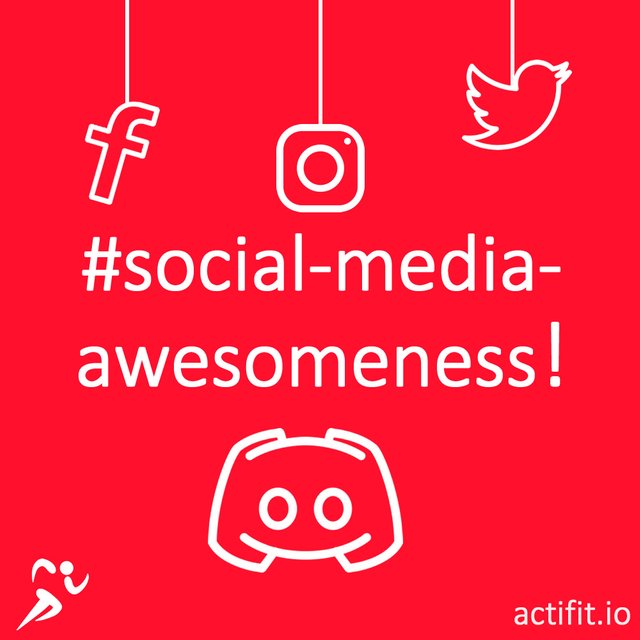 Our users have started sharing their activities and more about actifit both in twitter and also on Instagram! After that, they can come and share on the Discord!
We have had some great entries & shares! Thank you Actifitters!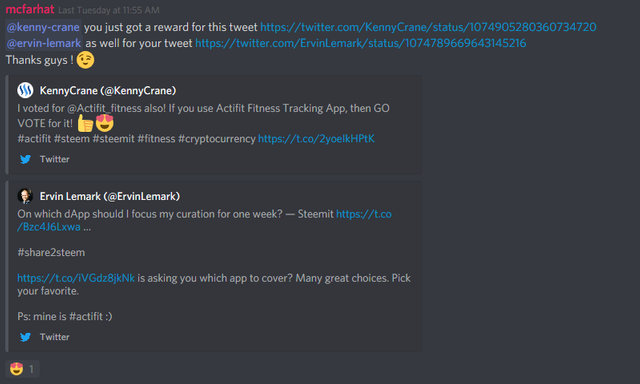 Actifit was listed with Dapp.com!
Another achievement was the list with Dapp.com. We should mention that they also have a great community. (only in facebook they have 37000 and more fans!)
They also share contests and we believe it can get actifit and the other steem apps further recognition, visibility, and usage!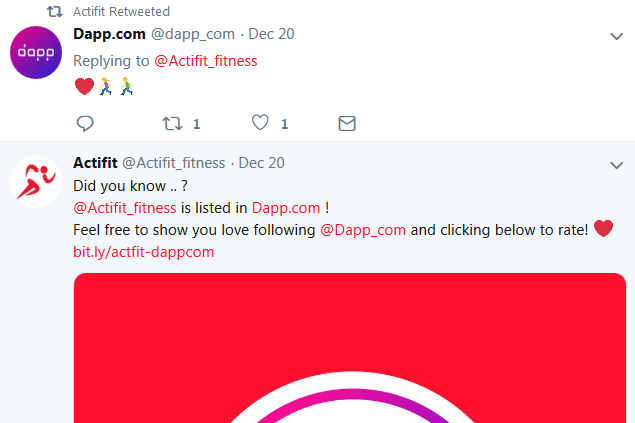 What we/you/all can do about it?
Visit http://bit.ly/actfit-dappcom and rate/review the actifit app and any other steem app that you use!
Let's see some numbers now, shall we?
🏀 The social media champion was Twitter with a 18% increase in followers!
🏀 The big champion is still steem with 1998 followers!
🏀 The platform with the smaller increase percentage was Discord.
We may have to do some extra actions for getting the attention of users and help them join Discord. It is a popular channel mostly among steem users, but maybe more people could join if they understood the potential and the wonderful communities they can find there!
-------------------------------🏋️-------------------------------
---
---
Comparison of Followers' Numbers
---
| Platform | 30 Nov | 10 Dec | Change | 22 Dec | Change |
| --- | --- | --- | --- | --- | --- |
| Steem | 1918 | 1966 | 3% | 1998 | 2% |
| Facebook | 127 | 137 | 8% | 144 | 5% |
| Twitter | 115 | 127 | 10% | 154 | 18% |
| Instagram | 138 | 191 | 38% | 226 | 15% |
| Discord | n/a | 746 | n/a | 757 | 1% |
------------------------------------------🚴------------------------------------------
Remarks
---
There was an increase in followers as well as an increase in engagement. We did receive a few questions and some nice comments about the content shared.
---
Instagram
---
We experienced a 15% increase in followers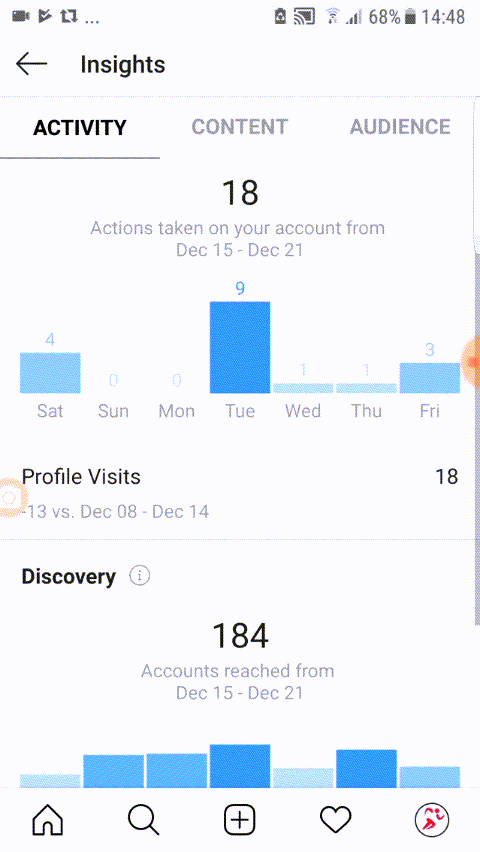 We see that from the 18 actions taken on the profile from Dec 15 to Dec 21, most of them were taken on Tuesday. This is the day when we used an image with a pretty girl to inform about the latest news.
As per Instagram post insights, 77 accounts discovered actifit, and 38% of the were not following actifit!
This can help us understand what is more engaging and create the content for next month accordingly.
---
Please read here some useful guidelines for promoting open source projects via Instagram.
---
---
Facebook
---
5% increase in followers
There was a good increase without further promotions or invites.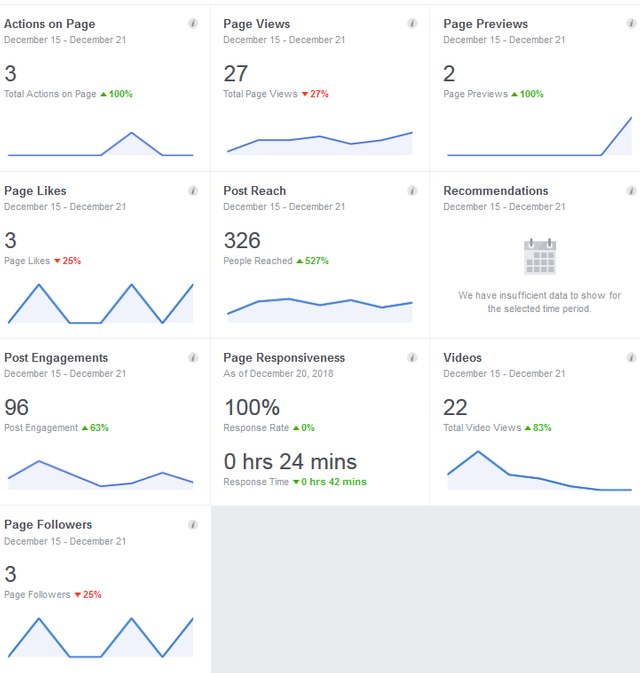 The most popular post in terms of reach and engagement was the one with a short video that we shared about a user sharing actifit and getting rewards for it!

The short video was posted here
---
Twitter
---
18% increase in followers and the champion!
If you are using Twitter, make sure you turn on the Twitter Analytics.
---
It was a nice 10-days time frame for Twitter, lots of engagement and mentions!
Let's find out more!
The top tweet was the one mentioned some statistics where the tags #Android and #IOS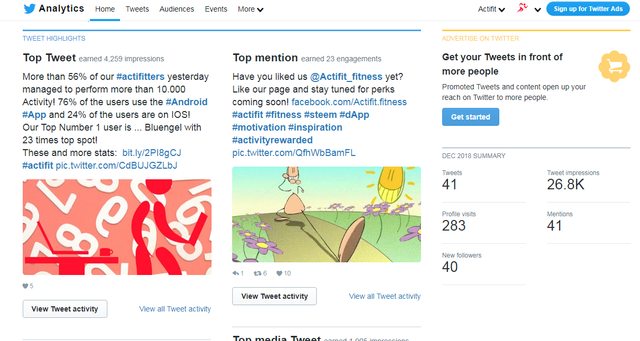 ---
Goals
---
At the moment, as this is only the beginning of this effort, the goals are not specific.
We wish to grow the community, increase engagement and all this while the users are being active and enjoy the benefits of healthy living!
Some Remarks
️⚽ As it was normal, different kind of posts work differently among the social media platforms
️⚽ The users enjoy it when projects share users generated content
You can check out the planned social media calendar for December here!
This is it for now!
Thank you very much for taking the time to read my post, stay tuned for more and please do feel free to share your thoughts, observations, questions on the above!
I would also like to inform the community that my posts, content, engagement will not be as before, due to some family issues that have been going on. I hope that after a few weeks I will be back on track with the usual