Actifit is a dApp that rewards its users with both Steem & AFIT tokens, simply for staying fit & healthy!
Some of you already know that after I saw my friend @iliasdiamantis using it (being a motivational & active freak myself :P) I decided to take a look, and as soon as I found out that the founder was @mcfarhat (a trusted and renowned member of the community), I knew I should absolutely try it!
I not only did I download the app & tried it, but after giving some tips to @mcfarhat regarding social media, he actually showed me trust, by giving me the role of actifit Moderator! Since that, I have been actively assisting in answering questions, writing content about the app so that I can help the new users and from time to time, assisting with the creation promotional images for the daily updates!
All that from June 2018 till now
---
Fast forward to November 2018
---
I have not been actively practicing my new duties, because I am still trying to figure out all procedures and guidelines but ... officially I am already appointed as the new Community Manager for the Visibility Category of @utopian-io! Excited? Yes! Scared? Just a bit!
It is a very challenging position and I plan to write about this journey, but to keep it short, my responsibilities include (among others)
reviewing contributions about paid promotions
discuss with project owners the best way to achieve extra visibility
help onboarding new contributors and/or influencers
Open source has great potential, it is important that we help bringing it closer to the world and to make the world understand what it is about and how it can make our life easier!
---
The most important element for success
---
One of the most important elements for a Project and its Team is knowledge. The Team needs to know what the project is about, what questions it answers and what problems it potentially solves. They need to know who the end-users are, why they would want to use the project and how they would use it.
---
Let's take actifit app as an example
---
Actifit is an app (that is getting very famous in the steem blockchain)
-Q- Who is it for?
-A- Initially for steem users (in the near future beyond the blockhain, but we are discussing for now)
-Q- Who would want to use the app?
-A- Users who need extra motivation & incentives for staying fit, users who wish to accumulate tokens for future use, steem users who wish to try new dApps, crypto enthusiasts, investors, trainers, athletes, mums etc etc
---
-Q- Besides steemit, where are the users & potential users of the app?
-A- They may be using alternative social media channels such as facebook, twitter, instagram etc
---
-Q- Why do people use conventional social media?
-A- To be entertained, educated, motivated to stay in touch with brands they love, to learn news & updates
-Q- When you visit a facebook page / twitter account / instagram account of a brand you follow or you are interested in, what do you take under consideration for evaluating it?
-A- The number of its followers, the recent posts, the engagement in the posts (and depending on the platform, one may see the videos, the highlights (instagram) etc)
After a discussion we had with @mcfarhat, I thought that we need more engagement for Actifit in the social media scene. Discord is a very active channel, steem announcements also receive a very encouraging feedback by the app users BUT ... the social media platforms need a little bit of .. something to be more interesting, more appealing.
---
We need to be able to educate the audience, to onboard more users, to motivate inactive users to start using the app!
---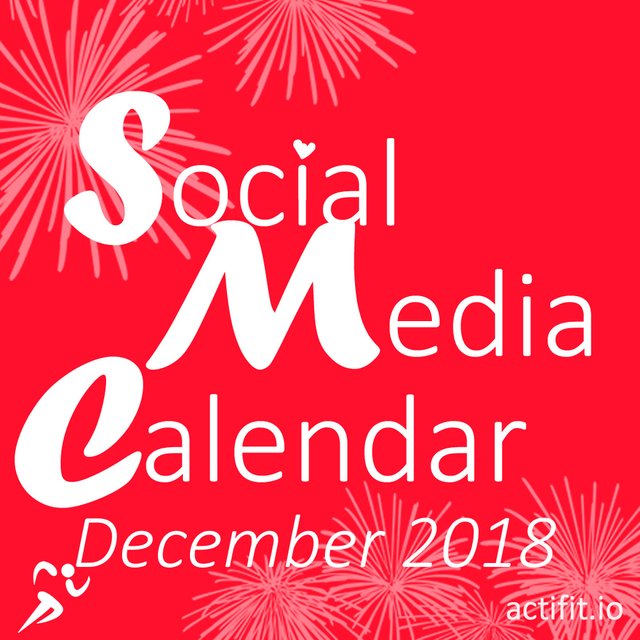 December will be the 6th month that this application is live and it is a very important month for everybody. People plan their Christmas holidays, gather with friends, make their next year's goals ... a festive atmosphere is all around.
So it seems to be a perfect month for trying to increase engagement and potentially the number of fans/followers!
GOALS: (a) increase engagement (b) increase number of followers (c) increase app downloads (d) increase daily reports
ACTIONS: Daily updates with interesting content & sharing some of the content in facebook groups. In instagram, specific tags will be used that are used for steem users & users interested in fitness & crypto currency.
COST: Zero extra cost, only personal time of the author & the actifit team

---
NUMBER OF FOLLOWERS - 30 NOVEMBER 2018!
---
| Platform | Number of Followers |
| --- | --- |
| Steem | 1918 |
| Facebook | 127 |
| Twitter | 115 |
| Instagram | 138 |
| Android App | 1500 + |
| IOS App | 800 + |
| Daily reports | 300+ |
It is evident that more of the actifit followers are on steem and only a handful of them are also following in the other channels. We will try to change this and next month we will get back here with a report about what the achievements were. In the meantime we will be working on the strategy for next year!
Below you will find the Social Media Calendar I created for every day of December. The images used for all graphics were mainly by pexels.com and pixabay, all of them licensed CC0 (Free for reuse)
The color & icons of the app are used in a way to create a feeling of familiarity, and we use specific fonts (free for commercial use) for all the below graphics.
The images are optimized for instagram (1000x1000) but can well be used for all platforms.
I have included below some of the images, but not all of them (all of them will be shared with Actifit Management & Social Media Team)

---
SOCIAL MEDIA CALENDAR - DAILY UPDATES FOR DECEMBER 2018!
---
| Date | Text | Image |
| --- | --- | --- |
| 1 Dec | Let us kick off this month with a new goal! What will it be? Happy December from Actifit Team! | |
| 2 Dec | Top Actifitter? XXXX And Double Rewards go to XXX! Congrats and keep Actifitting! | 2d |
| 3 Dec | Actifit is an app that will reward its users simply for staying active! Have you tried it? Learn more: https://actifit.io/ | 3d |
| 4 Dec | Remember to have fun and enjoy what you are doing! Keep Fit and Earn : ) | |
| 5 Dec | Did you know? Android users can integrate their FITBIT devices with our app! | 5d |
| 6 Dec | One of our first actifitters! Extremejogging! Follow him and his adventures! | 6d |
| 7 Dec | Follow our news & updates! | 7d |
| 8 Dec | We are on social, follow us on instagram, twitter & facebook! | |
| 9 Dec | Did you know that staying active will reduce the risk of various chronic diseases, making you feel better, sleep better and function better? https://www.cdc.gov/physicalactivity/basics/index.htm?CDC_AA_refVal=https%3A%2F%2Fwww.cdc.gov%2Fphysicalactivity%2Fbasics%2Fpa-health%2Findex.htm | 9d |
| 10 Dec | The key is to .. Start! Be active, be healthy, be happy! | 10d |
| 11 Dec | Did you remember to set a goal for 2019? It can be a small one or a big one with many steps in between. Don't forget to take a step at time, and the top will be there for you! | |
| 12 Dec | Some FAQs that could be useful! https://steemit.com/actifit/@katerinaramm/actifit-app-or-rewarding-fitness-activity-with-tokens-and-steemit-upvotes-faqs For any further questions do not hesitate to contact us! | 12d |
| 13 Dec | Guess who was our top actifitter! | 13d |
| 14 Dec | You can earn AFIT tokens by staying fit, by delegating Steem Power, by upvoting actifitters' posts and … ask us for more information! | |
| 15 Dec | Download the app, be active, post your activity on the blockchain and EARN! Check out our app tutorial! | 15d |
| 16 Dec | Staying active and fit is not a destination, it is a way of life! Stay actifit, download the app now ; ) Both for Android and IOS users! | 16d |
| 17 Dec | One of our activities is 'shopping'! And yes, you can shop and earn whild doing that. What is your favorite activity? Let us know if it is included in our app! | 17d |
| 18 Dec | More news, top actifitters and updates! | |
| 19 Dec | We are excited that more than 300 users post their activities on daily basis! Keep staying fit & healthy! | 19d |
| 20 Dec | Did you know that even a few minutes of exercise will you keep your energized? It is never too late to start, download actifit app now! | 20d |
| 21 Dec | Tennis is believed to have originated in the monastic cloisters in northern France in the 12th century. Do you play tennis? Let us know in the comments! | 21d |
| 22 Dec | If you are a fitbit user, remember that you can use actifit app to track your activity! If you are not, it is easy to become one! | |
| 23 Dec | Remember to sleep at least 6-8 hours a day, this will help you recharge the body's batteries. | 23d |
| 24 Dec | What could you post about? Make sure to check our posting guidelines! https://steemit.com/utopian-io/@katerinaramm/actifit-etiquette-content-posting-guidelines | 24d |
| 25 Dec | Season's Greetings from Actifit! May all your wishes and dreams come true! | 25d |
| 26 Dec | Let's be informed about our news & top actifitters! | 26d |
| 27 Dec | Remember the PLANK challenge? Our actifitter franciferrer was the winner of the challenge and here is his video and tips! https://steemit.com/actifit/@franciferrer/osojhcko | 27d |
| 28 Dec | 3 Days left for 2019.. Tell us your thoughts and goals! What do you wish to achieve? | 28d |
| 29 Dec | More news and updates! Click to know about our top actifitters and yesterday's rewards! | 29d |
| 30 Dec | Motivation gets us started, but it is habit that keep us going! Remember to stay active at least with 5000 daily steps. Benefit from staying healthy AND gaining dual cryptocurrency! | 30d |
| 31 Dec | 1 day left until we welcome the new year! We wish you an amazing time today, let us celebrate & remember to stay active! | |
---