I am very excited!
I hope you do not mind my starting with this phrase.
Despite the holidays & the quiet times that this blockchain is undergoing, there is so much happening behind the scenes, to keep us busy for a looong time!
In this post I will briefly mention some recent news about @actifit and present the January daily calendar prepared for the actifit social media channels.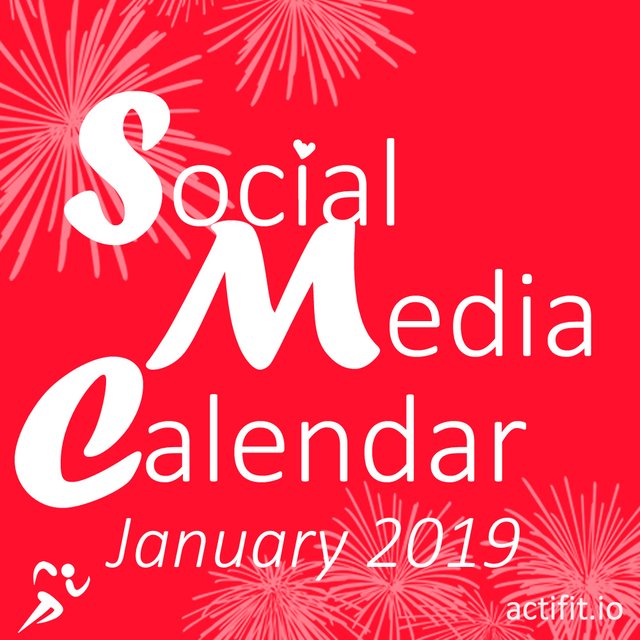 Some useful links
Actifit has now a sign up process for non-steemians & a referral program for all!
Just a few days ago, Actifit announced that users can now sign up instantly, receiving immediate confirmation, a steem account, an actifit delegation and some extra perks!
Anyone who is NOT currently on the Steem blockchain, will be able to signup instantaneously for an account via https://actifit.io/signup.
We chose to make our signup process strictly relying on the user owning STEEM, or buying them via an exchange or any other available service, which we believe will incentivize users to get to know and interact with STEEM, and hence reflect positively on its valuation and growth.
And as if this was not pretty exciting, there is also a referral program in place!
Referring a successful signup will also result in you earning an amount of 20% of the AFIT reward the user earned.
You can check out some of the posts written by taskmaster4450, exyle and also by jk6276!
---
Let us add some melody to our work outs, shall we!
---
You would never guess who else is using @actifit app!

The world renown, innovative, creative band who has joined steem approximately a year ago, a short while after me writing an article about them :) discovered and also used the app to post a report card!
I will not say much here, except of a quote I find so magnificent, that I wish to share with all of you!
As Bennet from The Trouble Notes says:
"It all happened gradually, there are little whispers, and then one day you wake up and say 'screw it. Something emotional happens, and what you've been thinking about for months becomes a reality."
---
Actifit, with a lot of other steem apps, was added at the State oftheDapps and the Dapp.com!
---
This is the link for Actifit https://www.stateofthedapps.com/dapps/actifit-fitness-tracker
You can also visit http://bit.ly/actfit-dappcom and rate/review the actifit app and any other steem app that you use!
---
---
If you are active in social media and share information about actifit, make sure to tag the actifit social accounts and to let us know in the channel for a chance to gain some extra rewards :)
---
Time for the daily social media Calendar for January 2019!
---
The daily updates have been very helpful in motivating, informing our users.
This month, the updates will have the following goals:
Inform users for the new sign up process
Inform users for the referral program
Inform users for some important differences with other fitness apps (such as the fact that actifit is available all over the world and not in selected countries)
Motivate users
Entertain users
Invite users over to Discord
Invite users to review the dApp in dapp.com and stateofdapps.com
Inform users of news and eye-catchy statistics (such as top actifitter for 2018 etc)
---
January
Caption
Image
1
We wish you a Happy, Active, Healthy New Year!
2
May this year be bright, active, healthy and above all happy!
3
Did you know? Lack of sleep seems to be related to an increase in hunger and appetite, and possibly to obesity. According to a 2004 study, people who sleep less than six hours a day were almost 30 percent more likely to become obese than those who slept seven to nine hours. (source: webmd.com)
4
"The Person Who Says It Cannot Be Done Should Not Interrupt The Person Who Is Doing It." – Chinese Proverb
5
Achiever of 2018 - Actifit Peter! With 5000 kilometers during Cycling & Walking! Well done Peter!
6
Unique Actifitters! -
7
We are excited to announce to all non-Steem users, you can become users as of now !! Sign up for an account using our signup page, and for as little as 10$ bought in STEEM, you get amazing perks
8
Do not forget to share your actifit posts to social media and get extra rewards! Join our Discord and let us know at the social media awesomeness channel!
9
Referral Program!
10
Who was our top actifitter? Read more:
11
Our Top Afit Holder is…!!! With … Afits in their account
12
Did you know that just 30 minutes every day can increase cardiovascular fitness, strengthen bones, reduce excess body fat, and boost muscle power and endurance? Start your Actifit Journey Now
13
The Top Actifitter is … being XX number in our Top Spot!
14
Today is the #dressyourpet day .. Let's have some fun uploading images of our pets doing sports or being fit! The most creative snaps will be rewarded! Use the tag #mypetisactifit and join our Discord to share your photo!
15
We noticed how you love statistics and invite you over to the recent stats by .. Who else? @stats-generator!
16
The most Dedicated Actifitter is..!
17
"To walk in nature is to witness a thousand miracles." ~ Mary Davis What is your favorite place for walking?
18
News!
19
According to science, If you exercise 3 times a week for 45 minutes you can help prevent signs of aging!
20
Life has its UPS and DOWNS, but in Actifit we call them SQUATS!
21
Did you know? You can use actifit app world wide!
22
Actifit is also on dapp.com! Feel free to visit and share your feedback about the app here > https://www.dapp.com/dapp/actifit
23
We are excited to announce to all non-Steem users, you can become users as of now !! Sign up for an account using our signup page, and for as little as 10$ bought in STEEM, you get amazing perks
24
Fitbit users have the opportunity to synchronize their device with actifit!
25
You are one step away from a great mood and an incentivized motivation! Download our app now!
26
Referral Program!
27
Did you know that working out sharpens your memory?
28
We have a variety of multi-language communities in our Discord Server. Join Us!
29
When was the last time you earned cryptocurrency while .. Walking with friends?
30
Did you know that It is 20 times cheaper to maintain a bicycle than a car?
31
Ready to say Good Bye to January? Tag a friend and invite them to a walk outside!
---