I am the sword(reviewer) in the darkness. I am the watcher on the walls(my mobile devices). I am the shield that guards the realms of men. I pledge my life and honor to the Night's Watch(Esteemapp development updates), for this night( update release) and all the nights(update releases) to come.
Game of Thrones seems to be infused in everything these days. I'm a big fan of the TV show. If you are reading this article, I hope you are a fan too.
Since the last release of eSteem mobile, that is; eSteem mobile v2.0.9, I have looked forward to a new release. (I'll talk about why I was so anxious for a new release later on). I had expected an update release sooner than it came. I waited for days. Days turned to weeks, And eventually, weeks turned to months. I felt like a man of the night's watch (Game of Thrones), waiting for the arrival of the 'Night King'(which in this case is an update release). Well, the update release finally arrived. And once again, I feel excited about it.
As soon as I got the update announcement, I got my hands on the new release and tried it out. Within a few minutes of trying out the app, I had enough information to pen-down a review. But, I wanted to explore the app a little bit more before I publish my review. In this article, I would review the new update release of eSteem mobile. There's quite a lot to talk about, but I will try to be brief and concise.
Without further ado, let's delve into the review
Review of eSteem mobile v2.1.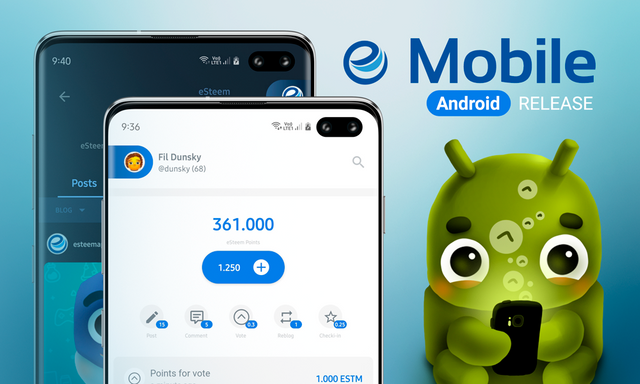 source
As is my usual practice in all my reviews about eSteemapp releases, I will outline the changelogs in this release.
What's new in 2.1
eSteem token rewards
Wallet transfers
Post scheduling
Customizable notification settings
Ability to delete comments
Transactions filter for notifications
PIN backup
Ability to send feedback
Dark mode style tweaks
Fixed:
Surfer drafts edits
Search issues
Switch account error
Estimated wallet value
Transfer notification issue
Edit comment issue
Disabled push notification issue
Reply issues
YouTube video issues
From the changelogs, you can see that this version is packing quite a lot of new features. There are several fixes too. The new features that the app has in the update would definitely boost my user experience. But before I delve into the review of this version, I'll first talk about why I was eager to see it released.
---
The older version, that is; eSteem v2.0.9, had a lot of issues. Don't get me wrong though. That update(v2.0.9) had exciting new features, and a lot of stuff were fixed. But, we all know a software can't be 100% bug-free. Maybe you can see an app that's 98% bug-free. eSteem mobile is still undergoing very active development, and bugs are expected to be in the offing. But a lot of those bugs in one app is likely to cause problems for end-users. I can't say for other end-users, but for me, I had a bad user experience with that version(v2.0.9). There was a bug in almost every corner of the app I turned to. I reported about 6-7 of them(bugs). There were reports from several other end-users too. The bugs were quite a lot. I expected that the number of bug reports flooding in will spur the team to release an update sooner. But, it(an update) didn't come. I can understand the situation though. I'm not a developer, but I know fixing all those errors isn't a small task. Whatever time they took was necessary and worth it all in the end, especially when you check out the new version. That is not to say that the new version(v2.1) is bug-free. But it is much better than its predecessor.
---
Now, to the review of eSteem mobile v2.1 in earnest. As I have always done, I'll talk about the new features(noteworthy) of the app, and share my opinion about them. The order of my review is based on how important that particular feature is to me.
eSteem token rewards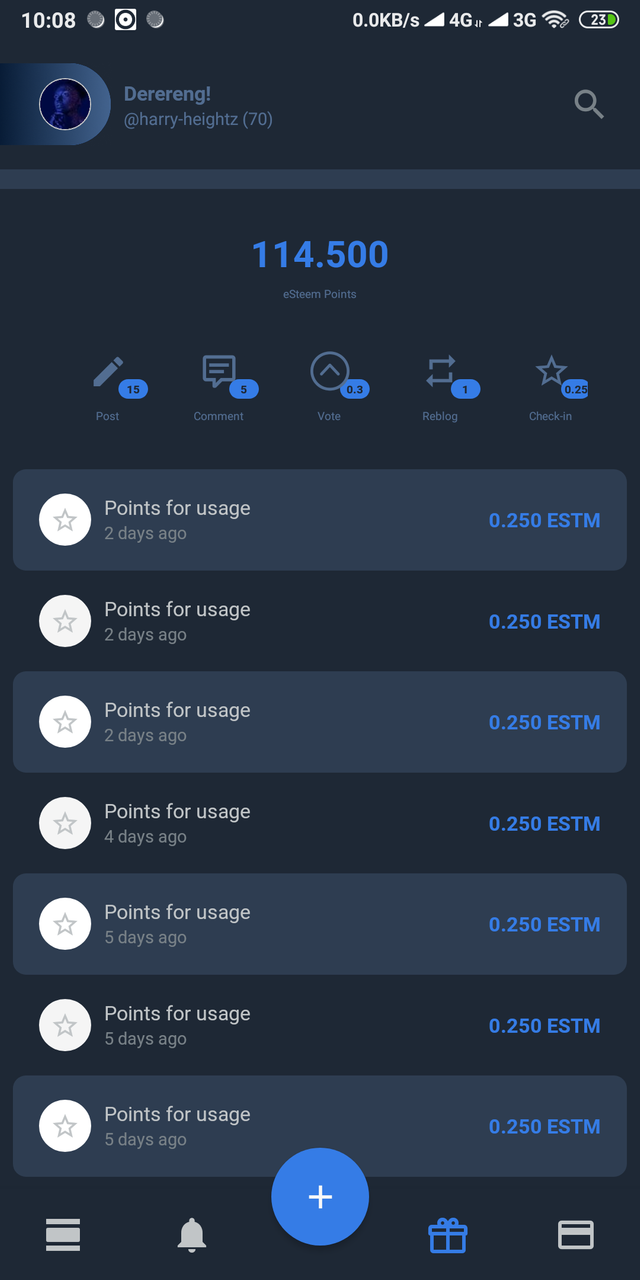 In the announcement made by the project owner, much wasn't said about the eSteem token. But, according to the project owner in his announcement;
We are preparing What future awaits us on eSteem and eSteem token metrics post which will be posted in a few days. Stay tuned to hear more about eSteem token and possibility to be involved as a contributor. For now, enjoy using the new version and keep earning your eSteem tokens.
What's hot on the blockchain(Steem blockchain) right now is dApps establishing their own tokens. We have seen Actifit's token and Knacksteem's token. Then there's Steemhunt's 'HUNT' token which has been making a lot of news lately. I think with time, we'll more dApps come up with their own(tokens). To be honest, I least expected eSteem to come up with their own token. But it's here now and I'm really excited about it. What I'm really excited about though, is the way we(end-users) can earn the token. Common activities performed on the app gives you a chance to be rewarded with the token.
Posting, commenting, voting, reblogging and just being active on eSteem apps are rewarded with eSteem token now!
Each activity has it's own level of reward though. And I like the reward distribution between the different kinds of activities. I'm not certain if I'd publish my articles using eSteem mobile (The reason is tangible). But for the rest activities, eSteem mobile(surfer) will be my goto app. And I think this reward system would spur many people on the blockchain to use the app. It's a win-win situation for end-users really.
Wallet transfers.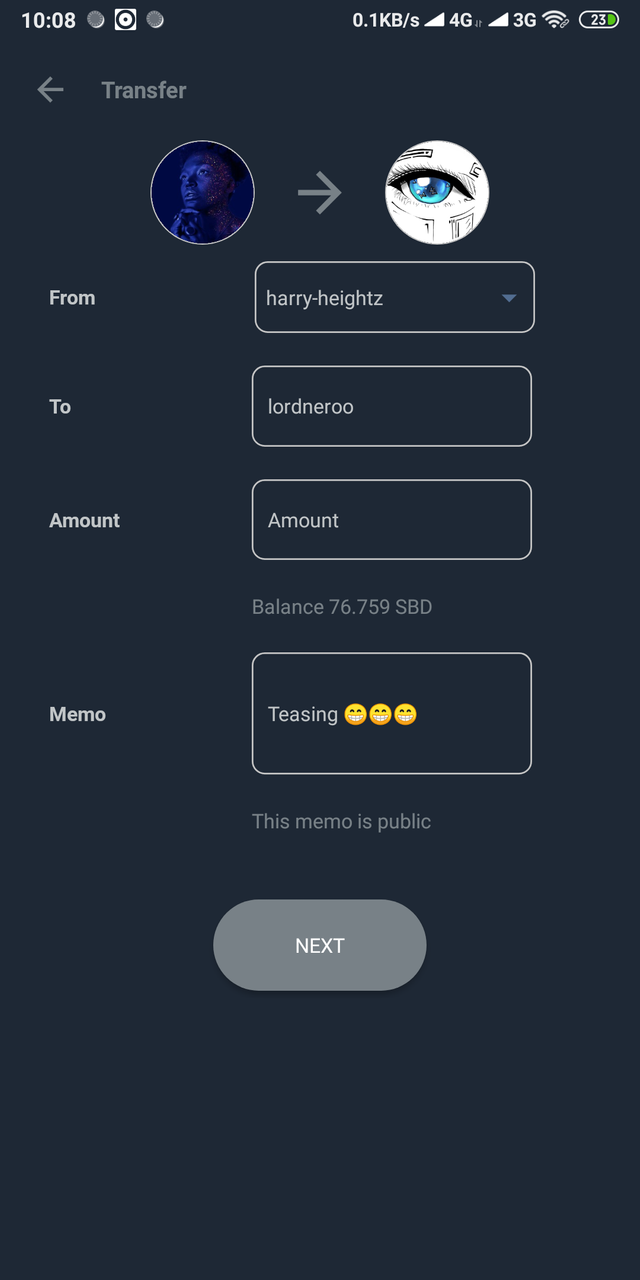 I wonder why it took so long for this feature to be implemented on the app. Making transfers is one of the basic activities on the blockchain. I expected it to have come sooner than it did, but I'm glad it's here now. I tried it out this morning and it felt good to use. There's no special thing to how it works. The only difference from using Steemit's wallet is that; on the app, you have to enter your security pin-code.
The security protocol is good, but I had some issues with it (caused by overthinking). The problem is; the app's security protocol is basic and easily hackable. That same pin-code is required whenever a transfer activity is to be performed. It simply means that, once someone is able to get access to the app, they can perform transactions. It'll be great if I'm able to set up a different security pin for wallet transfers. That way, I'm quite safe even when someone was able to get into the app. I've always talked about implementing a touch ID security system. I think it is more secure than a 4-digit pin system.
Customizable notification settings.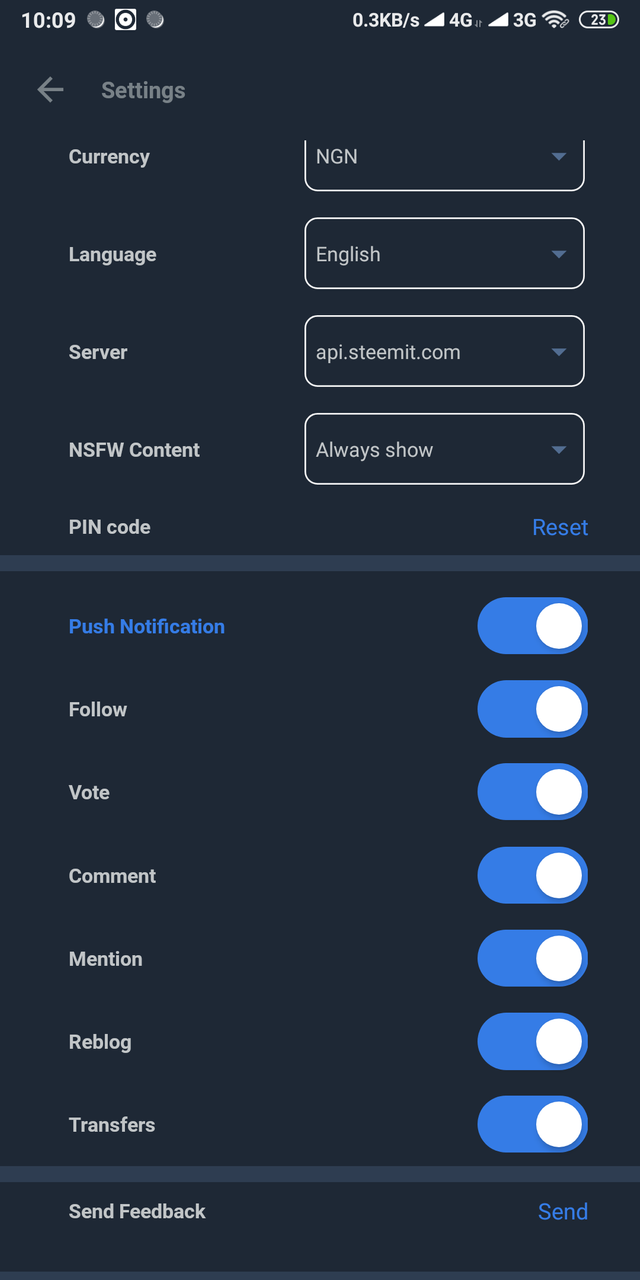 I can't exactly recall in which of my reviews I talked about being able to customize push-notifications. I'm excited that the feature has now been implemented. This feature was available in the old eSteem mobile(v1), so I had faith that it would be implemented in this newer version(s) at some point. Now I can enable/disable notifications for several activities. At the moment, I've kept all of them enabled. But, I know I will do some tweaking later on.
Post scheduling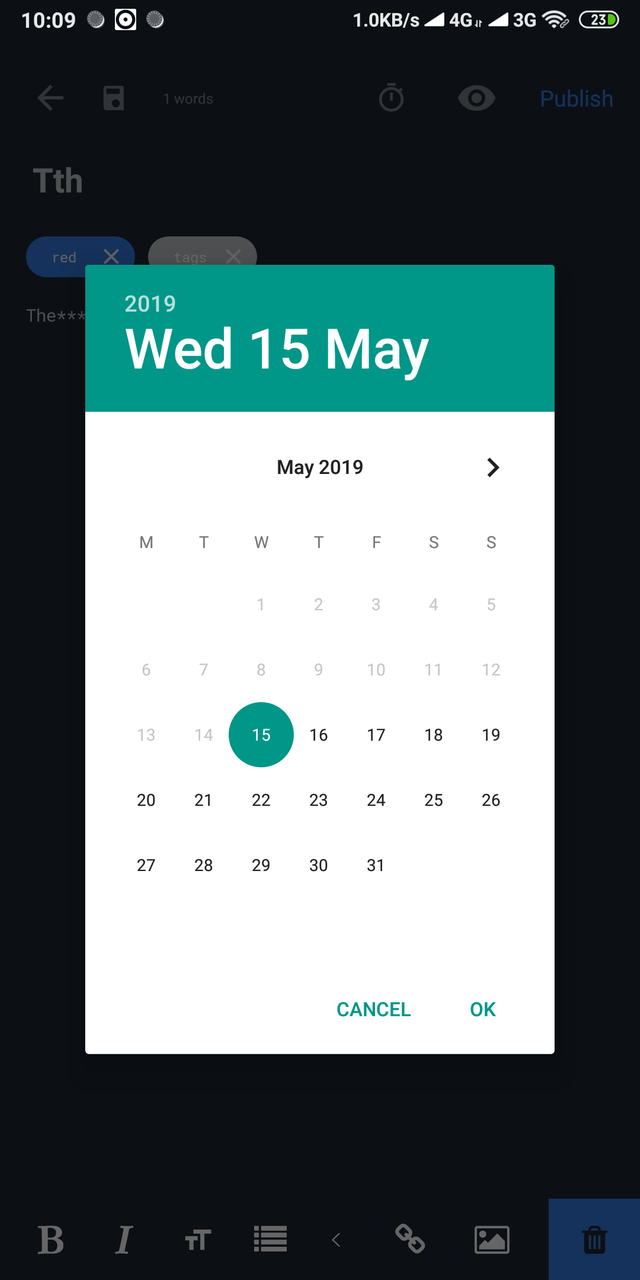 Post scheduling is another great feature. I used it on the old eSteem mobile(v1) a few times before. Lately, I rarely get a chance to create content. Talk more of creating content for the future. Maybe I'll try it out again sometime. It could be a few weeks or months. But I'm happy about the feature regardless.
I tried out the feature and it's great. There's no hassle with using it. When you schedule a post, you can find it on the second page of the drafts menu.
---
Summary.
That's all the features I can talk about in this article. About the bug fixes, more than what's on the list were fixed. At least, all the issues I reported about the last version have all been fixed. This version is pretty solid(with respect to the amount of time I've spent on it). So far, I've encountered only two bugs in this version. I've reported them, and the developer has fixed them. I'm still having a nice time with this current release, but I hope an update comes faster this time around.
Thanks for reading.
The long night is over. Now my watch(review) has ended.
Links
Resources:
The images used in this article are screenshots from my mobile phone or PC. Other images used, are properly sourced.
Series backlinks:
Github profile: