I always look forward to new releases of the Esteemapp. That is; Esteem mobile, and Esteem surfer. The project owner at the launch of the v2 release of these apps promised to release updates of these apps as soon as possible. He has since kept to that promise, and updates of these apps have been rolling out consistently. There's a new version released every month since the initial release of the app.
Two weeks ago, I reviewed the last two releases of Esteem surfer. That is; v2.0.5 & v2.0.6. The Esteem surfer is packing a lot of new features and I'm excited about them. I'm expecting a new release by the end of this month, or, the beginning of the next. But, this article is not about Esteem surfer. This particular article is set up to review Esteem mobile.
The project owner announced the release of a new version of Esteem mobile yesterday. That is; Esteem mobile version 2.0.9. This release is packing a lot of new features, and I have checked them out. I will review these features and tell you my opinion about them in this article. Aside from this latest release(v2.0.9), I will also be talking about the release before it, that is; Esteem mobile v2.0.8. I purposely opted out of doing a review when it was released. The plan was to review two versions of the app at the same time. I did that in my previous article about Esteem surfer, and I think I will continue in the same manner with other update reviews, or maybe not. In my last article, I explained why I review two app updates in one article.
Without further ado, let's delve into the discussion of today.
Review of Esteem mobile v2.0.8. and v2.0.9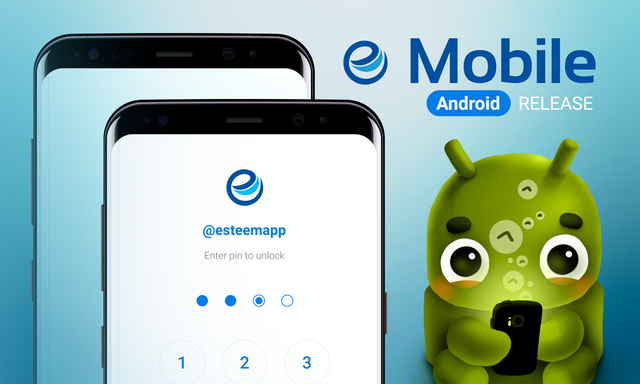 To make this review as comprehensive as possible, I will start by listing out the changelogs of each version, before I get into the review properly.
Version 2.0.8
The project owner announced the release of this version last month. As usual, every update brings new features, improvements, and bug fixes. But, in this version, I think the developer focused on bug fixes than improvements and new features.
Here is the changelog of Esteem mobile v2.0.8;
newGerman, Hungarian, Turkish, Russian, Indonesian languages are enabled
newadded wallet estimated amount
improvedperformance improvements
improvednotification enable/disable improvements
improvedcurrency change improved
fixedsome alert changed to toast messages
fixedclaim reward fix
fixednotification icon fix
fixedpost sticky bar issue fix
fixedconnectivity fix
fixedmany more bug fixes
From the changelog, you can see that fixes were the order of the day in that update. The release saw the addition of only two new features, three existing features improved, and a lot of fixes.
---
Version 2.0.9
This is currently the latest version of the app. The project owner announced the release of this version yesterday. As is my usual practice, I jumped on the app to check out what's new. I didn't have to stress myself to find the updates that are available in this release(v2.0.9). The project owner has made it his point of duty to include a changelog in all his announcement posts about new Esteemapp releases. He didn't disappoint in this one too.
Here's the changelog of Esteem mobile v2.0.9;
New Open links from steemit.com, busy.org, steempeak.com in eSteem Mobile application
New Tag search
New All tags are active (clickable) now
New Clear button for editor screen
New Redirect feature opening relative action from a notification
New Comment sorting for votes, trending, reputation, age...
New Number of upvotes on comments
New Information text for SteemConnect login
New App restart after server change
New Disable NSFW content option
New Translations Korean, Portuguese, Lithuanian.
Fixed Table with images rendering
Fixed Profile screen issue opened from search results
Fixed Editor issue after reply any post
Fixed SteemConnect login screen design
Fixed Push notification disable bug
Fixed Tags design issue for Android and added remove button - for each tag in editor
Fixed Post dropdown links on profile screen
Fixed long space issue after h tag in editor page
Fixed Favorite list avatars
From the changelog of this version, you can see that new features and fixes were the order the day. This version is sporting the addition of 12 new features, and nine issues on the app were fixed. If this isn't mindblowing, I don't know what else can describe that word. I'm particularly excited about some updates in this version. Two of them to be precise. The reason is that I had a hand in ensuring they were available in this release.
---
As I have already stated above, I will be reviewing noteworthy features from the two releases, that is; v 2.0.8 and 2.0.9.
To make my review less confusing, I will indicate which software version has the feature I'm reviewing.
Without further ado, let's review the updates in these releases.
Open links from steemit.com, busy.org, steempeak.com in eSteem Mobile application. [V2.0.9]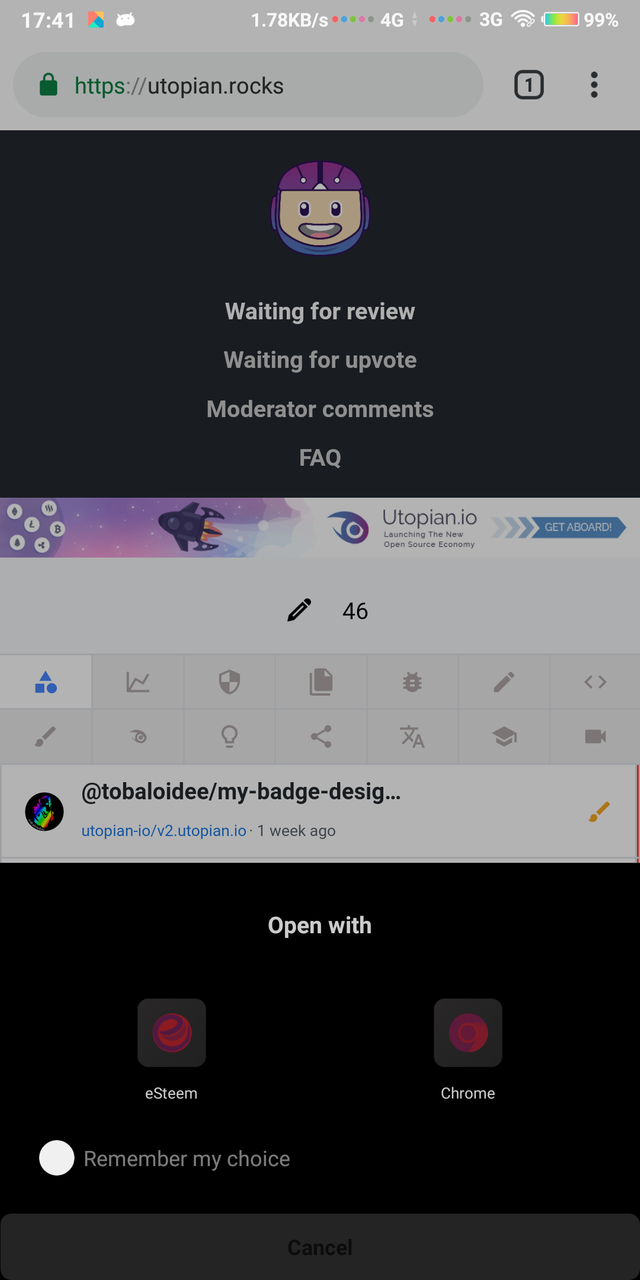 From the two updates I'm reviewing, this is the feature that stood out for me. With this feature in place, I can open links from the platforms specified above with esteem mobile. I'm not an ardent user of the other platforms listed above, except steemit. Most of my friends, if not all, are also full-on Steemit users. They sometimes share me steemit links of their posts, to either upvote, resteem or comment. Before this feature, once I clicked a steemit link, my default browser opens up. Now, I don't have to use my browser anymore.
But, would I use the esteem mobile to open links over my browser?
My answer is; I don't think so. I won't use esteem mobile to open links not because it doesn't work, but because it is actually slower than using my browser. The question in your head right now is; How is it slower than using a browser? It is slower because;
Esteem mobile has a boot screen or startup screen.
When I launch the app, it takes about 3-5 seconds to get past the boot screen. This amount of time may vary between devices though. If your device is sporting a faster processor, it may likely take a second to get past the boot screen.
Security system.
The security system is another reason why it would take a long time to open a steemit link using esteem mobile. The security system comes up immediately after the boot screen. So, calculate the time it would take to wait for the app to get past boot screen, and the time you'll input your passcode; if I had opened the same link on my browser, I should have been staring at the content of the link.
---
I'm a fan of the security system on the app, but, I think this feature should be optional. Users should get to make a choice if they want the app secured or not. This is not because I want this feature to work faster. The security system feels annoying sometimes. Especially in cases where I just want to get into the app quickly.
For this feature to work efficiently, my suggestion would be;
Make the security system optional
Scrap the boot screen entirely or skip the boot screen for this process.
Aside from the issue of this feature being slow to use, I found out that the feature doesn't work when the app is open and running in the background.
---
Clear button for editor screen. [v2.0.9]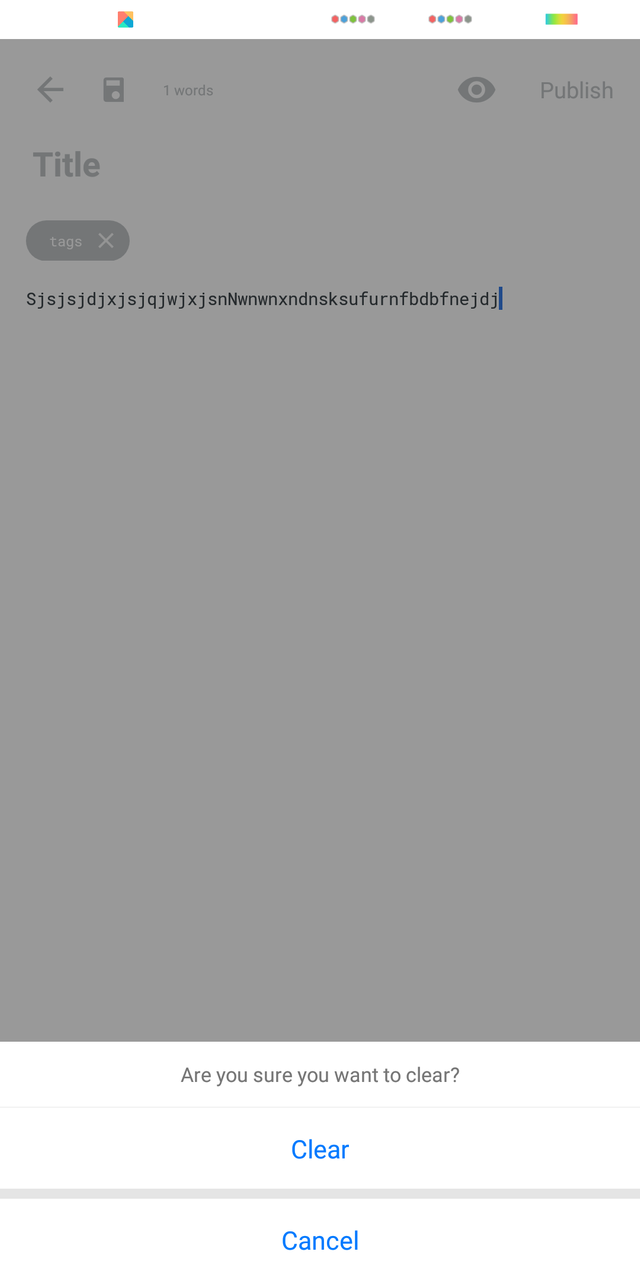 I like the availability of this feature for weird reasons. Sometimes, especially when I'm bored, I get on the post editor and type in some gibberish. At other times, I'm running some tests on the app. The repercussion of this action is that I have to delete the content. I could do this highlighting the texts and using backspace. But, I'd ideally love to use a clear all button. It's easier and faster to use.
---
Added wallet estimated amount. [v2.0.8]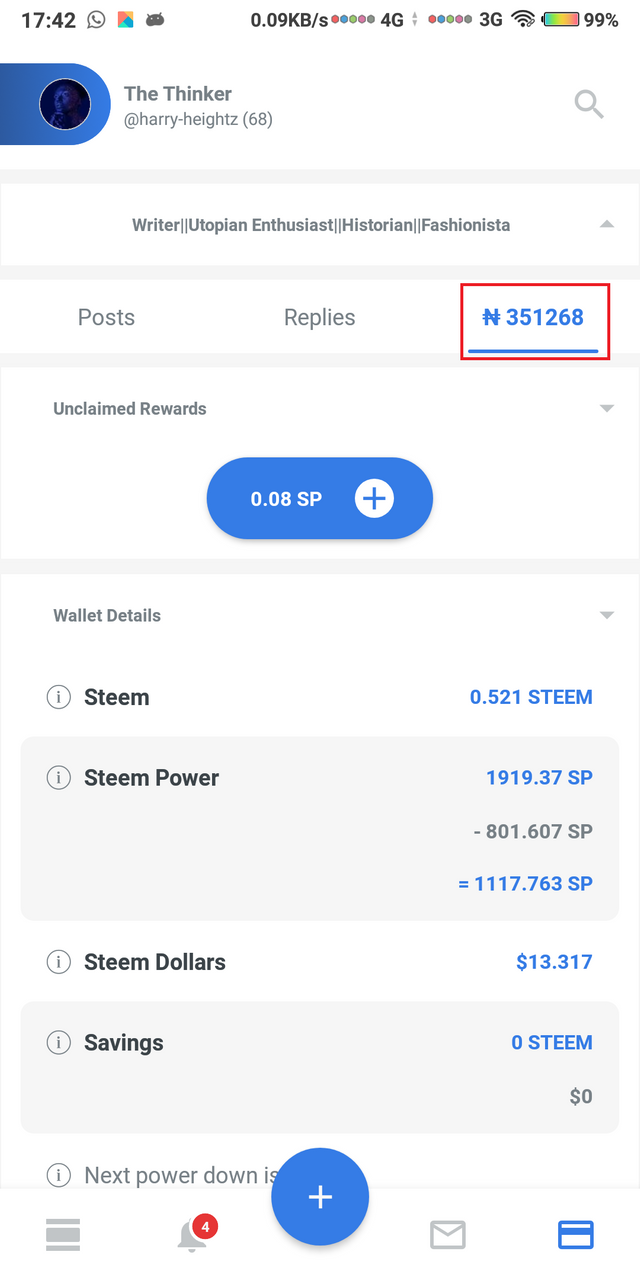 I'm a very curious person. You may have known that by now. My account information is something I'm curious about. I check my wallet almost every time. Especially when some posts just paid out. I don't really care about the amount of steem or sbd I have. I'm mostly concerned about my account's estimated value, and that's why this feature is important to me. One thing I like about this feature is that; the estimated amount value is displayed in the currency I already set the app to display. So, I don't have to start engaging in conversion mathematics to get my estimated account value in my local currency.
---
Disable NSFW content option. [v2.0.9]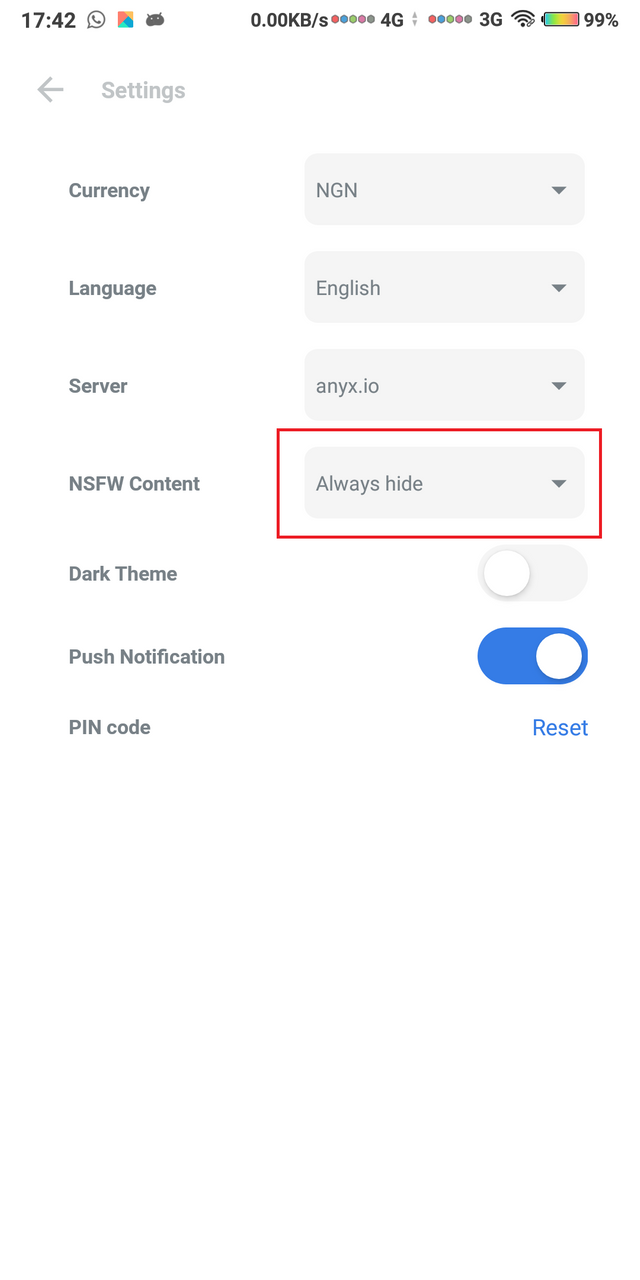 I'm above 18 years of age and by law, I can view contents that are classified "Not suitable for work". But, do I view them? Not really. However, it's a good thing to have this option available on the app. Currently, I have the option disabled.
---
Redirect feature opening relative action from notification. [v2.0.9]
If you can recall, in the build-up to this review, I said that I made some updates in the latest version of the app happen. Well, this is one of those features.
In the previous version, that is; version 2.0.8, I noticed an error with the notification system of the app. When I receive a push notification and click on it, the app should open the activity I was being notified about. But, that wasn't the case. If I clicked on a notification, the app just opened and I had to manually navigate to the notification. I reported the error and the developer took note of it and worked a fix. Well, maybe not a fix per se, I think this feature was unavailable. The feature is now available in this latest version. I tried it out and it worked flawlessly.
---
FixedProfile screen issue opened from search results. [v2.0.9]
This is the second update I made happen too. Prior to this update, the app exhibited a weird behaviour. I would search for my username, click on the result, and my profile will open as though I'm someone else. The implication of this error was that; I could add myself as a favourite author, and I could follow myself. I even got notifications when I followed myself. It was really weird.
---
New language translations. [v2.0.8 & 2.0.9]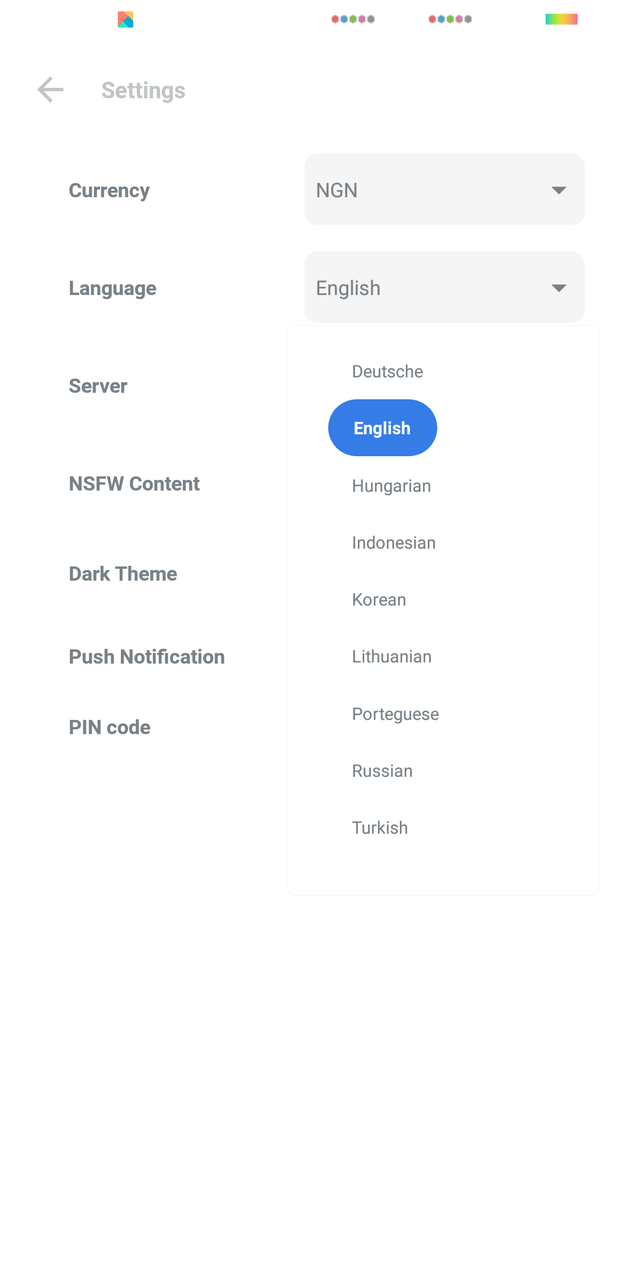 This has been a consistent feature with almost all the versions that have been released so far. This shows that a lot of translators are working tirelessly to translate this app. In the last two versions of the app, 8 language translations were added. They are;
German
Hungarian
Turkish
Russian
Indonesian
Korean
Portuguese
Lithuanian.
As I have said before, the reason for having the app translated in so many languages is so that the app becomes a global commodity. This means that the app can be used by another one all over the world without a language barrier. I'm still anxious to see if Nigerian pidgin would be added to the list soon. You've gotta love Nigerian pidgin.
---
There you have it. My review of Esteem mobile v2.0.8 & v2.0.9.
Summary
They are more features I'd ideally have loved to talk about though. But, for me, it's okay that I end here. If you are feeling adventurous, get the app and explore it yourself. I assure you of a nice time with the app.
In this article, I've been able to review the last two versions of esteem mobile. Once again, I wasn't disappointed with the features and updates in these versions. Although I had issues with one of the new features on v2.0.9, I think the app is pretty solid. I'm anxious to know what the developer plans to release next. There are some important features I wish the next release of the app would come with. They are;
Power up
Delegation
Power down
Profile editor
The first two features on the list are already available on Esteem surfer. I don't know how long it will take to be implemented on the mobile app. I hope it doesn't take too long.
Thanks for reading my review. Leave your thoughts in the comments section.
Links
Project repository: https://github.com/eSteemApp/esteem-mobile
App download link: https://play.google.com/store/apps/details?id=app.esteem.mobile
Resources:
The images used in this article are screenshots from my mobile phone or PC. Other images used, are properly sourced.
Series backlinks:
Github profile: