Source
---
After reading through @steem-ua's introduction post again, I noticed that the upvote you're getting on your post is determined by your own UA score and the UA scores of the people who have upvoted your post.
UA, as a Reputation / Influence metric, has quite some interesting applications. @steem-ua utilizes one of them: since every Author Account has a UA score, so does every Post Voter. Instead of looking at the SP a Post Voter owns, @steem-ua, our own Algorithmic Curation Service looks at the UA score of the Author and all its Post Voters. -- UA Introduction
Now, wouldn't this mean that you could basically manipulate the vote strength @steem-ua by purchasing votes from either SmartSteem or Minnowbooster? On SmartSteem for example, you can choose whether you want to receive more big votes or smaller votes.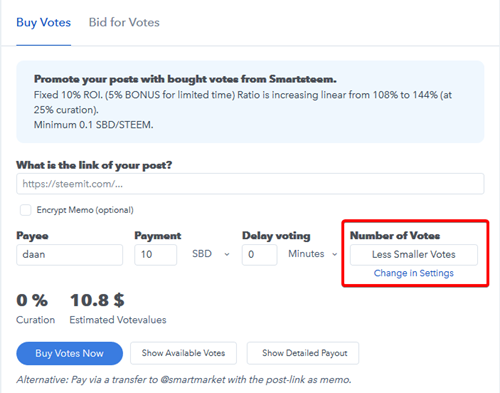 Source: Smartsteem
I would assume that the accounts behind those bigger votes also have higher UA scores, so you'd be getting a higher vote from @steem-ua as well, since you have bought votes from accounts that have a (potentially) high UA score.
Am I missing something here or is it indeed possible that vote buying could affect @steem-ua's upvote value?
---
The 4 links above are referral links and support this blog
---