Travel Norway #17 - Femundsmarka national park vol.2 - To The Top!
Welcome all!!
---
Long time past since last Travel Norway post - as always life...
In the second part from my trip to Femundsmarka area - I would like to take You up to the highest mountain of the National Park - Elgåhogna (1460m).
I was planning to preapre a nice movie show as well, but I am not sure when I will have the time to do it, so I just go into standard gallery presentation.
No time to waste - let's go!
---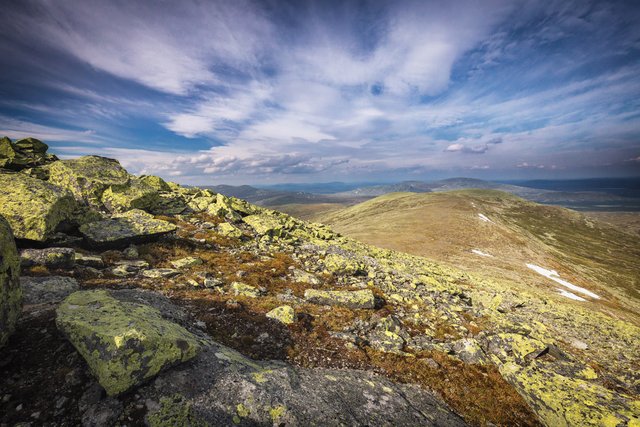 ---
After breakfast and repacking in Elgå, I drove to find the start of the path - it is easy to miss it but using the Google maps always helps a lot. No special parking place, just some parking area on a sides of forest road. Road is closed for traffic, from this point we have to go by foot.
On this point of my travel I didn't made any photos - reason - mosquitoes... they bite as crazy! I just grabbed my stuff, put my trekking shoes on and run up the trail hoping that all the insects will disapear in higher parts of the mountains...
I was sure! After 500 meters I could finally stop to take my shirt off - it was really hot that day - drink some water, take my camera out and enjoy the hike...
---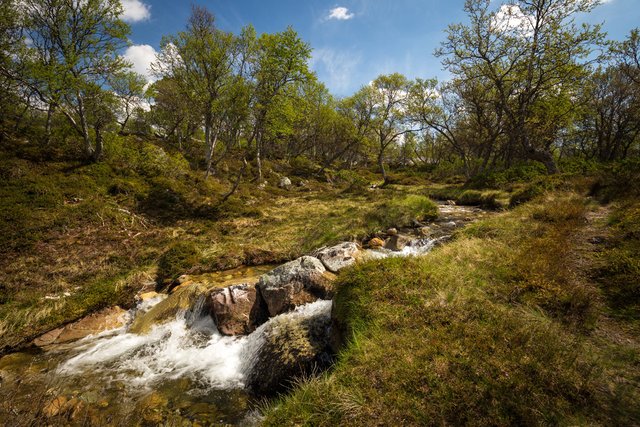 ---
First part of the footpath leads among low birch forests among fast swimming, crystal clear and icy cold mountain stream - something which every tired traveller loves a lot during hiking in such hot days.!
---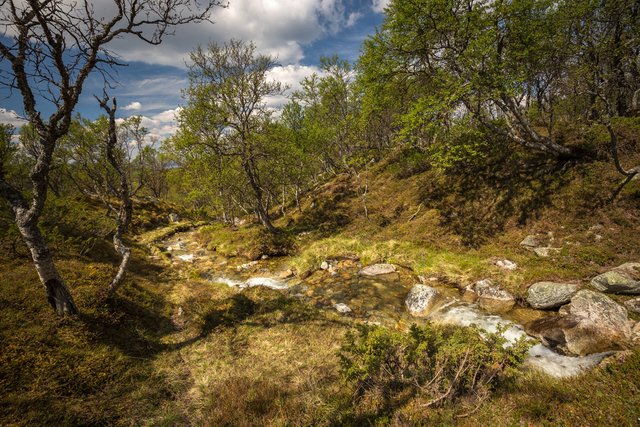 ---
What is not seen on the pictures and which I finally didn't photographed was the huge plague of green catterpillars. They were everywhere! They were eating all the trees, some of them was almost naked already, under the trees they were eating blueberrie bushes and other plans, full of them were dead in the stream, the stones on the path was slippy sometimes because so many I had to squeeze when walking... tragedy! I think that extremely hot and dry spring time was the reason of this mass gradation.
---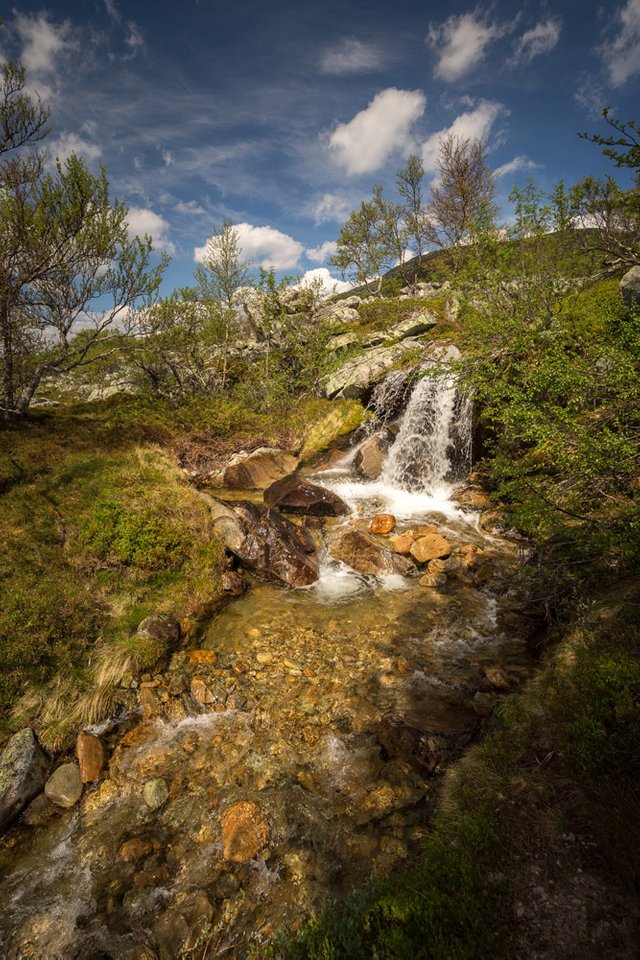 ---
I stopped by this beautifull waterfall to rest a bit, wash my face and shoot some frames. I also made really nice panoramic shot there.
---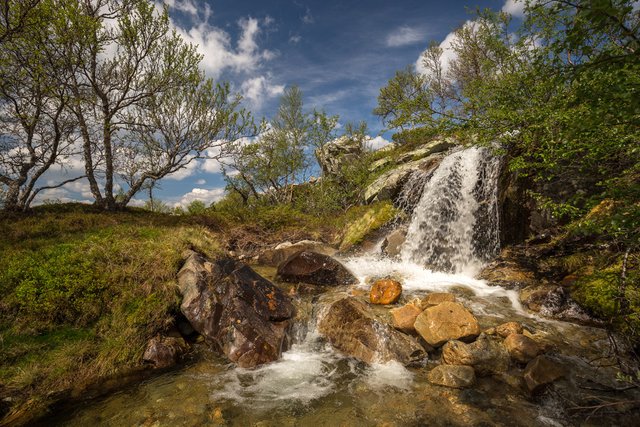 ---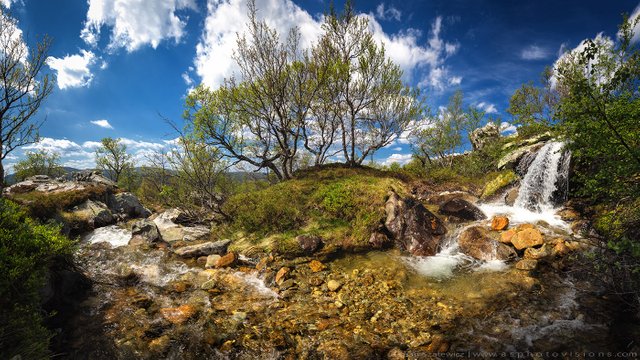 ---
Little higher the landscape start to change - forest become less dense, horizon starts to open... my second photo spot was this small pond with of course again - crystal clear and icy cold water ;). Wish I was so brave to swim there....
---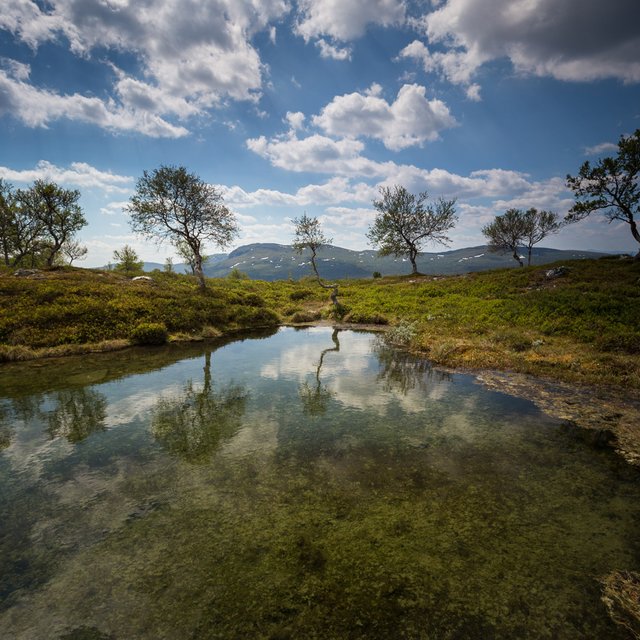 ---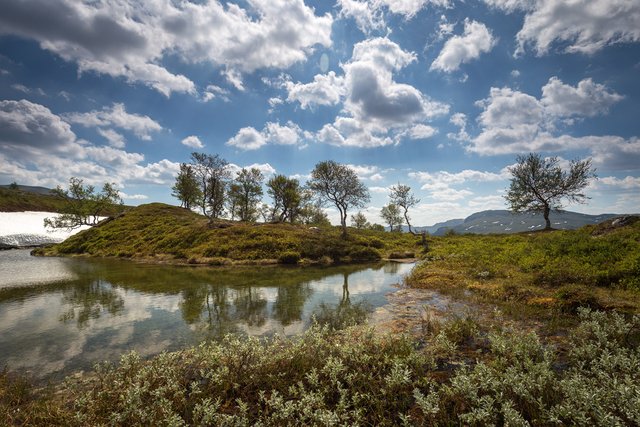 ---
First sight of a snow told me that I am quite high already - the path wasn't hard for now, it was really nice relaxing hike up there. More and more mountains starts to appear on the horizon...
---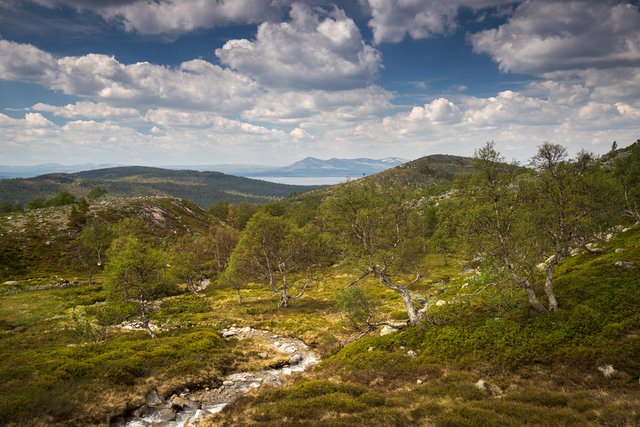 ---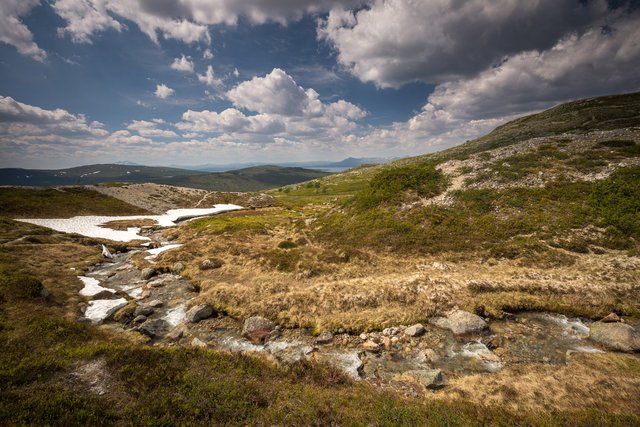 ---
Path up the mountains is well seen - I think during the high season many people are on the way to reach the highest point of the park. That day I met only 4 people - 2 when walking up and 2 when was on the top already.
Yes! 4 people during whole day of hiking! I love this country :D.
---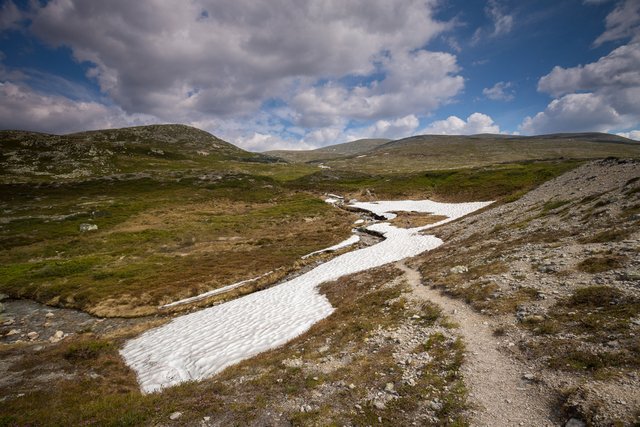 ---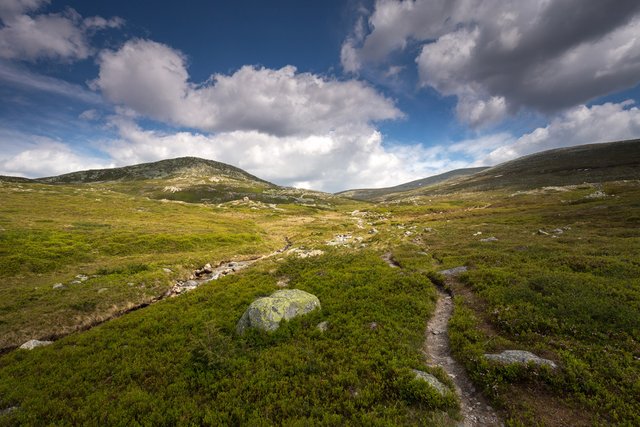 ---
About the weather that day - I checked the forecasts and I was hoping for cloudy sky from afternoon, simply because it was really hot spring, full sun in open spaces like these is not the best - it can be even dangerous, especially for someone with not the best condition after winter...
---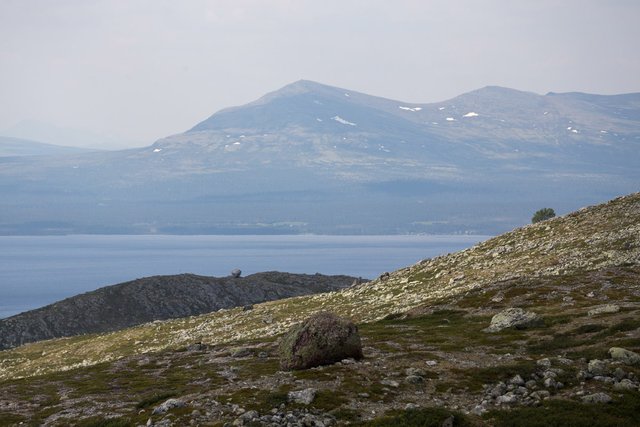 ---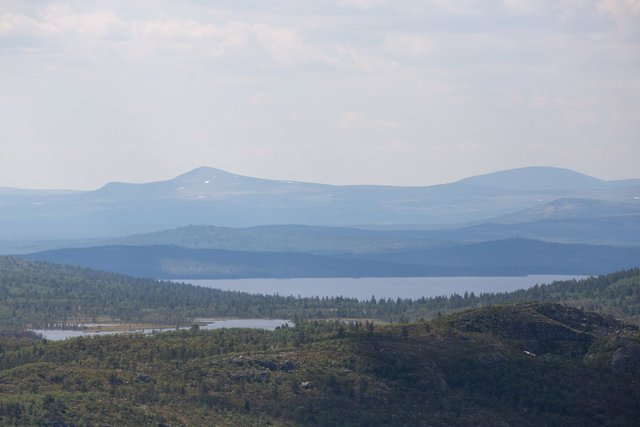 ---
One of the reason this area is a national park is existance of wild reindeer herds. I was hoping to see some "reins" but what I experienced there was simply amazing! These herds was probably breeding by people, maybe they were mixed with the wild ones, I am not a specialist in this matter, but anyway it was amazing experience to see them in these open spaces... running, feeding, resting as a wild ones...
---

---
I don't wan't to post all the pictures I made during this journey - it would be way to much for one post, so I simply share just a few and in near future write saparate post about it. I also took some movie shots and I will try to render something nice. For now - hope You will enjoy these few shots from my meeting...
---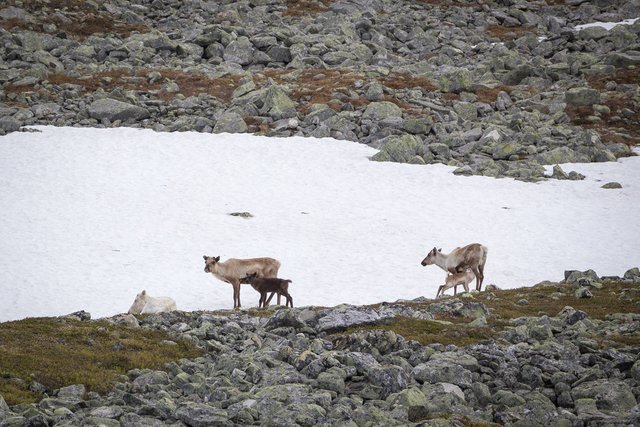 ---
It was good time because there was a lot of calves together with older animals, playing around and feedeing - as a babies :).
---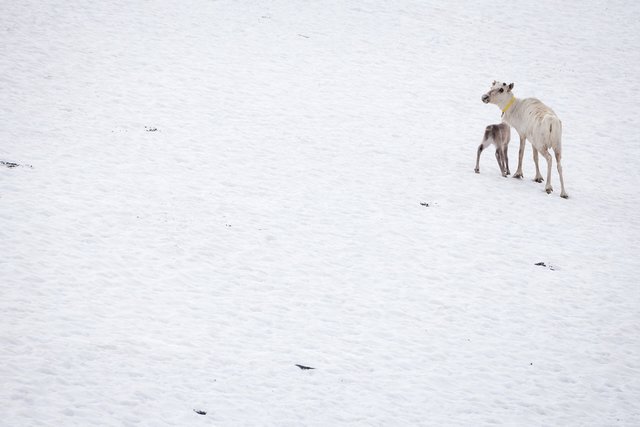 ---
Reindeers was joining my trip, running all around me, one of the most spectacular view was seeing all of them running to the river and drinking cold water - I am sure they also feel the same heat as me - even worse...
This was the biggest herd I have met in the high mountains.
---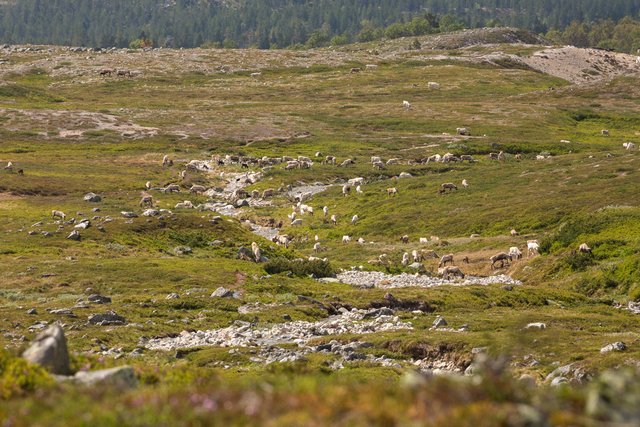 ---
I spent around an hour filming, shooting and watching them through small binoculars.
But coming back on the trail...
---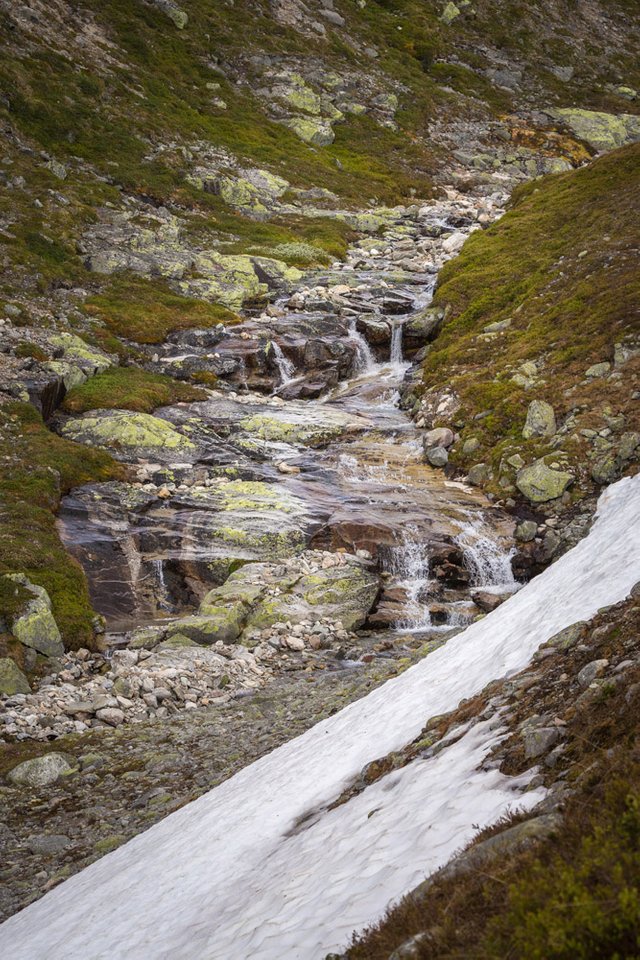 ---
It was windy day, very windy in higher parts as I found out little later...
It is very much true that we cannot expect the same weather conditions up and down the mountains. In Norway - in northern parts of Europe, the weather can be much more extreme than in Alps in much bigger heights. We have to remember about it taking warm clothes even in such hot day like that one!
---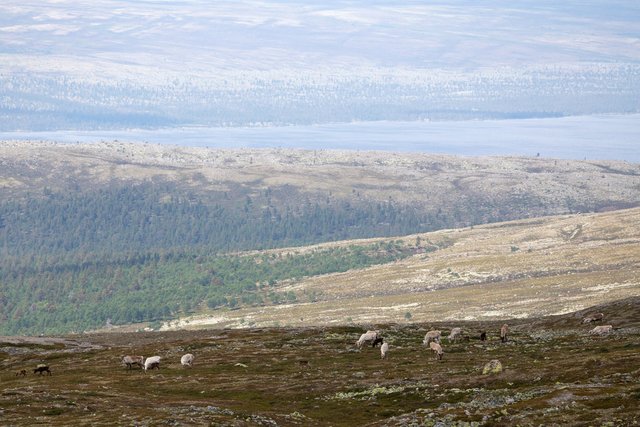 ---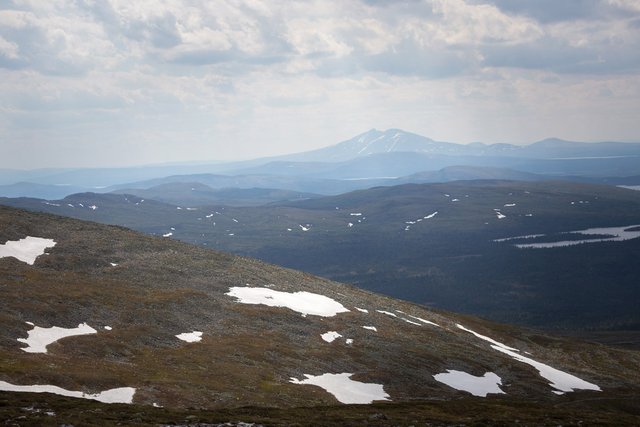 ---
Going up and up - seeing more and more, further and further... vegetation become really small and starts to disapear, I imagine how extreme weater conditions can be here in winter time! Easy trail like this one can become a deadly trap...
I don't know if You know - but many mountaineers are coming to Norway in winter time to train - because the weather can ba as extreme in 2000 meters as on 7000 in Himalaya mountains!
---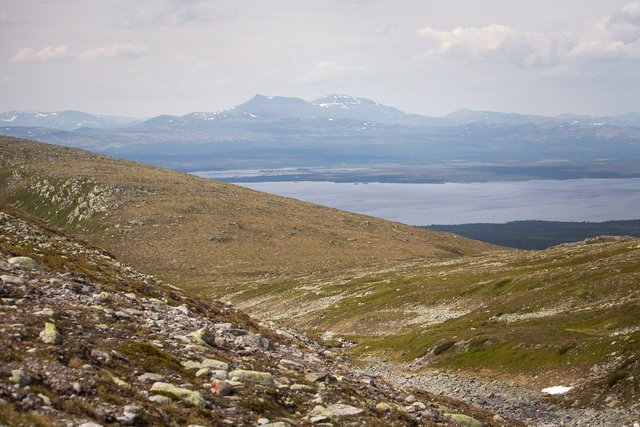 ---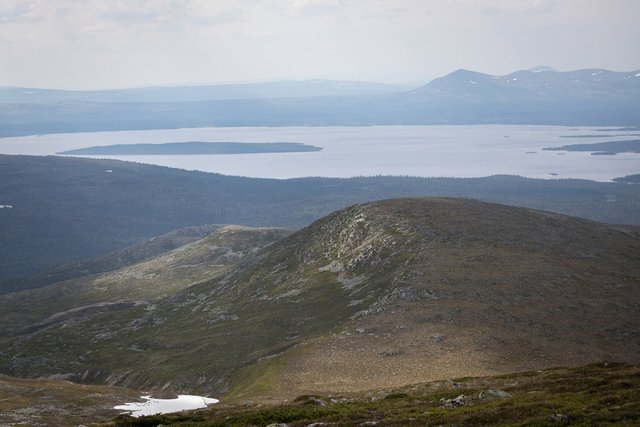 ---
As You can see on the pictures - conditions for photo shooting wasn't the best!
The air was full of dust and aerosols, visibility was quite poor, distant shots are lack of details and hazy... No luck this time, but dispate the fact, that it don't look good on photos, in real was great anyway!
---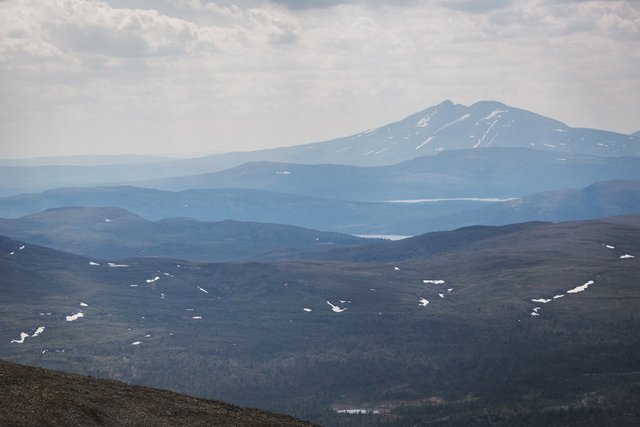 ---
Finally on the top!
The top of Elgåhogna is quite flat - open space from which we can go in every direction, to see the whole horizon 360 degree we have to walk from one edge to another... but the feeling that we are standing on the highest mountain in a large area is strong and amazing!
Just watch some shots from the top below. What is not seen here but I catched on the video is the wind - extreme, quite warm but cooling down the body really quick.
I had to take off my wet t-shirt to keep some warm with me.
---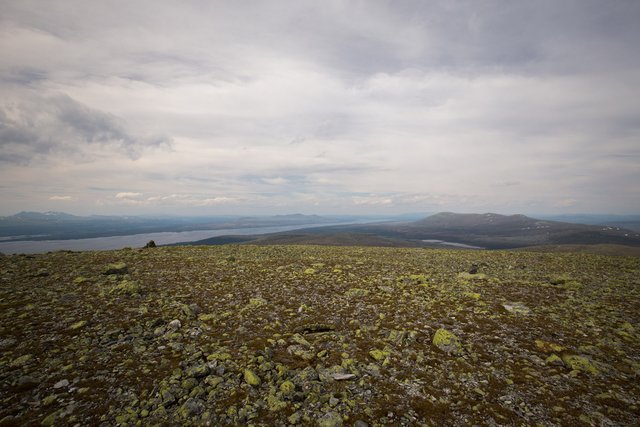 ---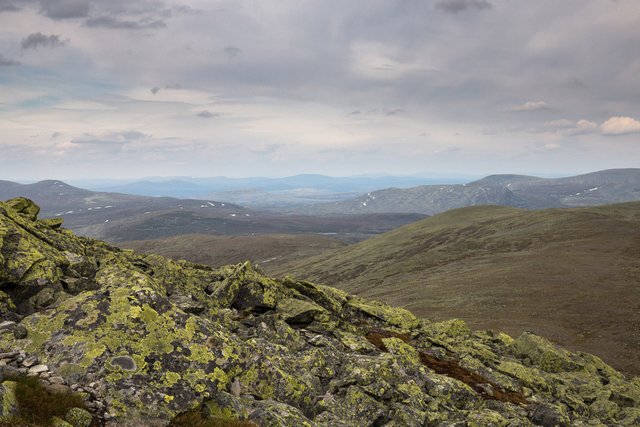 ---
Do You play some RPG games?? Very often when You reach some hard location, You get rewarded with.... TREASURE CHEST!
It was no any difference this time ;)
---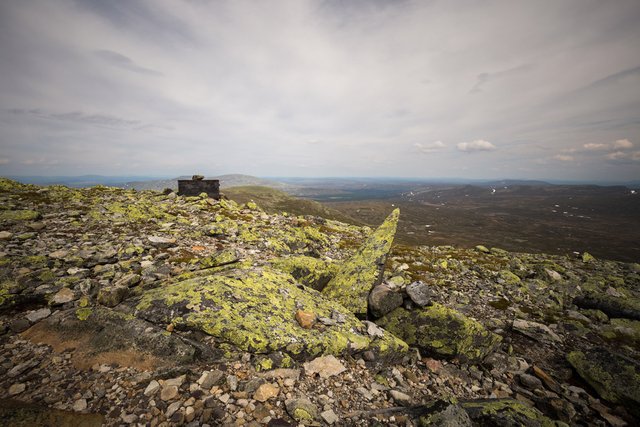 ---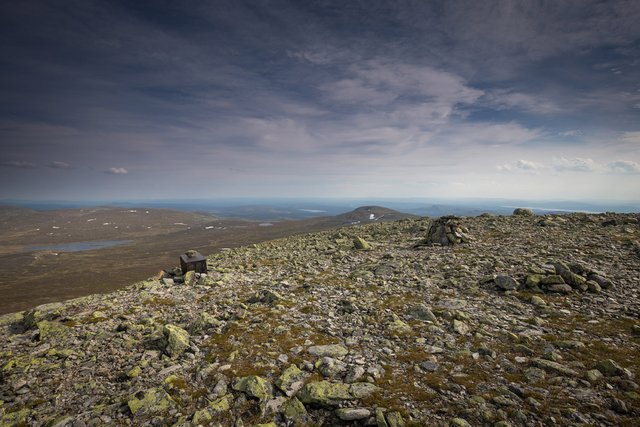 ---
I was hoping to find there Photo Camera: +10 to framing, + 5 to sharpness, but there was only old batteries, probably some meteo-station was here in the past... Well, maybe next time....
---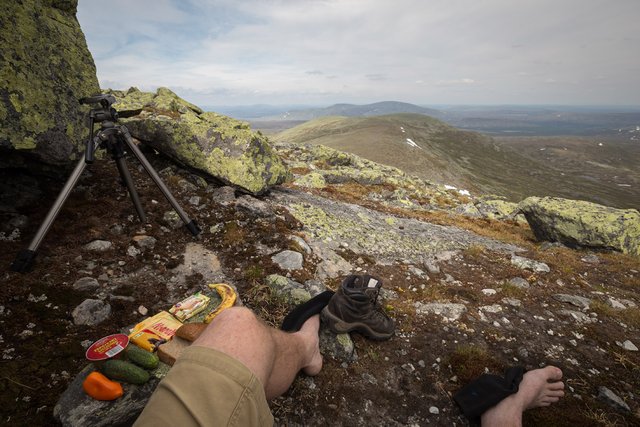 ---
To rest and feed myself I found a nice spot covered from wind, little lower then the top but with the great view on open spaces of Femundsmarka national park's mountains. Somewhere there is Swedish border... somewhere there are maybe some people...or maybe nothing...
---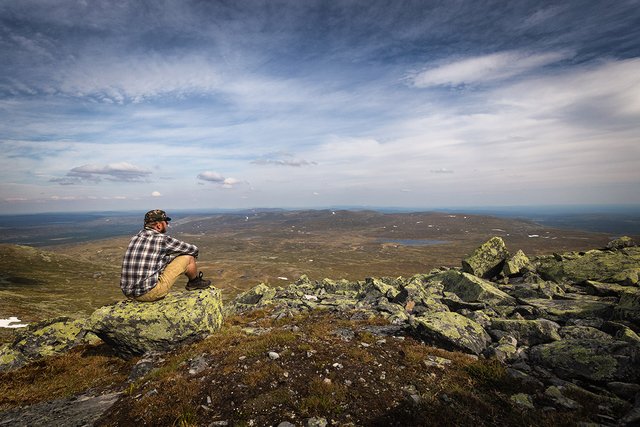 ---
I don't have to tell how much I LOVE such open spaces... I am saying this every time in my posts...
---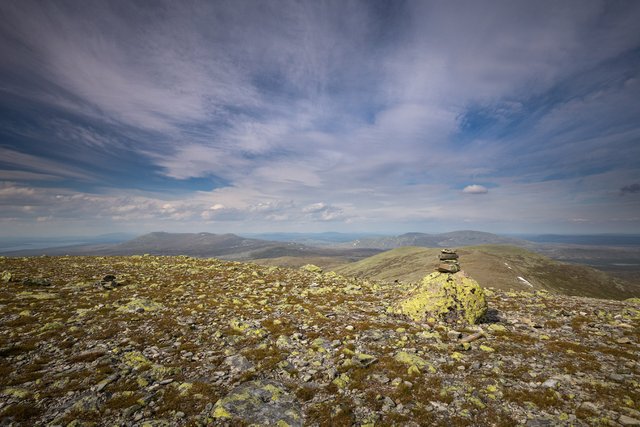 ---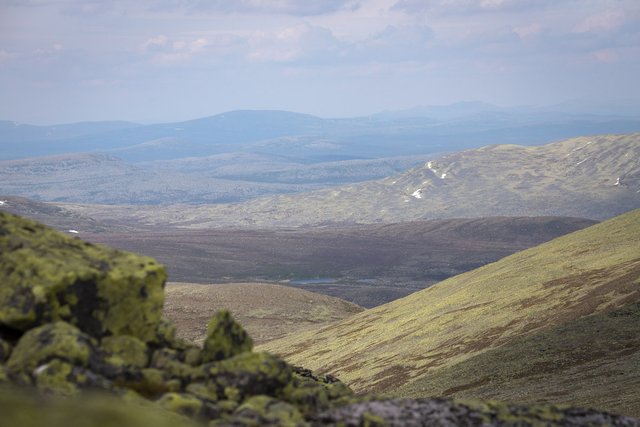 ---
I don't know how much time I spent on the mountain, maybe an hour, maybe two... doesn't matter. That day I wasn't hurry at all... If I had sleeping back I would probably stay there until night time to see the sunset...
---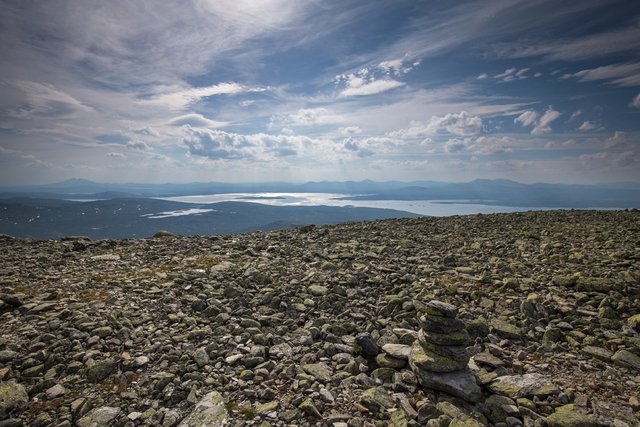 ---
Time to eat something!! Wonder what I was eating on the top of Femundsmarka national park?? I am sure You are :D
Enjoy!
---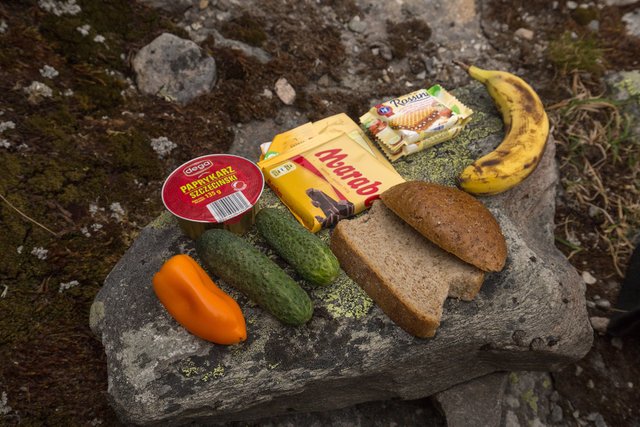 ---
Food Photo with commentary, from the left:
Sweet paprika - because it is good and healthy
Green cucumbers - brought here all the way from Poland! - why? because there is nothing like this in Norway - only long, greenhouse cucumbers with no taste or smell... well, food in Norway is not the same as in Poland....
Paprykarz Szczeciński - real polish gem , hahahaaa, if You are from Poland You know what I mean ;) . Explanation for others: it is fish, mixed parts of fish... mixed with tomato sous and rice - it is fishy... but really good! Try if You will visit Poland!
Chocolate and weffels - sugar, energy, taste, fat, cacao... all the best!
Bread - fullcorn - bought in Norway - not as good as polish...
Banana - no comment..
I ate all! Without problems. And I felt myself full. Had to rest a while before getting down.
---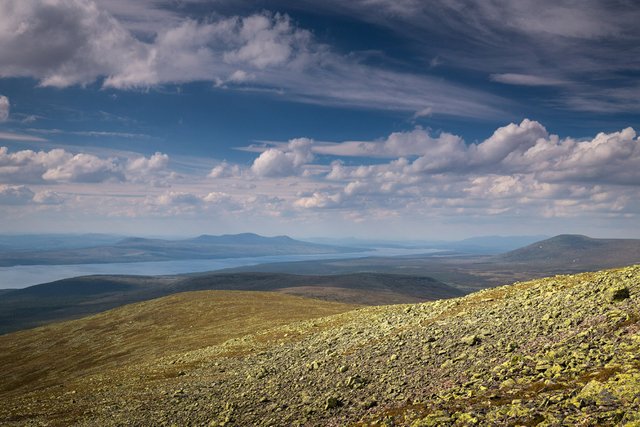 ---
A view below my feet - like a view from plane... and this beautifull emptiness. I spent a lot of time watch the whole area with my binoculars - no sign of life! Like an other planet!!
---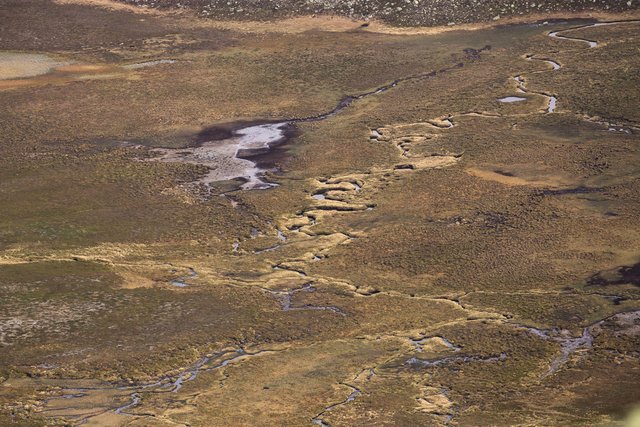 ---
What I didn't write before - I had one BIG problem ot this trip - energy!
Two of bateries from camera was almost down. I had no adapter to charge it from my power banks... I was shooting these frames on my last energy cells. After doing movies from the top and from the reindeer meeting, I used most of the power. Now, I was under red line....
I knew not much more I will be able to shoot....
But on the way down I made few more shots, even with long exposure time!!
I didn't stop a lot... I was thinking to go back to car and head to the next part of my journey...
---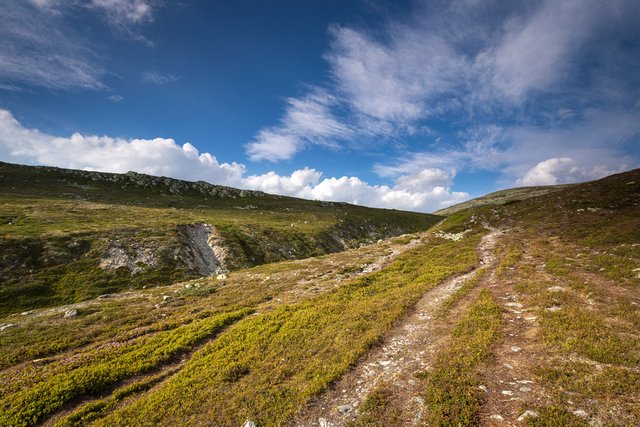 ---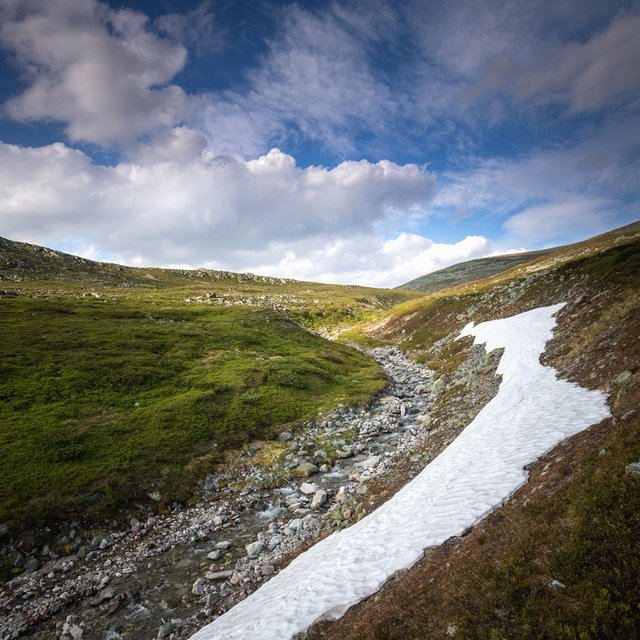 ---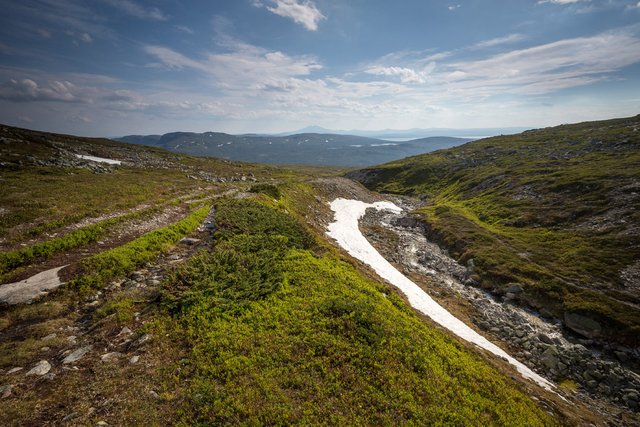 ---
The goal was reached, the mountain was "hiked", the views was seen and the reindeers met... I was sooo hapy and sooo full of good energy!!!
---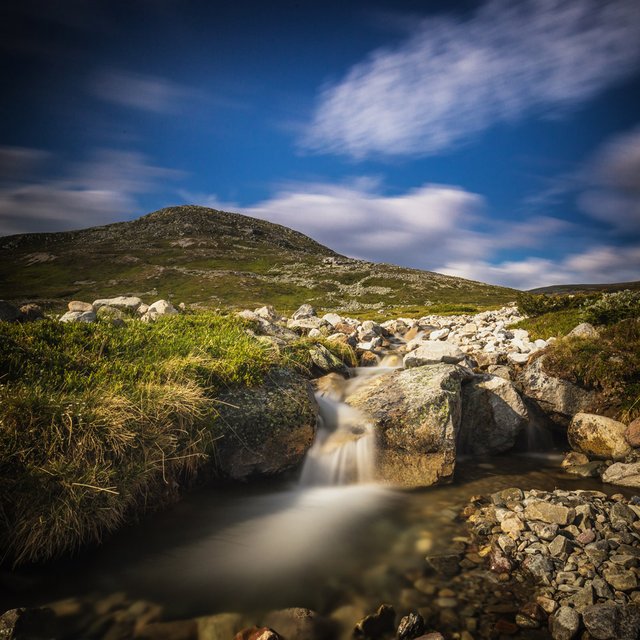 ---
Hope You enjoyed the trip and will be with me until next post from Norwegian Photo Guide series!
Thanks for watching and reading!
---
Some more shots from the area.
Travel Norway #1 – Steinvikholmen and why Vikings didn't build stone castles...
Travel Norway #2 - Storfossen and Metifossen waterfalls
Travel Norway #3 - Magic shore in Muruvik
Travel Norway #4 - Live with big L - Cabin trip to Heia
Travel Norway #5 part 1 - Let's go Undergound! - Gronligrotta Cave
Travel Norway #5 part 2 - Let's go Undergound! - Gronligrotta Cave
Travel Norway #6 - Muskox from Dovre national park
Travel Norway #7 - Dovre mountains - Sunrise by Hjerkinnsdammen.
Travel Norway #8 - First visit in Trollheimen montains - Innerdalen
Travel Norway #9 - Austerdalsisen - first view on Svartisen's glacial landscapes
Travel Norway #10 - Innerdalen -First Summer trip to Trollheimen National Park - Day 1
Travel Norway #11 - Innerdalen - First Summer trip to Trollheimen National Park - Day 2
Travel Norway #12 - Magical place in Lofoten - Eggum
Travel Norway #13 - Visiting an old copper mine - Christianus Sextus Gruve
Travel Norway #14 - Nordgruvefeltet #1 - Before sunset
Travel Norway #15 - Colorful grounds of Nordgruvefeltet #2 - After sunset
Travel Norway #16 - [Femundsmarka national park vol.1 - Lakes and forests] (https://steemit.com/travelfeed/@photovisions/travel-norway-16-femundsmarka-national-park-vol-1-lakes-and-forests)
SteemitWorldMap: [//]:# (!steemitworldmap 62.147564 lat 12.067004 long d3scr)

<><><><><><><><><><><><><>

Any photo available as Digital Files. Join my Discord channel for details: https://discord.gg/ApdDcNh
If You like my work, check my portfolio site asphotovisions
More information About Me

Thanks for watching and have a great day!
---
Upvoting, Resteeming and Following are the best way to show the authors that You like their work, it supports them not only finacially but what more important gives a huuuge amount of positive energy to create more interesting posts and work on future projects!