Goooood morning readers! How are you? Monday is here: Head up and let's work!
---
Monday Morning Quotes: A place where, each Monday, I'll bring my favourite quotes to send you a bit of my positivity to start the week on full power! Hope you enjoy it.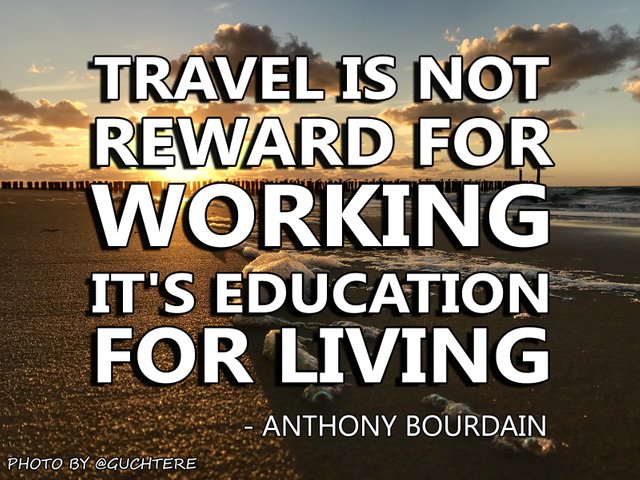 Source: Anthony Michael Bourdain was an American celebrity chef, author, travel documentarian, and television personality who starred in programs focusing on the exploration of international culture, cuisine, and the human condition.
---
Do you work to travel or travelling is your work?
When I first read this quote it immediately ressonated with why I've quit my work in the first place. I had in mind that working the whole year, just to spend 30 days travelling wasn't enough to fulfil my desire of visiting the whole world. I didn't want to have this 'reward' for a year of hard labour.
Also, the more I travel, the more I discover how much we learn about everything that surrounds us, it gives us the chance to put down all this walls that turns us into experts of what we don't know. We gotta see for ourselves... we gotta educate ourselves...
What's your interpretation of this quote? Feel free to 'philosophize' on the comments down bellow.
If you liked this post, please, consider leaving your upvote for a hot coffee.
~Love ya all,

---
Disclaimer:  The author of this post is a convict broke backpacker, who has travelled more than 10.000 km hitchhiking. Following him may cause severe problems of wanderlust and inquietud. You've been warned.
---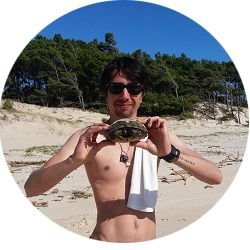 I'm Arthur. I blog about Adventure Stories, Brazil, Travel, Camping & Life Experiences.
Follow me to stay tuned for more craziness and tips.
You may also want to read:
[vlog # 11] Bike Vlogging | Pastel | Steem Hangover
[Blog #41] Run Forest Run | 40 km MTB | Back to Actifit
[Blog #40] Steem Abstinence | Interaction | What have you done on your 'Steem Holidays'?
[Blog #39] Update HF20 | Your Vote Will Recover Soon | Hold Your Fire
Monday Morning Quote: "You must be the change you wish to see in the world.
CO-FOUNDER AND CURATOR ON:

A PROUD MEMBER OF: