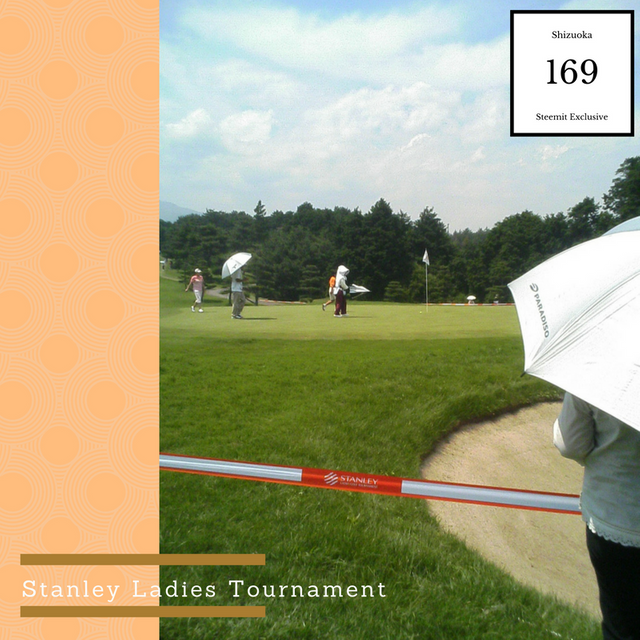 One more Mt. Fuji Picture.. and than I went to a Golf Tournament
Mount Fuji is so beautiful and I try to get as many pictures as possible if I visit the Hakone, Shizuoka, Fuji Region. On my way to a golf tournament I shot this nice shot of Mt. Fuji. I have many shots, but Mt. Fuji looks best if it is covered in snow. 
Mt. Fuji Shot in Snow

Stanley Ladies Golf Tournament Shizuoka

It was a fantastic day..

Watching the tour is always exciting
Most people I see think of golf as a privileged and snobby sports for old people. My point of view is completely different. There is no other sport I know of, where players with different skills can compete against each other (Using the Handicap System). You walk 5 miles in average if you don't use a golf cart so that's a lot walking in one game. 
Golf is a game against yourself. Your mind will play games with you and if you think too much about the water or a bunker, you will make a mistake and hit that bunker or waterhole. 
If you see these Pro Golfers play live 10m away, you will realized how accurate and amazing they play. It is incredible there is no difference in being good at playing the violin on a wunderkind level or play the tour as a Pro Golfer. 
Do you like Golf ???
I am blogging about the following topics :
Exposed (Uncovering Stories you need to know)
Lifehacks (How to save money,etc) 
SPOTTED (Limited Edition Food, Drinks, Gadgets)
Steemperlen (German Version)
SQUEEZE (Interview Series) 
COOKED (10 Episodes Cooking Series)
Working anytime, anywhere (New series for freelancers)
Frequent Traveller (New series about Travel Hacks and FFPs) 
HEAVEN (NEW Luxury Travel Magazine)
ABOUT ME: Some insides into my Steemit life