US OPEN WOMEN`S FINALE
Hello everyone,
I play tennis myself but I usually don't watch it often on the tv and wouldn't call myself a fan of a certain star player. It was also more of a coincident that I watched women's US Open final yesterday. It was Saturday evening and I was out but my sister wanted to go home early so I ended up on my couch at 10 pm on a Saturday evening with nothing to do so I turned on the tv and saw that the final between Serena Williams and Naomi Osaka just started. I haven't seen Osaka play before so I thought Williams will probably win but I was so wrong. Osaka dominated the game from the beginning to the end and I started to favour her after I watched the game for a couple of minutes. It was really impressive how cool she stayed in a stadium full of people wanting Serena Williams to win. I don't really want to write about all the drama of the match because it's a bit sad that it was such a great match and everything the news are talking about is the drama Serena Williams caused. The coaching rule is stupid but it is an official rule. Also, Serena Williams did not have to smash her racket so the point/game loss wasn't unfair.
If two strong players play against each other the game is usually won by the player with the stronger mind.
That Serena Williams mindset wasn't on point was greatly visible when she made two double faults in a important game in the second set. Naomi made only one double fault in the whole match and I think she also made an ace with her second serve and it seemed like she was playing better in high pressure situations which can be statistically shown with the number of break points she was successfully able to defend.
In the end, I was afraid that all this drama might affect Naomi's gameplay but it didn't. She stayed focused and distant towards what was going on with Serena Williams.
It was an exciting and very great match to watch. If you haven't seen it I'd recommend you to watch it somehow but to sum it up: Naomi Osaka made more points, won the important points and had the stronger mind so she deserves the victory in my opinion.
She is the first tennis player I'm a fan of now and the game made me want to actually see her play live in person.
So something we can all learn from this is: No matter who your competitor is always play like you are the champ.
Success is all in the state of mind. (And a lot of​ practice etc.)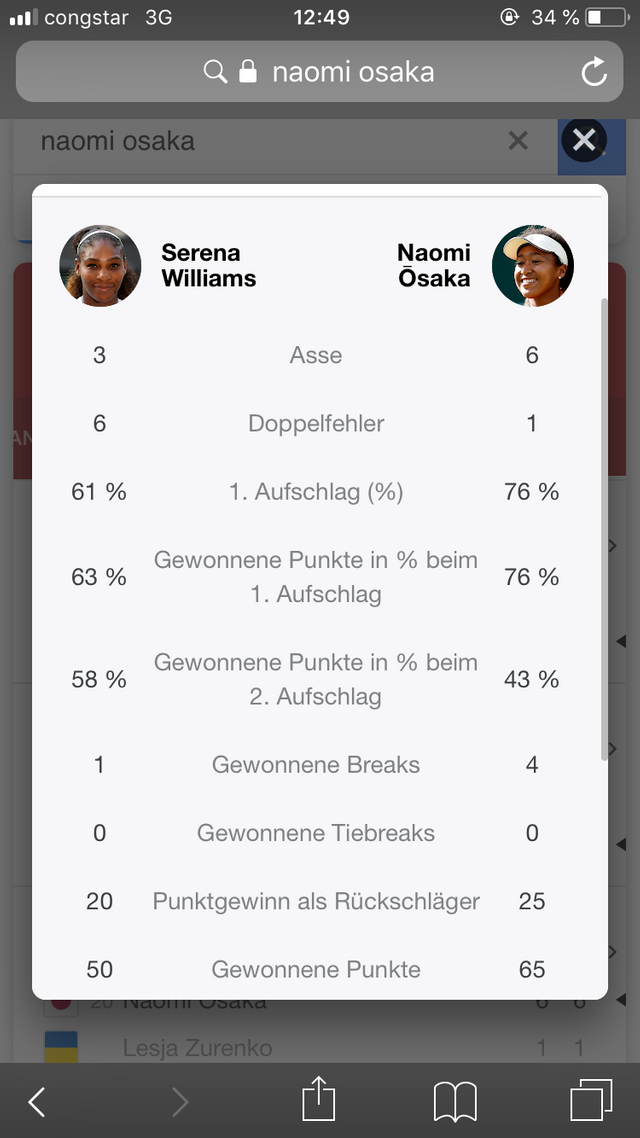 So enjoy the day and maybe watch today's​ finale.