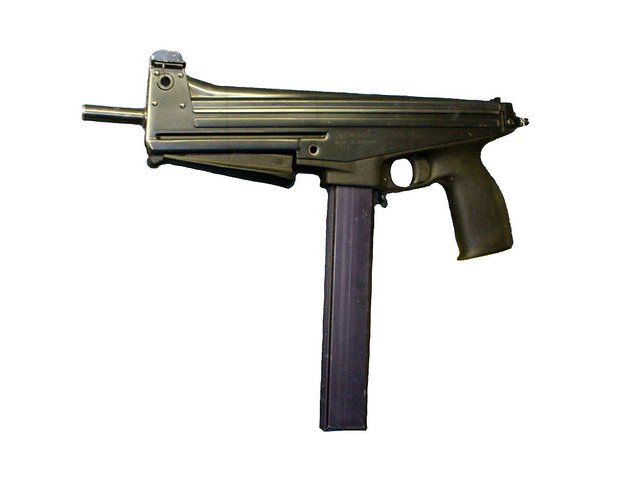 (Image source)
The Jatimatic is a 9 mm submachine gun made in Finland during the late 1970s and early 1980s by inventor Jali Timari. It made its debut in 1983 and was manufactured only until 1987 in very limited numbers. Only 400 were produced.
The Jati-Matic fires 9mm ammunition fed from 20 or 40 round magazines. Its rate of fire is 600 to 650 rounds per minute with an effective firing range of 100 meters or 328 feet.
The Jatimatic was a submachine gun intended for bodyguards, police personnel and private security forces. It had interesting features. Its bolt is designed like an Uzi bolt, wrapped around the barrel to allow a heavy bolt for direct blowback operation making it possible the short overall length of the gun. The bolt also travels along an axis not quite parallel to the barrel, which helps reduce muzzle climb when the gun fires.
However, this strange submachine gun did not have any requirement for using a shoulder stock, relying instead of firing it from the hip with the folding forward grip or with the carry sling attached. This greatly restricted its practical use. In addition, the sling attachment on the rear of the gun is also the takedown catch (a takedown catch is used to remove the slide portion of the gun from the lower frame, allowing maintenance and other parts of the slide to be accessed), so putting heavy force on the sling in the wrong way can result in the gun disassembling (not a good design feature).
The Jatimatic never achieved much success despite having some interesting and clever features.
Japanese video uploaded by Kafkanishian



Sources: https://en.wikipedia.org/wiki/Jatimatic
http://www.military-today.com/firearms/jati_matic.htm
https://www.forgottenweapons.com/finnish-jatimatic-smg/

---
Check out my older, other "Strange Guns" posts.
Strange Guns: High Standard Model 10A Bullpup Shotgun
Strange Guns: Calico M950
Strange Guns: Korobov TKB-022
Strange Guns: FP-45 Liberator
Strange Guns: The Apache Revolver
Strange Guns: Mauser C96
Strange Guns: Kel-Tec KSG
Strange Guns: Shattuck Palm Pistol
Strange Guns: The Duck's Foot Pistol
Strange Guns: Sten Gun MK II
Strange Guns: ZB-47
Strange Guns: The Dardick Revolver
Strange Guns: Magpul FMG-9
Strange Guns: BTJ Derringer
Strange Guns: NeoStead 2000
Strange Guns: FN Baby Browning
Strange Guns: APS Underwater Assault Rifle

---
---
Follow me as @darthnava: "Keep on Steeming in the real world."