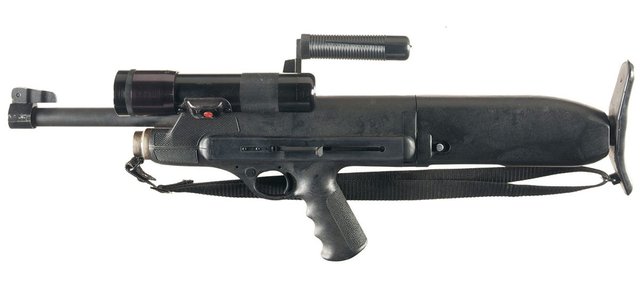 (Image source)
The High Standard Model 10 (HS10) is a semi-automatic shotgun that was manufactured by the High Standard Manufacturing Company of Hamden. Hamden is a town in New Haven County, Connecticut, United States. It has a bullpup design, rotatable shoulder stock, and integrated flashlight.
The High Standard Model 10A Bullpup Shotgun looked like a futuristic shotgun back in the late 1960's. With its short size and five 12 gauge shots capacity, it was both easy to handle and powerful.
The basic design of the Model 10 shotgun was developed around 1957 by Alfred Crouch. He was a Santa Monica, California police sergeant. His goal was to create the best entry shotgun for SWAT and tactical units. His original design used a modified Remington semi-automatic shotgun.
In the mid 1960s, the High Standard Manufacturing Company bought the design from Crouch. The company then used their Flite King shotgun as the basis for the first model, the 10A.
The 10A, or High Standard Model A Bullpup Shotgun, looked futuristic in the late 1960s.
With its full length 18″ barrel in a bullpup configuration, this little beast of a shotgun could even be shot one handed while holding a ballistic police shield with the other hand.
But, it never caught on. The High Standard Model A Bullpup Shotgun was discontinued and shortly after a Model B was released in the 1970s that came with a detachable flashlight and a fold down carry handle.
The Model B too was discontinued. Bullpup shotguns were thought to be too strange for the market at that time.
Shooting video by FranksStuffForSale



Sources: https://en.wikipedia.org/wiki/HighStandardModel_10
http://modernfirearms.net/en/shotguns/u-s-a-shotguns/high-standard-10a-10b-eng/
https://www.wideopenspaces.com/high-standard-model-10a-bullpup-shotgun-past-video/

---
Check out my older, other "Strange Guns" posts.
Strange Guns: Calico M950
Strange Guns: Korobov TKB-022
Strange Guns: FP-45 Liberator
Strange Guns: The Apache Revolver
Strange Guns: Mauser C96
Strange Guns: Kel-Tec KSG
Strange Guns: Shattuck Palm Pistol
Strange Guns: The Duck's Foot Pistol
Strange Guns: Sten Gun MK II
Strange Guns: ZB-47
Strange Guns: The Dardick Revolver
Strange Guns: Magpul FMG-9
Strange Guns: BTJ Derringer
Strange Guns: NeoStead 2000
Strange Guns: FN Baby Browning
Strange Guns: APS Underwater Assault Rifle

---
---
Follow me as @darthnava: "Keep on Steeming in the real world."