Dear Steemians,
This is a post on the new opening "The Alley" branch in Sri Petaling which is Taiwanese-tea based company. The signature of this shop is the black sugar tapioca balls , they named it deerioca which has a unique way of cooking results in a very chewy translucent pearls with black sugar fragrance. It's Malaysia's hot trend! Therefore, long queue is expected, it's quite impossible for the crowd to disperse. And the shop is new opening therefore I believe the workers are still working on the efficiency and productivity. (Time to train your patience xD)
PS: On the day of grand opening on 15/9 at Sri Petaling , you will get 50% off on second item (only for milktea series) from 3pm-9pm.
大城堡的朋友们,你们有福了!
如果你有注意网络朋友们的动态更新,你应该有看到这家最近火红的鹿角巷!
<品牌简介>
这家店鹿角巷 原名斜角巷,2013年在台灣桃園開設首家門市。目前在全马大概有
十多间
,还在
世界各地
扩大市场中,包括在中国、加拿大、澳大利亚、越南、日本等等。
"关于品牌的含义,创始人邱茂庭在接受采访时曾说:"品牌创立之初,取名为斜角巷,也就是哈利·波特中最繁华的商业街道,任何新奇有趣的东西都能在那找到。后来担心品牌名字被电影场景局限住了就更名了,以赤鹿作为品牌形象是因它蕴涵了女性端庄高贵的气质。"
看看那源源不断的人潮~到底有什么稀奇呢o.O? 好奇的我,抱着那想尝试的心态,终于来到这漫长的队伍中间! See the long queue~You must be wondering on how great are the drinks!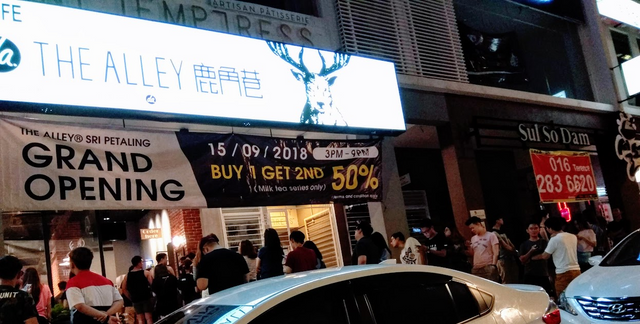 九月十五号在大城堡隆重开张的当天,有买一,第二件扣半价的优惠, 只限于奶茶哦。优惠时间是3pm-9pm!由于是新店开张,员工们还在努力适应那不断的人潮,也许会有些许慢,排队的人要有点耐心咯。

<招牌黑糖鹿丸>
喜欢珍珠奶茶的粉丝们,不妨试试这主打产品
鹿丸
吧! 所谓的鹿丸就是那黑糖珍珠,另一种就是普通的珍珠拉~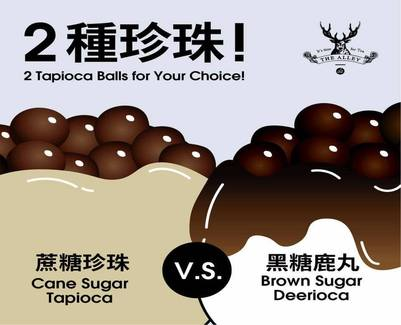 Image Source
据店家说,每次的熬煮黑糖鹿丸需要大约两个小时的时间,只会存放三个小时,以保持最QQ有层次的口感。卖不完的绝不保存到第二天。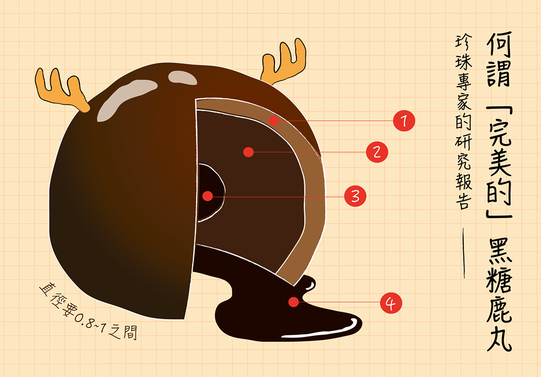 Image Source
<品质保证>
至于净水器系统也是经过层层把关,毋庸置疑,饮品的品质和水准是特优级,小编可是亲自审核的!也只有过滤过的水才会进入制冰机和煮茶机, 所以水源都是从煮茶机出来的, 看来鹿角巷真的是有符合自身的企业核心价值—品质。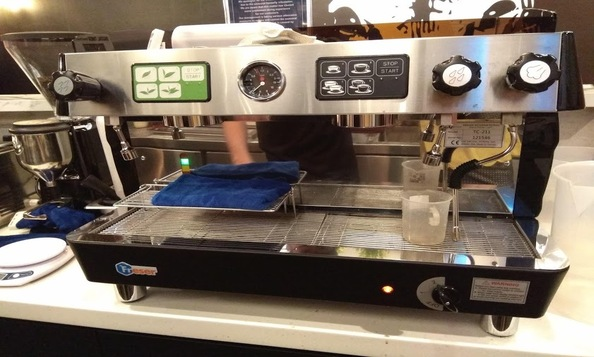 大城堡鹿角巷的店面,两个老板都在努力地服务顾客。员工们都很热情地打招呼:欢迎光临!有点卖力呐~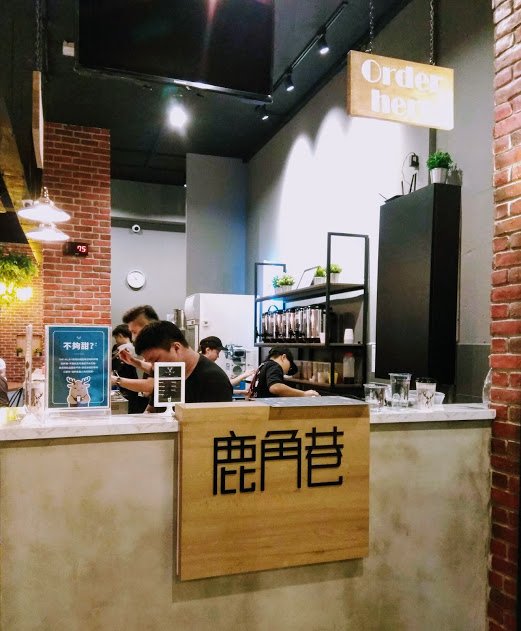 <人气饮品介绍>
以下是饮品菜单。This is the menu, for the updated price please click the link below. A bit pricey but worth to try. My personal preferences are the deerioca fresh milk and the white velvet sugar latte.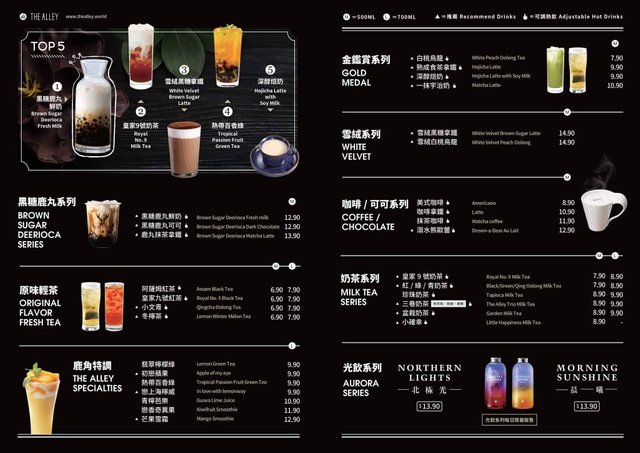 Updated Price
我们点了前三名最人气的饮料(左到右)。
鹿丸系列 Deerioca Fresh Milk
雪绒系列 White Velvet Peach Oolong (top) and Sugar Latte (bottom)
九号奶茶 Royal No.9 Milktea

根据店家介绍,赢得最高人气奖的招牌鹿丸,其特别之处是在于它不但带着香醇的黑糖味,口感也外软内韧。鹿丸系列有三款饮品:鲜奶、可可还有抹茶。此饮品没有甜度之分。鲜奶鹿丸的口感独特,底部是温温的黑糖鹿丸,上面则是冰鲜奶,非常特别的搭配,喝起来细腻滑润。品尝方法如下。

第二人气饮品是皇家九号奶茶,它是由蔗糖煮的珍珠和蓝莓味的茶叶调配而成。珍珠和普通的奶茶一样,特别之处在于茶叶那独特的香气,符合大众化的口味。
第三人气饮品是雪绒系列,就是特调茶和Cheese的混合。首先记得先喝口水以品尝到最佳口感, 过后用附上的小刀轻轻地在边缘划上一个小口,以倾斜45度的方式享用,以喝到cheese和茶的混合。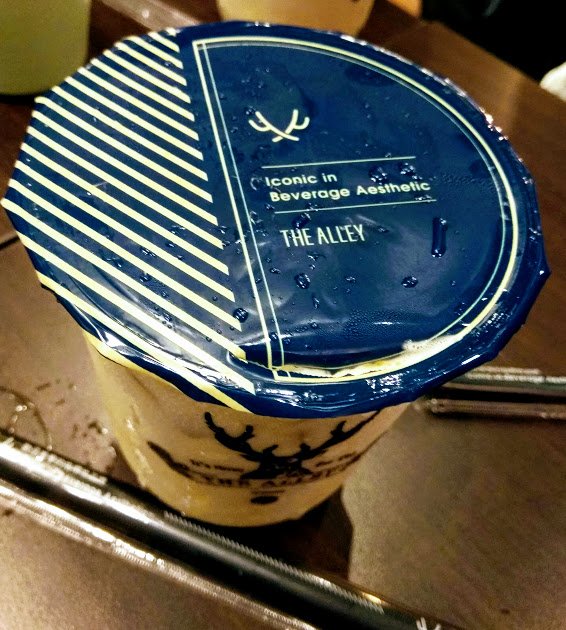 最后就是排名五的深醇焙奶,由豆奶和hojicha(焙茶—经过烘培的绿茶)调配而成的,品尝方法和雪绒一样。喜欢焙茶的粉丝们可以试试看,这个味道非常独特,未必每个人都能接受到哦。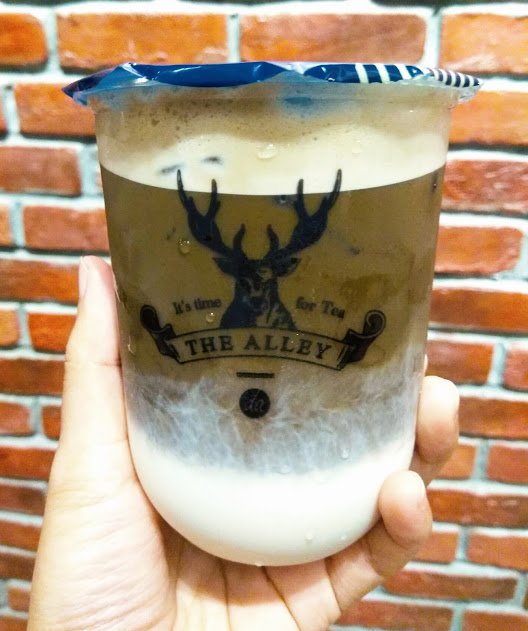 Directions to The Alley Sri Petaling
Operation hours: 11am-1am
Contact: 03-9055 3683
Feel free to comment~:)
Hope you enjoy reading my post! Have a great weekend!:)
Below are the my posts that You Might be Interested in
Follow: @fruityexplorer