Hello Steemians,
I found out about this new term when I was looking for alternatives in education industry. Then I actually notice my misunderstanding and misuse of the homeschooling from a Facebook page.
Clearly, I was not able to differentiate between homeschool and learning centers. I took whatever the owner claimed. Therefore I would like to write a post to share it to the public.
So, how do we discern a homeschool or learning centers?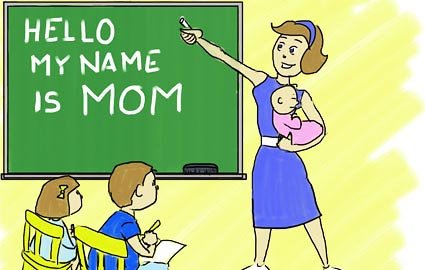 Image Source
Is learning center homeschooling ?
NO! Learning centers are alternative schooling centers whereby lesson is carried out by employed educators. They need not to have the degree certification in education or any qualification in teaching.
There are two types of learning centers, religious based learning center and non-religious center. The majority of non-religious learning centers adopt the most popular international curriculum in the world which is the Cambridge International General Certificate of Secondary Education (IGCSE).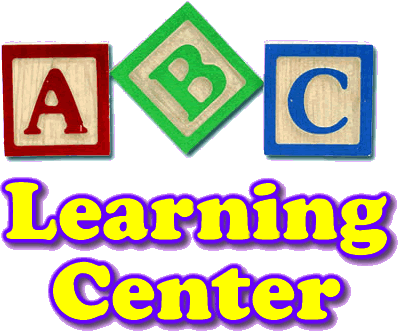 Image Source
On the contrary, religious based learning centers implement popular homeschool curriculums. The most profound homeschool curriculum providers are Alpha Omega Publications, Eduseeds and Accelerated Christian Education (ACE).
Why do people confuse on these two terms? Where does the confusion come from??
As I have told in the beginning, most of the religious center or academy operators in Malaysia claimed themselves as homeschool centers by adopting the homeschool curriculums.
But they are NOT!
We clearly know that they are not homeschool centers if we go by definitions. And, most of the learning centers are held in the shop lots and some have it in bungalow premises. (Ps: No offence to religion thingy at all but focus on public education)
The Snapshot from the Facebook Page
The page is actually very strict and particular on the terminologies: homeschool and learning centers. I somehow agree on the enforcement and implementation from the page that the post will be removed for misusing the term. This is to avoid more confusions and educate the crowd to address learning centers and homeschool in a right way. Therefore, I started to google-ing about it to make myself clearer.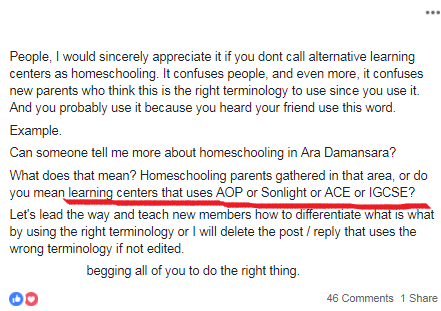 So, what is homechooling?
"By the word itself, homeschooling means teaching a child at home usually by parents based on Cambridge dictionary."
AOP defined homeschooling as when your parent does the actual teaching in your home, they decide the subjects and curriculum you will use.
In short, your parent is your teacher.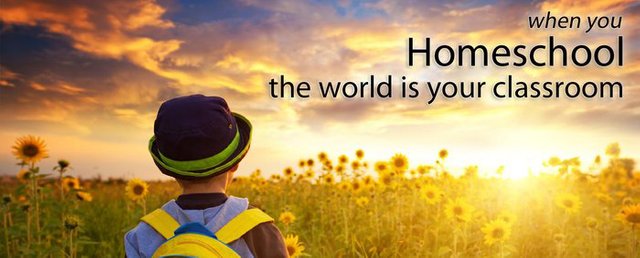 Image Source
There are cases whereby parent comes out with the lists of skills and knowledge that they want their kids to master such as survival skills, presentation skills, business skills, cooking skills and so on. Some parents just randomly come out with ideas on what they are going to teach and learn on the day itself, it basically depends on the lifestyle and exposure of the parents as well. So it is not a well-structured and organised learning process.
This is where homeschooling curriculum providers involve to offer a better lesson plans and guidelines for homeschoolers' parents. So that they can track, monitor and plan the learning process for their children. These curriculums have some common characteristic which is self-paced learning styles and more to character buildings. Learners are encouraged to be more independent and discipline in learning process since there is no other authority or displinary officer who the kid needs to deal with for not finishing the work within timeframe. It will be solely parent and kid confrontation.
"In brief, any education form which is not conducted at home by the parents is not homeschooling."
Hope my post provides good clarification to clear the doubts. :)
Below are the my posts that You Might be Interested in
Feel free to comment~:)Hope you enjoy reading my post! Have a great week ahead:)
Follow:
@fruityexplorer