Powa Moves #7: Posts from #teamgirlpowa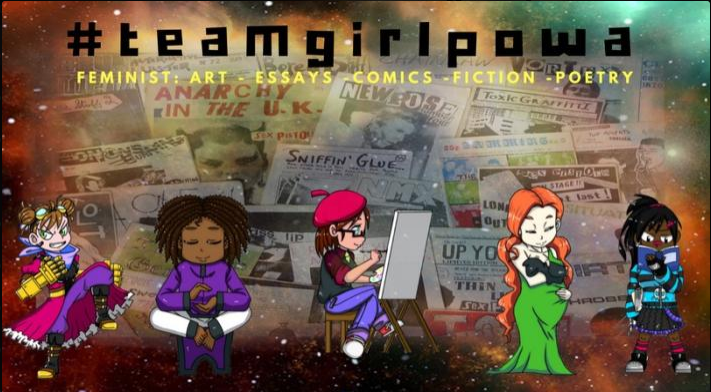 This is the seventh edition of Powa Moves, our English-language curation post boosting some of the great writing and art posted under the #teamgirlpowa tag. As Audre Lorde said: "When you reach out and touch other human beings, it doesn't matter whether you call it therapy or teaching or poetry." We love the awesome feminist and women-centered work y'all produce—keep it up!

Glad to see lots of great writing from @aislingcronin lately, and really enjoying this simple and awe-inspiring post about the Summer Solstice, which just passed for those of us in the Northern Hemisphere. Includes some beautiful photography, too!
There is always a slight sadness that comes upon me after the summer solstice has passed, because I know that the annual phase of the days becoming longer and brighter has drawn to an end. Our darkening phase has begun again ... but I take heart in the fact that it will not be noticed for quite a while yet, as Ireland is set to experience a heatwave over the coming days. Perhaps in August, I will gradually realise that the sun is setting at 8 p.m. these days, rather than 10 – that the air is just that little bit colder than it was a month ago – and come September, the approach of autumn will really kick into gear.
This is a lovely reflection on personality and communication, and how to be in authentic, respectful relationship to a long-term partner. As ever, @shawnamawna brings a a fresh, beautiful take on the world.
Overshadowing your lover's joy can be a dealbreaker. Now that I know why he's been quiet and cranky, I can reassess and be a better listener should he need one. I can also do what I am doing now--leave the house with all my happy energy intact and get some work or fun in.
A great post about the creative process, about learning and doing, about the making of art and how that making also makes one's life. Well worth the read.
When ideas or images for stories or collages or drawings flow in, they always feel enormous and perfect. That's because being in that imaginative space feels enormous and perfect, like being pregnant with your own mystery. It's not until you bring your ideas into the cold, harsh light of matter, try and translate them as best you can and always imperfectly, thaf you really can know whether they are any good at all once the fairy dust has disappeared.
This post is in Spanish, dedicated to Wonder Woman, "arguably" the best DC superhero ever created. The art is beautiful, and a fitting tribute to such a wonder-ful woman! 😉 (Click through to see the finished art piece.)

This poem is epic, full of image, rhythm, and rhyme that is masterfully executed by the incomparable @sumayyahsaidso. Give it a read, for sure.
cover my head
wear all black too
got a cross and skull
and a choker full of studs
jilbab in the closet
a little Marley on my wall
a Bible on the table
next to my Hendrix cd
not learnin' voodoo tarot
i think it's learnin' me
ain't no box big enough
to contain all of my dreams
This strange little poem puts one in mind of Lewis Carrol. Though it doesn't have made-up words, it is mind-bendingly strange, but somehow still beautiful. Check it out!
Wood-laden hornets swarmed the decks
Through beseeched humors around the door
Blowing circuses in frothy peppermint
They writhed drowning in simple lore.
Please click through and read all the lovely writing above, and drop in on our Discord server to chat with us. We are excited to meet you, and to support your work—be sure to post under the #teamgirlpowa tag to catch our eye! ❤️
Bonus posts from the mods!
If you've wondered why it's been quiet in our server, here's part of the answer: our intrepid leader has been mostly without wifi since arriving in Guatemala, but has plenty of lovely photos to share!
Another surprise happened when I was landing at my first stop and saw that El Volcan Fuego had erupted and 100's of people were dead or injured. It was a sad realization which moved to fear because the landing strip was closed in Guate City until 2 pm. My flight was canceled and I didn't know how to get a switch. In fact Spirit airlines had no other flights to Guate City until Thursday.
Another part of the answer to why some of the mods have been absent is my own post, which details my beginning PhD adventures. I may have been a little over-ambitious in my reading goals, and left little free time for things like Steemit…oops!
Can I just say: it's kind of weird and awesome that I can now officially call myself a grad student! It's early days still, but I'm already so excited and ready to go. Feeling blessed.

We are working to build our Steemit account and Discord server. If you want to help @teamgirlpowa grow our community, support our wonderful artists, and keep bringing you rad content by, for, and about women on the blockchain, you can donate STEEM, delegate SP, or follow our curation trail.
If you would like to delegate to @teamgirlpowa, you can do so by clicking the following links: 10 SP, 20 SP, 50 SP, 100 SP. If you prefer to set your own amount, just visit this link, enter your Steemit name in the top box, teamgirlpowa in the second box, and enter the amount of SP to delegate in the third box.
To follow our curation trail on steemauto, click here.
STEEM donations will be used to increase our SP and provide prizes for future contests, so we can keep promoting great feminist content here on Steemit.
Whether you donate or delegate, please upvote, comment, and resteem this post. Our journalists/judges/curators receive half the proceeds of every post they create and the rest is powered up or used for contests. A vote for one of us is a vote for all of us. We appreciate your support.
"I have come to believe over and over again that what is most important to me must be spoken, made verbal and shared, even at the risk of having it bruised or misunderstood…for it is not difference which immobilizes us, but silence." – Audre Lorde

Click the banner to join our Discord server!
Post created by @tessaragabrielle