ADSactly Initiatives - Underprivileged Children Access Education
We are here to talk about a Steemit funded charity school in Bangladesh, which was founded on 20 April, 2016 by Mohammed Abdul Aziz @Azizbd. The school (School For SDG4) has been blogging on Steemit since June, 2017 to crowdfund for 60 underprivileged children, its students, in Sylhet, Bangladesh. The goal is to help these slum children access free education.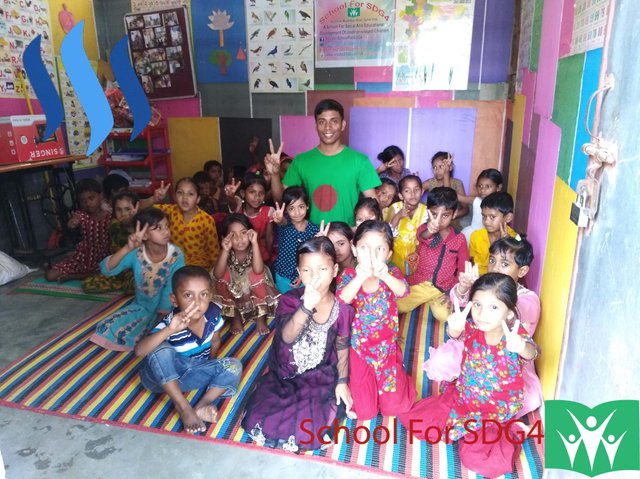 26 March, 2018
This post will allow @SchoolForSDG4 to receive 50 % of the SBD rewards up to 100 SBD. Every single upvote will be used towards helping educate students in need.
How is the Steemit Blockchain Helping Underprivileged Children Access Education?
@SchoolForSDG4 has been blogging about the school's educational activities on Steemit to crowdfund for the charity school. We keep our supporters and those interested in learning about the project up to date through regular posts. In the time that we have been here a community has formed on Steemit. Of individuals that care about the students and hope the school continues to grow.
Not only are the upvotes and resteems helping to raise funds, but luckily each month, the school has received support from some caring Steemians who send direct donations for the children.
Last month, the school received 86.630 SBD from an ADSactly fundraising post. This makes a huge impact on the school's fundraising efforts. It allows the school to continue looking forward in terms of planning programs. What the project can offer to its students constantly evolves.
Of course, every child in the world deserves quality education. Quality education for early learners can positively impact students for their entire lives. When people think about their own children, naturally they want to make sure they receive the best education possible. Those that are helping to fund this charity school also want the best for children who don't otherwise have access to education, and, in that sense, the children of the world are all our children. The education of children in need makes for a positive change for the future: for those students, for their families, for the community, and for the world around us. Education is invaluable. In this post, we are excited to share our educational activities at @SchoolForSDG4 and give you an idea of what we do!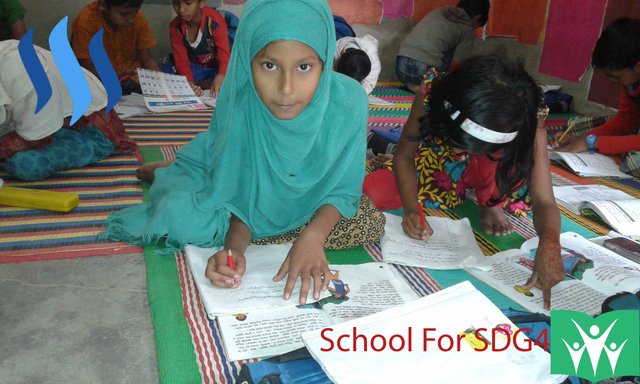 13 March, 2018
Rina and Srity are from two different slums, but they are good friends at school. With the help of the Steemit Community and ADSactly, the school has been providing free education to both these deserving children in Sylhet for last two years.
Read our first post about the school on Steemit
The school was founded two years ago (in April 2016). The first class was on April 20.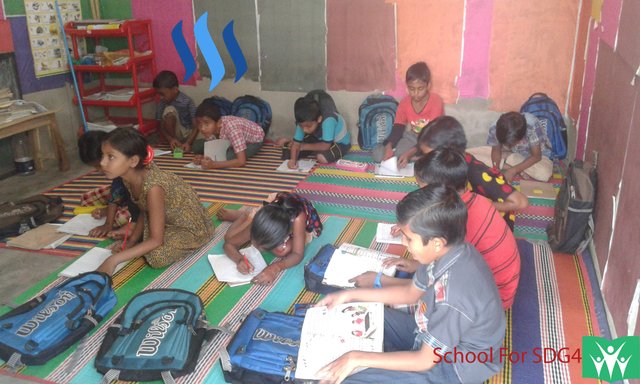 14 March, 2018
Last year, we donated new school bags to them from a Steemit crowdfunding campaign. Having the tools needed for success is important!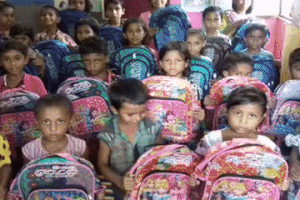 A new school bag means a lot for the children. It shows them that we care and want them to be prepared to learn. In the video below, you can see the kids in the classroom on 20 March, 2018. The school received a microscope from the USA sent by @tecnosgirl last year. It is a real example of how the Steemit blockchain is helping make positive changes. We are grateful!
Many of the boys work as child laborers. When you don't live in a place like this, it's hard to understand what that means, but the reality is that when they are working to provide for their families (to cover their basic needs) they are then unable to attend school. Even if a family realizes the importance of education as a long-term solution to poverty, basic needs must come first (like food, clothing, and shelter).
Last month Junayed left school to work. He was a hardworking student and was continuing his lessons by even coming to school at night. But, because of circumstances, he was moved away from school area and took on a full time job. This was really hard for us to see happen, but we understand that sometimes these basic needs force families to make difficult decisions. Goodbye Junayed.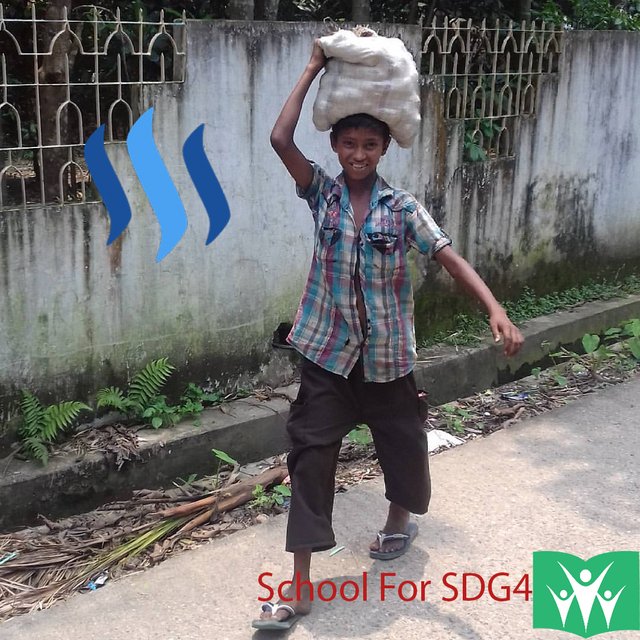 Unfortunately, his story is not unique. This is a common problem that many children like him face. We are working hard to break the cycle of poverty and keep students in the classroom to learn and change their futures. The above picture was taken by Mohammed Abdul Aziz @Azizbd.
Al-Amin works with his father in a tea stall. When we go to the tea stall, he greets us in English and ask me different things. His strengths are in the subjects of math and English.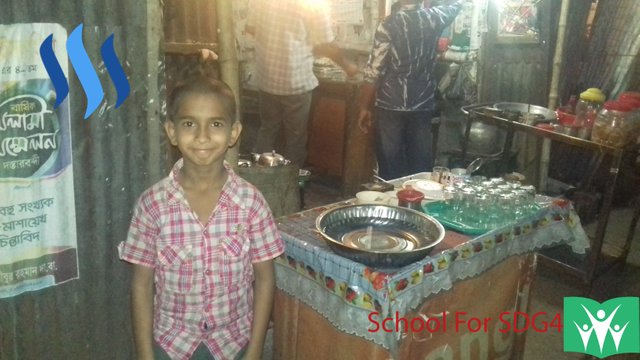 01 April, 2018
He washes cups, glasses and serves customers. In the below video, you will see him studying at @SchoolForSDG4.
---
@SchoolForSDG4 not only provides students with a free education (breaking down the barriers that prevent students from accessing an education) but we also arrange healthy fruits every week (for the past two years) and a hot meal each month (for the past two months). Healthy food provides important nourishment that allows students to focus on their studies and takes some of the pressure off families to provide. We are trying to tackle the problems that students face from all angles.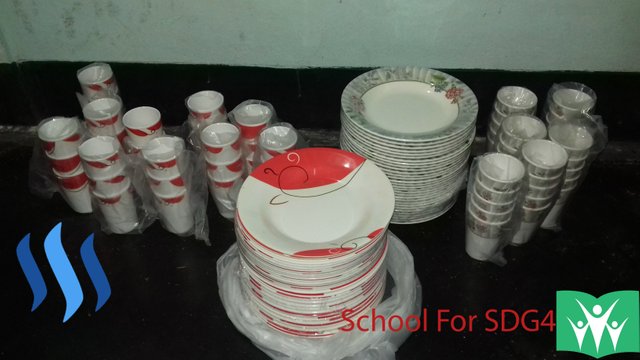 24 March, 2018
It is our hope to continue the monthly hot lunch program. To do so, we bought plates and water glasses with help of our Steemit crowdfunding. This means that we don't have to constantly purchase disposable plates and glasses, and even though it was a big upfront cost, it will save us money long term allowing us to use the funds for other programs and to keep the school running.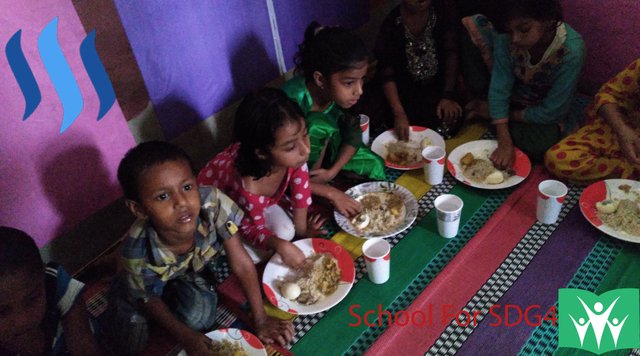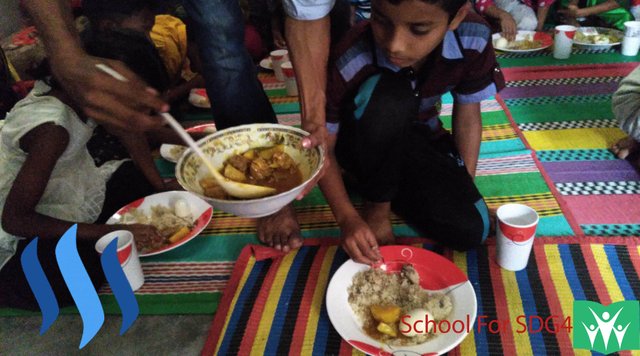 26 March, 2018
March 26th was Independence Day in Bangladesh. @SchoolForSDG4 arranged a fun sports program and served lunch at the school. This again was made possible thanks to Steemians who helped through upvotes and through direct donations.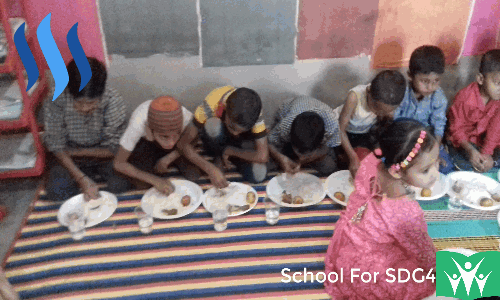 You can read more about the monthly hot meal arrangement program from @lindahas who writes a crowdfunding post every Friday to support the children. She made 34 posts in total for crowdfunding and donated 100% of the fund she receives. The program was live on facebook. We definitely welcome these kinds of posts from anyone that is willing to write them and share them with their followers!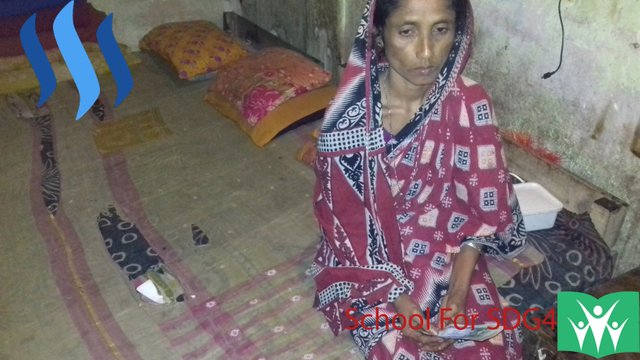 10 March, 2018
@SchoolForSDG4 also supports Al-Amin's family finacially so he doesn't need to go work and continue education.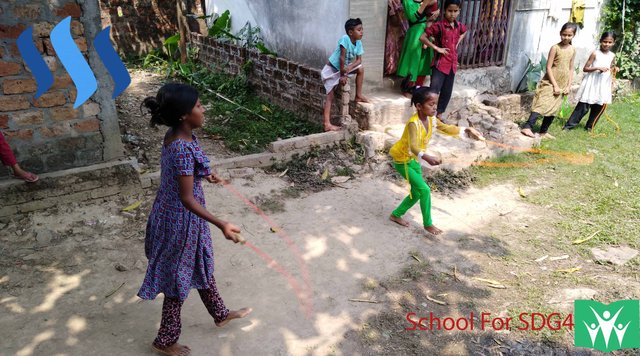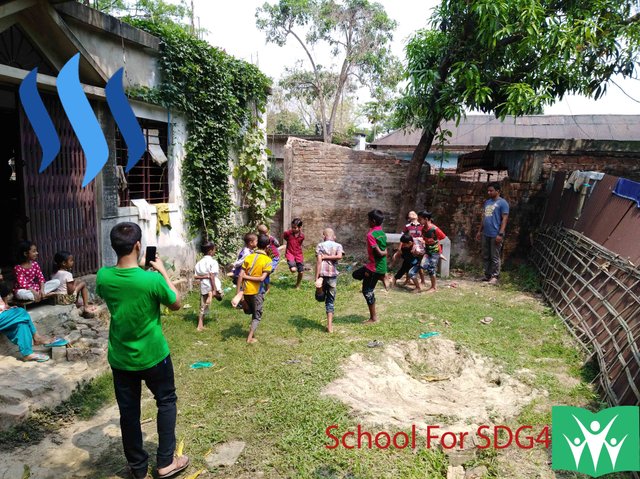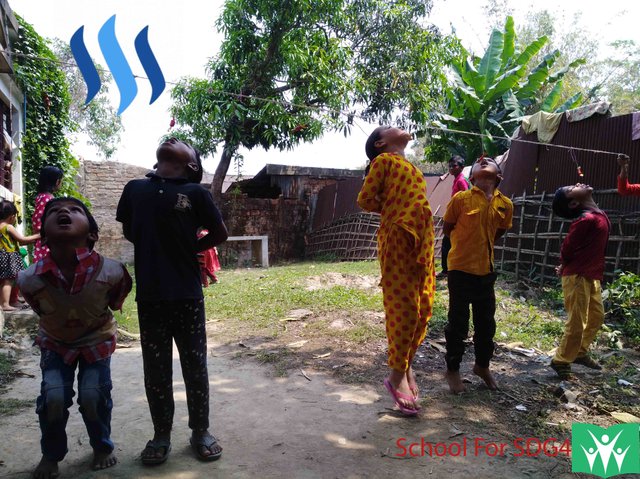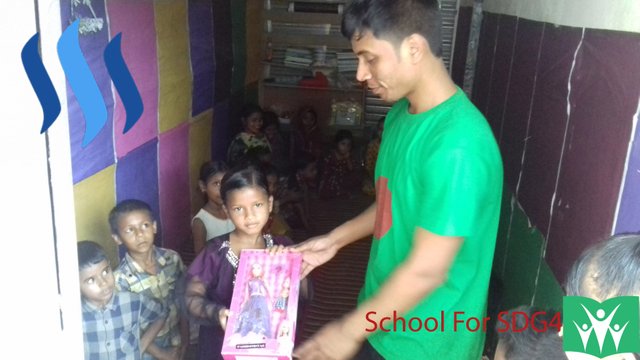 26 March, 2018
On March 26th, when students participated in different sports we offered a prize to the winners! annual sports event. The sports event was live of facebook. We think it's important to take pictures, videos, and make regular updates because everyone that is voting and donating can then see the positive impact that they are making – this isn't just some place far away with students that people will never know – we are bringing the world together, making it a little bit smaller, and inviting you to be a part of it!
The weekly fruits program supports the children and allows them to focus on their studies. We know that parents struggle to feed their children three meals a day, so something like extra fruit (a healthy snack) is rare. Nutritious fruits help students developing brains, and is part of their overall health.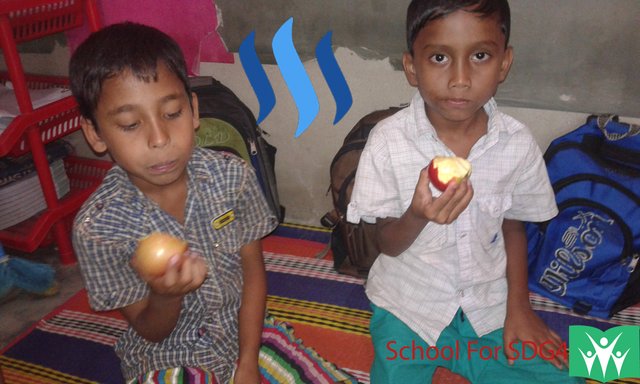 22 March, 2018
GIF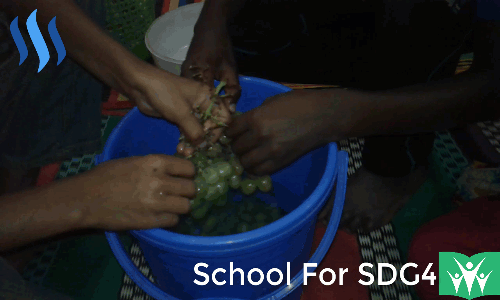 Each week, we need around 15 USD to be able to feed fruits to 60 students. We are thrilled to share that the school has a 1356.537 USD cash surplus from the last few months. But it is hard to predict what will happen in future as the price of Steem/SBD fluctuate, so it is so important to us to keep up with our fundraising efforts and make sure the school has a stable future.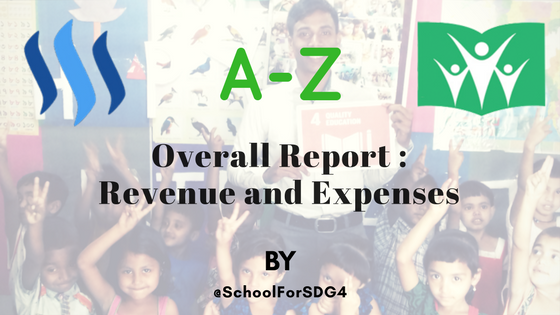 @SchoolForSDG4 withdraws funds from Steemit on the 14th day of each month with the market price. It also powers up some of the funds to balance the crypto and cash backup for the school's operation. The school publishes overall monthly revenue and expense report for supports and donors. The report explains how the funds are divided.
As mentioned, we try to cover things from all angles. So, the mothers of the students are offered free skill-based training at the @SchoolForSDG4 campus under the project @WomenEmpoweremnt. Women Empowerment was founded by Mohammed Abdul Aziz @Aziz on 7 January, 2017. It is a social business initiative. If we can continue to help the mothers empower themselves, we will ensure that students can remain in the classroom instead of working. As a part of this program, @WomenEmpowerment bought a new sewing machine from Steemit crowdfunding.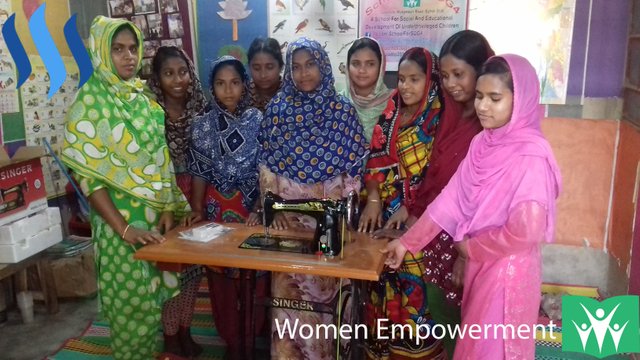 23 March, 2018
The mothers also attend monthly mother meeting at @SchoolForSDG4 to discuss their childrens' education. School also shares monthly evaluation of each student and also rewards performances. I @Azizbd also discuss different social issues with them, so they can keep their children safe. As you can see, there is a lot going on here that impacts quality of life—we are working to make positive changes each day.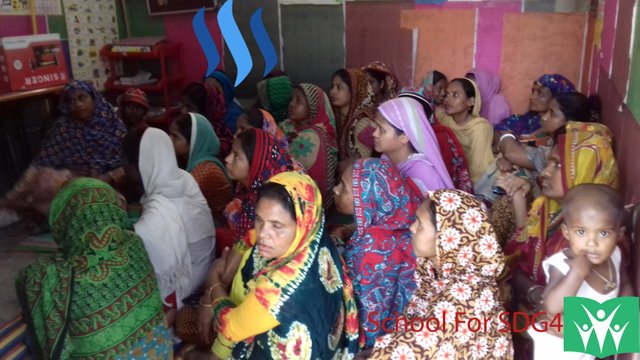 25 March, 2018
"I have grown up watching problem all around me and I am here to fight for education. But to fight, I can't do it alone and I need you behind me." - @Azizbd
Please contact me @Azizbd for any information https://steemit.chat/direct/azizbd .
School's Other Social Media

Authored by Mohammed Abdul Aziz @Azizbd, Founder of @ScoolForSDG4 and @WomenEmpowerment. Proofreading by @jessicakluthe and @Lindahas, Supporters of @SchoolForSDG4
Click on the coin to join our Discord Chat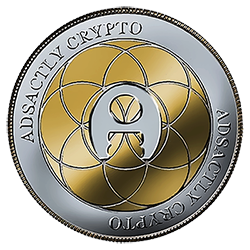 ---
Vote @adsactly-witness for Steem witness!
Witness proposal is here:



Go To Steem Witness Page
In the bottom of the page type: adsactly-witness and press vote.



Use small letters and no "@" sign. Or, click here to vote directly!
Thank you!

---