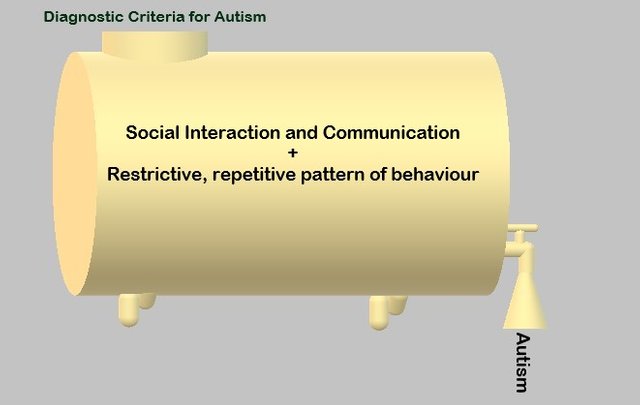 [Source: My own design]
Backgound
During my Ph.D. study, I had a big challenge to choose a good subject for my thesis project. As a molecular biologist, I had many favorites. One of them was working about signaling pathways in the cell. One another, finding out a new way to inhibit metastatic cells migration in cancerous tissues. And ...
However, given that participation in some neuroscience projects in pre-PhD time, I had a special interest to pursue my research in this field. So, I was trying to find an issue related to Nervous System.
At that time, a new professor had moved to our university. He was a US-trained molecular biologist with a background in the phenomenon of Telomere Position Effect (TPE). Soon after, one thought came to my mind. How can I integrate telomere biology into the neuroscience subjects? For this mean, I started to search in the Web. After a couple of weeks, I found out the Autism could be a target disorder to study. Because there was not an article showing what happens to the telomeres of Autistic individuals. This exactly coincided with early 2013. It seems that it could be innovative subject to work. Wow, I have shouted, finally, I found that what I must do. …
In my opinion, Autism can be considered as a Century Disorder and can be a good subject to investigate. If you look around yourself, surely, you will see human beings with Autistic behaviors such as dissociability, aggressiveness, and repeatability performance. Maybe in some way we can say, we all be involved with autism. In psychiatry science, it is called Broader Autistic Phenotype (ABP). These are my pieces of evidence, why I think that it can be a Century Disorder.
During recent years, I have tried to achieve much information about Autistics. So, I would like to share them with you. Perhaps, there is still somebody who doesn't know anything about autism, its signs, and etiology. Then, Let's go …
What is the Autism?
Previously, Autism Spectrum Disorders (ASD) had adopted under the umbrella of the Pervasive Developmental Disorders (PDD). It consisted not only all ASDs but also Rett syndrome. ASDs in this category included the Autism, Asperger syndrome, PDD-NOS, and Childhood Disintegrative Disorder (CDD). Their composition with Rett syndrome had formed PDD.
However, after the publication of DSM-5, in may 2013, its diagnostic criteria was changed and replaced with new ones. In the previous version, ASD is characterized by having difficulties in three regions of the brain related to Social interaction, Social communication, and restricted and repetitive behaviors. As well as having language problem was one of the main signs of Autism. In the revised version, PDD term was crossed out at all and its subtypes were adopted to be under the ASD term. And atypical language problem was also removed from diagnosis criteria and reorganized the triad main difficulties into the dyad. In a result, they have provided one 'diagnostic label' with individualized specifiers, and allow for an assessment of the individual's need for support.
In according to DSM-5, ASD (Hereafter, we call it Autism) is a long life neurodevelopmental disorder with onset in early childhood before the age 3. It characterized by deficits in social interaction and communication; and having restricted and repetitive behaviors. Phenotypically its symptoms are from mild to severe. For this reason, it is named as Spectrum.
Although, in most cases, there is not a clear evidence for autism etiology, so far. However, it seems that the genetics and environment or the interaction between them play an important role in a few cases. Several studies in diverse disciplines including neurogenetics, neurochemistry, neuroanatomy, neuropharmacology, neuroendocrinology, and neuroimmunology have shown that the ASD is not influenced by a single factor. So, it should be considered as a multifactorial or polygenic disorder.
Its prevalence is increasing so that based on the newest report by CDC its prevalence has reached the highest value compared to the past decades. Based on this report, Autism prevalence has been identified to be 1 in 59. Again, boys have 4 times more autism than girls.
Why Autism occurs in males more than females?
Although there is no clear reason why it occurs in males more often than females? However, there are factors such as Estrogen, the primary female sex hormone, and having an extra X chromosome that may prevent autism incidence in girls.
Estrogen has many protective effects. One of them is the inhibition of oxidative stress by removing free radicals (eg. ROS, and RNS) that are either normal aerobic cellular metabolic substances produced in the body or incorporation of free radicals from the environment to living systems. There is the growing body of evidence suggests that the oxidative stress is implicated in the pathophysiology of Autism. Estrogen, as well, causing an increase in Telomerase activity. Telomerase is a ribonucleoprotein enzyme that adds nucleotides to the end of chromosomes and leads to telomere lengthening. This enzyme just active during embryonic period and is turned off in later life except in some organs such as blood cell turnover machinery and germ cells.
Abnormal telomere shortening is a hallmark of a number of human diseases and psychological disorders such as Autism ( based on our study and two recent reports). Telomeres are shortened naturally during cell division and form aging mechanism. However, Telomere attrition also worsens by an increase in oxidative stress markers such as ROS. Because telomeres are rich in guanine, it is known that they are more susceptible to oxidative stress than others, such as Adenine, Thymine, and Cytosine. Then, estrogen in girls can be also considered as a preventive factor on telomeres. It is interesting to know that girls have longer telomere length in contrast to males that may be due to Estrogen effect.
Another protective factor in females is having an extra X chromosome. Having one extra X might protect females from the effects of mutations. For example, consider one of the copies of a gene on a chromosome X being mutated. But second copy on another X chromosome will cause the camouflage of this mutation.
Some of the genes related to Telomere dynamics exist on the X chromosomes. So, this may be one of the reasons that telomeres of girls are more protected and longer.
Why Telomere?
Telomeres are the repetitive elements at the end of chromosomes and are rich in Guanine Base. Their function is the prevention of genomic instability. Usually, These structures are often compared to the plastic aglets at the end of shoelaces that prevent the laces from unraveling.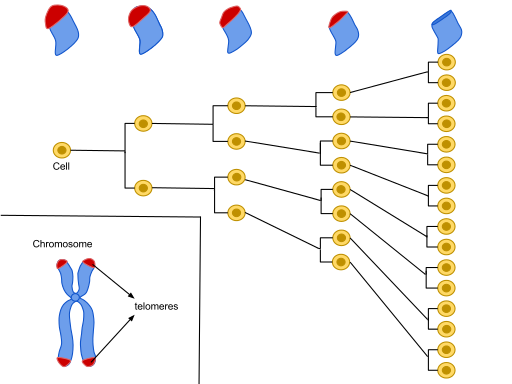 Source; Wikimedia
Maybe for many, this question comes up why I talked more about Telomeres. You might have heard that if you have enough longer telomeres you are healthy. This is somewhat true, but not always. Because according to Dr. Maria Blasco research, you might have longer telomere but its structure may not be stable. Therefore, having a longer telomere length more than normal is not an advantage.
But I'll draw your attention to this. According to a recent study, long telomeres may alter the behavior of genes and affect their expression through TPE-OLD (Telomere Position Effect Over Long Distance).
As mentioned above, we and other researchers found that Autistic individuals have shorter telomeres. By telomere shortening its Position Effect will be decreased and as a result, gene expression on the sub-telomeric region and those in over long distance will be affected. In this regard, some of the good genes may be extinguished by this phenomenon and, conversely, some of the bad genes become On.
In my opinion, these events may be of the main factors that the autism occurs in males more than females.
In summary
Autism is a complex and polygenic neurodevelopmental disorder that identified by having no verbal and non-verbal communication, no direct gazing, and having specific interests.
In today's world, autism is rising, it is unknown that this is the because of better diagnostic methods? or the actual effects of the mechanization of societies? As well as, incidence among boys is common. Previously, thinking that eating fish, vaccines and viruses also triggers autism, but new research has ruled out all this. So, the cause of autism is still unknown. And no molecular method has been devised to detect it.
The recent theory about the autism is that some scientists believe that it is not a disability, but autistic individuals have different world. It is likely dependent that how do you define normal behaviors.
What you think: Is autism a disability? or their world is different with the usual other people's world?
…There is a lot of documents about autism. And on these pages, I've just mentioned a few of them.
References
Pedram M. et al. Telomere position effect and silencing of transgenes near telomeres in the mouse. Mol Cell Biol. 2006 Mar;26(5):1865-78.
Meng chuan Lai et al. Autism. Lancet, Vol 383 March 8, 2014.
Sylvie Tordjman et al. Gene environment interactions in autism spectrum disorders: role of epigenetic mechanisms. Frontiers in Psychiatry, August 2014 | Volume 5 | Article 53.
Jon Baio Eds. et al. Prevalence of Autism Spectrum Disorder Among Children Aged 8 Years — Autism and Developmental Disabilities Monitoring Network, 11 Sites, United States, 2014
Maria Blasco. Telomeres and Human disease: Aging, Cancer, and Bayond. Nature Review Genetics, Volume 6 | August 2005
Jerome D. Robin et al. Telomere position effect: regulation of gene expression with progressive telomere shortening over long distances. Genes & Dev. 2014. 28: 2464-2476.
Kim W. et al. Long-range telomere regulation of gene expression: Telomere looping and telomere position effect over long distances (TPE-OLD). Differentiation. 2018 Jan - Feb;99:1-9.