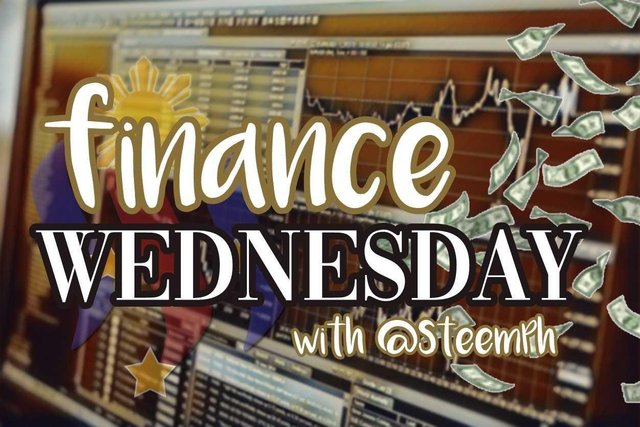 Happy "hump day", it is another lovely Wednesday. Oooooh yes, the always eagerly awaited Finance Wednesday column of Steemph by @webcoop.
Let us jump right into it.
We have been talking about getting into crypto without putting money in. On the previous posts we covered some apps that you can get into to get free cryptos. These were steemit.com, earn.com, playup.com and byteballs.
Byteball was actually an airdrop but you have to have their app to get it that is why it was also included in the topic last week.
---
AIRDROP
Airdrops are also other ways of getting or receiving free cryptos. Byteballs was the best example of that because they gave generous amount for steemit users.
How does airdrop works? It works in many different ways, as the byteball example they gave airdrop to steemit users basing on their reputation. The higher reputation you have the more byteballs you got.
You will also get airdrop if you are holding a certain cryptocurrency. You will be given a free crypto based on the percentage of that cryptocurrency you are holding.
Some current examples of this are the Pundi X (NPXS). Every end of the month, you will receive 7.316% free NPXS, that's 7.316% of you current NPXS. So if you are holding 1,000 NPXS, you will get 1,000 x 7.316% = 73.16 NPXS free. source
When Steemit Inc finish their SMT (Smart Media Token), maybe and hopefully every time an ICO or app that will use the SMT will give airdrops to people who are holding Steem.
Other airdrops comes from ICO's (Initial Coin Offerings). You will get airdrop by participating on their social media, like following them in twitter, telegram group or facebook.
You can go to airdropalert.com for upcoming, current and past airdrops.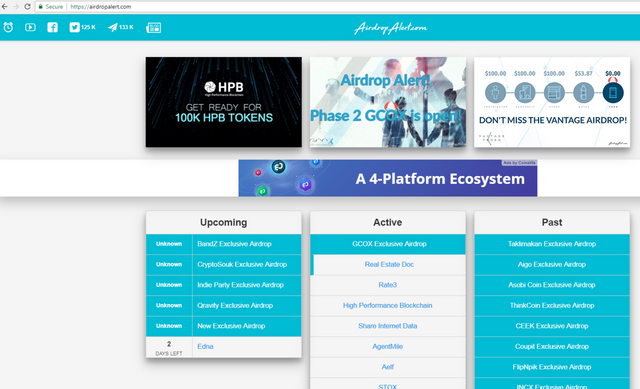 source
Below is an example of how you can get airdrop at airdropalert.com. On this example we picked "Real Estate Doc" ICO.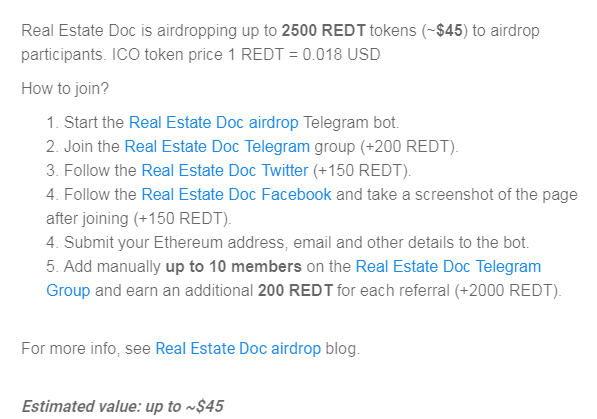 source
---
Here is another very good air drop I saw which was posted by no other than our lady @bearone.
I was not going to include it (sorry @bearone did not meet the criteria, ahem no steemph tag), but I will cover it because it is a very good example of getting a good amount of free money if you are not being lazy.
I said "if you are not being lazy", because a lot of people will not even bother if it requires signing up to a new social media account like twitter, telegram, reddit, etc.
On this airdrop it requires you to do some tasks like connect your account to your social media accounts.
It is not hard to sign up to twitter, reddit, telegram, etc. Once you have signed up you can use it with all the airdrops that requires it and you only do it one time. Below is the example of the bounty I got from connecting my other social media accounts on this airdrop.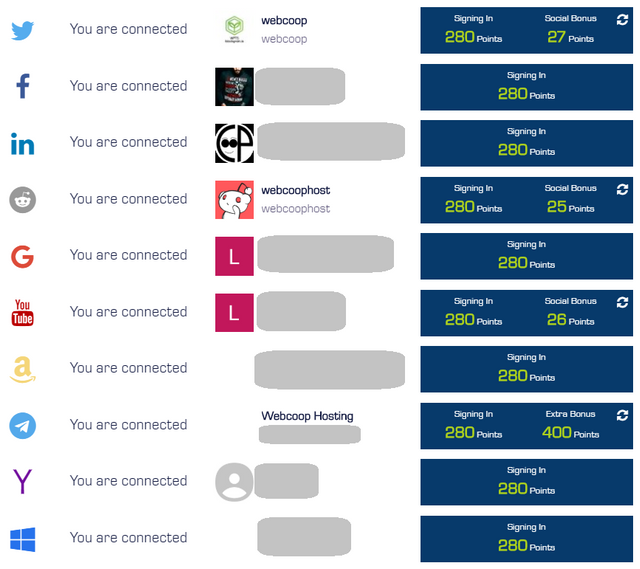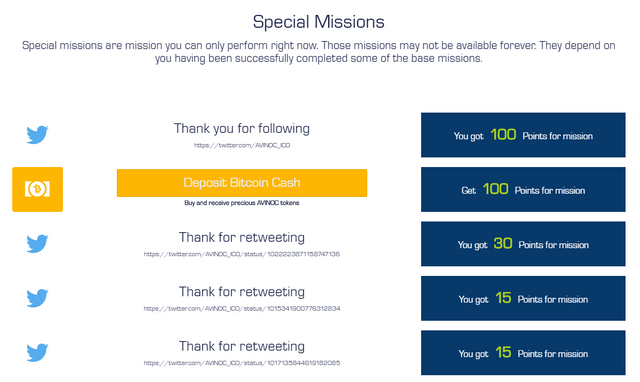 Now if you pass up on this opportunity because you can not be bothered making account on those social medias then you just missed a possible $350 USD.

So, are you still not convinced? Are you going to refuse a possible free $350 USD because you can't be bothered?
Join the air drop HERE (The link is @bearone's referral)
---
CONSOLIDATION
Now that you have all those different type of cryptocurrencies you got from the apps, airdrops, etc. I think it's time to convert it to a one cryptocurrency of your choice. Instead of you holding many little cryptocurrencies you will be holding 1 bigger cryptocurrency.
Before we keep going into this, I just want to put in my DISCLAIMER.
Everything you read here at steemph finance column, at my personal steemit blog, at my own website steemitblog.com and anywhere else are just my opinion only and from the researches that I have done. I am not a financial advisor and these are not a financial advice. Please DO YOUR OWN RESEARCH.
As I was saying, if you consolidate all your cryptocurrencies then you will have a bigger crypto that you can use to get more gains in crypto.
Some people might put everything on steem and use it to power up. We all know if you have more steem power, your voting weight will be more. Also, we know that the price of steem went up to about $14 and maybe it will go to that again.
Others might pool all their cryptos into BTC, LTC or ETH to use it to trade at exchange.
There is another one I have come across where other people put their free cryptos in, this is the BITROBO from BNLimited.

BITROBO
The BITROBO from BNLimited is a robot trading platform as they claim it.
Before I continue on I just want to add an additional DISCLAIMER.
Please read the above disclaimer as well. I am not endorsing this BITROBO or BNLimited, the following are just the outcome of my research and my personal opinion. If you choose to use it, you are doing it at your own risk.
Warning! Know the RISKS.
I'm not sure if you are familiar with BITCONNECT and USI TECH. BITROBO or BNLimited is similar. BITCONNECT is the most recent that pulled the biggest "exit scheme" in cryptocurrency. I say BITCONNECT is very similar to BITROBO or BNLimited because of this from TNW: How BitConnect pulled the biggest exit scheme in cryptocurrency
investors were promised a one-percent return of investment (ROI) on a daily basis. To this end, the company had developed its own proprietary "trading bot and volatility software" that would turn your Bitcoin investment into a fortune
BITROBO is also assuring a 0.7% - 1.5% return of investment (ROI) on a 24 hrs active "auto trading by BITROBO".
Because of this exit of BITCONNECT, a lot of investors lost huge amount of money and if this happens law suits are expected left right and centre. The people promoting BITCONNECT were also got dragged into court and one of them I think is Trevon James. You can watch a video of Doug Polk Crypto BITCONNECT GANG – WHERE ARE THEY NOW?.
How BITROBO works.
This is from their website BNLimited
BITROBO IS A 24/7 AUTO TRADE SYSTEM THAT WILL GIVE YOU PROFIT AND NO CHANCE OF LOSING. PROFIT IS BASED ON CAPITAL EVERY TRADING WITH BITROBO. CREATE YOUR OWN BOT WITH MINIMUM CAPITAL.
When they said "NO CHANCE OF LOSING", I don't believe that. When trading, there is always a chance of losing. I think they put that in because they will cover the loss and will pay you the minimum profit mentioned.
As a beginner trader myself I did have a look at owning my own auto trading bot. It is not cheap, it will cost you about $500 USD and no guarantee that it will give you profit. You need to set the parameters and if you get it wrong you will incur a loss.
If BITROBO is what they say it is, an auto trading bot, then I think it is a better option.
Probing BITROBO and BNLimited
I have joined BITROBO or BNLimited for the purpose of research.
As you sign up, a tell tale sign of Ponzi scheme is very evident. You cannot sign up without a referral. Okay so let us give it a benefit of the doubt, maybe that need of referral to be signed up is a token of looking after the benefit of its members.
Well I did signed up and put in my capital investment of 102 euros to be used for the BITROBO.

You need to activate the "robot" to start trading and this will take 24 hours so you just keep visiting after 24 hours to re start the "trading bot". It has been running for almost 2 days now and yes it did gave me a profit of 0.1% - 1.5% per day or per 24hrs of active trade.

Well I have to check everything so I immediately cashed out my profit as soon as I got it to check if I am able to cash things out. Yep I was able to cash out the profit that I made. You have a choice of BTC or ETH when cashing out and there is a 10% fee. You are only allowed to cash out 1 time per week.

I was told you can also cash out your initial capital and I was going to test this but unfortunately I am only able to do cash out 1 time per week. But I do think you are allowed to cash out your capital.
What you don't see at first glance.
As I suspected there is a Ponzi scheme associated with this BITROBO. A typical Filipino trait who are all obsessed with pyramid schemes.

Is it bad? Well Ponzi schemes are illegal to almost every country, including Philippines. Do you remember EMGOLDEX? How about GOLDXTREME (kabuhayang swak na swak daw)?
ADDITIONAL WARNING!
I have been right about these type of business before and I know this BITROBO will end up the same.
Most of you might be familiar with pluggle.com and wealthcart.net
Those were actually my first 2 posts here in steemit Pluggle.com.ph Scam or Paying and Wealthcart.net Scam or Paying
So what happened to those companies? See for yourselves, visit their websites, pluggle.com.ph is under investigation and shut down by the Philippines SEC and wealthcart.net website was pulled down.
THINK and PLAN your EXIT
Ok so you probably saying I'm only in it for the "auto trading bot" not the pyramid scheme.
You have to think about this. What happens if the trade they made that day incur a huge loss? They have to cover that loss and that's when the pyramid scheme comes in.
That pyramid scheme is the "money maker". You don't believe me? Why else do they have it there? Why would they risk a legitimate business by including or putting an illegal pyramid scheme?
NOTE: It is not hard to register a business name in the UK, any educated person can do it. Their address in the UK "kemp house 160 city road london united kingdom ec1v 2nx" could be a virtual address.
I have searched the company and it is what they say they are and is registered in UK (check it HERE).
The nature of their business is "64999 - Financial intermediation not elsewhere classified and 66110 - Administration of financial markets".
That is a very legitimate business and that is what the UK authorities or regulators are looking at.
However, if or WHEN the authorities find out about this Ponzi or pyramid scheme associated or included in their business, they will definitely shut it down. That is exactly what happened with BITCONNECT.
Refer to this story BitConnect In Collapse: After receiving two Cease and Desist letters, platform shuts down leaving investors in huge panic as many lose their funds
ENTER AT YOUR OWN RISK
I have pointed out the risks and gave a lot of warnings.
If you decide to try this BITROBO and BNLimited, I have promised the person who invited me to use his referral.
So, if you decided to join, please join using this LINK. (Due to the recent update, this link is not the referral link but a link to the website. See the update below.)
He also made a steemit post regarding BITROBO and BNLimited HERE.
UPDATE! WARNING!
This BITROBO and BNLimited is a possible SCAM. It is exactly the same as the BITROBOT.ME which is already pulled down. I think it is the same because someone made a review on BITROBOT.ME on November 7, 2016 and it is exactly the same as BITROBO and BNLimited
You can read the full review of that scam HERE
Below is the summary of the review
BitRobot.me is an HYIP website claiming to be a cryptocurrency trading company based in the UK. It is trading under the official name Bitcoin Trader LTD

Bitcoin Trader LTD owners are boasting about registration as a company with the UK's Companies House. Well, the Companies House registration certificate is not worth the paper written on.

For example, recently shut down scams such Hashocean, Coince and Forex Paradise, were all registered with the Companies House.

If an investment company boasts about registration with UK Companies House, then you should know there's a 99% chance it is a scam.
This is very similar to BITROBO and BNLimited.
There are plenty more similar pyramid scheme that is using the BITROBOT HERE
Due to this recent update. I will be removing the referral link. I just want to say sorry to the person I promised to.
---
Airdrop is another best way of getting free cryptocurrency.
Pooling or converting all the cryptocurrencies you got for free gives you a 1 larger amount of cryptocurrency which you can HODL and wait for the price to go to its highest, or you can use it to trade at exchanges or you can invest it.
Investing is also a great way of growing that wealth you got but please be vigilant when investing because there are plenty scams out there. You don't want to lose all that money that you accumulated.

FEATURED POSTS
Unfortunately, I could not find any post that meet the criteria.
Last minute update to include some Featured Posts before handing over the article.
All images are from their respective authors/articles.
---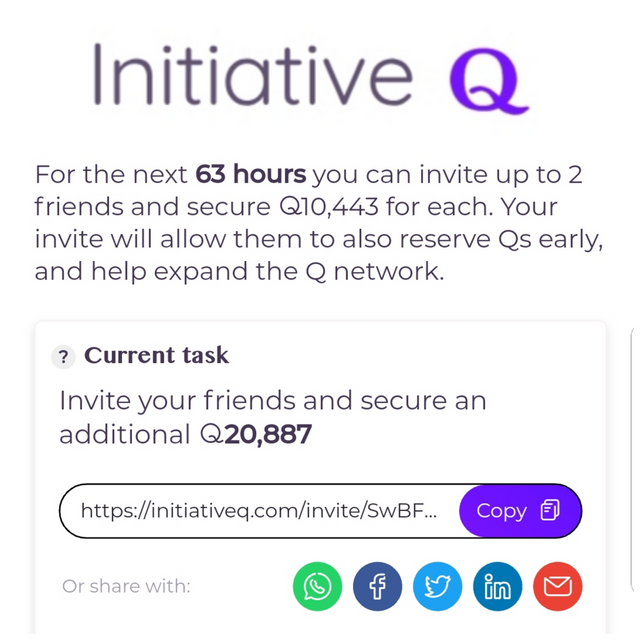 Here comes another airdrop for you people. This one is from @bearone.
Come one, come all and let us collect all these free money.
Read the full article HERE
---

Hmmm sounds familiar, this makes it good, people are aware that you can get into crypto without spending a dime.
This article is from @iyanpol12 covering some apps, airdrops and many others where you can get free cryptocurrency (free money).
Read the full article HERE
---
Reasons why Finance Wednesday benefits you.
I know I'm now promoting my column but hear me out first and maybe you will agree with me.
If you post an article regarding or relating with finance on Saturday to Tuesday, I am definitely be one of the reader and I might feature it. Even if your post will not get featured it will get a mention or I might do a full review or research on it like what I did on the AVINOC AIRDROP and BITROBO.
So, here are the reasons why it will benefit you if you post an article regarding/relating to finance.
+1 REFERRAL - When I read your article and it has your referral links, I am already 1 of your referrals because in order for me to check and review the post I need to be in it.
KNOWLEDGE IS BEST - If you are researching about finance especially cryptocurrency, you will learn how it works and this will arm you the knowledge on how to navigate the financial side of the crypto space. You might get good at it and make money out of it (that is the main goal).
HELPING THE TEAM - Whenever you post an article regarding finance, it don't matter if your main objective is to share your referral links, you are actually helping us "your team mate at steemph" by sharing that information.
So, if you are going to post a blog regarding money, crypto or any finance related subjects, please post it Saturday to Tuesday so I can feature it on Finance Wednesday.
Please check the guidelines below.👇

Get Featured On Finance Wednesday
Finance Wednesday is NOT just another boring finance news. This is where the money is. We cover a bit of everything from tutorials to where to get "extra income"
Do you have a post or article related to money, crypto or anything related to finance? Get FEATURED on Finance Wednesday to be curated thus earning more rewards and to get more exposure.
Follow the guidelines below and we might feature your post here at Steemph.
Minimum 300 words. You can use WORD COUNTER HERE

Minimum 2 pictures. Must be credited if not original.

Original contents preferred. Use "quote tags" if you are copying a section of an article or post.

Posts must not be more than 4 days old. Post it on a Sunday to Tuesday.

"steemph tag" must be used to be eligible.

About The Author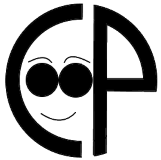 Webcoop is a blogger, cryto enthusiast and a beginner trader. You can read his blog at STEEMIT or at his personal blog steemitblog.com. He also provide web hosting at webcoophost.com. Chat with him on DISCORD and share knowledge about crypto, trading, etc.

Well that's it for this week's Finance Wednesday. Thank you for joining us. Just a reminder @SteemPh will now be curating the following topics on these days and we would love to feature your post in our weekly columns.