Opening 100 Steem Monster Packs + 10 packs giveaway + General blockchain gaming opinion

Cool, isn't it!!
Hi Steemians
So from past few days (maybe more), I was seeing this hyper craze about Steem Monsters. Every other post in my feed was about Steem Monsters. So out of curiosity, I decided to see what the hell this "noise" was all about. 
As I expected, Steem Monsters is a card battle blockchain game. Collect, battle, trade, level up; those sort of things on a blockchain. And not any other blockchain, but on Steem blockchain. Well, the advantage is clear; speed and free transactions. Something we can't enjoy on ETH blockchain. The catch here is that game is not as decentralized as say, Cryptokitties. Steem blockchain doesn't allow smart contracts, so some sort of alternatives have been implemented which bring a bit of centralization to the game. Nonetheless, the transactions will still be on Steem blockchain, making things as transparent as possible. 
Personally, I am not a big fan of card games, table top games etc. I would even say, I kinda hate them. They are just too static and repetitive. I prefer playing those open world exploration games, where you can run your cute little character, interact with NPCs, monsters and maybe even pet them. I think you call them RPG games. Also I like survival games, base building games, indie games with out of the box thinking. But card games, "Meh"!
Currently I am addicted to this game. Secrets of Grindea. Nice casual, story rich game with a ton of interesting content.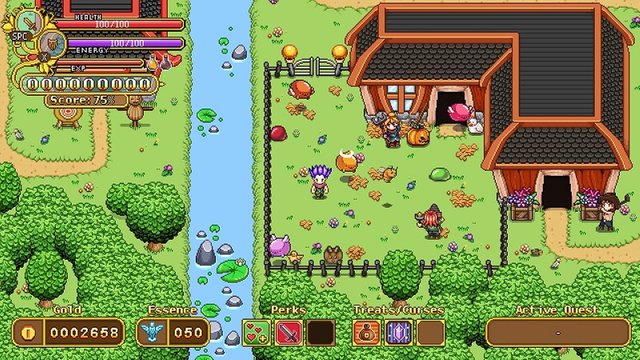 My character looks like some form of Super Saiyan! And these cute pets!!
Blockchain Gaming:
The first blockchain game I played is the same as what most people had played. Of course, it was Cryptokitties. Even though it was (is) also a sort of card game, you can say breedable cards, but I think it had a charm of it's own. And that charm was the network effect. The exponential growth of Cryptokitties proved that people had lot to spend on blockchain games. And this is the reason we can see countless new blockchain games popping up daily, like wild mushrooms in the woods. 99% of them are just breedable cards, although some of them are trying hard to come out of that shell. We can say this is the era 1.0 of blockchain games. 
But then there are games like Cryptopets, which promise to add a new dimension to the blockchain gaming. High quality graphics, animations, training, battles and a pet connection is what makes it different. Check out their marketplace teaser. In case you are interested you can sign up for the whitelist to receive a free pet and Beta invitation. The best thing is that unlike most other blockchain games, the Beta will be held on the test network; saving you transaction fees and easier for devs to make updates to the game.
But there is one blockchain game, that is not in competition with any other blockchain game. It is on another level altogether. The game is a bit under the radar as they are not doing any sort of marketing and just into the development from past several months. They do post updates on Steemit
@hashrushgame
.
Hashrush
is basically a RTS game where you build and upgrade your base by collecting resources from your planet. But it's not click and build thing. It's a proper 3D exploration game. Not only that, but they have also built a massive mining farm in Estonia. The earnings from this farm will be distributed to the players based on their progress in the game. Also they are developing their own side chain on ETH, so that players don't have to pay for transactions and wait for confirmations. It was very important as the game is very complex and not just a game with few repeatable actions. I have been following Hashrush since pre-ICO and all I can say is that this game will certainly be praised not only by blockchain gamers but also by mainstream gamers. They are soon going to launch a restricted alpha with limited participants. And it will be an alpha as it should be. So you don't have to worry about purchasing anything or spending even a cent. Join their
discord
to be in loop. Just have a look at this small teaser.
So, coming back to Steem Monsters. Where do I see it? Well, the game is certainly much better (as per the info available) than the Cryptokitties. You can trade, battle, level up your cards. You can make strategies. Most importantly you can win bags full of SBD and Steem. What more can a Steemian wish for!! Another thing worth noting is that the game already has build a passionate community around it. This, as I earlier said is evident from the flood of articles related to Steem Monsters. People making paintings, videos, stories, art, memes, lore and what not. A big part of this is due to the fact that @aggroed is the man behind Steem Monsters. He is a trusted, respected and well known Steemian. Also a  Steem witness and "self-proclaimed Mayor" of Minnowsupport project! He is the sole reason that I decided to give Steem Monsters a try. After all you have to input your private posting keys!! But knowing that @aggroed is behind the project, I felt safe enough to proceed. 
You might ask that why I am even trying to play Steem Monsters when I don't like card games. Good question. Personally my opinion hasn't changed. And this game won't even have a proper gameplay like other mainstream card games. For example, Hearthstone. In @aggroed's own words it will be a simulated fight. So not much animations and all to witness. 
 I just want to stress that this game does not play like MTG or  Hearthstone.  It's a drafting game.  Those games are beyond the scope  for the moment.  This is a game where you pick the team and the computer  will simulate the fights in the tournament and spit out winners.
But still I purchased 100 packs. Each pack worth $2, plus the starter pack costs $5. So total $205 spent on the type of game I don't like. Why?
1) The game is the first major game on Steem blockchain. The potential is huge. Just like Cryptokitties brought a new wave of crypto users for ETH, Steem Monsters will do that for Steem. So supporting Steem Monsters is basically supporting Steem itself and hence helping in "to the moon" thing!!
2) Strong network effect. As I mentioned earlier, network effect plays a strong role in adoption. The very reason that Bitcoin is valued at $7500 and ETH at $598, in spite of ETH being more useful with all Dapps and smart contract things is that Bitcoin has a much much stronger network effect compared to any coin out there. The more people believe in Bitcoin's success, the more people it attracts. So yes, I had to surrender before this network effect of Steem Monsters!!
3) Big bags of Steem and SBD to be won. As per the site, the game will feature PVP and PVE competitions where players can win Steem, SBD, card packs or cards. I personally believe that there will be a lot more different prizes as this game will certainly attract sponsors, especially from SMT ecosystem. Appics could be the first one!
4) Collectible cards. There is already an unofficial market in existence for Steem Monsters. Legendary cards are selling for as low as $20 and as high as $6o+.  When the game actually launches (right now it's pre-sale of card packs), I think rarer cards will fetch even higher prices. So these cards, especially the legendary ones do act as a good investment. 
100 Steem Monster Card packs Opening Video
And here is my small video of opening up 100 Steem Monsters card packs. I have opened them in 2 batches of 50 card packs each. Each card pack has 5 cards. So total 500 cards opened for this video. Damn, my fingers still hurt!!
I know many people are using these videos for research purpose also. Like how many legendaries, epics, rares and commons per set number of packs. So compiled some basic info below. Do the Maths part yourself!
Batch 1: 50 packs
Legendary: 3, Epic: 10, Rare: 66, Common: 171
Batch 2: 50 packs
Legendary: 3, Epic: 14, Rare: 68, Common: 165
Total: 100 packs
Legendary: 6, Epic: 24, Rare: 134, Common: 336
Giveaway
What good is a blockchain game article without any giveaway! So I am doing a small giveaway of 10 card packs. First I was thinking about doing a giveaway of 10 Epics, but by the time I decided to do a giveaway, I had already combined my cards. Also, I though it would be better if winners open the packs themselves. Who knows they might get Legendary cards also! It is said that opening gifts not only bring happiness to the receiver, but also it unlocks their good luck! So good luck to all the winners who will receive these packs.
Rules are simple. I don't like making things complex. 
1)  Just make sure you have logged in Steem Monsters with Private Posting key. Otherwise you won't be able to receive these cards.
2) Just post a genuine comment in the comment section if you want to receive a pack. Please don't post generic comments like "good post", "I followed you", "nice article" and all that.
Vote, follow or resteem are not at all necessary, but if you do, then I appreciate with all my heart. Nonetheless, only the above two rules will decide the winners.
I hope you liked the article. It was a bit different from my usual ones. I tried to cover a lot of things in one article. Hope you didn't got bored!! See ya guys and gals around.
Regards
Siddartha

Image Courtesy: Title image. Secrets of Grindea screenshot from in-game.
Page dividers by @aleister
The Only Crypto Exchange You Will Ever Need
██ 7,000,000 Members ▶ Most Trusted Exchange ▶ Trade Steem + 110 Popular Coins ██