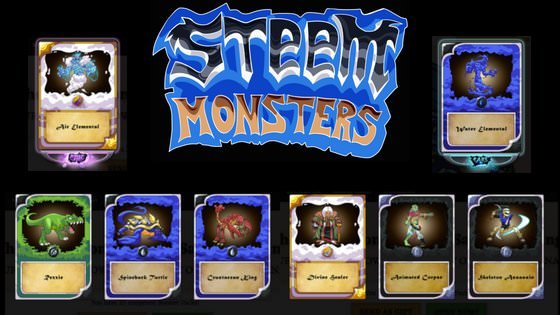 Steem Monsters Weekly Wrap UP!
Wow what an exciting first week for Steem Monsters!
We're totally overwhelmed by the support of community and so glad you love what we're doing as much as you do.
We've raised $40k this week alone. It's shocking... absolutely shocking.
The first Steem Monsters announcement post was just 8 days ago...let's take a look at what has happened since then.


Off To An Amazing Start!
The Steem Monster Intro post had over 1600 upvotes and 500 comments. People were posting almost immediately about how much they loved it. They loved collecting the cards and there were a lot of references to Pokemon, Yu-gi-oh, and Magic the Gathering.
---
Feed the Burn!
Bernie collected all the cards and let everyone know. We didn't even have trading operational so he purchased 200+ decks. We're going to name this achievement after him. It's Feed the Burn. The Burn is a reference to his name, the itch to buy more cards, and an illness that will be present in game.
---
Trading started
Yaba is a genius. First he got card pack gifting operational. Then got individual card gifting operational. So, now trading has begun. I just changed the name to Mt. Mox. This is an obvious reference to MtGox. That name stood for Magic the Gathering Online Exchange. I'm calling the place Mt. as in moutain Mox as in monster online exchange.
@cryptoeater is reporting he's already traded over $1000 worth of cards. That doesn't mean he's necessarily $1000 in the hole so much as trading lots of cards back and forth!

Steem Monster Contact Info
Official Account: @steemmonsters
Website: https://steemmonsters.com
Discord: https://discord.gg/CAFJRjY