Exclusive Blogging Course Giveaway Contest worth USD 94.99!
As some of you may hear the latest announcement by the Steemit Blogger Center (@steemitbc) that their project has been ended. Sad to say, but whatever happens already happened. They have started powering down their Steem Power. Do send your regards and wishes to them at their final blog spot.
Reference Link:
SteemitBC
SteemCommunity
What's Happen Next?
Not to worry. According to @rt395, the Discord Chat will be still available at https://discord.gg/J7TCJT6 and @steemcommunity will be taking over. Based on my understanding of the new core mission. Below are the three major focus:
· Developing remarkable curators
· Create new effective community leaders
· Provide Minnows education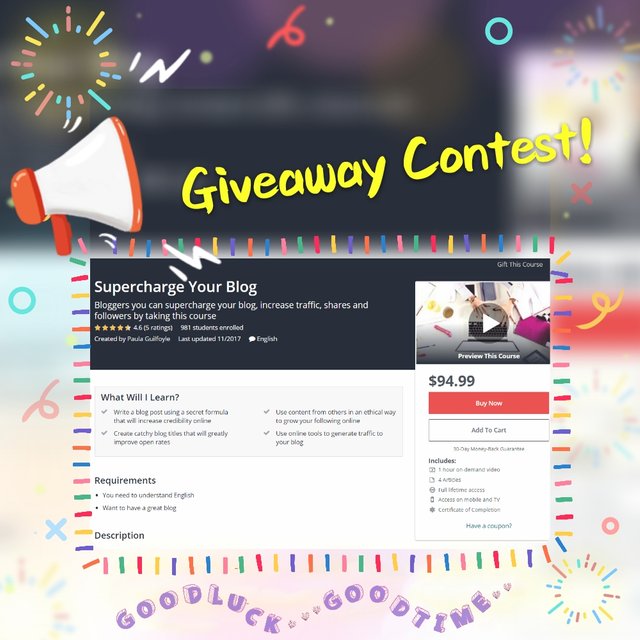 Screenshot Image Source
Exclusive Blogging Course Giveaway Contest!
In conjunction with the transition, I got an opportunity from @paulag to support minnows education by providing an outstanding blogging course fully sponsored by her at Udemy.
What is Udemy?
Udemy is an online platform that provide online courses.
The whole course is worth USD 94.99 and will be given away exclusive FREE to SteemitBC community members through this contest. Every week there will be at least ONE and up to FIVE members will be selected to receive the prize. Hints: I may giveaway some SBD to excellent blog spot too.
The criteria to win the giveaway contest:
· Must be joined SteemitBC Discord Chat. Community members will get a priority.
· Must write a blog post and tell me why you NEED it.
· Must comment on the giveaway contest for the link back to your post.
· A minimum of 150 words per blog post.
· Title of "Exclusive Blogging Course: Why I NEED it"
· Must have tags of steemcommunity and steemitbc
Deadline: 12 April 2018 (GMT +8)
Free feel to join if you are not a SteemitBC community member yet at https://discord.gg/J7TCJT6. Malay or English languages for this contest is acceptable.
Optional: Resteem is not required but it is recommended so more people will know about this amazing giveaway contest.
Link to the course: https://www.udemy.com/supercharge-your-blog/