Hello Steemit!
I have been meaning to do this post for a while now...but haven't for lack of time and direction. Lately, I am seeing more and more accounts of children on steemit. And I would have been one to say in the past how wonderful it is to get our children involved early in cryptocurrencies and what a wonderful idea it would be to have steemkids, a steemit for younger children. My ideas and thoughts were crushed when my daughter's account @cmgsteems was blocked on steemit.
Account Flagged/Disabled
About 3 weeks ago, I made a post asking the community and steemit for help finding out why my daughter's account was blocked.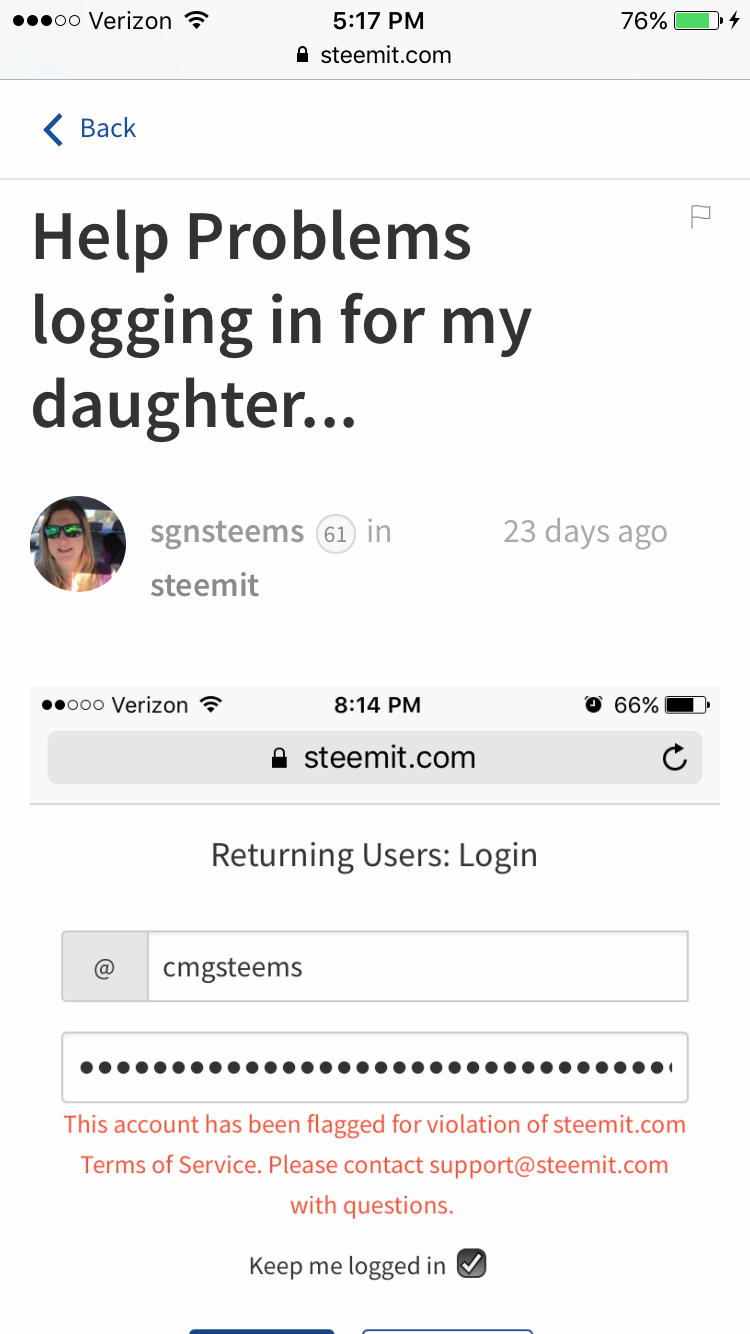 I got some comments from concerned parents not knowing why it had been blocked. Some other people trying to guess or suggest why it had been closed, but no asnwers from "steemit" or someone who could help.
THEN....
I got an answer from another parent whose son's account had also been suspended, after just introducing himself.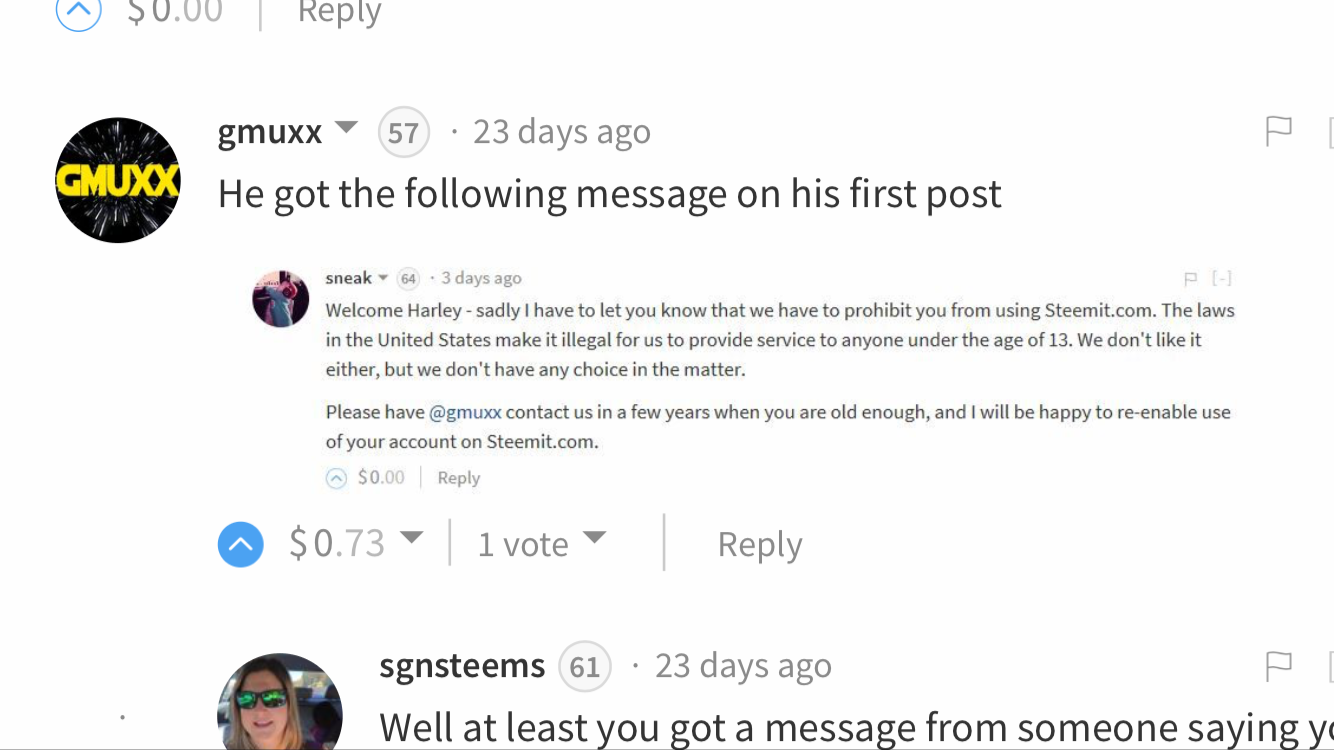 Since this child had received a response from @sneak, i decided to contact him to get more information about the whole situation, about kids on steemit etc.
I emailed @sneak to get more information about my daughter's situation, and to find out why her account was blocked. He was very nice and answered my questions. Here is my e-mail to him and his response: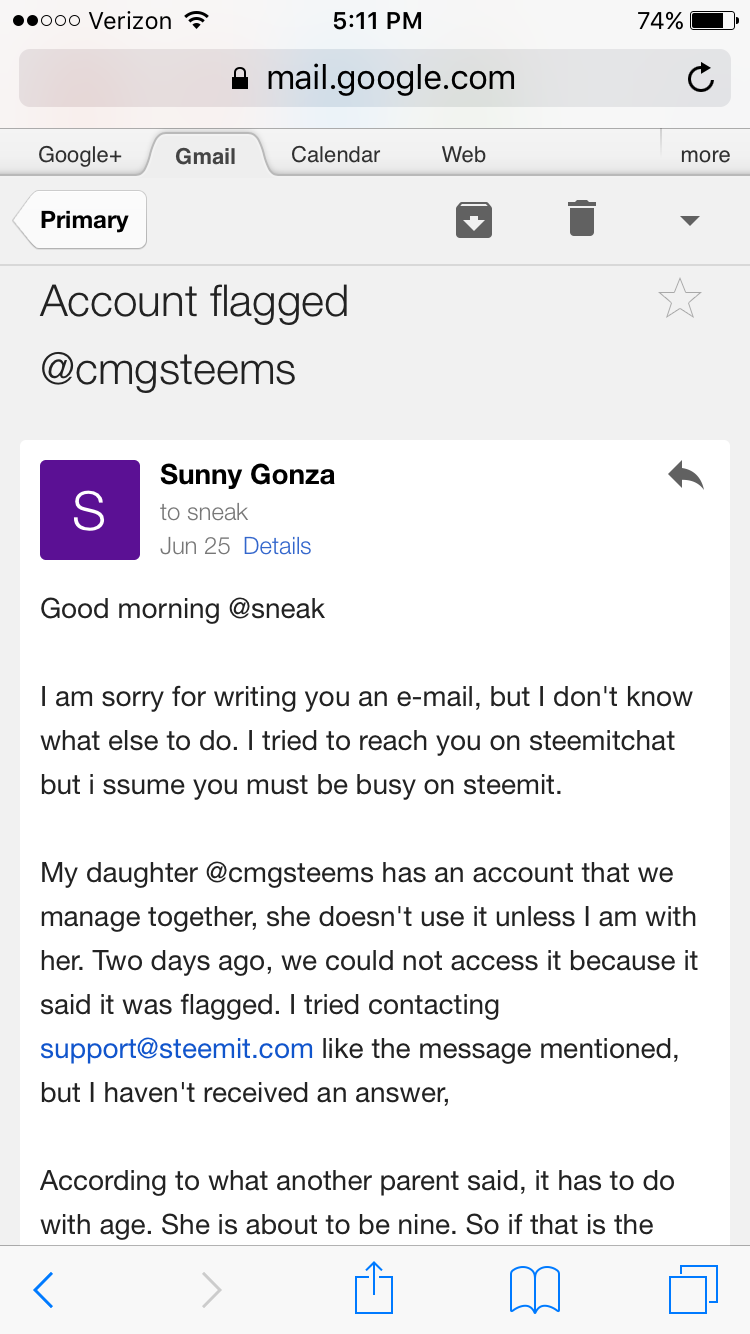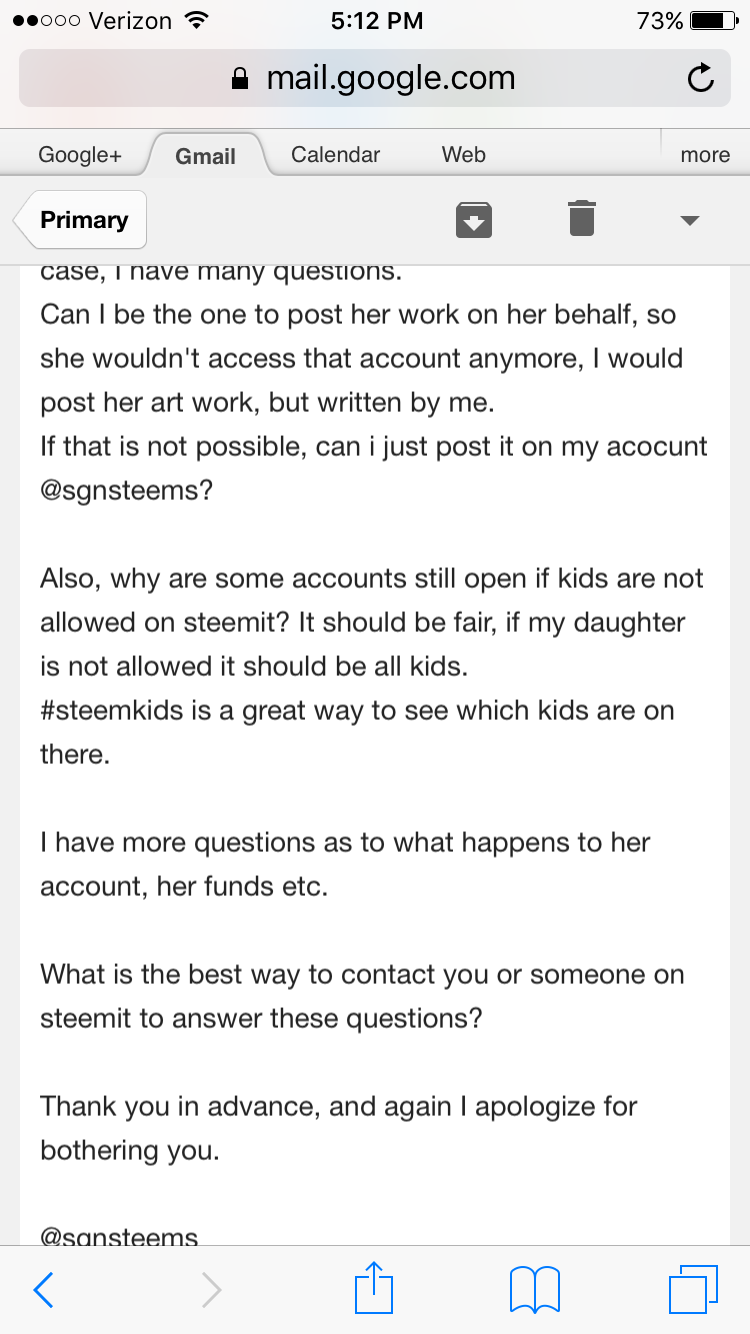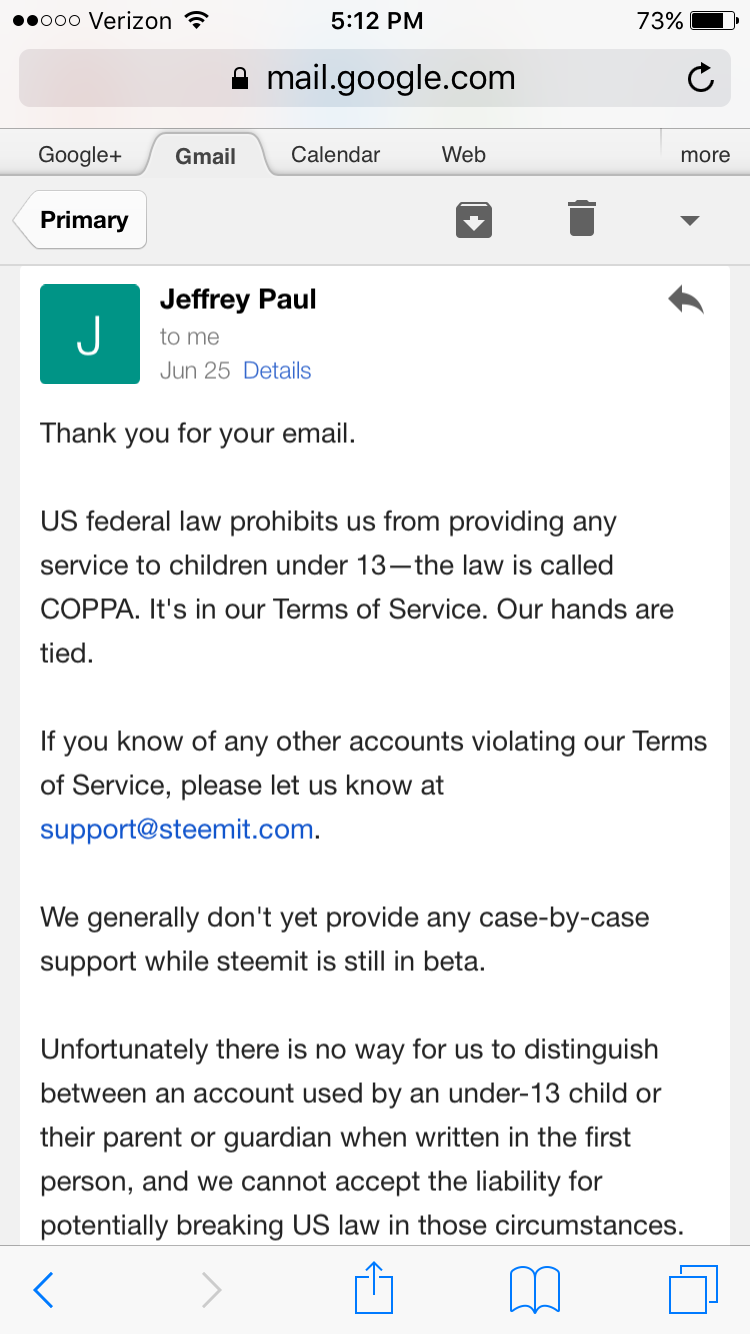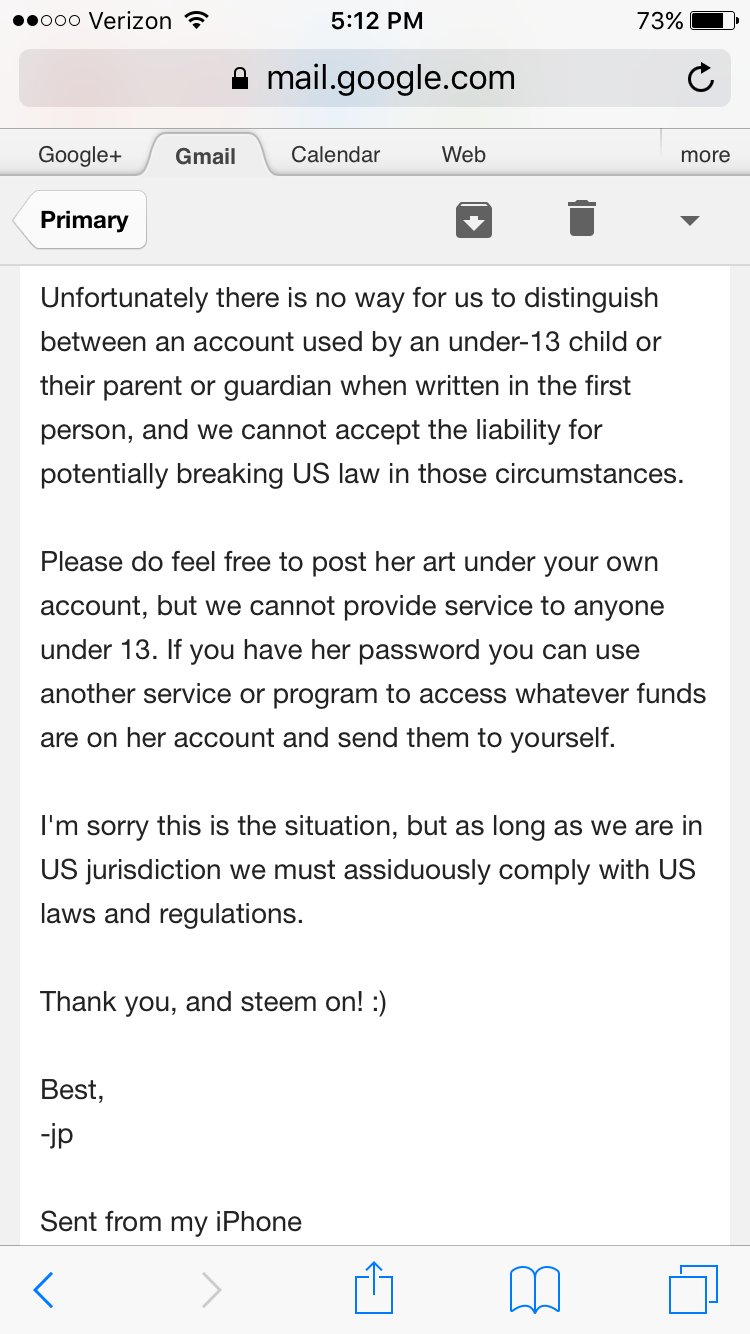 I understand steemit is still in beta and doesn't take case-by-case "problems" or situations, so I was glad he was able to answer my questions. My next thing to do was to check the Terms of Service.
Steemit Terms of Service
Steemit Terms of Service, are those that we have to read and agree when we open an account, but, many people actually do not really read, just click on "Agree".
I am copying the ones that pertain to children or to the ones to bring to your attention. These can be found on the bar to the right and scrolling down to the last one.
2.Eligibility
Steemit is not targeted towards, nor intended for use by, anyone under the age of 13. You must be at least 13 years of age to access or use Steemit. If you are between 13 and 18 years of age (or the age of legal majority where you reside), you may only access or use Steemit under the supervision of a parent or legal guardian who agrees to be bound by these Terms.
15.Discontinuation of Services
15.1. We may, in our sole discretion and without cost to you, with or without prior notice and at any time, modify or discontinue, temporarily or permanently, any portion of our Services. You are solely responsible for storing, outside of the Services, a backup of any Account and Private Key pair that you maintain in your Wallet.
16. Suspension or Termination of Service.
16.1. We may suspend or terminate your access to the Services in our sole discretion, immediately and without prior notice, and delete or deactivate your Account and all related information and files in such without cost to you, including, for instance, in the event that you breach any term of these Terms. In the event of termination, your access to funds will depend on your access to your backup of your Account data including your Account Name and Private Keys.
There is one more thing that was mentioned, and that is that they abide by COPPA.
What is COPPA?
COPPA stand for Children's Online Privacy Protection Rule.
COPPA imposes certain requirements on operators of websites or online services directed to children under 13 years of age, and on operators of other websites or online services that have actual knowledge that they are collecting personal information online from a child under 13 years of age. source
IN SUMMARY
What I have gathered from all this is that we are not allowed to have our children on steemit. To a certain degree I can understand, because we see NSFW posts (nudity, sex, etc) and drugs...which we wouldn't want our children to see.
I have tried to reach @andrarchy and today @ned to see if they could let me know who is screening for children's accounts, and why my daughter's account was blocked while many others remain open. Are "popular" account's children ok to remain on steemit? Is it the number of followers they have? Does it matter in which country they open the account?
If we need to follow the law and regulations of the US I am fine with that, but let's ALL follow them. Let's be fair!

provided by @steemitBoard