SteemConnect Account Creation
Anyone with a Steem account can create new accounts on the blockchain using the SteemConnect tool from Busy.org. If you want to create an account for you or your friends, you just need to pay the account creation fee to open the new account. That is it! The steps are really easy. (Explained below.)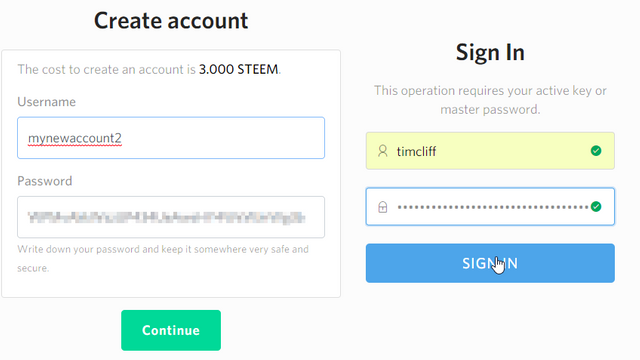 Updated Instructions
This post has been edited as of October 17, 2018 to contain the latest instructions for creating accounts using SteemConnect after Hardfork 20. The contents of the original post can be found here.
Steps
Check if the account name you want to use is available. To check this, go to https://steemd.com/@newaccountname, with the name of the account filled in for @newaccountname.
If steemd.com shows data for the account, the name is already taken and it cannot be used.
If steemd.com shows "Page not found" then it means the account name has not been used yet, and is available for you to use.
Enter the account name for the new account you want to create.
Save and backup the password. It is extremely important that this does not get lost (including due to hard drive failures, fires, etc). If the key is lost, the account is lost. There is NO WAY to get back into the account without the key. Make sure it is safe!
The account creation fee will be shown at the top. At the time this post was last updated, this fee was 3.0 STEEM. Make sure you have at least that amount of STEEM in your account. (It should be liquid STEEM, not SP.) When you create the new account, this STEEM will be burned in order to pay for the new account.
Click "Continue".
Sign the transaction with your account name and private active key.
It will take you back to a blank account creation page after the transaction is signed (which can be a little confusing), but it should show a success message up in the corner if it went through successfully:

That's it! The account is created. You can verify at https://steemd.com/@newaccountname.
Some Extra Notes
If you are creating an account for a friend, make sure they understand how important it is for them to save and backup their password. It is between you and your friend, but is usually a good idea for them to change their password so that only they have access to their account. Their account will not be fully secure until 30 days after they change their password, since you still have the original owner password which gives you the ability to change their keys and even steal their account via the "account recovery" process.
For any accounts that you create, you are designated as the "Recovery Account". This means if the account is hacked, you will need to assist with recovering your account. Contact the Busy.org team if you end up needing to do this.
Official support for the tool is provided by the Busy.org team. If you run into issues though, you can reply to this post and I'll do my best to help out.
Thanks to everyone in the Busy.org team for providing us with this awesome tool!