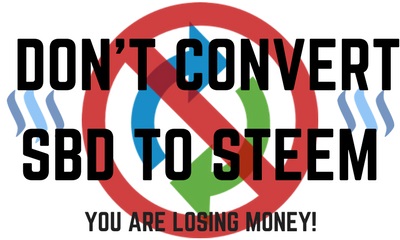 We earn 50% Steem Power (same value as Steem) and 50% SBD when our post gets paid out.
So when we look at dollars they should be the same, right? WRONG! There are some wrong calculations and you are losing out on some valuable Steem! @papa-pepper Brought this to our attention a few weeks a go, so big shout-out and thanks to him!

The Problem:
Look at this picture of a payout:

It looks fine at first glance but when we look closer and do the math this is what we get.
---

4.078 SBD x $1.66 = $6.76

1.964 SP x $2.00 = $3.92
---
$3.92 / $6.76
That's not 50/50!
So if it's 50/50 shouldn't the numbers be the same or at least similar? The problem comes in where Steemit calculates the Value of Steem Dollars at around $1.00 each. Not the actual market price.

Let's see if it works out this way: 4.078 SBD x $1.00 = $4.07

$3.92 / $4.07
That is closer to what we would expect from a 50/50 payout.

The Solution?
Instead of converting your SBD to Steem (this takes 3.5 days) , go sell it on the market (almost instant). Trust me this is easy.
Let me show you.
Step 1:
Go to your wallet, click on Steem Dollar and then Market.
Step 2:
Enter the amount of Steem Dollars you want to sell. You can change the price you want to sell for, but this might make you wait longer. I suggest just selling at market price. You are still making so much more than actually converting your Steem Dollars to Steem.




When you Steem Dollars get sold, it will automatically be shown in you wallet under Steem.

That was easy right?

So instead of making $7.99 we made $10.68 for that post. That's like 25% more! So go ahead and sell trade on the market.
You will get the hang of it in no time! =)
Update: Price is currently quite low, you will get so much more Steem than when this post was created.

So many Steemians are not aware of this. You could help them out by resteeming this post and help educate the newer users.