STEEMIT - IT IS WHAT WE MAKE IT - So What In The World Are We Making It?
Once upon a time, there was no steemit...
---
Then @dantheman came along and created it. Many of us could not accomplish this. No matter how hard we tried, we would not be able to create steemit. That does not matter much now though, because steemit already exists. Since it does exist, now we get the chance to make it.
MAKING STEEMIT
---
Now that steemit exists, we do have the chance to make it. Each member of this community can contribute to it, and it is our combined efforts that will make steemit what it will be, and they are currently making steemit what it is. So then, exactly what are we making it.
This post will touch on subjects covered by other steemians, and is written as a way for me to gather some thoughts and share some ideas about some recent trends affecting (or perhaps even infecting steemit.)
THE OLD GUY STARTS TALKING ABOUT "BACK IN THE DAY" AGAIN
---
Back in the day, when I was still new around here, things were not even close to as nice as they are now. Please fully understand that before you go any further. There were less whales to go around, no delegated voting power, no curation guilds, and the vast majority of votes from your average users were more or less completely worthless, at least as far as dollar value is concerned. It took me many, many months to ever have a full power upvote be worth more than 1 cent. Now, rather new users are throwing around nickels or more.
Trust me, newer users on steemit have no idea how good they have it. Yet, many do not want to invest much, they just want to get paid. Those who do get paid want to get paid more. (I write this in direct response to no one, just as an attempt to discuss a current trend.) Even though nowhere else on the internet has ever paid these users for any of their efforts, making a few cents as a new user is not enough for them. Trust me, I know the feeling of having a lot of work not get noticed much.
AN EXAMPLE FROM PAPA-PEPPER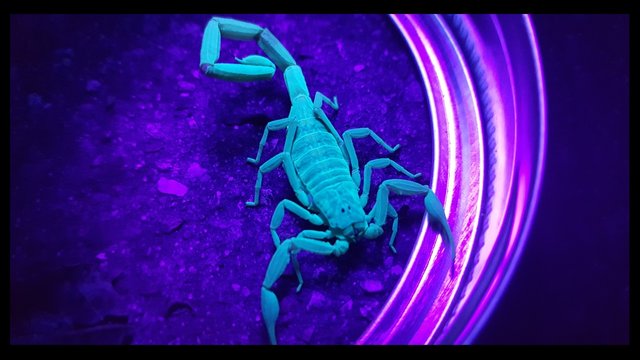 Even after almost three months on the platform, I had posts periodically not make very much. I did a wonderful post about scorpions in blacklights, and it made 54 cents total, of which my portion was 43 cents.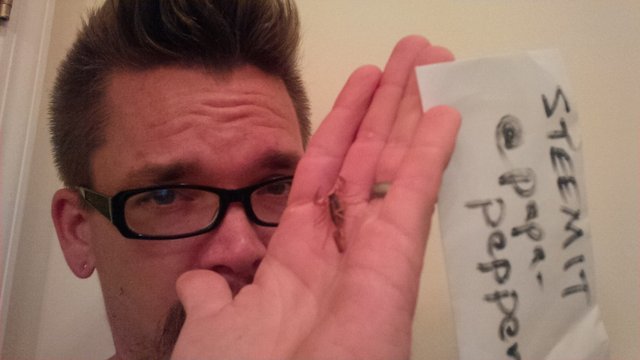 I had even taken a selfie with a live scorpion unrestrained in my hand, just to prove it was original work.
I made an original video to include demonstrating how I pick up scorpions without getting stung.
I made another video showing how scorpions glow under a blacklight to show people that the photos were not edited.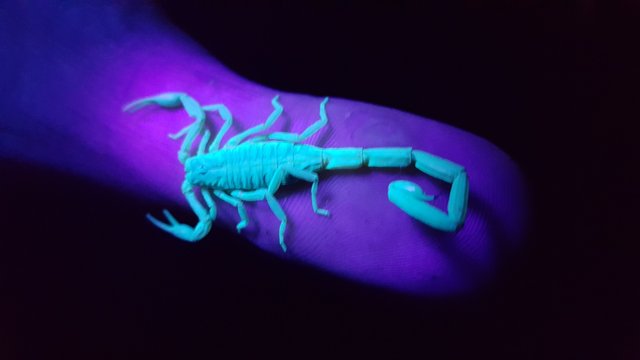 And I included cool, original photos like this one above. You can check out the post here to see what I am talking about. Sure I was still learning, but the point is that I was taking a lot of time to make original content that was consistently of a decent quality.
So, when I saw that my post was going to be "undervalued" how did I respond? Did I spam link every user on steemit? Did I make 100 comments on trending posts saying "I upvoted you, PLEASE UPVOTE ME?" Of course not. I went about making my next post to the best of my ability. In fact, if I remember right, this was my next post and it paid out at 82 cents total. It was just another original post full of my own photos and writing. Still, who else was ever willing to give me 82 cents for some photos and paragraphs? No, that only happened to me on steemit, and I moved forward again as I always did.
COMMENTING
---
Multiple times on steemit I have mentioned that when you show up on steemit, no one really knows that you are here. Unless you get out and comment on some posts, you are unlikely to meet others, make friends, gain followers, and gain support. I never really used commenting as a tactic, but upon reflection, I made the suggestion to others, because I believe that it works.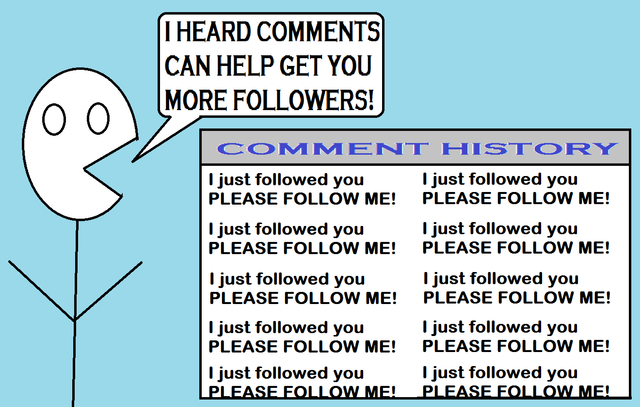 This illustration is NOT what I meant by making comments. So many users seem to only use this method. When I look at a post with 20 comments and half of them are people begging for votes and followers, it looks really lame. How do you think that this looks to the rest of the world online? They are free to check out our posts and read our comments.
Personally, I have upvoted and followed people who have left replies like this. I figure that there is a learning curve for newer users and that I should cut them some slack. However, if they feel that this method works, what will stop them from continuing? For this reason, I've pretty much stopped responding to those comments.
When someone leaves an actual, thoughtful comment on one of my posts, I often will check out who they are and what they are up to. I'll upvote and follow users who leave comments like rather than the vote-beggars every time. It amazes me that some people will even leave comments like "tansks for the good post, upvote and folow me for relly good posts please." Trust me, that will not work.
MAKING INTRODUCTIONS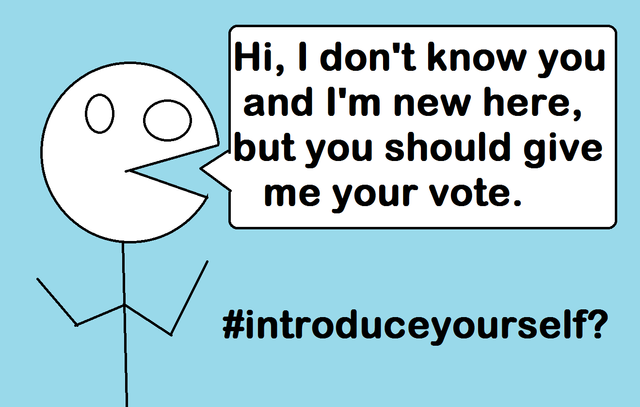 Of course an "introduceyourself" post is the way to introduce yourself to the community, but when you comment on someone else's post, this is actually you introducing yourself to that user. If the first thing that you tell someone when you meet them is "upvote me," it becomes very obvious that you do not care about that person as much as what you can get from them. Basically, you are telling them, "Let me use you!"
If we step outside of the steemit realm and take a walk offline, I think that we can paint this picture in a different hue to help you understand. Imagine walking up to a stranger and immediately asking, "Can I have $3.00?" I'm not sure how many of you would actually do this in real life, but if you wouldn't do it on the street, perhaps you shouldn't do it on steemit. Also, if you would do it in real life, perhaps you should stop. (That is just a suggestion.)
PAY TO PLAY - THE VOTE-BEGGARS TURN VOTE-BUYERS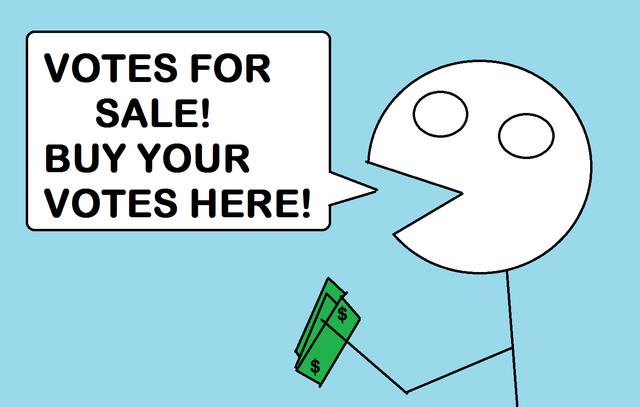 Yes, recently there has been the growing trend of selling upvotes. I completely understand that from a business point of view, this approach makes a lot of cents (sense). For the voter, they are getting even more than just curation rewards for their votes, and their votes aren't really costing them anything. For the vote-buyer, they are getting a good return on their investment. Often, their investment (money spend on buying the vote) can more than double. Wouldn't you give someone $1.00 if they were to give you $2.00 in return? Eventually, you'd be rich if you kept that up.
However, in a scenario like selling upvotes, some things just do not matter at all, like quality or originality. These two key factors used to play a huge role in getting noticed here. Yes, the content creators would have to invest (or "waste" if you prefer) a lot a great content to get noticed and consistently supported. Without the great, original, quality content, it is hard to gain a following and get some good payouts, but often that means that a lot of good content does not get good payouts while a user is trying to get noticed and gain support. (Trust me, I've been there, and done that.)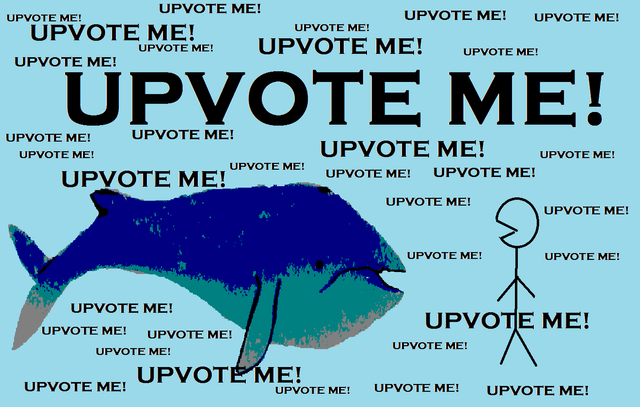 Obviously, steemit as a platform and as a community continues to change over time. Whether it improves or not is up to us. I'd rather not be in a community of greedy beggars. Please take note of these things that I have constantly said over the last year:
---
NO ONE OWES YOU ANYTHING

STEEMIT GIVES YOU AN OPPORTUNITY, NOT A GUARANTEE
---
If you want to take advantage of the opportunity that steemit offers, keep in mind that you may not get a return on your investment. It may never "pay off" for you. It may never "pay off enough" for you either. If you try, you could succeed, and if you quit then I can guarantee that you will not. It is that simple.
No one here is entitled to anything. Truthfully, we may not even deserve the opportunity that steemit offers. Dan did not have to create steemit, and steemit did not have to give you a free account.
ADVICE FROM PAPA
---
If you want to try to earn something from your time on steemit, do not ask others to follow or upvote you. I've made almost 22,000 comments and posts on steemit, and I have (to the best of my knowledge) never commented on someone else's post begging them to follow or upvote me. If I can manage to make tens of thousands of comments without begging maybe you are capable of the same.
Actually interact with others and even try to care about them, instead of just caring about yourself and your wallet. Don't just run around on other people's post asking them to give. (They don't even know you.)
Speaking of not knowing others. I'd recommend the same thing for private chats. I have plenty of people that I chat with in private, but I'd recommend not spam-linking others in private chats. Sure, I've cut some people come slack and I've given out some upvotes, but others may flag you for doing so.
I actually had one user tell me to "give them some Steem Power" in a private chat. I had not previously met this user and was curious, so I asked them what they meant. They then told me to "give them some STEEM or SBD" so that they could power it up. Yeah, someone really said that. To tell you the truth, I did not give away my hard-earned STEEM to them just to help them power up. Would anyone?
THE COMMUNITY IN MY MIND
---
There is a steemit in my mind, and it is a steemit that I am laboring to create in reality. It is a community of generous, talented people interacting with one another, collaborating with one another, and helping one another. It is a community of people that actually care about one another and are willing to listen and help one another. It is a community of individuals that realize they can accomplish more by working together than they ever could alone. It is a positive community of encouraging individuals that is attractive to those on the outside and able to entice them into joining. This is the community that I already exist in, and for me, it starts on my page and spreads out from there.
THE CHOICE IS YOURS
---
I am officially inviting you to join in on making steemit the community that it should be. Many of you already are. No one has to, and if need be, I will exist in a parallel universe on steemit that operates on a different mentality and philosophy than the greedy beggars. Hopefully though, we can still steer this community the right way.
For the record, if you spam-link or vote-beg in the comment sections of my posts, I will not flag you, but I will also not upvote you. If you would like me to personally check out your most recent post, then just read my post and leave a real comment that may catch my attention. Perhaps I'll make my way over to your page. Perhaps not, as I am only one man. I currently have just over 30% voting power, but I vote when and where I can.
---
I DON'T RANT OFTEN, BUT WHEN IT DO, I TRY TO HAVE A POINT.
---
Trust me, I do care about all of you, and @papa-pepper does want to help. However, I cannot provide all that you need. No one can. Sometimes you have to put in a lot of hard work and effort to get something in return. Sometimes, you get nothing return. That is reality, and that is where I live. Stop by any time you want. Thanks everyone! Be blessed.
---
---
Until next time…
Don't waste your time online, invest it with steemit.com
---