What Posts Would You Like Me to Write for You?
As I am desperately looking for an idea to write my daily post on Steemit this Sunday, I take the opportunity to ask you my dear readers what kinds of posts you would like me to write for you.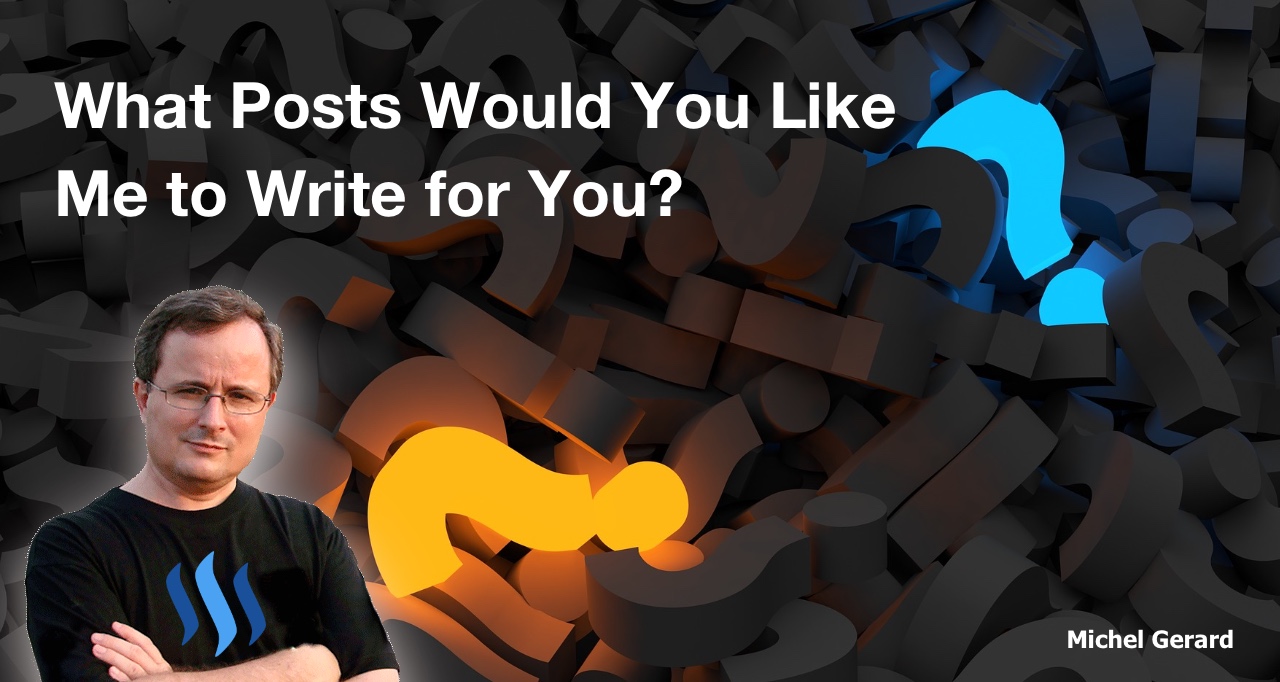 What Posts Would You Like Me to Write for You?

If you have been reading my blog on Steemit, you know that I am writing about a wide range of topics.
I like to write Travel posts showing hotels and restaurants I am going to.
I like to write Fitness posts showing my efforts in weight loss.
I like to write Healthy Food posts showing my smoothies and juices.
I also like to write about cryptocurrencies and Steemit.
I am planning to do altcoin reviews showing what coins can be nice to invest in because of their technology, team and potential to gain in value in the future.
Would this be of interest to you?
I am also planning to continue short tutorials to explain in simple language about Steem and review simple tools and apps for Steem.
Any particular thing about Steem you would like me to explain in a post? 
I also want to continue doing technical analysis for trading crypto, I know there are many other popular authors that write about this, but I can give maybe a new angle to it as I am learning trading crypto every day.
Any interest?
I can also write about Internet marketing, Facebook marketing, Facebook ads and Internet marketing tools.
Just name a topic and I can share my experience with you.
Finally, I can write about self-development and motivation, productivity, setting goals and habits, these kinds of things, if you would like me to.
I have several ideas of posts and tutorials in store that I will write soon, but learning about what would be useful for you would give me more ideas about exactly what you need to read.
I hope that you enjoyed this short post and I am awaiting your feedback in the comments.
Would you upvote this post and follow me for more because this will encourage me to write more posts like this one?
Would you please help @jerrybanfield become a top 20 witness because you can help funding projects to build Steem as explained here? Vote for jerrybanfield as a witness or set jerrybanfield as a proxy to handle all witness votes at https://steemit.com/~witnesses. Read the 5 reasons why I'm voting for Jerry Banfield as a witness and how to vote in my post.
Michel Gerard