I Finally Got my Voting Power Back!
Getting my voting power back to 100% has been quite challenging, especially because I like to upvote people who comment on my blog posts and like to support Steemit authors.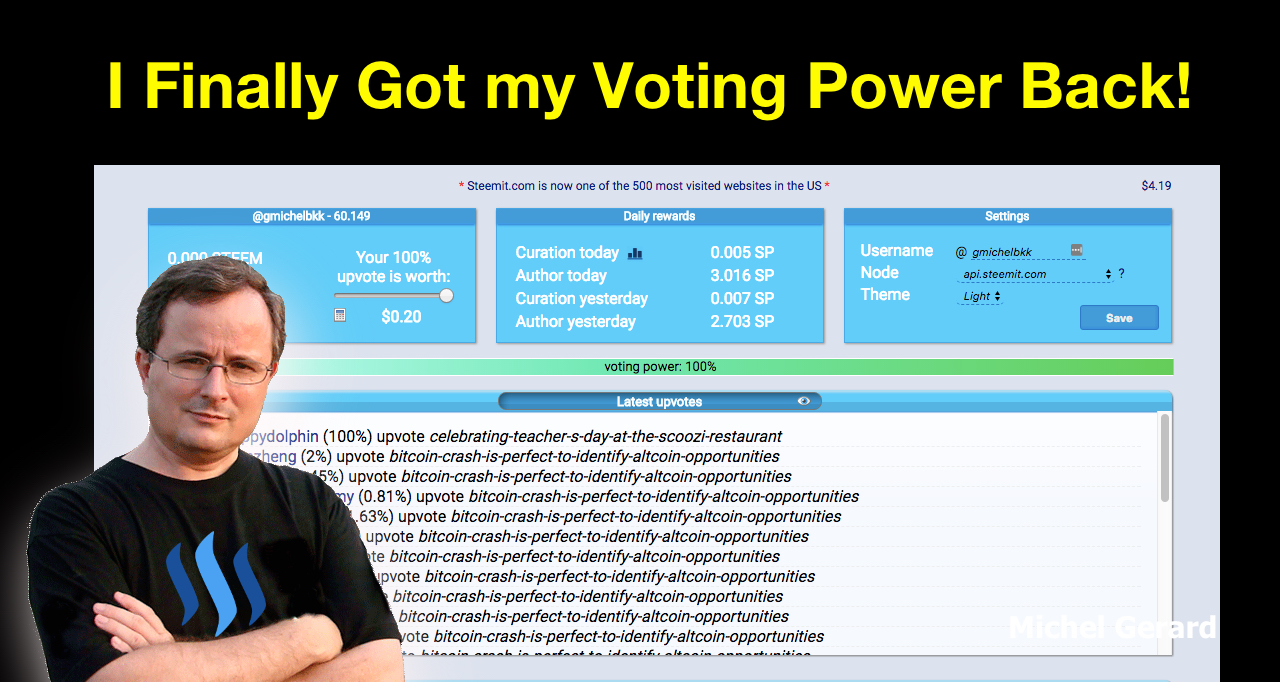 I started to have my voting power decline rapidly after I delegated most of my Steem Power with only around 100 SP left, which was at about 53% voting power.
I Finally Got my Voting Power Back!

Having your voting power back to 100% is very difficult when you have little Steem Power and when you do not monitor it regularly. The first tool that helped me be conscious of the issue I had with my voting power was Steemnow.com.
I wrote this blog post about this tool: How to Monitor your Steem Power, Voting Power, Rewards and Upvotes.
At the time of writing the article 3 weeks ago my voting power was at 53% and 56 hours were needed to recharge completely.

Considering that I was upvoting 20 plus authors from 25% to 100% vote weight, and upvoting every comment on my blog post at 100% because I didn't have the slider, I was lost for a solution.
Looking at Steemnow.com I saw that it was not going to improve unless I reduced my vote weight in my auto-voter. It's what I did as a first step and unfortunately I was not able to offer much rewards as the votes were at $0 for a while, which was not ideal. As a second measure I started not to upvote comments from bots and multiple comments in a thread, which had only a few words. That did help.
Then, on the 31 December 2017, I bought a 550 SP delegation of Steem Power for 90 days from BlockTrades.us and I had to wait 14 days to get it as it is in high demand.
I got this delegation 4 days ago, in fact, and I was able to set people at about 10% to 25% vote weight in the auto-voter, and able to use the slider when upvoting comments, which at 10% was giving a 2 or 3 cents upvote.
After a couple of days, I saw that this was going in the right direction, my voting power was increasing and the time to recharge reducing, with giving everyone some rewards, which is so much better than giving $0 upvotes.
I am now at 100% and so glad that it is because one full upvote is worth so much more. Now, what I'm going to do is to increase a bit my vote weight in the auto-voter and see if I can maintain that.

Steemnow.com will be useful again to tell me if I am to generous with my votes risking a downfall in voting power again.
The lesson I learn with this is that it is better to monitor your voting power closely, especially when you have less than a hundred SP, especially when you do not have this vote weight slider that can help divide the rewards you want to give better.
I hope that you have found this post useful and that you will give steemnow.com a try.
Would you upvote this post and follow me for more because this will encourage me to write more posts like this one?
Would you please help @jerrybanfield become a top 20 witness because you can help funding projects to build Steem as explained here? Vote for jerrybanfield as a witness or set jerrybanfield as a proxy to handle all witness votes at https://steemit.com/~witnesses. Read the 5 reasons why I'm voting for Jerry Banfield as a witness and how to vote in my post.
Michel Gerard