How to Monitor your Steem Power, Voting Power, Rewards and Upvotes.
Today I'd like to show you a tool that I have been using to see if my Steem Power is healthy, the rewards I get on my posts and comments, and also the upvotes with their vote weight.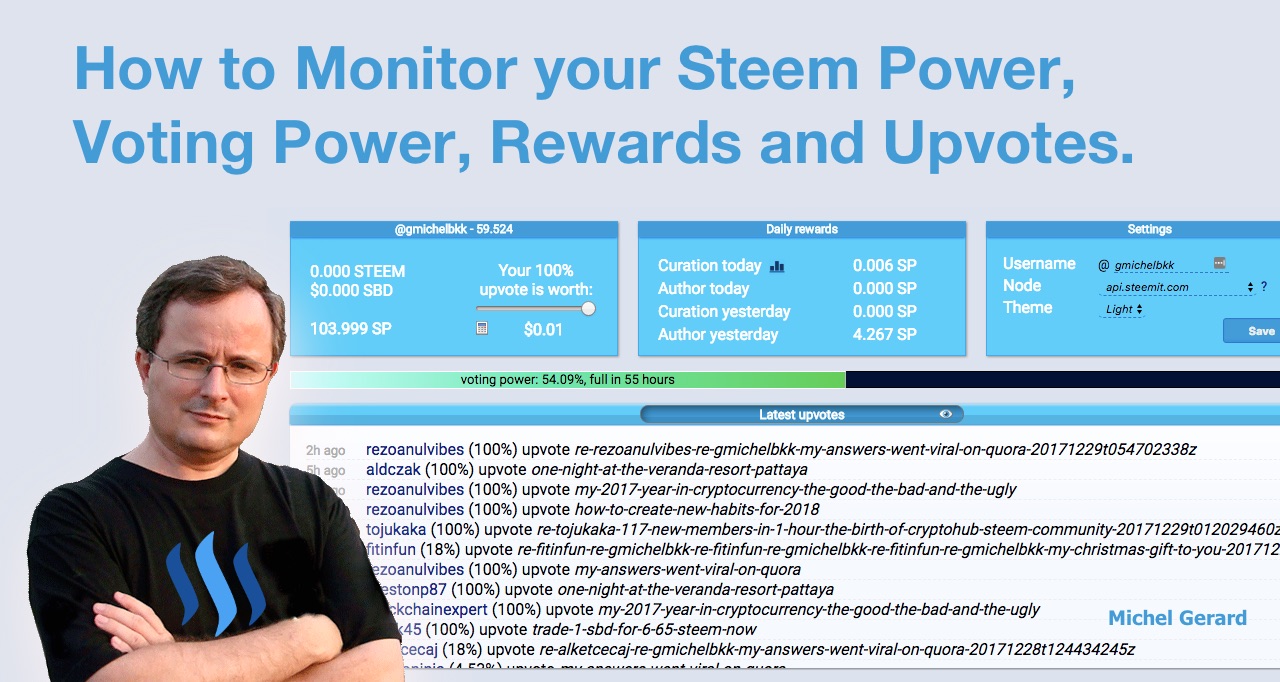 I have to credit @fitinfun for showing me steemnow.com by @penguinpablo because this is very useful.
How to Monitor your Steem Power, Voting Power, Rewards and Upvotes.

I have been using too much of my voting power lately because I am a generous person and I like to upvote people who comment on my posts, in addition of having authors I want to support in my auto-voter.
I have also delegated 2K plus of Steem Power, which left me with only 100 SP to use for myself. I will recover gradually more SP for myself and also continue to delegate more. 
The other day @fitinfun told me that my voting power was too low and she was right. Now my 100% vote is only worth $0.01 because my voting power is at 54%. 

If my voting power was at 100%, then my 100% vote would be worth $0.03 and that's a big difference. According to what steemnow.com says, my voting power will be full in 56 hours.
I really have been struggling just doing that. I already reduced my percent for upvotes and unless I just do not upvote any post and comments for 2 days, I don't know how it's going to get to 100%. Maybe the new year holiday will help do that!
Right now I have been upvoting posts at less than 34% and this means authors get a $0.00 upvote from me, which is not great.

I'm very sorry for that, but I'm working on both my Steem Power and voting power, using this tool to monitor my progress, so I can reward you better.
If you click on the little calculator icon, this shows a window where you can see what the value of your upvote would be with 100% voting power and 100% vote weight. For me it would be $0.03 as mentioned earlier.

You can change the percent values to see how this all works together.
The next section shows the upvotes on your posts and your comments with their vote weight.

You can scroll down and see what vote weight people are using. This might be useful if you want to return the favor to an author who is voting for you and you want to give back approximately the same amount.

There are very interesting values like 1.01% or 0.5%, and we, of course, prefer to see 100% upvotes, but keep in mind that a 1% upvote can be worth a lot more than a 100% upvote. I am very grateful for all upvotes, big or small.
You can also check the voting power and Steem Power your upvoters have when you click on the username.

That's definitely very useful.
In the next section of steemnow.com you can see your latest curation rewards.

Then you can see your latest author rewards for each post.

The last section can show your latest posts and the pending rewards for each of them.

If you select the option "Blog," you will be able to see a deeper history for your posts.

You can select the option "My Comments" to see what you earned for your comments. 

Finally, if you are curious, you can select "My feed" and see how others are doing.

I hope you have found this post useful and that you will give steemnow.com a try.
Would you upvote this post and follow me for more because this will encourage me to write more posts like this one?
Michel Gerard