How to Create a Project on Fundition.io and Receive Donations!
Would you like to learn how to create a project on Fundition.io to receive donations using the Steem blockchain because this might be useful for you if you want to fund a Steem project or a business startup, receive personal financial help or give to charity?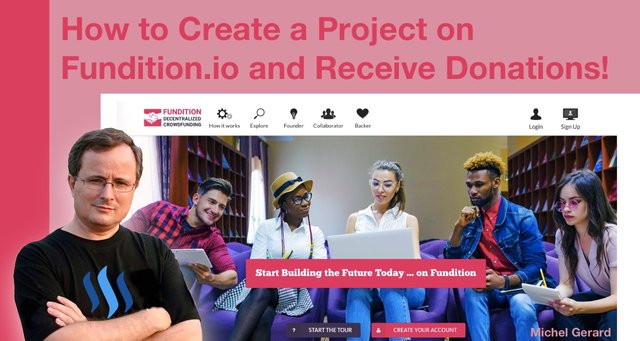 Fundition.io is a new decentralized crowdfunding platform using the Steem blockchain where you can post a project that you want funded or donate for projects. You can find them on Steemit here: @fundition
In this blog post I will show you how I created my first project step by step because after you have seen how it's done, you will be able to post your own.
I learned of Fundition.io from @jerrybanfield in this post: All In On Fundition.io + Budget Proposals Ending + Bot Delegator Payouts Increasing to ~110%!
I encourage you to read my previous post about Fundition.io first because it explains how to log in using SteemConnect, shows the different categories for projects and how people can make donations: How to Make a Donation on Fundition.io to Fund a Steem Project!
I was encouraged and inspired to write more about this new platform, so here is my second tutorial.
How to Create a Project on Fundition.io and Receive Donations!
As I want to write this tutorial for you, I am asking myself, "What kind of project am I going to post?" because I do not have something I have previously thought of.
I could ask some money for a nice dinner on my birthday, which happens to be today, 28 May, and which also was the day I posted my introduction post here on Steemit: Joining Steemit on my Birthday!
I fear all the downvotes I will get if I do that, so I'm going to do something else.
After thinking about it, I'm going to create a project, which will give back all donations to other founders of projects on Fundition.io.
Let's go to https://fundition.io together and see how to create a new project.
After you have logged in, click on the "New project" button.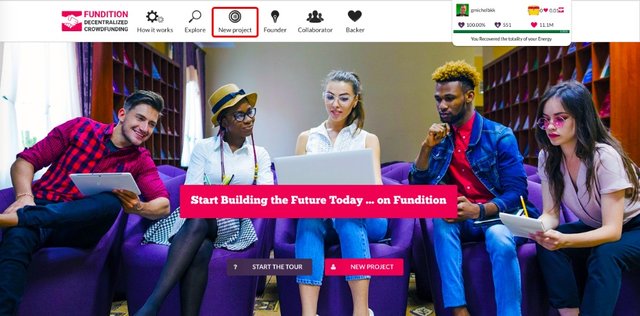 You will go to this page, which is the first step of six.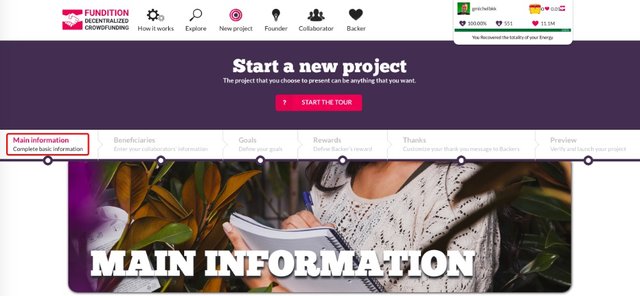 If you want, you can click on the red "Start the tour" button to have some insight of what the different sections are.

Step 1: More information
The first section is "Main information" and what you have to do is write a well thought-out project description.
Before that, you have to select a language and 3 tags from a menu.
Then, you can type your title.
My title is "Funding 5 Projects on Fundition.io!"
My 3 tags are "Steem & Steemit, Technology, Coding."
Now, it's time for the description and just like on Steemit, you can use the editor for your text, add photos or videos and links.
At the right, Fundition.io is giving you a few tips to write your description the best you can.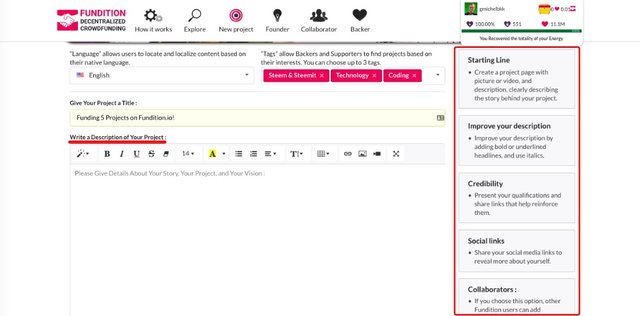 I am going to write mine now.
As you can see, you can add images and links as you would normally do on Steemit.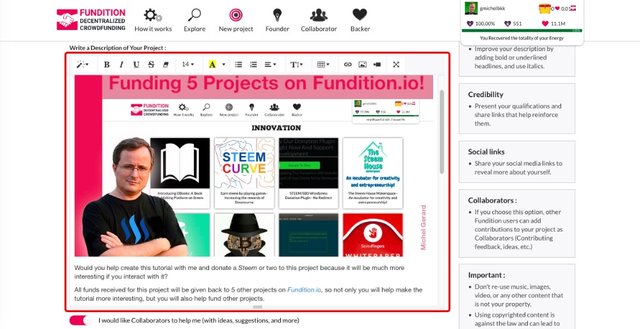 After your description is finished, you can congratulate yourself, because this is what will give you the most work on Fundition.io.
There is one last part in this first section.
First, you can enable "I would like Collaborators to help me" and this is what they say about this option.
Collaborators : If you choose this option, other Fundition users can add contributions to your project as Collaborators (Contributing feedback, ideas, etc.)
Second, enter your social links.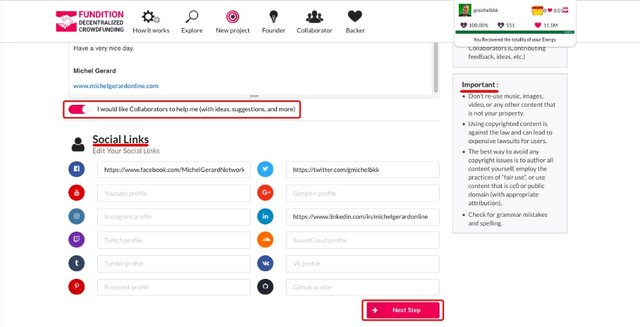 There is an "Important" note at the right that I also encourage you to read.
Now that the "Main information" is completed, you can click "Next Step."
Step 2: Beneficiaries
The next step is to select your beneficiaries if any. As the creator of the project, you are the "Founder" and by default you receive all proceeds for the project.
You may want to choose one or several "Beneficiaries" to receive a percentage of the Steem proceeds on the project. They might be someone working on the project with you, or you may give back a small percentage to @fundition, which is not required.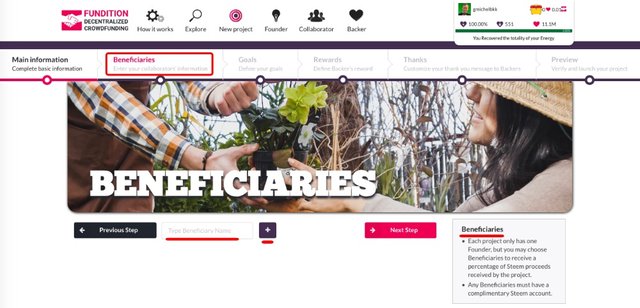 You have to enter each beneficiaries one by one, and you should read the note at the right.
I am going to add 5 beneficiaries who are people with projects in the "Innovation" category of Fundition.io: @steemcurve, @ojebaba, @yonilkar, @steem-plus and @justinadams.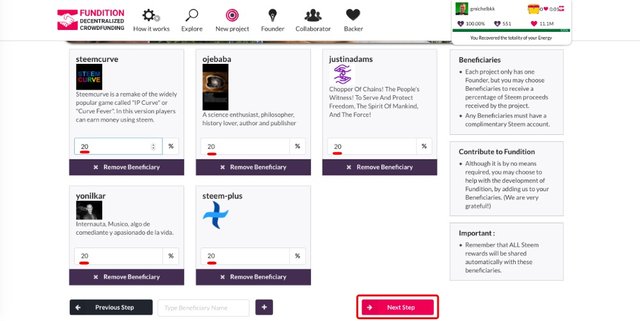 As you can see, I gave them 20% each, which makes a total of 100%, and I should not receive anything from the Steem proceeds of this project.
If you have only one beneficiary and give them 50%, as the founder of the project, you will receive the other 50%.
This is what they explain for that section:
Beneficiaries

Each project only has one Founder, but you may choose Beneficiaries to receive a percentage of Steem proceeds received by the project.
Any Beneficiaries must have a complimentary Steem account.

Contribute to Fundition

Although it is by no means required, you may choose to help with the development of Fundition, by adding us to your Beneficiaries. (We are very grateful!)

Important :

Remember that ALL Steem rewards will be shared automatically with these beneficiaries.
The last point is important to know because all Steem rewards for the project will also be shared with beneficiaries.
When you are done with your beneficiaries, you can click "Next Step."
Step 3: Goals
This section is where you set your goals for the project.
Click "Add Goal."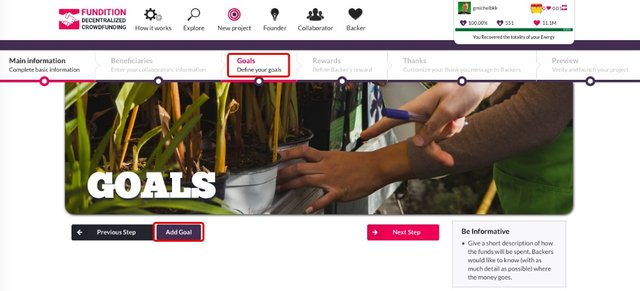 This window shows up and you can enter a title, description and amount for your goal.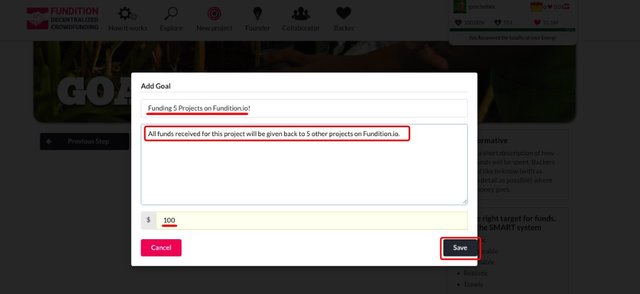 When it's done, click on "Save."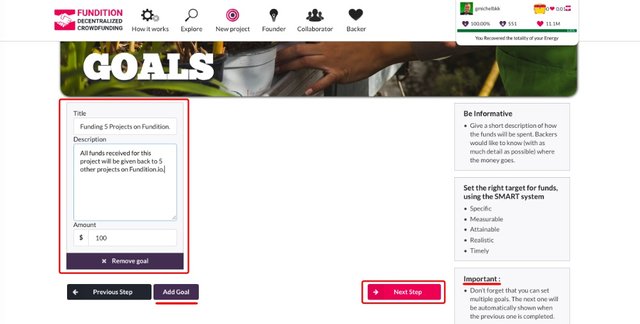 You can set only one goal like I did or several goals.
Important :

Don't forget that you can set multiple goals. The next one will be automatically shown when the previous one is completed.
When you are done with your goals, you can click "Next Step."
Step 4: Rewards
You may want to give rewards to users giving a certain amount to your project, and it's what this section is for.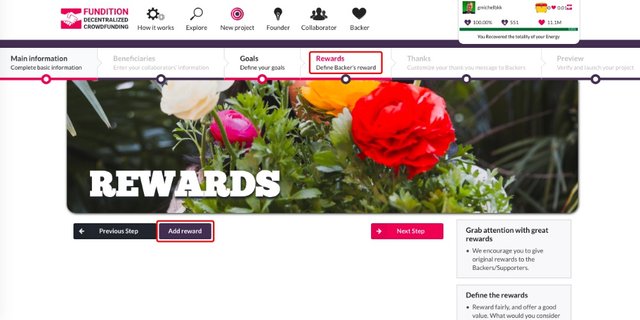 Click "Add reward" and on the next screen, enter a title and a description.
In my example, the reward will be given to people donating $1 to the project.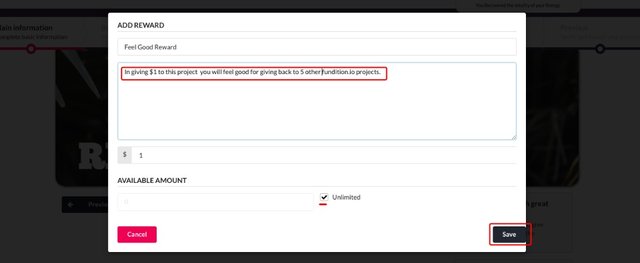 You can give an unlimited number of rewards or set a fix number there.
Click on "Save."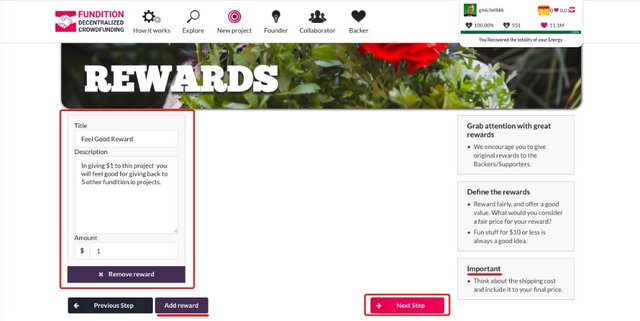 You can see your reward on the next page, and you can set several other rewards if you wish to.
Notice what they suggest:
Grab attention with great rewards

We encourage you to give original rewards to the Backers/Supporters.

Define the rewards

Reward fairly, and offer a good value. What would you consider a fair price for your reward?
Fun stuff for $10 or less is always a good idea.

Important

Think about the shipping cost and include it to your final price.
When you are done with your rewards, you can click "Next Step."
Step 5: Thanks
This is the section where you can say thank you to people who donated to your project.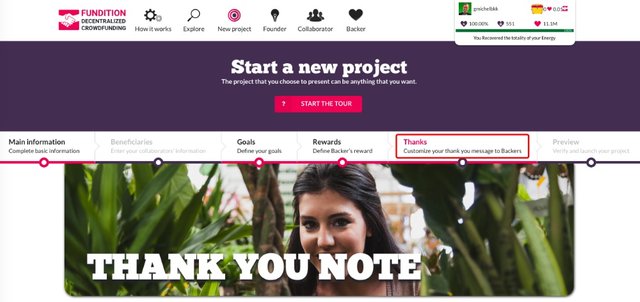 Enter your thank you note in the editor.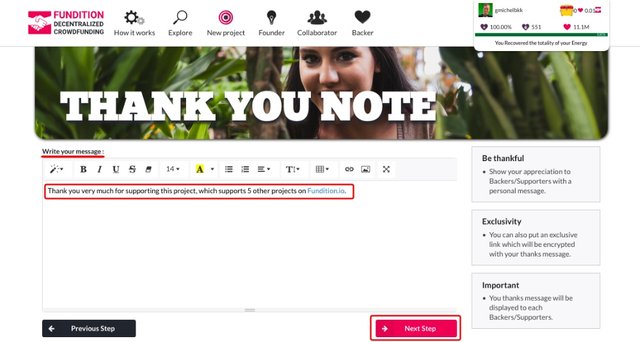 When it's done, then you can click "Next Step."
Step 6: Preview
The last step is a preview of your project.
You can see how the project will look like.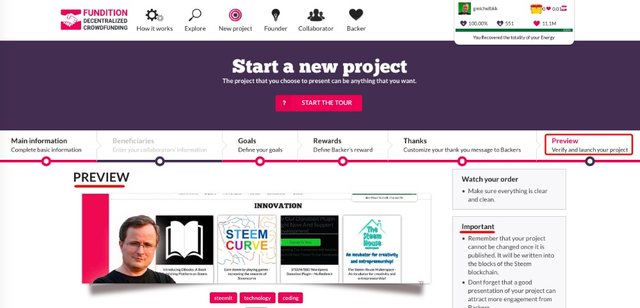 You can preview your "Description."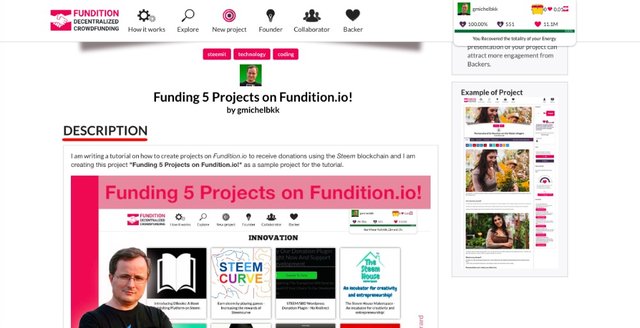 You can see how your "Goals" and "Rewards" will look like.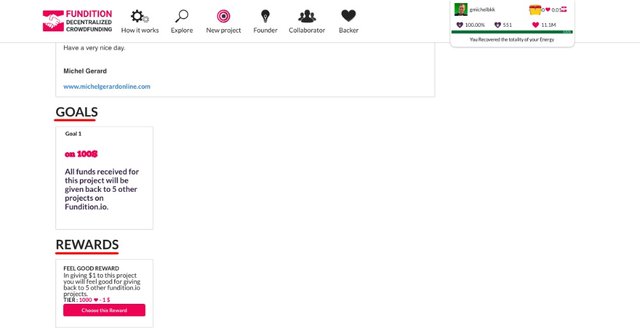 You can preview your "Beneficiaries" and your "Thank You Message."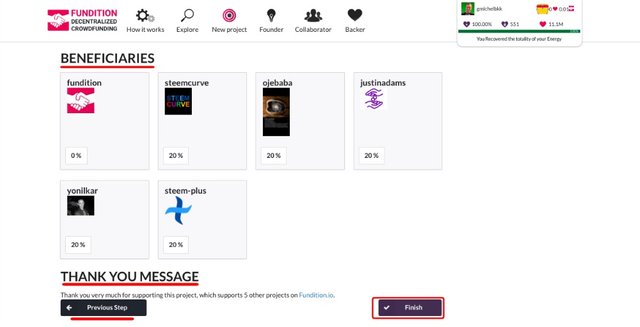 If for any reason you want to change something, then you can use the "Previous Step" button and if you are satisfied, then you can hit the "Finish" button.
Read this important note from Fundition.io:
Important

Remember that your project cannot be changed once it is published. It will be written into the blocks of the Steem blockchain.
Dont forget that a good presentation of your project can attract more engagement from Backers.
Your project on Fundition.io
As soon as you hit the "Finish" button you will see a big heart!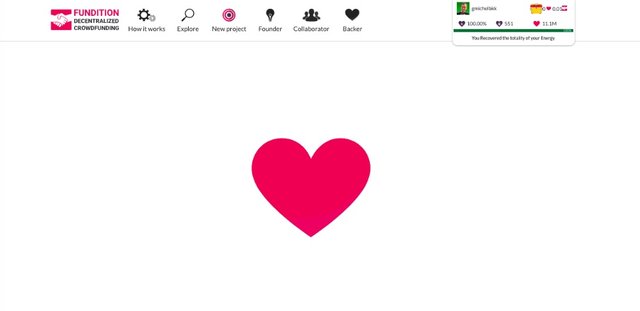 Then, your beautiful project will show.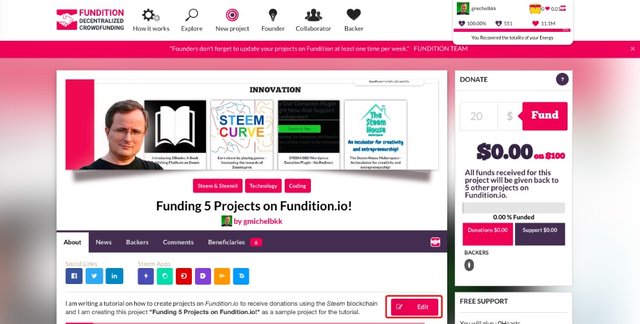 Note that you can still edit your project, until the rewards are paid 7 days later, I believe.
Your project on Steemit
At the same time, your project is showing on your Steemit blog like this.
A custom thumbnail was created by Fundition.io for your project.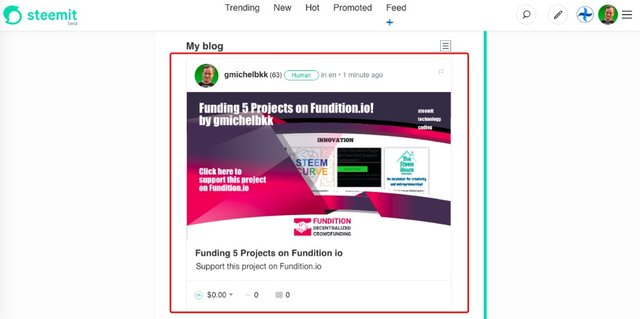 When you click on the post, you see an image with one line saying: "Support this project on Fundition.io"
Remember that you selected 3 tags to create your project on Fundition.io and two more have been added automatically "en" and "myfundition."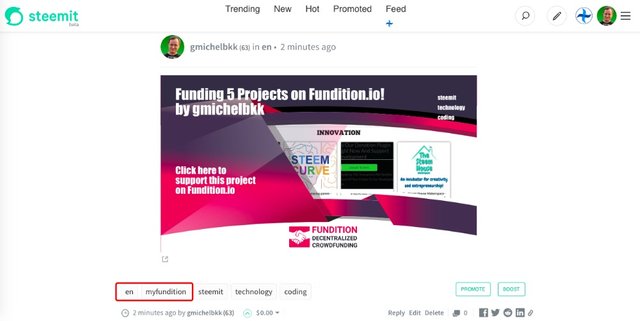 I think that this is too little content showing up on Steemit, and I really expected to see the "Description" of my project, which is under the "About" tab, in there. Maybe this is something @fundition is considering to add in the near future.
In the mean time, I clicked the "Edit" button on Steemit and I copied and pasted my description below the original one, so readers can have all the information before going to the project here: https://fundition.io/#!/@gmichelbkk/v2x2ey2vd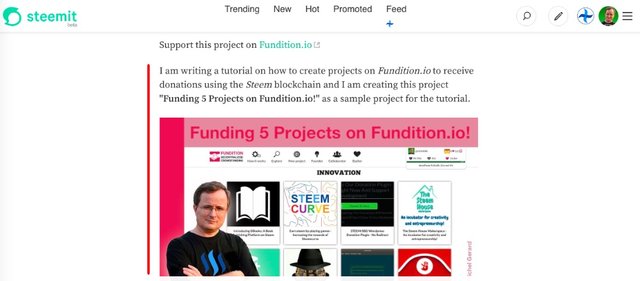 See my project on Steemit: https://steemit.com/en/@gmichelbkk/v2x2ey2vd
Updating "About" and "News" on Fundition.io
As you come back to check out your project and maybe do some updates, you will notice that the project has already earned from people upvoting the post.
This project has already earned $3.63 in rewards, thanks to the 49 users that have upvoted the post in the first 40 minutes.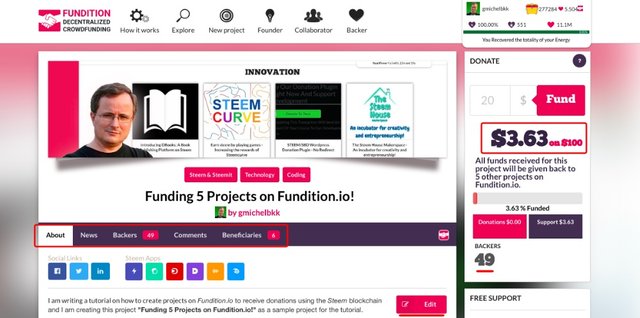 You can have a quick look at all the tabs in your project to see if everything is in order.
I believe that you have seven days to edit the "About" section, just like a post on Steemit.
The second tab is for "News."
It's where you can post updates about your project and this will also make a new post on Steemit.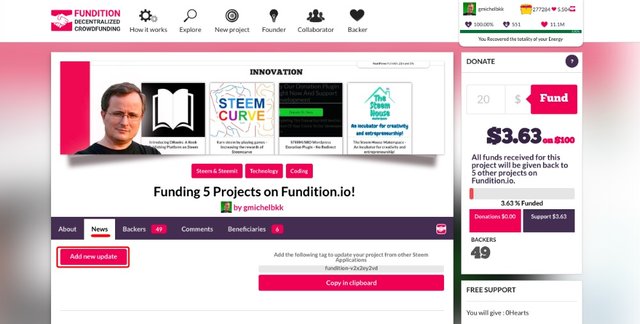 Click on "Add new update" to publish a "News" item.
This page will show and this time you only have 2 steps: "Main information" and "Preview."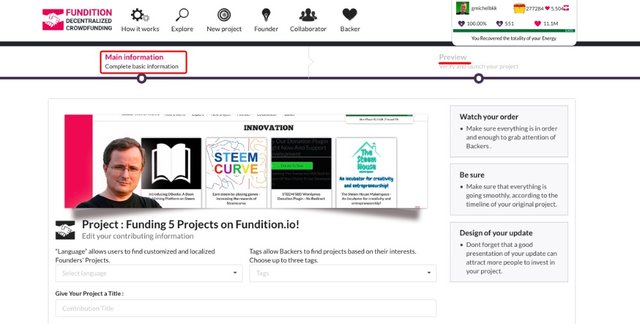 I am not going to do it now because this will make a new post on my Steemit blog, which I do not want, but the process is the same as creating the project.
Let's see a "News" item from another project.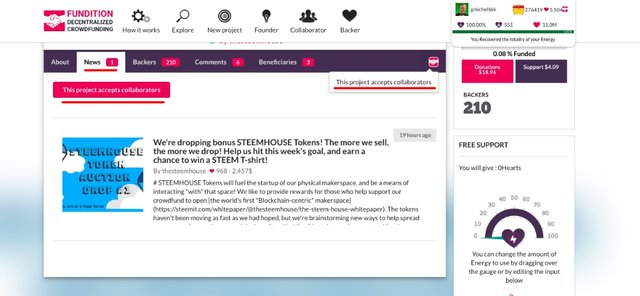 This project has one news and if you click on it, you will see the post.
Notice this button: "This project accepts collaborators"
This means that anyone can collaborate a post to the project like this.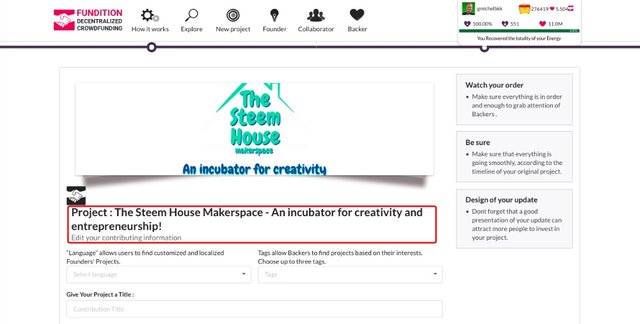 The post will be published on your Steemit blog and show up as a "News" item here.
At the beginning of this tutorial I showed you how to enable this option.
This is how you see a "News" item in Fundition.io.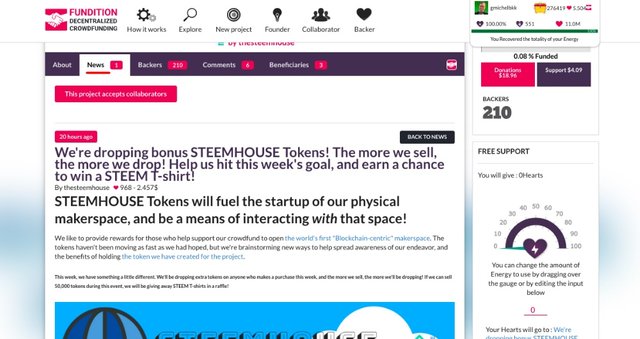 Backers, Comments and Beneficiaries
On the "Backers" tab you can see all the people who have contributed to your project and I have now a total of 57 Backers who upvoted the post, giving $3.73 out of the $100 requested.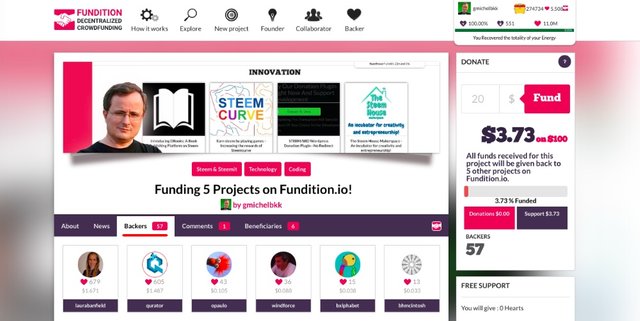 The next tab is for "Comments" that have been made on Fundition.io or on Steemit.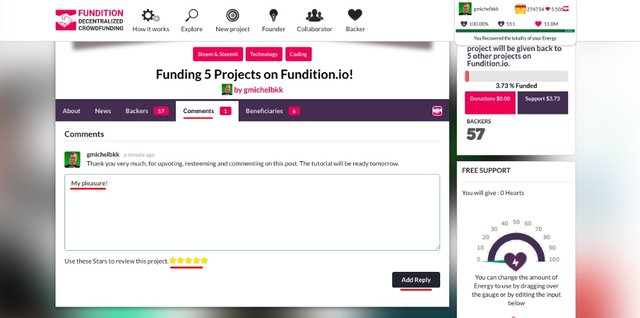 Users can reply to comments on Fundition.io and give a rating.
The same comments will show on Fundition.io and Steemit.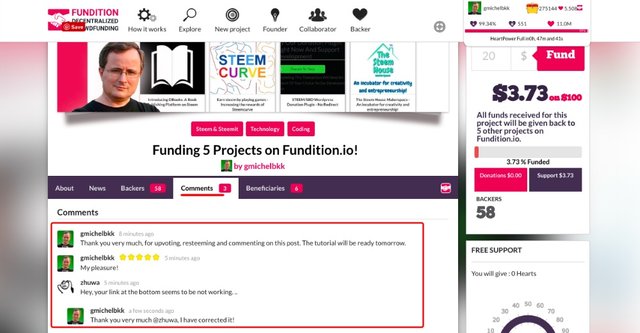 On the last tab, you can see the "Beneficiaries."
Remember that I set up 5 beneficiaries at 20% and the sixth one is for @fundition with 0%, which shows by default in this section.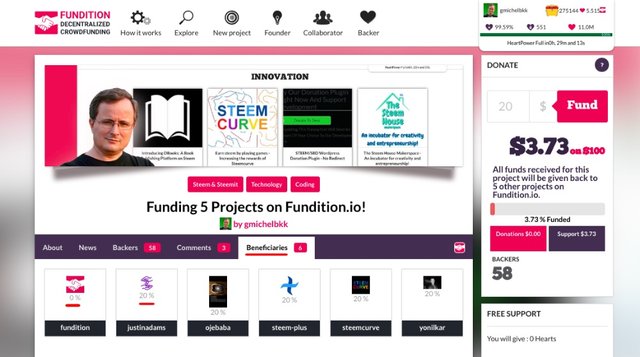 That's all for the 5 tabs you have in your project.
Donations or Support?
Now you may want to know where the money came from, donations or upvotes?
At the right, the "Donate" widget shows an amount for "Donations" and "Support."
"Support" is what you got with upvotes and it's how I got the $3.71.
This project got nothing in donations yet.
Update!
The project got its first donation of $43.229, which is 20 STEEM, thanks to @jerrybanfield.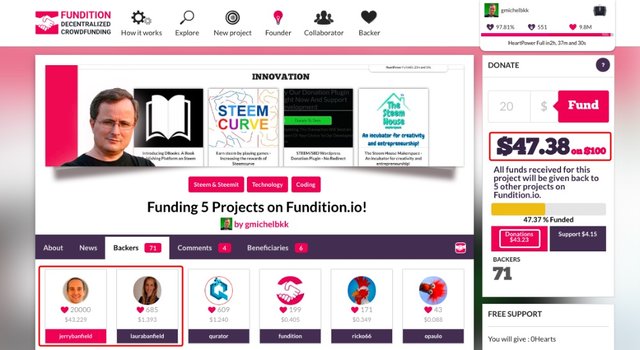 Users making donations will show in pink under the "Backers" tab, while those supporting with votes show in purple.
Even though I set up 5 beneficiaries, I received the whole donation into my wallet. Maybe the beneficiaries only receive a share of the Steem rewards.

I have redistributed these 20 STEEM between the five projects.

Just by giving this Steem back to those 5 projects I made it third in the HeartLeaderBoard.
I challenge you to make the Top Ten in that leader board!
This concludes my tutorial on how to create projects on Fundition.io and receive donations, and I hope this is useful for you.
I encourage you to try it, if funding your own project is what you are looking for.
Would you upvote this post and follow me for more because this will encourage me to write more Steem tool posts like this one?
Would you please help @jerrybanfield become a top 10 Witness because you can help funding projects to build Steem as explained here? Vote for jerrybanfield as a witness or set jerrybanfield as a proxy to handle all witness votes at https://steemit.com/~witnesses. Read the 5 reasons why I'm voting for Jerry Banfield as a witness and how to vote in my post. You may be interested to read: What is a Steem Witness, How to Vote and Why?
Michel Gerard