How to Make a Donation on Fundition.io to Fund a Steem Project!
Would you like to learn how to make a donation to fund a Steem project using Fundition.io because this is the easiest way to give back to the Steem community?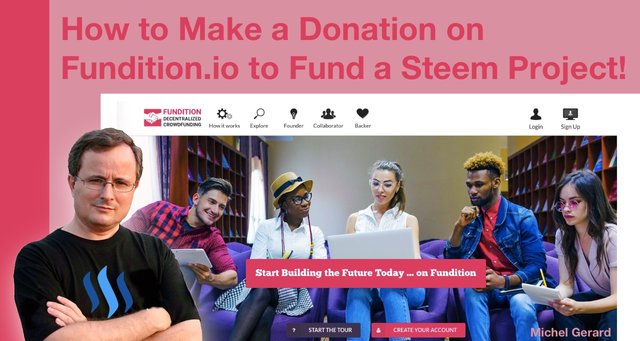 Fundition.io is a new decentralized crowdfunding platform using the Steem blockchain where you can post a project that you want funded or donate for projects. In this blog post I will show you how I made my first donation because I believe that after you understand how it's done, it will be easy for you to do it yourself and donate whatever small amount you are comfortable and feel good about giving.
I learned of Fundition.io from @jerrybanfield in this post: All In On Fundition.io + Budget Proposals Ending + Bot Delegator Payouts Increasing to ~110%!
You can find them on Steemit here: @fundition
How to Make a Donation on Fundition.io to Fund a Steem Project!
In my introduction I talked about donating to fund Steem projects because it is what I am interested in funding, but there are also other categories.
Let's visit https://fundition.io together.
Click the "Explore" tab to see the categories and projects.
The first category is "Innovation."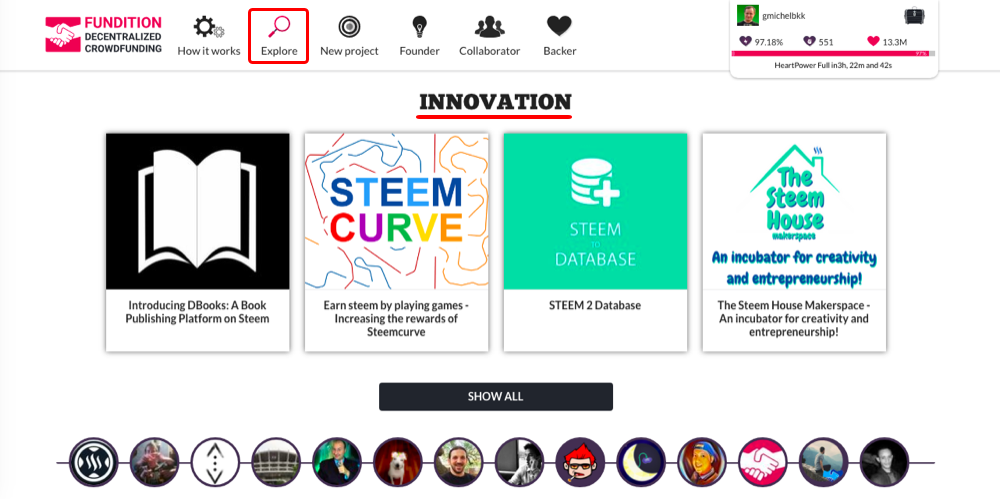 The second category is "Charity."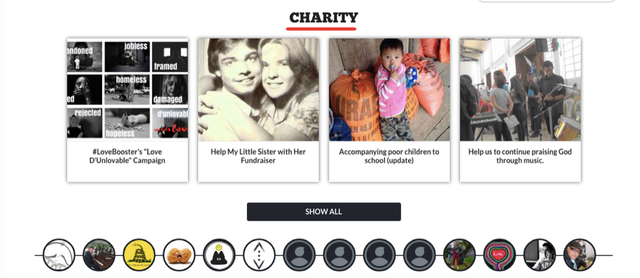 The third category is "Education & Art."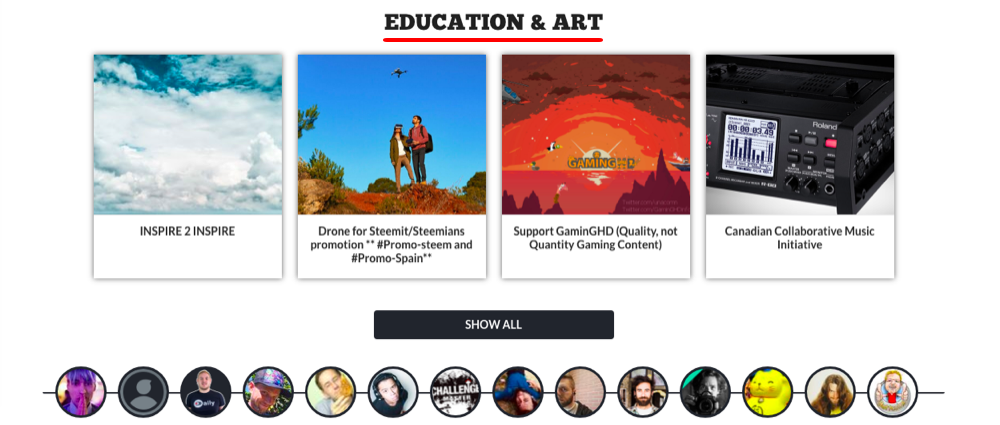 The fourth category is "Personal Cause."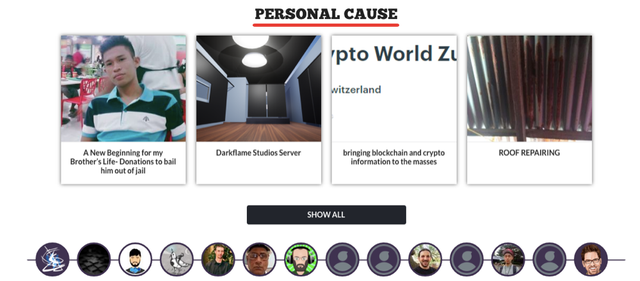 The last category is "Successful Projects."

Now, if you want to donate, you have to log in using your Steem account. I assume that you already have a Steem account in this post and I am showing you my first donation using my Steem wallet.
How to login in Fundition.io
Fundition.io uses SteemConnect to log you in, so it is easy and secure.
Click on the "Login" button.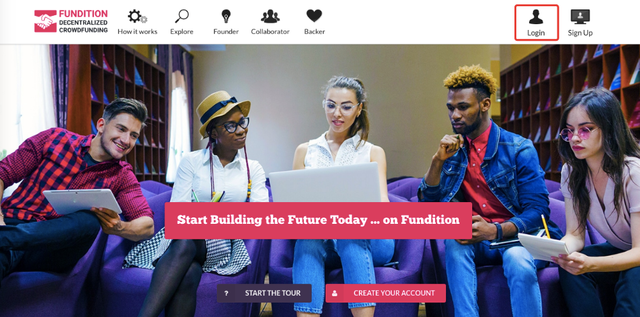 You will be directed to SteemConnect and this is a 3-step process.
First, it says what authorization you give to the app "Fundition" and you have to click "Continue."
Second, it should show your account, click on it.
Last, enter your Steem username and active key.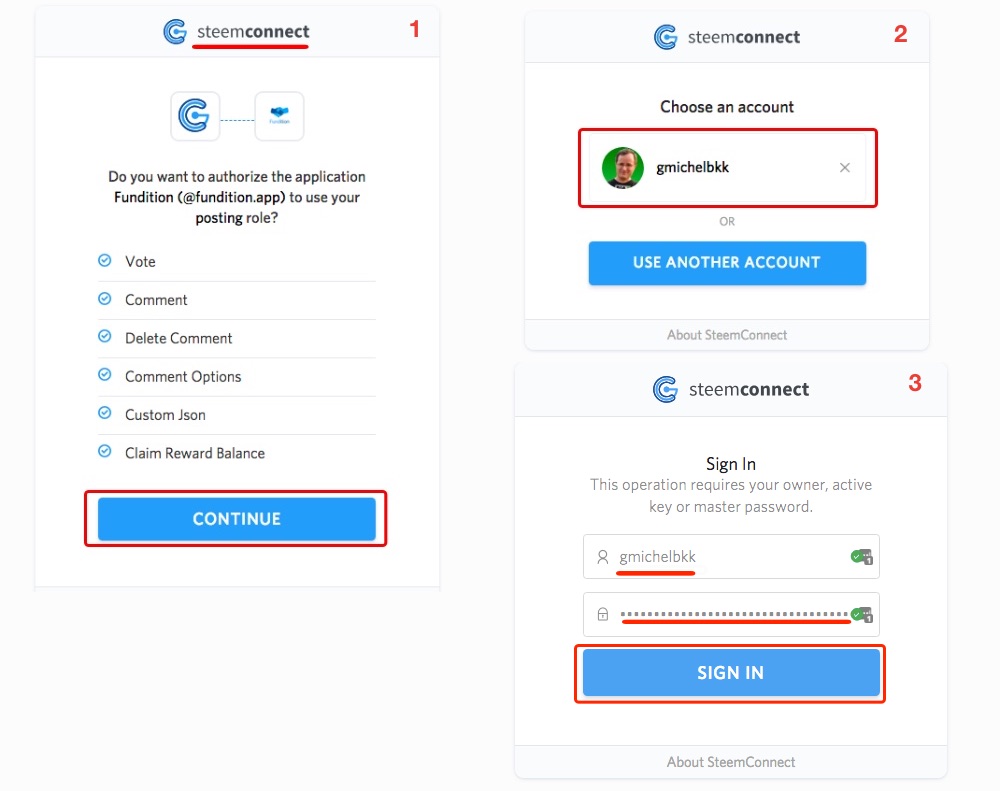 Click "Sign In" and you will be logged in.
You will see your profile image, your Steem Power and voting power.

Now you can select the project you want to fund.
How to fund a project in Fundition.io
I selected this "STEEM/SBD Wordpress Donation Plugin - No Redirect" project because we need more plugins to integrate Steem into WordPress.

When you click on the project you go directly to the project's page where at a first glance you can see different tabs with info, the amount already collected in US Dollars and the amount requested, also in US Dollars.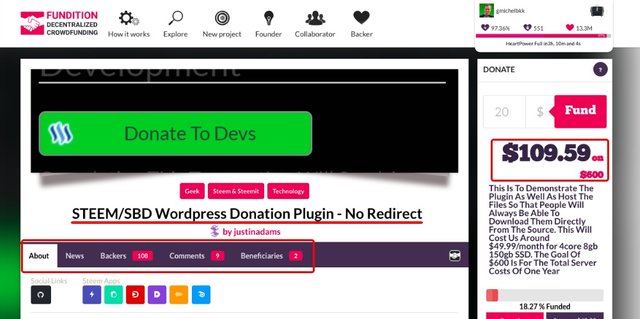 The first tab is "About" and it's what you have to read in order to see if it is really the project you want to donate to.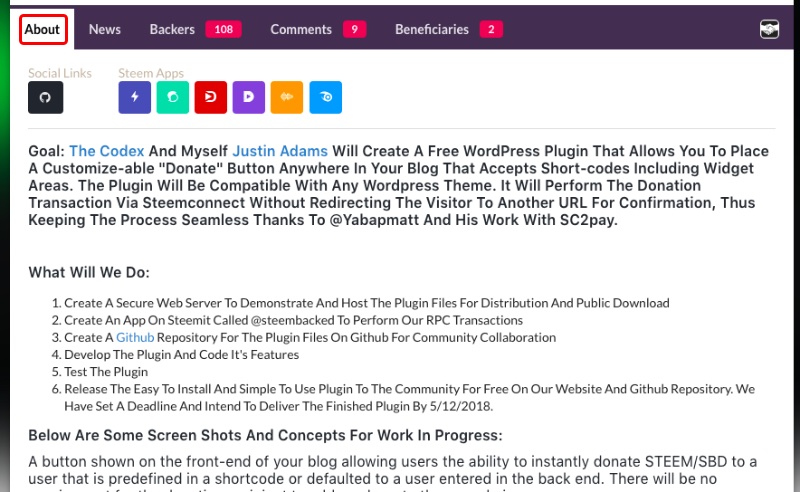 Then you have a "News" and "Backers" tab.
"Backers" are people like you and me who already donated to the project.

Finally, you have the "Comments" and "Beneficiaries" tab.

When you are ready to fund the project, you can click the "Fund" button at the right, or select a "Rewards," which has a minimum amount to donate attached to it. The amount shown is actually STEEM, not $USD.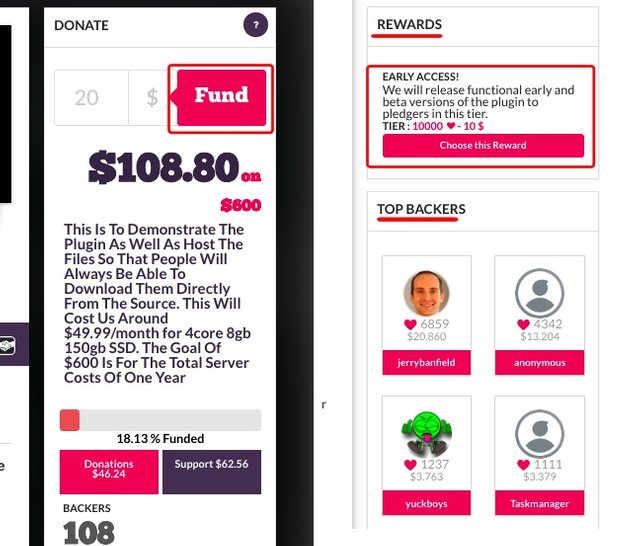 Notice that you also see the "Top Backers" of the project there.
This is what you see on the next screen when you select the "Reward."
Select "Steem Wallet."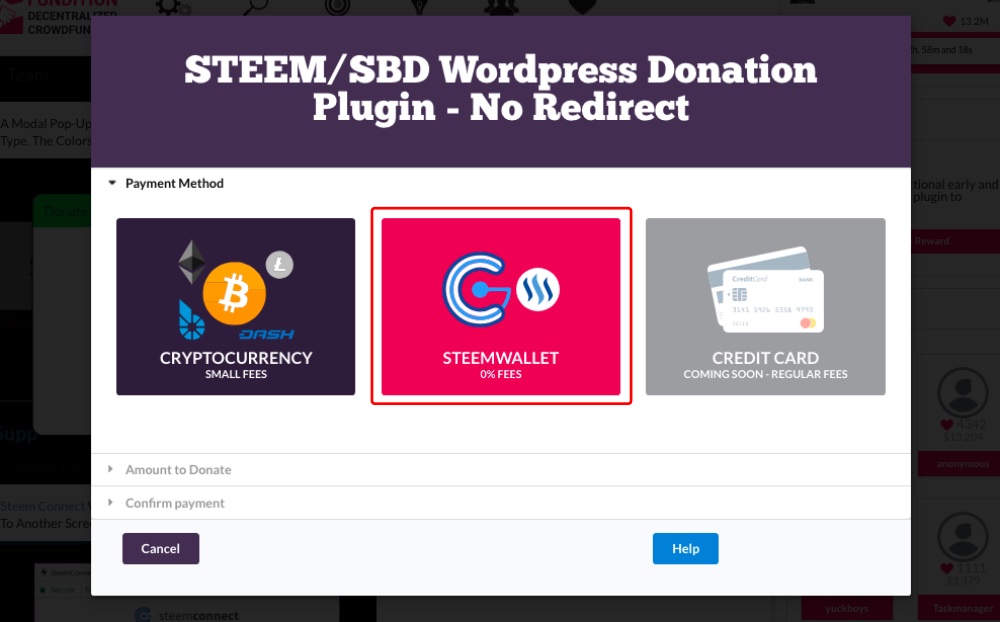 Then, it will show this screen already populated with 10 STEEM, which has a value of $30.413 USD.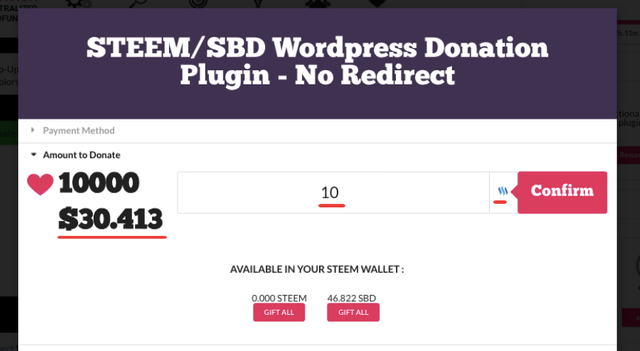 I was a bit confused by that, because I thought that the Reward was $10 USD, not 10 STEEM, so I cancelled and instead, I used the "Fund" button without entering any value.
The same screen is showing and I selected "Steem Wallet" the same.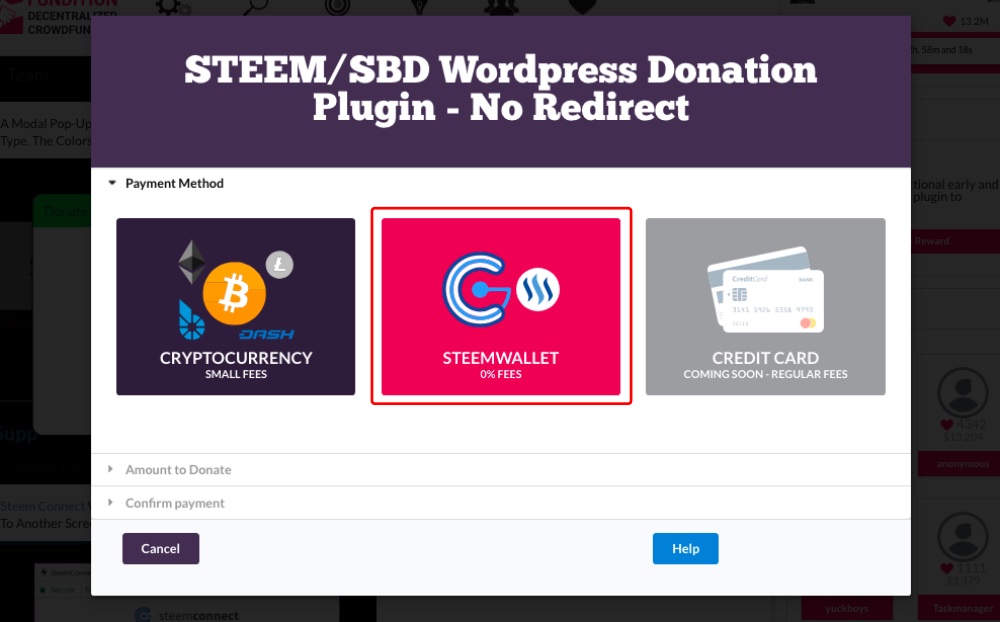 Then, I entered 3 STEEM in the "Amount to Donate" screen, which is $9.124 USD.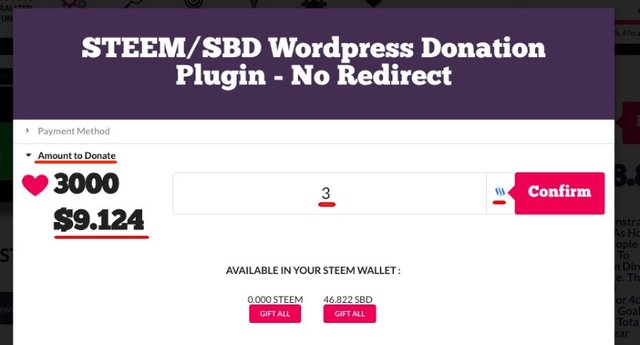 After clicking "Confirm," you are presented with a choice of currency: Steem or Steem Dollars.
I chose Steem Dollars and it calculated 4.110 SBD as equivalent to 3 STEEM.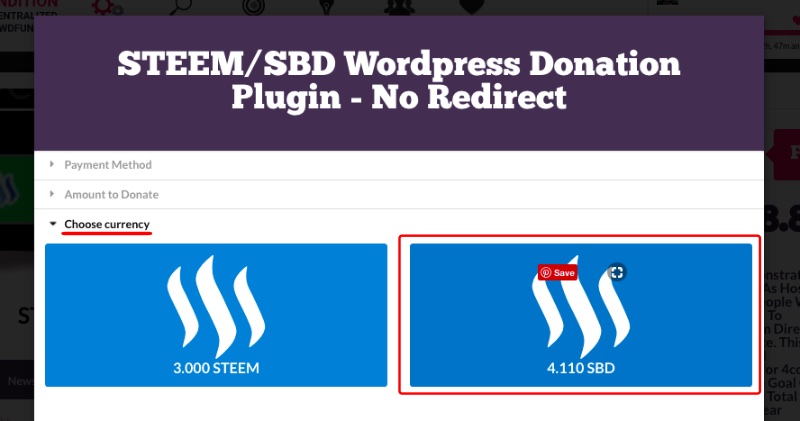 The last screen is the "Confirm payment" where you have to enter your Steem username and your email address.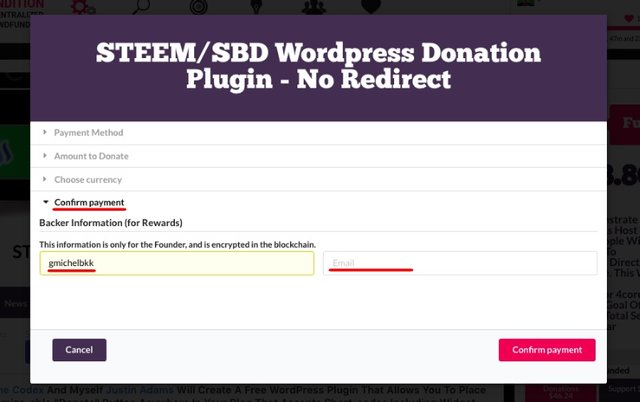 Finally, you can click the "Confirm payment" button.
It's using SteemConnect again for the transaction, which is another 3-step process.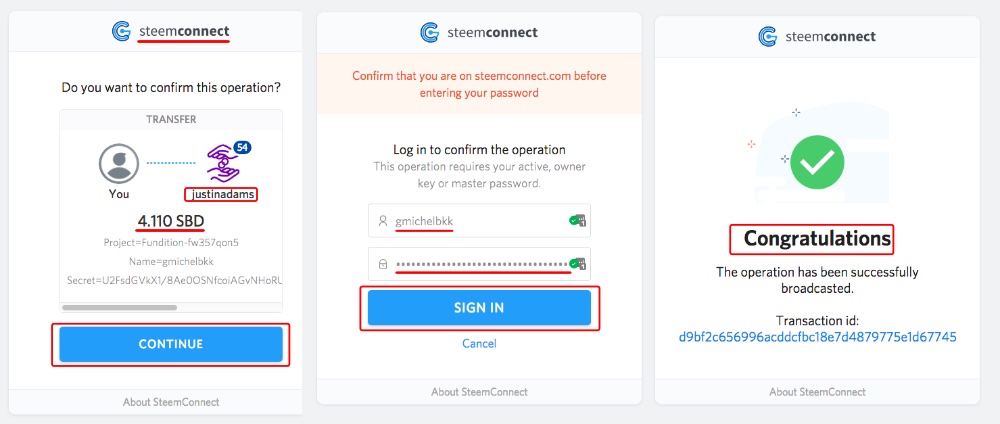 Just click "Continue," enter your user name and active key in the next screen, click "Sign In" and you will get the "Congratulations" message.
When you see the "Congratulations" message, you can double check the transaction in your wallet.

If you refresh the page on Fundition.io, you will now see that the amount has been incremented and you may also appear as a "Top backers."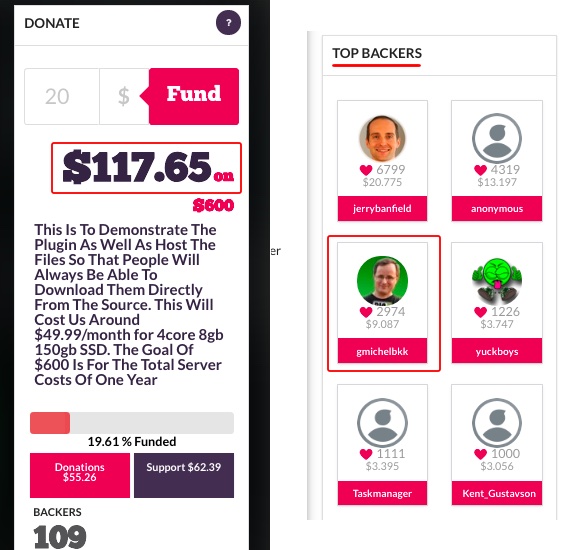 You can also check the "Backers" tab to see if you show up there.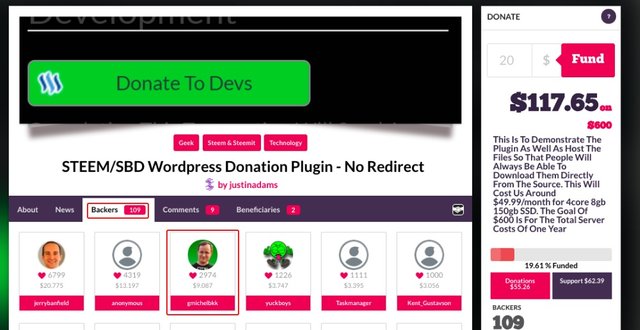 The last thing I want to show you is your profile on Fundition.io.
You can access it when clicking on your small icon at the top of the website.

This is how your profile looks like and it will show the projects you donated to.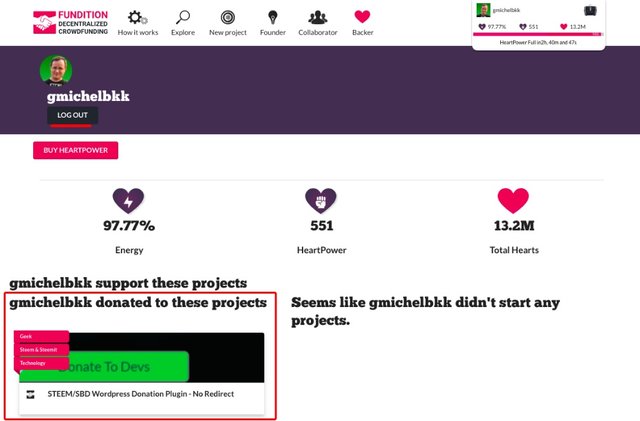 I hope that this tutorial on how to fund a Steem project using Fundition.io is useful for you and I encourage you to try it right away, giving one STEEM or two.
Would you upvote this post and follow me for more because this will encourage me to write more Steem tool posts like this one?
Would you please help @jerrybanfield become a top 10 Witness because you can help funding projects to build Steem as explained here? Vote for jerrybanfield as a witness or set jerrybanfield as a proxy to handle all witness votes at https://steemit.com/~witnesses. Read the 5 reasons why I'm voting for Jerry Banfield as a witness and how to vote in my post. You may be interested to read: What is a Steem Witness, How to Vote and Why?
Michel Gerard