Delegations, Followers and Mentions with SteemWorld.org
Would you like to see how I check my delegations, recents followers and mentions using SteemWorld.org because this tool might be as useful for you as it is for me?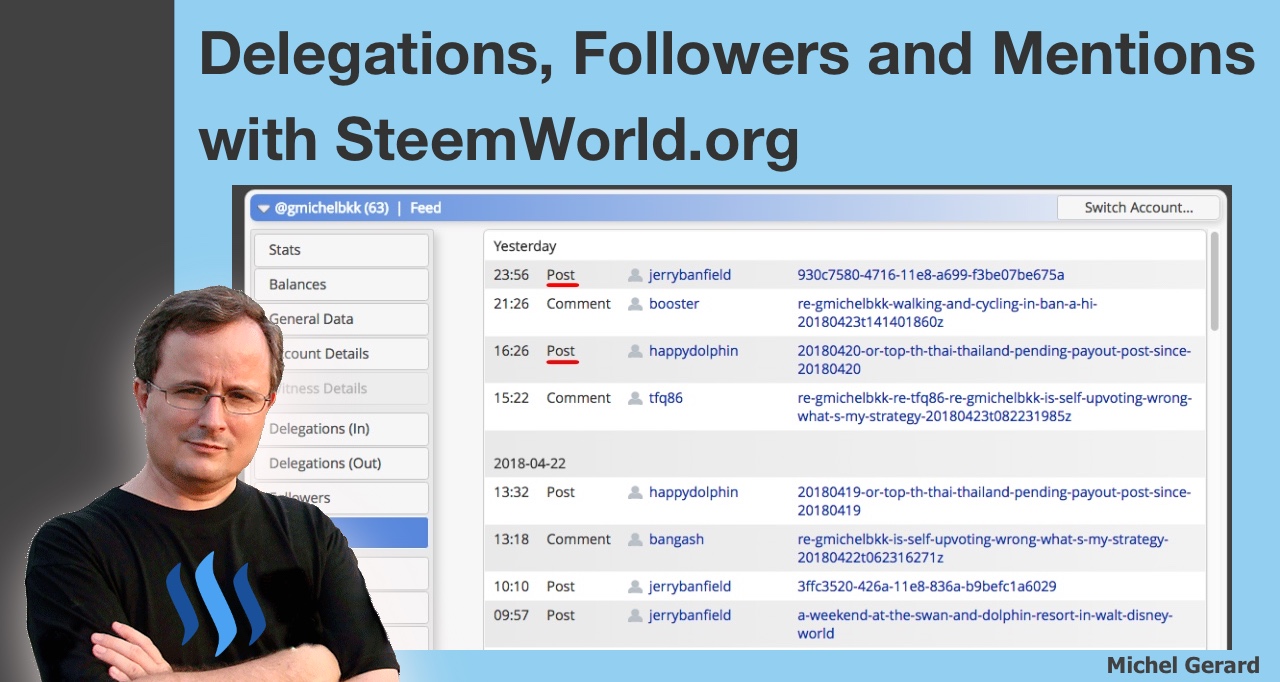 You may be interested to read my two previous posts about SteemWorld here: Monitor All your Steem Stats with SteemWorld.org and See How Your Steemit Posts Are Doing with SteemWorld.org
Delegations, Followers and Mentions with SteemWorld.org
This is the link to my SteemWorld.org account https://steemworld.org/@gmichelbkk and you can access your own account by replacing my username by yours at the end of the URL. It is built with ♥ by @steemchiller.
If you have Steem Power delegated to you, the section "Delegations (In)" is very useful to see what accounts are delegating, especially if you are lucky enough to have several delegations.
When I wrote my two previous posts, this tab was not working and that is great it is now.

I have a 90-day delegation with @blocktrades, so I can give you, my favorite authors and commenters, more valuable upvotes.
The next section is for "Delegations (Out)," which is also very useful to keep track of the different delegations you may have given to others users.
I have four users at the moment and it gives a clear view of how much is allocated to each.

There is a possibility to edit your delegations directly from this section, but I prefer to use the method explained in this post: How to Delegate Steem Power Easily?
The "Followers" section is very useful to know day by day how many new followers you got and who they are. If you publish a post every day, you can see for example what day gave you the most or least followers, and maybe help you identify what kind of post gives you the most followers.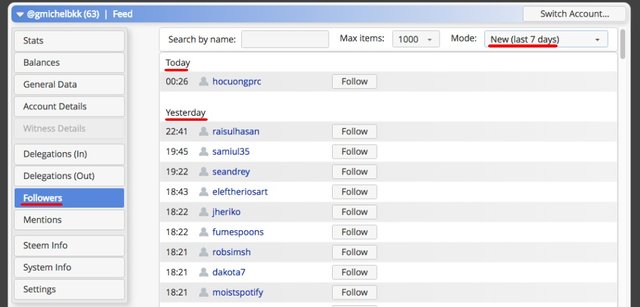 You can also follow back your followers from this section.
The "Mentions" section was also in development when I wrote my two posts and as it is working now, I think it is a nice feature that you will enjoy using.
I can see, for example, where users have mentioned @gmichelbkk in a post or a comment. If people mention you in a comment under your post, then you already have seen it, but what about being mentioned in a post or a comment on somebody else's post?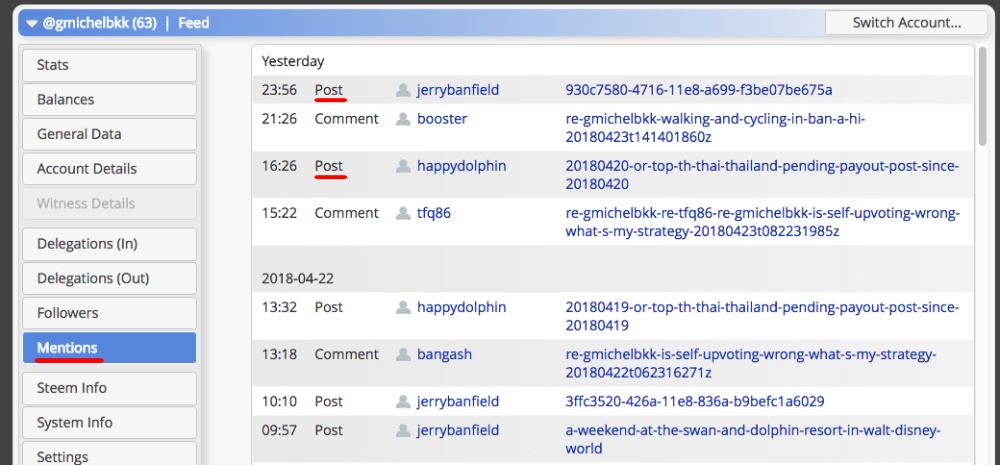 Now, you can see where you are mentioned, click on the link and see what is being said about you. This way you can interact with that user.
This is here a post that mentioned two of my posts and I was then able to leave a comment to say thank you for the mention. This promotes engagement and can help you get more followers.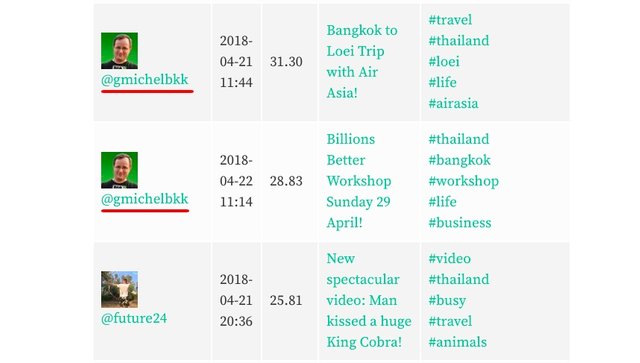 Without the "Mentions" section in StemWorld.org I would not have known.
That's all I have to show you today about StemWorld.org and I hope this is useful for you.
Please read my previous posts if you want to learn more about this tool: Monitor All your Steem Stats with SteemWorld.org and See How Your Steemit Posts Are Doing with SteemWorld.org
Would you upvote this post and follow me for more because this will encourage me to write more Steem tool posts like this one?
Would you please help @jerrybanfield become a top 10 Witness because you can help funding projects to build Steem as explained here? Vote for jerrybanfield as a witness or set jerrybanfield as a proxy to handle all witness votes at https://steemit.com/~witnesses. Read the 5 reasons why I'm voting for Jerry Banfield as a witness and how to vote in my post. You may be interested to read: What is a Steem Witness, How to Vote and Why?
Michel Gerard