Monitor All your Steem Stats with SteemWorld.org
I'd like to show you today an overview of one of the amazing Steem tools that I frequently use. With this tool you can see all the stats for your account or others' account if you wish to check someone out.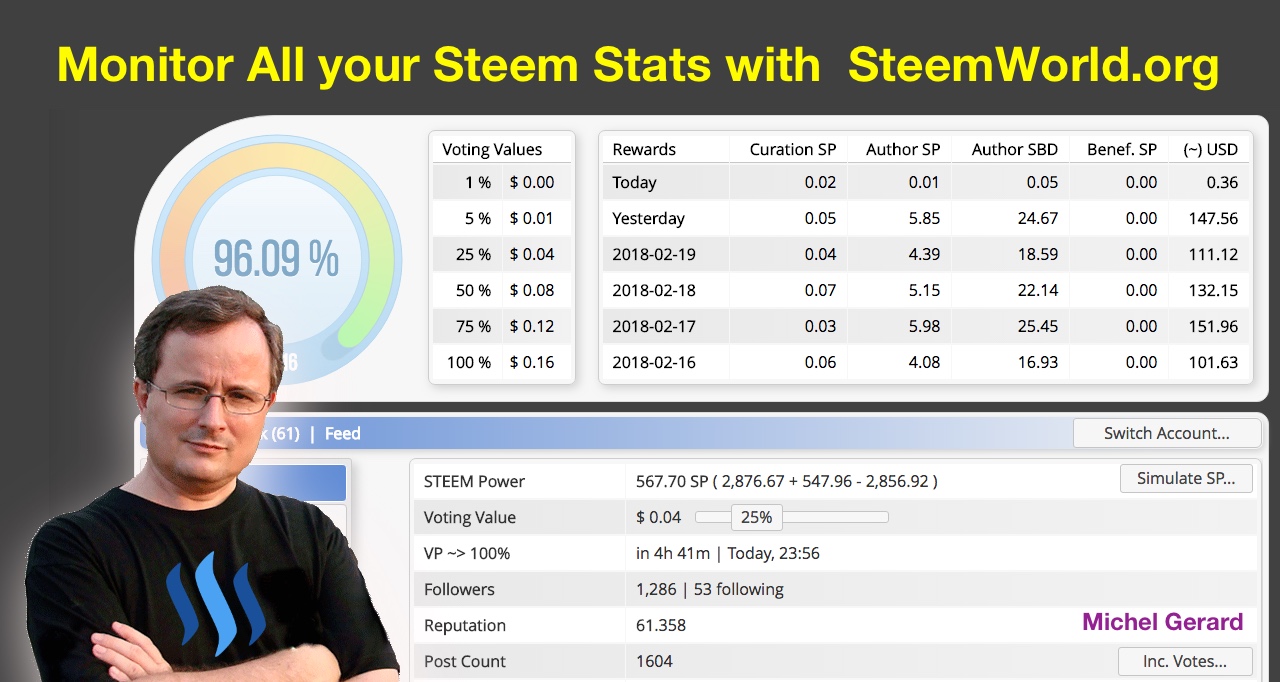 The tool is https://steemworld.org/@gmichelbkk and you can access your account's stat just by using your username at the end of the URL. It is built with ♥ by @steemchiller.
Monitor All your Steem Stats with SteemWorld.org
Just when you access the website, you can see very valuable information right at the top. Everything you need to know is there at the top.

In this section you can see my voting power, which is at 95.41% and has a value of $0.16. Then, there is a breakdown of the voting values depending on your voting power. If I had only 25% left of voting power, my vote would be worth only 4 cents. There you can see how important it is to have at least 90% of voting power.
At the right, you have a breakdown of your earnings day by day. Yesterday, I earned 5.85 SP and 24.67 SBD, valued at $147.56. Curation SP are so small I don't know if it's worth mentioning.
Then, the next section is for the main stats.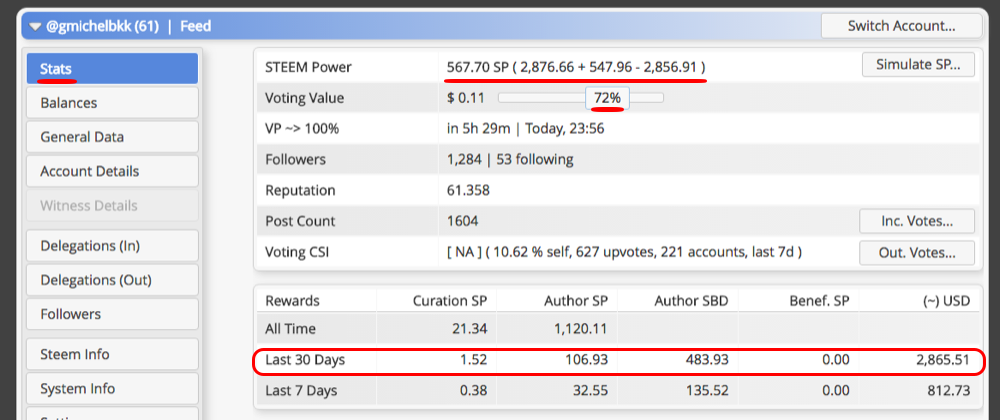 Notice my Steem Power, I have 567.70 SP usable for voting.
I have 2,876.66 Steem Power that I own and that I could power down into STEEM.
Then I have 547.96 SP delegated to me, and 2,856.91 SP that I have delegated to other users.
You can play with the slider to see your voting value according to voting power, $0.11 at 72% *voting power, for example.
Then you can see your rewards in SP and SBD for the last 30 days, 7 days and all time.
The next section is for the account operations.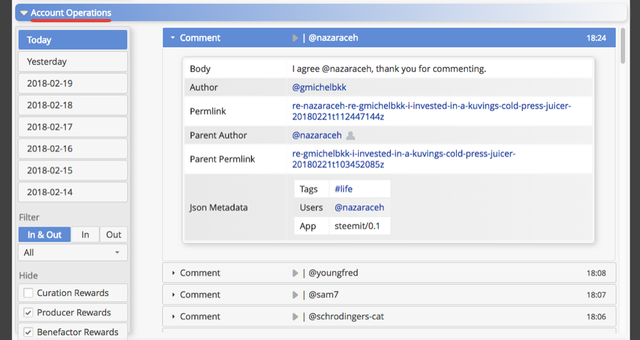 You can see all details on comments, transfers, votes, claim rewards, author rewards, etcetera.
Then you can have all the details on your recent posts.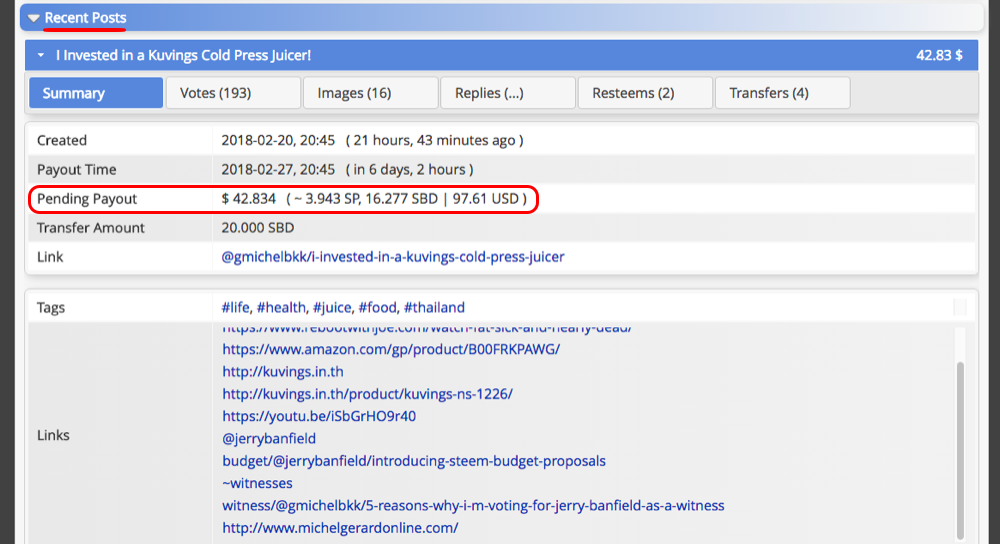 You can see the pending payout breakdown for my last post, which is an estimate:
$ 42.770 ( ~ 3.944 SP, 16.253 SBD | 97.29 USD )
You might be interested to read this post: Understanding Author Rewards Calculations
This section also shows the post's link, the tags and all the links you have in the post.
I find the section "Delegations (Out)" very useful as well if you have delegated Steem Power because you can see all the details.

I have delegated 2,355.487 SP to *[@jerrybanfield, for example.
Unfortunately, their "Delegations (IN)" section is not working at the moment.
Finally, if you want to see who your followers are and follow them back, you can do so in the "Followers" section.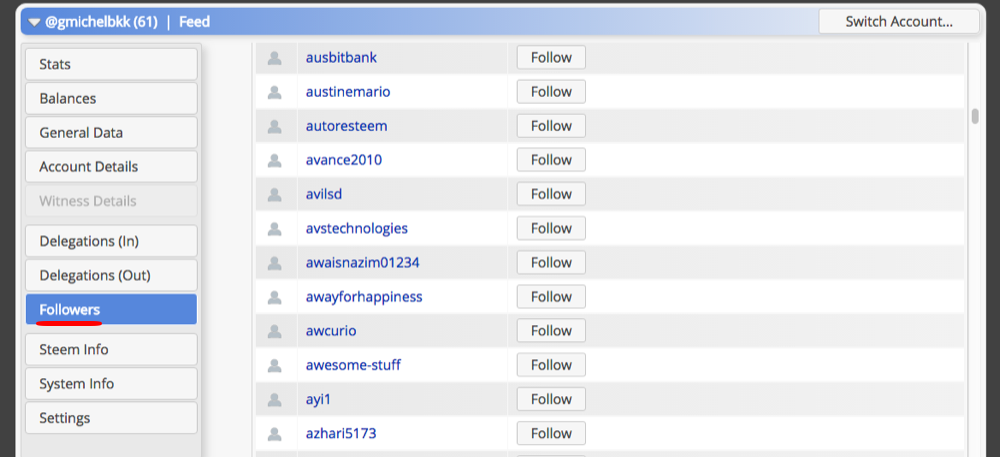 I hope that you have found this post useful and that you will explore https://steemworld.org by yourself because there is much more to it than what I have shown you.
Would you upvote this post and follow me for more because this will encourage me to write more posts about Steemit tools like this one?
Would you please help @jerrybanfield become a top 20 witness because you can help funding projects to build Steem as explained here? Vote for jerrybanfield as a witness or set jerrybanfield as a proxy to handle all witness votes at https://steemit.com/~witnesses. Read the 5 reasons why I'm voting for Jerry Banfield as a witness and how to vote in my post.
Michel Gerard