ONE OF THE MOST IMPORTANT THINGS WE NEED TO PROMOTE ON STEEMIT IS BORINGNESS. IT'S RIGHT UP THERE WITH PROMOTING FLAGGING, STOCKPILING TOILET PAPER, AND GROWING OUR OWN CARROTS.
A LACK OF BORING POSTS IS ONE OF THE MAIN THINGS HOLDING STEEMIT BACK FROM BECOMING MORE POPULAR.
TWO KEY THINGS TO HELP CREATE MORE BOREDOM ARE TAGS AND BOTS. SO I HAVE CREATED A NEW BOT THAT USES COMPLEX ALGORITHMS TO LOCATE AND REWARD BORING POSTS - BOREBOT.
AND ALSO A NEW TAG TO HELP MAKE SURE YOUR POST CAN REMAIN UNSEEN WHILE BEING RECOGNIZED AS BORING. #BORETHEPANTSOFFAWHALE.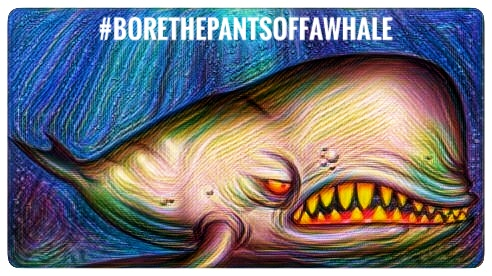 DETAILED ANALYSIS OF THE ALGORITHM
HERE IS HOW IT WORKS - ALL EXCITEMENT IS NEGATIVELY SCORED, WHILE BOREDOM GAINS REWARDS.
YOUR POST WILL BE SCORED ON THE FOLLOWING FACTORS.
PICTURES ARE TOO EXCITING - BE SURE NOT TO INCLUDE ANY.
WORDS CAN BE BORING - BUT ONLY IF YOU DO THEM RIGHT - USE LONG BORING ONES, AND USE THOUSANDS OF THEM.
HUMOUR IS WAY TOO EXCITING - DON'T HAVE ANY, THE END IS NIGH SO WE ALL NEED TO BE SERIOUS.
HASTAGS ARE REALLY IMPORTANT - GO ON ABOUT THEM ENDLESSLY. THEY ARE RIGHT UP THERE WITH CORRECT PUNCTUATION AND IMAGE CREDITS, AND ARE ONE OF THE MAIN THINGS EVERYONE ON STEEMIT NEEDS TO OBSESS ABOUT.
EMOTIONS ARE TOO EXCITING SO DON'T EXPRESS ANY. (DO NOT FOR EXAMPLE SAY ANYTHING LIKE "FUCK THERE ARE SOME BORING POSTS ON STEEMIT")
FORMATTING IS TOO EYE CATCHING SO DON'T USE ANY. AVOID BOLD, ITALICS, CAPITALS, OR HEADING SIZES. ALL WORDS ARE EQUALLY IMPORTANT IF THEY ARE BORING ENOUGH.
EACH WEEK THERE WILL BE A BORING CONTEST BUT IT WILL HAVE NO PRIZE BECAUSE PRIZES ARE TOO EXCITING. THE PRIZE IS RIGHTEOUS GLORY, AS THAT CREATES NO RAPE OF THE REWARD POOL. BUT ANY MENTION OF RAPE IS WAY TOO EXCITING.
EACH CONTEST WILL HAVE A NUMBER. THE FIRST CONTEST WAS "BORING POST CONTEST 1" AND THE WINNER WAS THIS POST:
HTTPS://STEEMIT.COM/THIONYL/@BARAK1/THIONYL-CHLORIDE-MARKET-TO-2023-GLOBAL-MARKET-SIZE-DEVELOPMENT-STATUS-TOP-MANUFACTURERS-AND-FORECASTS
THAT POST NAILED EVERY ASPECT OF BORING AND SET A NEW STANDARD OF WHAT STEEMIT NEEDS TO BECOME TO BE THE MOST BORING PLACE ON THE INTERNET.
ARE YOU BORING ENOUGH TO USE THE HASHTAG #BORETHEPANTSOFFAWHALE?
BOREBOT IS SEARCHING FOR YOU, SO HAVE A LIMP HALF HEARTED TRY TO BE BORING AND YOU COULD GET LESS ACCLAIM AND MAKE STEEMIT MORE BORING.
IT'S TIME FOR ME TO GO AND EAT SOME SHREDDED TOILET PAPER AND CARROTS NOW.
(SIGNATURES ARE TOO EXCITING SO DON'T USE THEM)