Enlightened Self-interest and Steemit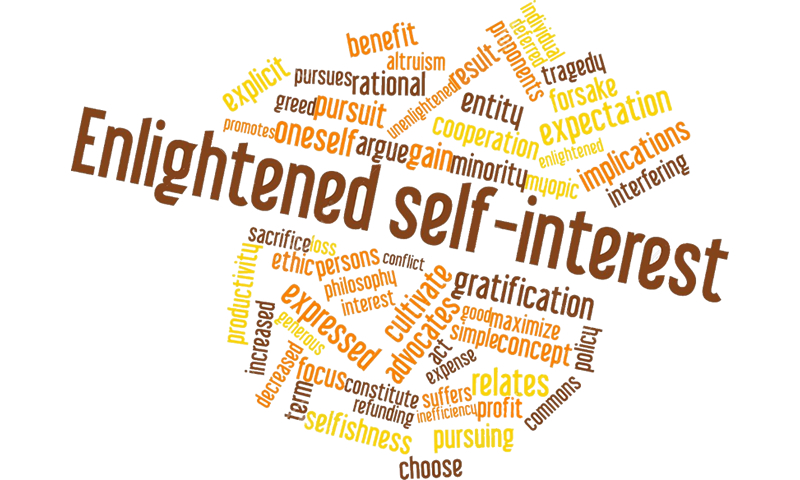 People may be surprised by our willingness to share quality content here on Steemit, but when seen through the eyes of enlightened self-interest, our seemingly altruistic attitudes are better understood for what they really are: the manifestation of our desire to make our own lives better by helping those around us make their lives better too.
Wikipedia puts it like this:
Enlightened self-interest is a philosophy in ethics which states that persons who act to further the interests of others (or the interests of the group or groups to which they belong), ultimately serve their own self-interest.
We ultimately make our own lives better when we help others to do the same.
Great examples of enlightened self-interest happen every day right under our noses. When the company you work for improves your working conditions, either tangibly say by making your work environment more comfortable, or intangibly by making your schedule more flexible, they're not doing it out of the kindness of their hearts – they're doing it because you'll be more productive and they'll make more money and their lives will be better. In fact, everyone's life is better as a result. It's a classic win-win.
Open source programming obviously takes things to another level, and with this we instinctively grasp the significance, size and scale of what enlightened self-interest really means to us when truly unleashed!
Blockchain technology goes even further, and then when you build a financially incentivized social network on top of it, with a commensurately just economic reward system built in, you've got the prospects for the culmination of real, 100% enlightened self-interest.
As a result, and just like you I hope, I'm here to share what I know so that you know more too, with the hope that you're doing the same, and in that way we're all making all of our lives better.
Okay, but there's another reason too: I'm also here because we're getting rewarded for our efforts! Let's face it, we also need to bring home the bacon!
That's why Steemit is the perfect platform for enlightened self-interest to work its wonders with its resulting real interchange of knowledge of real value: it gives us that very necessary short term financial reward to offset somewhat the costs of those very long term efforts being made, often with an "ROI" that's never ever seen.
It's the perfect platform because, along with the reward system that facilitates the rewarding of others for their valuable contributions, you can also rightfully reward yourself and those actively engaging with you adding value to your quality content. We're actually rewarded for what we share here, both in original posts and comments! Guaranteed! As I specifically outlined in my power up post, Why I powered up, and why you should too, I not only destine my voting power to others, I also send some my own way too. Mine is a 50/50 split, and I have no misgivings about it. In fact, I encourage others to do the same; I mean, if you're really posting quality, don't you deserve it? Perhaps it might even be a useful filter for posts: ask yourself if you think you deserve a self-upvote or not, and if the answer is no, perhaps you shouldn't post it to begin with.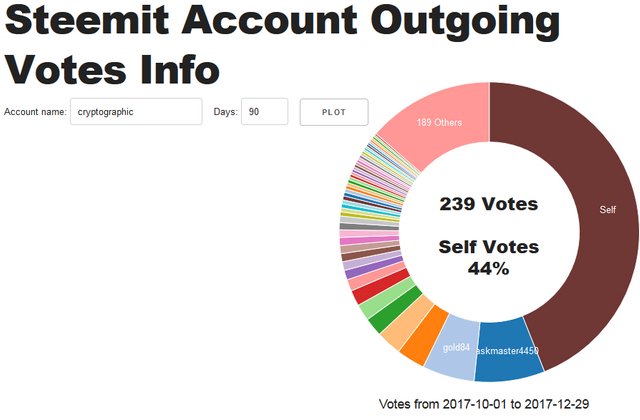 I would never be here if it wasn't for the novel financial integration into the platform.
I've "blogged" since the late 1990s, before the word existed, in a much more primitive way back then, when you did so with your own website and the comments section was still science fiction. Over time, as things progressed, I did too, participating on various forums, publishing on 3rd party sites, and even doing a stint on Disqus that lasted for a couple of years . . . until I completely burnt out.
Why did I burn out? The STEEM Whitepaper explains the reasons quiet well and best sums things up with this:
Since the free market is a proven system, it is tempting to try to create a free-market system where content consumers directly pay content producers. However, direct payment is inefficient and not really viable for content creation and curation. The value of most content is so low relative to the cognitive, financial, and opportunity costs associated with making a payment that few readers choose to tip. The abundance of free alternatives means that enforcing a 'paywall' will drive readers elsewhere. There have been several attempts to implement per-article micropayments from readers to authors, but none have become widespread.
Pay-for-view doesn't work on a small scale. Neither do "newsletters". Do I need to mention the "Donate" button? Traditional blogging is a lot of work for nothing, other than the psychic rewards of knowing you're doing some very nice volunteer work that is greatly appreciated. "But wait", I said! "I'm writing about finances to an audience with financial where-with-all, not helping with food distribution at the Salvation Army!" The only logical conclusion for someone in my shoes was to send my audience packing, realign my calendar in a more rational fashion, and do some real volunteer work (or donate with the extra money I was making now that I wasn't wasting so much time on projects with zero compensation).
Why am I back?
Steem is designed to enable effective micropayments for all kinds of contribution by changing the economic equation. Readers no longer have to decide whether or not they want to pay someone from their own pocket, instead they can vote content up or down and Steem will use their votes to determine individual rewards. This means that people are given a familiar and widely used interface and no longer face the cognitive, financial, and opportunity costs associated traditional micropayment and tipping platforms.
It's obvious, don't you think? Steemit could work! Steemit just might be the answer.
In the final analysis, I believe that Steemit itself is a reflection of where enlightened self-interest can take us, and this is what will separate Steemit from other social media, but most importantly, from a contributor's point of view, Steemit has given us the rational motivation to once again share our expertise in a social media setting (even if it still is only a fraction of our hourly worth).
Having monetized social media and thus giving content creators and contributors immediate motivation to participate, Steemit not only acts as a magnet for content creators and contributors, it also gives those same content creators and contributors every reason to do everything they can to share quality content and to make sure everyone else is up to the task as well, because without quality content, it would all simply go away. Here's the golden goose; it's yours to take care of, and, just like in real life, nobody is going to be "the star" that makes Steemit a success, rather it's a group project. We need to do it together, and we need to do it in the spirit of enlightened self-interest. Steemit gives us the structure on which to build something truly revolutionary that rewards everyone of us, both individually and collectively, but, make no mistake, its success will depend on all of us, all of us working together to make Steemit synonymous with quality, all of us focusing on the positive, in short, all of us making Steemit better and better every day . . . and our own individual lives as well. 😎
---
Happy, Healthy and Prosperous 2018!
---
Please leave your comments, input, questions, etc., below!
Your support is much appreciated. If you like this post, please Upvote.