Introducing HUNT Platform - Front Page for Product Influencers and Makers by Token Economy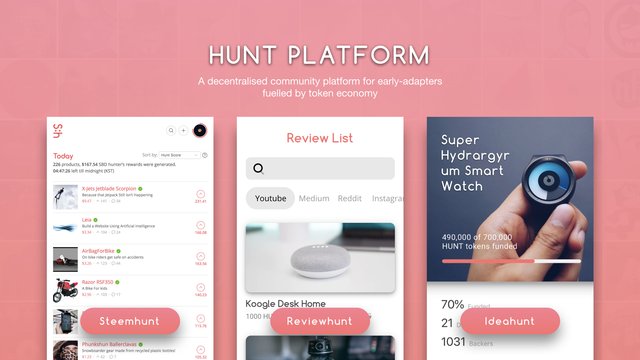 Hello hunters and Steemians!
Today, we are proud to introduce our vision/roadmap via our new HUNT token economy website - https://token.steemhunt.com/
1. Steemhunt is all about Product Influencers
If you love to see innovative cool products, be the first to discover them, and tell others about them, you are a product influencer. Your word of mouth has far more impact than your average person. Your initial attention on new products always helps makers to push their product building further.
Steemhunt has become a solid playing field for product early-adopters, geeks, alpha nerds, and all kinds of tech-savvy people. Already 16,555 cool products have been discovered, and $85,573.94 hunter rewards have been generated over 184 days on top of Steem Blockchain (as of Aug 19th, 2018).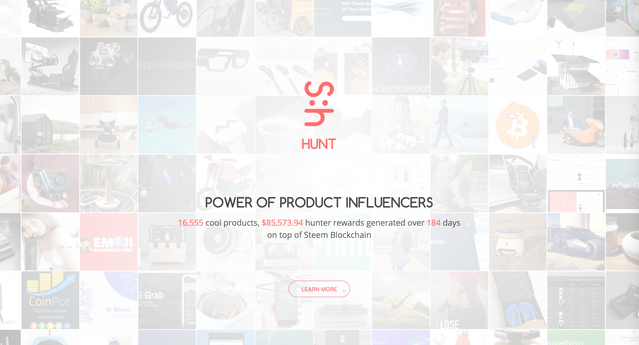 (See the live product of the HUNT platform - https://steemhunt.com/)
2. Vision - Front Page for Product Influencers and Makers by HUNT Token Economy
Those communities have been the most renowned habitats for early-adopters so far. Their daily visitors are over 13 million (ref - https://www.worthofweb.com/), but it's impossible to calculate their valuation because the business models are so varied (or even don't exist).
What if those communities become tokenized like Steemit? Imagine how much the valuation of those communities would be if their members could get rewards for their dedicated contribution? That's what we have tried so far. During our five months of operations, Steemhunt has tried to create a TOKENIZED PRODUCT HUNT to motivate the dedicated hunters, and the result has far exceeded our expectations.
Steemhunt already has over 3 times more daily submissions, 100 times more daily upvotes per user, and 800 times more daily comments per user than Product Hunt. We can see how a well tokenized community can have a more active user base than others.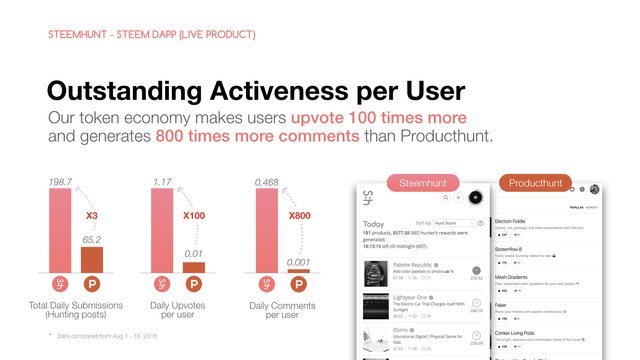 So, it is time to move onto the next step. Steemhunt will evolve to become a HUNT Platform, a decentralised community platform for early-adapters fuelled by token economy by creating three main community platforms:
Steemhunt - a community where hunters introduce cool new products
Reviewhunt - a marketing channel where makers suggest large discounts or bounties in return for quality reviews from hunters
Ideahunt - a Kickstarter-like platform where makers run crowdfunding campaigns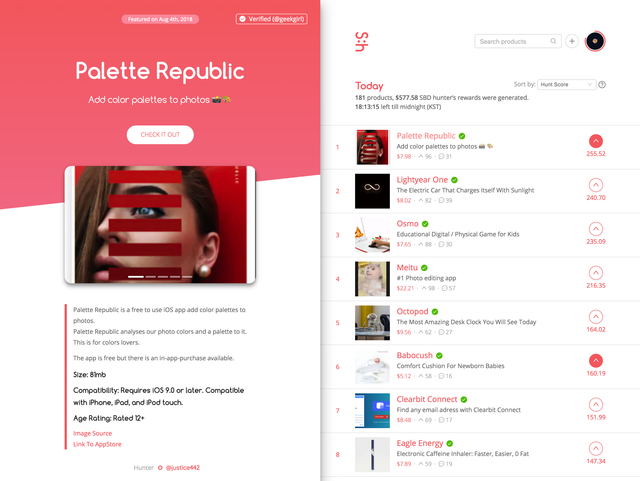 (Steemhunt is a base community of the HUNT platform for product influencers)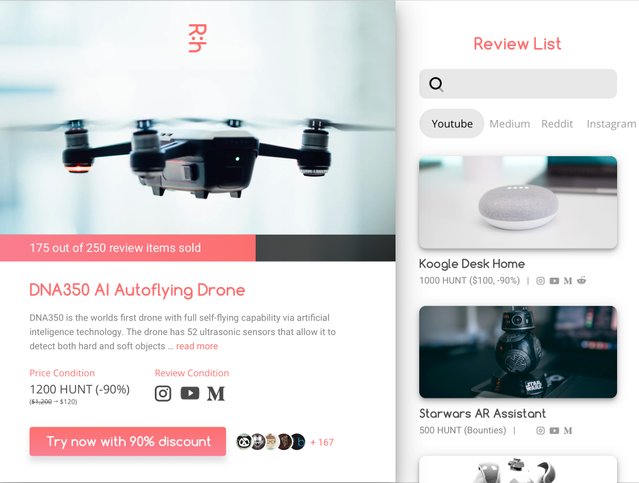 (Reviewhunt will attract makers to suggest review campaigns for hunters)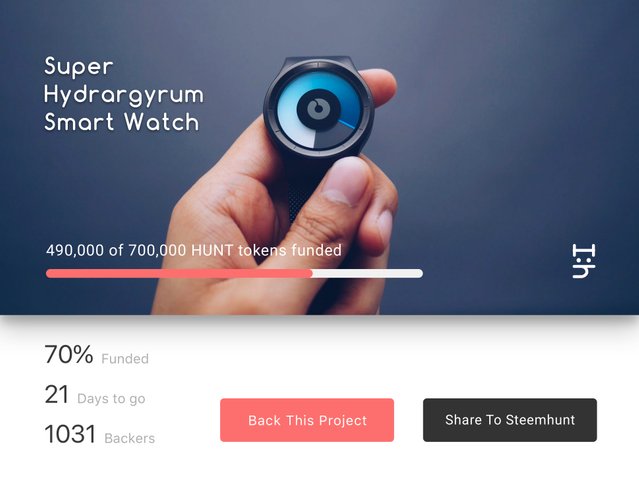 (Ideahunt will make a crowdfunding platform)
3. HUNT Token will Make an Interchangeable Ecosystem between Makers and Product Influencers
HUNT tokens will be issued via the Smart Media Token system, and become an interchangeable currency on the HUNT platforms. HUNT tokens can be both GAINED and USED on our platform in the following ways:
Hunters earn HUNT tokens by sharing/upvoting cool new products on Steemhunt.
Makers buy HUNT tokens to post bounties or sell products with discounted prices in Reviewhunt in return for quality reviews. Hunters can use HUNT tokens to purchase products or earn tokens from makers.
Hunters can back crowdfunding projects by using HUNT tokens.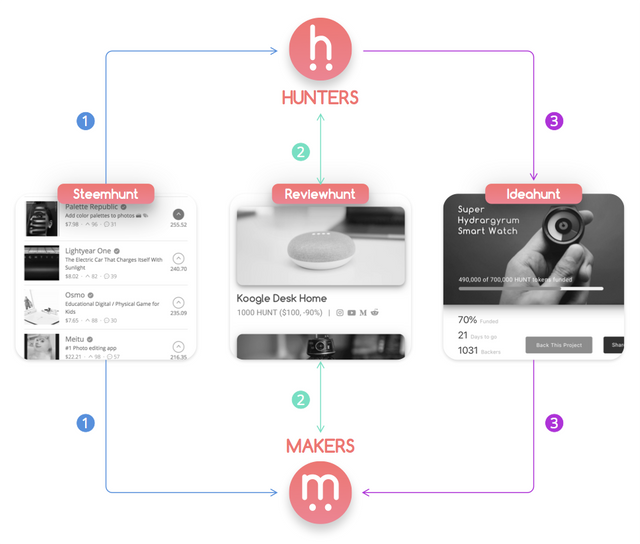 4. No Crowd Sale, 50% Airdrop to Focus on Product/Community Building
The most important KSF (Key Successful Factor) of the HUNT platform is to gather as many product influencers as possible and amplify our community activities, rather than raising funds via crowd sales.
Also, the participants of crowd sales are more likely to be investors, rather than direct users. Even if we raise the funds successfully, we should use them for the marketing to attract our users. As you know, running the public ICO has also high legal risks. So, running crowd sales would cause a significant delay in our product/community building.
So, we won't run any public token sales. Instead, 50% of the tokens are airdropped for our target users so that the HUNT platform can invite many product influencers. Every airdrop category is linked with our expected target behaviors in order to successfully create the seed users on the HUNT platform.
Airdrop for Steem Power holders (100M) increases attention on the Steem community, and will add-value to the Smart Media Token system launch.
Airdrop for Steem Power sponsors (45M) brings STEEM rewards for hunters so that the early hunters can become more motivated.
Bounty airdrops for hunters (105M) are designed to upvote more on Steemhunt, and refer new users to be a hunter (this bounty will be initiated after HF20).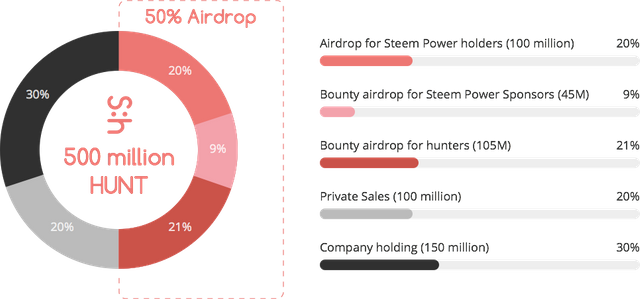 5. We DON'T have time to Create 99% fictional paper
Creating an eye-catching and highly detailed whitepaper becomes one of the most important parts for many blockchain projects. As well as platform coins, many decentralised applications are writing gazilion-page-long whitepapers - most of the contents are fictional and nobody bothers to finish reading it.
HUNT platform is simple to understand, it's a Steem dApp so there's no need to explain the blockchain technology. Also, this is a community-oriented project, so the value of the token is highly linked to the community value. Thus, we have no reasons to create a complicated fictional paper, instead we should focus on building this community platform.
6. Private Token Sales are Initiated
We will allocate 20% of the initially issued HUNT tokens for the investors via private token sales in order to set up a company/team. Again, we don't need investors who are just interested in pump and dump opportunities by participating in pre-sale (with largely discounted prices so that they can dump later for the public token sale price). We need investors who are looking for REAL blockchain-based services that are actively boosting the REAL user base.
Please contact us via email if you are interested in participating in our private sale:
[email protected] (the minimum purchase is over $20K). We will send you a concise and easy-to-read pitch deck and token sales details.
7. HUNT Sign-up Interface and Aggressive New User Promotion
The target personas of the HUNT platform are innovators and early-adopters on the diffusion of innovation curve. Their population ranges from 2 - 10% on average. Steemhunt has already attracted 3% of the active users from Steemit to become active hunters, so we think we may have already hit the ceiling portion in relation to tech-based products (ref - http://steemreports.com/sincerity-most-used-apps/). To scale up our user base further, we need to focus more on those target users from outside of Steem communities.
After we raise the private investment successfully, the HUNT platform will launch its independent sign-up interface, this means that users will no longer need to register through Steemit.com. It will just be the same sign-up interface as other website, with no need to wait for the 1-week-long email confirmation.
With this new sign-up interface, we will finally initiate the new user referral airdrop. Hunters will be able to create their referral link to encourage new users to join the HUNT platform, and then both users will receive HUNT tokens in return.
8. Over 250 Community Members Worldwide Involved in Team Operations
HUNT is run by a global product-oriented team and role-based community members. We have a dev team in S.Korea and operational team in Ireland. We also have worldwide community roles - 10 moderators who check all submissions on Steemhunt to maintain the quality of the leaderboard, and 18 influencers who dig out undervalued hunting posts and kick-start discussions for cool products. Finally, there are over 230 sponsors who support our project by delegating their Steem Power with over 1.6 million SP (as of Aug 19th, 2018).
Please see our vision/roadmap to see how we are building the world-first decentralised product influencer community platform.
HUNT Platform - https://token.steemhunt.com/
...


Please follow @steemhunt account and join our chat channels (Discord is more active):
---
Steemhunt
A place where you can dig products and earn STEEM.
Steemhunt.com
Support Steemhunt with Steem Power Delegation:
500 SP |1000 SP |5000 SP |10K SP |20K SP |50K SP |100K SP
More information about our Sponsor program is here
More information about HUNT Token Airdrop is here
Support Steemhunt by following our curation trail